January 14, 2011 | No Comments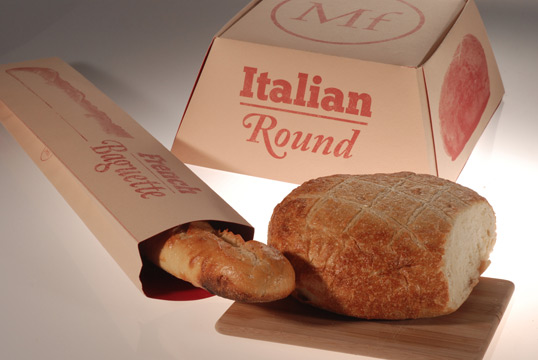 Designed by Matthew Knudsen | Country: United States
"Packaging for proposed artisan bread store, Motherloaf, derived from the bread recipe of the same name, but brought up connotations of the rough and tumble gold rush era of the mid-1800s in the US. With that idea in mind, the packaging shape referenced gold bullion bars, and I wanted all imagery to have a rough, lithographic feel of the printing processes of the era."
January 12, 2011 | 12 Comments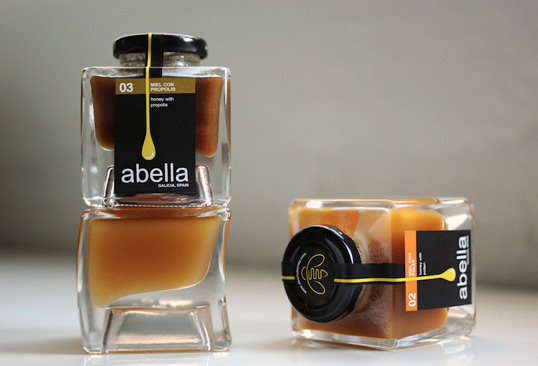 Designed by Bonnie Miguel | Photography: Judy Parker | Country: Spain
"Abella is fine artisan honey produced and estate bottled in Galicia, a naturally and historically rich region of northwestern Spain. "Abella" means bee in Gallego, the language spoken in Galicia, and the name is a tribute to these remarkable creatures and the healthy delicacies they produce. The products consist of 100% pure, raw, unfiltered honey created by master beekeepers using age-old techniques. Every drop is a work of art.
The packaging of Abella's specialty honey line, featuring honey with royal jelly, pollen and propolis, was designed to create an identity for the company and capture the rural, artisan character of the product in a refined, elegant and streamlined manner. The free-form, beveled effect of the jars, from Bruni Glass of Italy, is a natural fit, while the label design makes a simple yet powerful statement."
January 10, 2011 | No Comments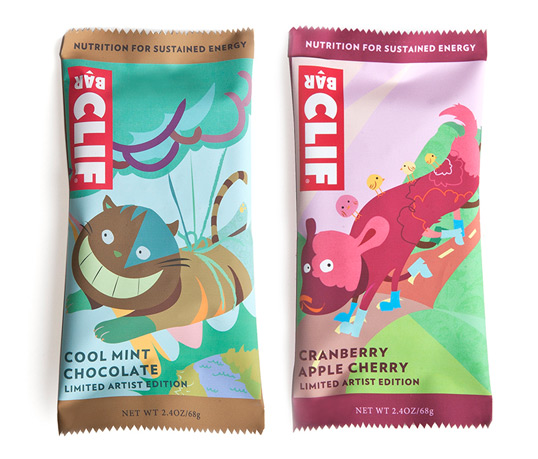 Designed by Heesun Kim | Country: United States
"Artist Edition Clif Bar: The goal was to create a limited artist edition Clif Bars for two of the flavors. As seen by "Cool Mint Chocolate" and "Cranberry Apple Cherry" flavors, the color palette reflects on the flavors. The concept was to show ordinary animals doing extraordinary things with the help of Clif Bars."
January 5, 2011 | 4 Comments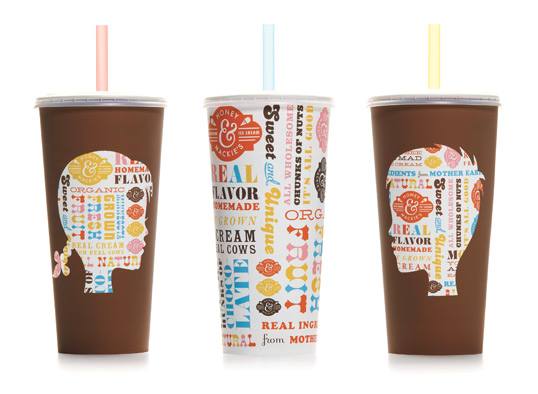 Designed by Wink | Country: United States
"Honey & Mackie's is a ice cream shop for kids that caters to parents. The name of the establishment comes from  the nicknames of the owners children. Thus, the branding & packaging needed to be modern, authentic & kid fun. In addition, the ingredients in their ice cream creations are all natural, organic and locally grown."
January 3, 2011 | 2 Comments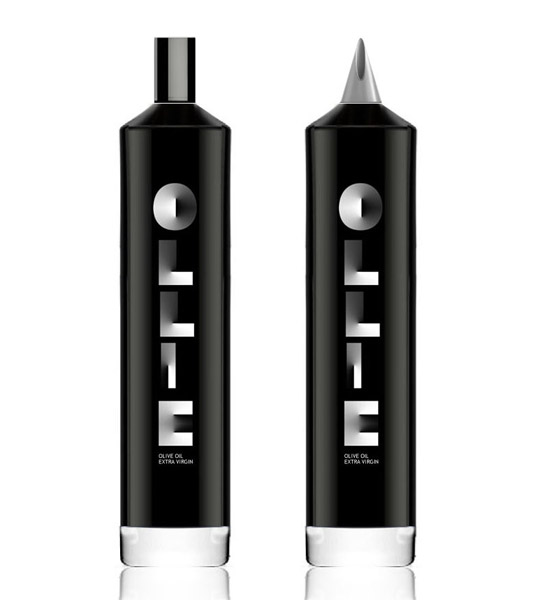 Designed by Alexandr Chernov | Country: Russia
Ollie Olive Oil concept by British Higher School of Arts & Design in Moscow student Alexandr Chernov.
December 30, 2010 | 2 Comments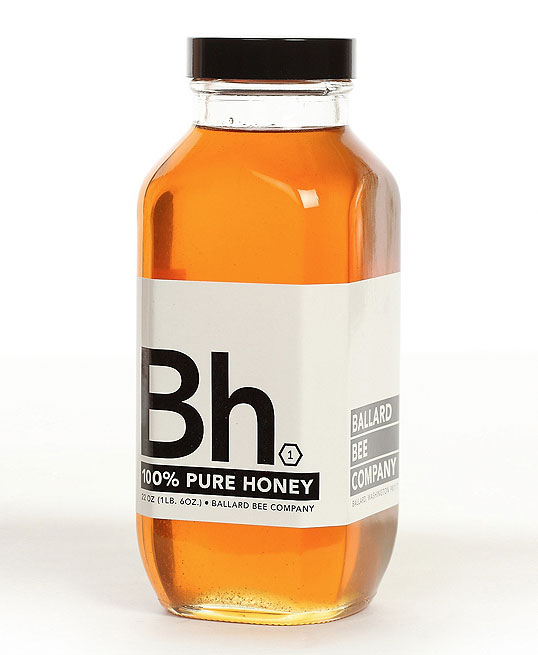 Designed by Ballard Bee Company | Country: United States
Heavily inspired by chemical elements, we love this unique packaging spin on honey which moves away from the traditional imagery associated with the product and goes in a bold new direction.
image via Blackbird
December 28, 2010 | No Comments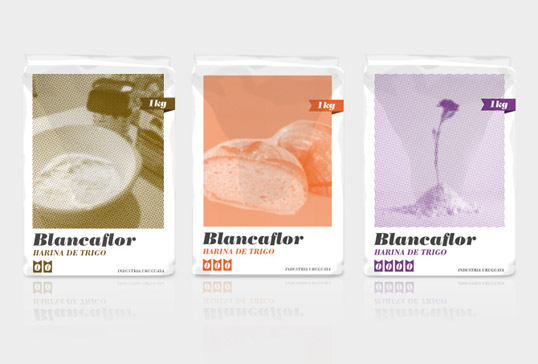 Designed by Martín Azambuja | Country: Uruguay
"The project was to design new packaging of flour for people who like cooking. I decided to use two colours and a reticle picture."
December 28, 2010 | No Comments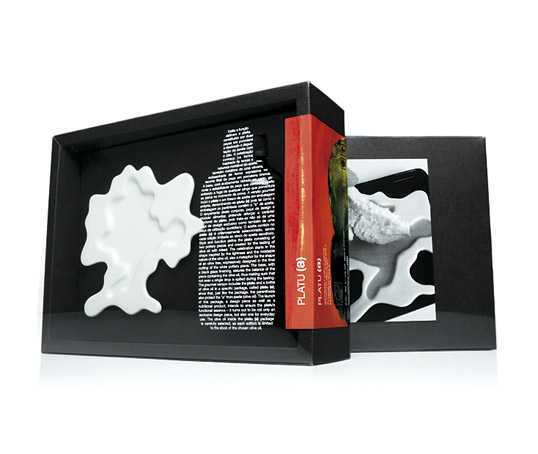 Designed by MPFXDESIGN | Country: Portugal
"This package, specially designed to hold a platu and a bottle of gourmet olive oil, is called platu(a). In the word "platu(a)", the parenthesis (a) hold sthe azeite (the Portuguese word for olive oil), just like the package does. The launch of this package is intended to reinforce the platu's functional essence – it is  not only an exclusive design piece, but also a useful everyday object. The olive oil inside the platu(a) package is carefully selected, and each edition is limited to the stock of the chosen olive oil."
December 27, 2010 | 1 Comment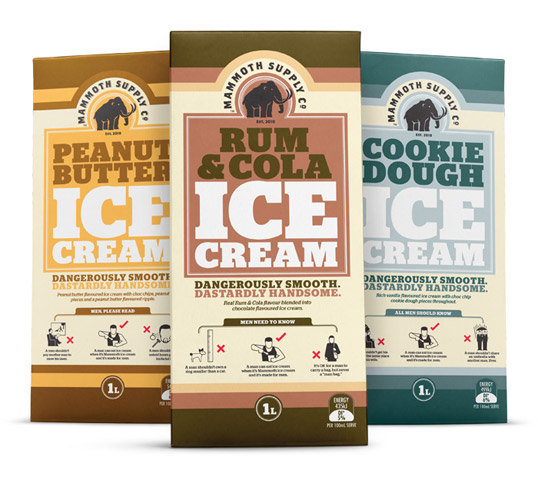 Designed by Shine | Country: New Zealand
"Mammoth Supply Company is a brand that lives in a man's world and always talks from a male perspective, even when talking to women as it sometimes does. Mammoth is not chauvinistic or sexist in any way; it recognises that most women want their blokes to be blokes. It's not interested in getting involved in a battle of the sexes, or 'men are from Mars/women are from Venus' debates.
Mammoth simply wants to stand up for and celebrate what 'real men' are about and the type of food they want to eat. We talk in men's language about things that men care about or are entertained and all our products are designed primarily to be enjoyed by men."
December 24, 2010 | No Comments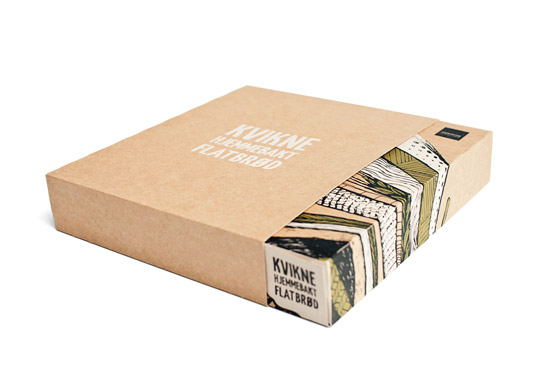 Designed by Form til Fjells | Country: Norway
"Early this year we designed this packaging for a small, local client that produces a very traditionally kind of bread. This is a thin, crisp kind of bread that we norwegians use together with fish and meat dishes. The speciality for Kvikne is that its 100% homemade, and is of a much higher quality than the industrial breadtypes.
Most of the packing of these kind of products are, either very "homemade" stuffed in a Sponge cake box, a plain paper bag, or bombed with old traditional ornaments or a photo of "mom baking bread" and so forth.
So, we wanted to create something entirely different that would reflect all the values the client had, and bring them up to a new level. We wanted the box to feel exclusive, but to be rooted in its origin.