January 28, 2011 | 5 Comments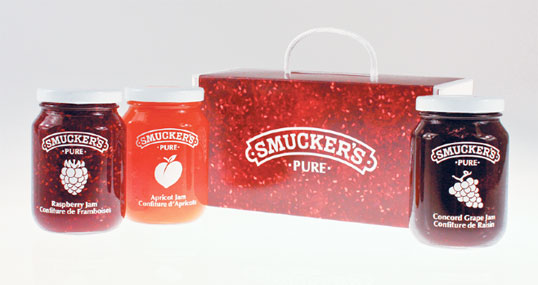 Designed by Michael Dibblee | Country: Canada
Description: Smucker's is a North American manufacturer of fruit spreads, ice cream toppings, health and natural foods, beverages, shortening, and natural peanut butter, dating back to 1897. When redesigning a number of products from the Smucker's Pure Jam line, I intended for the design to truly and uniquely portray the essence of quality and traditions based on the company's ideals in a new and innovative way.
Ideally, customers should be persuaded to purchase a product by its essence, and not simply by its label. This especially matters when it comes to a company that prides itself on excellent quality. Many consumers have experienced the growing, picking and preparation of fruit for spreads; in remembering the ease at which one can recognize the colours, textures and smells associated with the cooking process of jam, I created a design that emphasizes the jam itself.
After experimenting with die-cuts and windows that exposed the natural colours of the jam, I discovered that reversing this effect actually exposed more of the jam to the consumer. I recreated a silkscreen effect to contrast the rich natural colours of the jam and moved away from traditional label systems used by many competitors. Many rival companies and products embrace the use of photographic and illustrative images of fruits to give the consumer a taste of what the product offers. To break away from this conventional style and allow Smucker's to stand out when positioned on a grocery shelf, I depicted the fruits as icons. These white icons stand out clearly on the background colours of the jam, yet do not take away from the distinct colours and textures seen through the glass jars.
Overall, the design portrays a rich and elegant aesthetic that stands out from competitors and retains the quality that is associated with the Smucker's brand.
January 28, 2011 | No Comments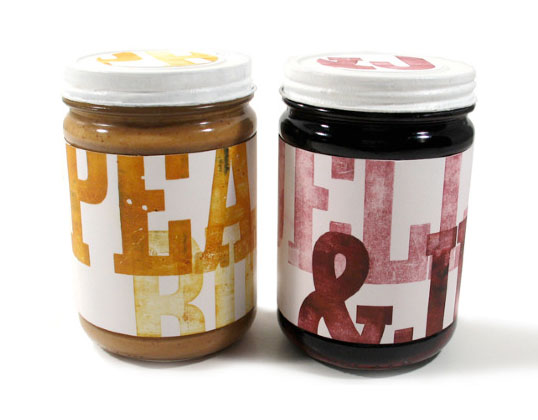 Designed by Jessie Harte | Country: United States
We love this label concept for peanut butter and jelly, created using wood type with ink mixed to resemble the actual product in the jar.
January 27, 2011 | 4 Comments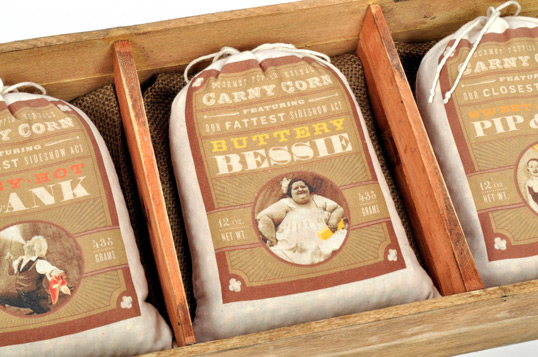 Designed by Theresa Decker | Country: United States
"The assignment was to design packaging and a carrier for three flavors of gourmet popping kernels called Carny Corn. I chose to do a Circus side show act theme including Buttery Bessie (worlds fattest woman), Firey Hot Frank (fire breather) and Sweet & Salty Pip and Pop (siamese twins). I used vintage broadsides as typographical inspiration and manipulated black and white imagery for each label. The bags are printed canvas and are held in a custom made wooden crate with transferred typography."
January 24, 2011 | 5 Comments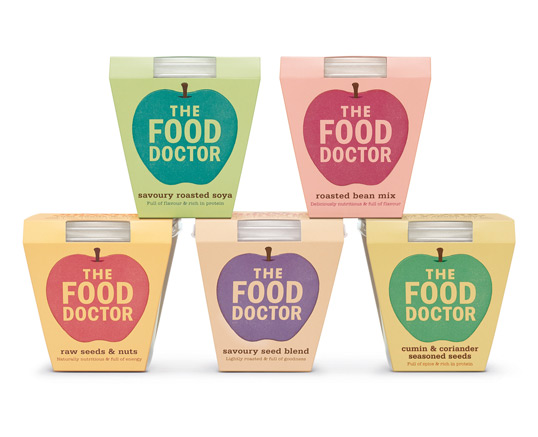 Designed by Pearlfisher | Country: United Kingdom
"Pearlfisher has created a new brand identity – and redesigned the packaging across the entire range – for the UK's leading nutrition consultancy The Food Doctor.
Co-founded in 1999 by Ian Marber, a leading nutritionist and acknowledged expert in his field, The Food Doctor is a unique concept that provides sensible advice for achieving a healthier plan for life. From the start it established itself as a visible brand in the field of healthier eating with a range of food products from seed mixes to ready meals.
The new identity needed to embrace the 'Eat better forever' strapline and move the brand focus from a functional product to more of a lifestyle proposition.
January 21, 2011 | 5 Comments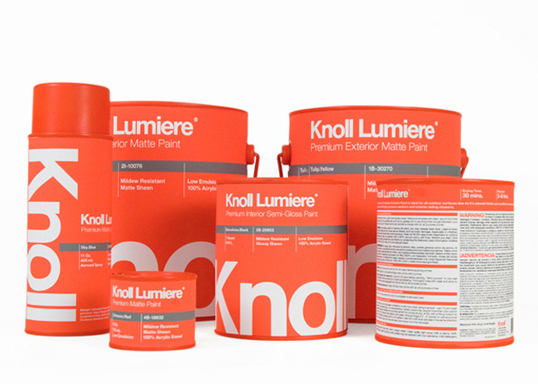 Designed by Kristin Agnarsdóttir | Country: United States
Kristin recently graduated with an M.F.A. in Graphic Design from the Academy of Art University in San Francisco, California. The program emphasized conceptual and critical thinking alongside typographic excellence, visual storytelling and solid craft skills.
January 18, 2011 | 5 Comments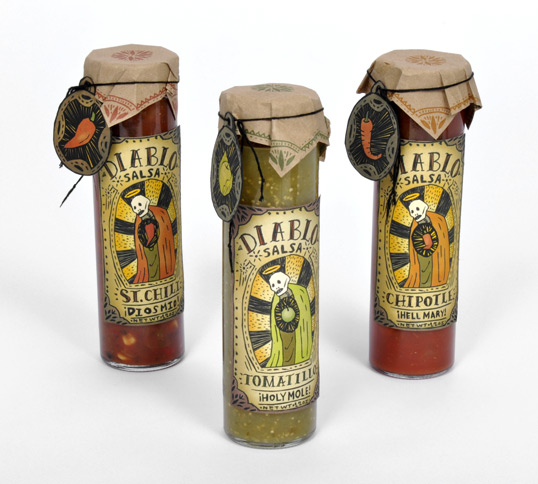 Designed by Kelly Thorn | Country: United States
"The assignment was Diablo Salsa and Tortilla packaging, and it had to have a Mexican feel. I decided to use Catholicism in Mexico for inspiration, and found some Patron Saint candles to work off of. This is the final product."
January 14, 2011 | No Comments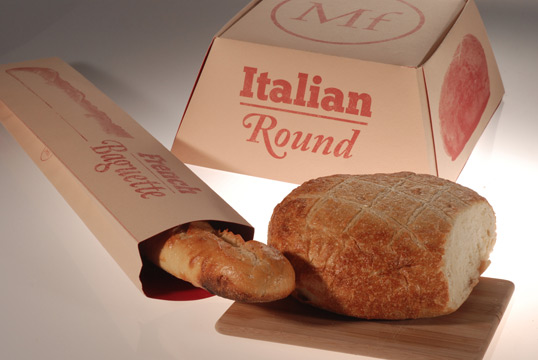 Designed by Matthew Knudsen | Country: United States
"Packaging for proposed artisan bread store, Motherloaf, derived from the bread recipe of the same name, but brought up connotations of the rough and tumble gold rush era of the mid-1800s in the US. With that idea in mind, the packaging shape referenced gold bullion bars, and I wanted all imagery to have a rough, lithographic feel of the printing processes of the era."
January 12, 2011 | 12 Comments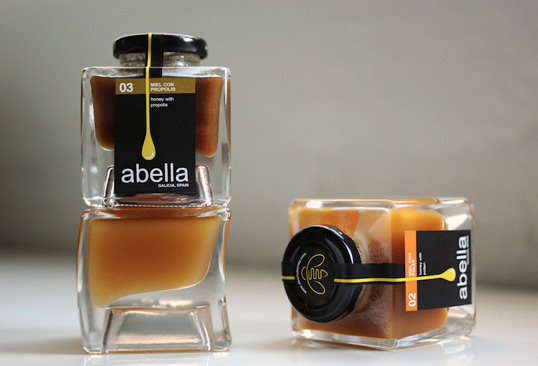 Designed by Bonnie Miguel | Photography: Judy Parker | Country: Spain
"Abella is fine artisan honey produced and estate bottled in Galicia, a naturally and historically rich region of northwestern Spain. "Abella" means bee in Gallego, the language spoken in Galicia, and the name is a tribute to these remarkable creatures and the healthy delicacies they produce. The products consist of 100% pure, raw, unfiltered honey created by master beekeepers using age-old techniques. Every drop is a work of art.
The packaging of Abella's specialty honey line, featuring honey with royal jelly, pollen and propolis, was designed to create an identity for the company and capture the rural, artisan character of the product in a refined, elegant and streamlined manner. The free-form, beveled effect of the jars, from Bruni Glass of Italy, is a natural fit, while the label design makes a simple yet powerful statement."
January 10, 2011 | No Comments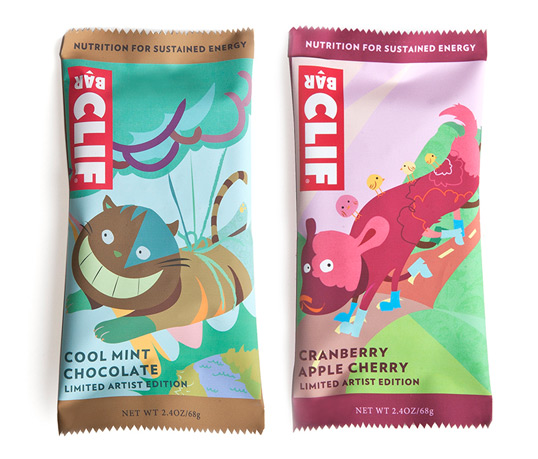 Designed by Heesun Kim | Country: United States
"Artist Edition Clif Bar: The goal was to create a limited artist edition Clif Bars for two of the flavors. As seen by "Cool Mint Chocolate" and "Cranberry Apple Cherry" flavors, the color palette reflects on the flavors. The concept was to show ordinary animals doing extraordinary things with the help of Clif Bars."
January 5, 2011 | 4 Comments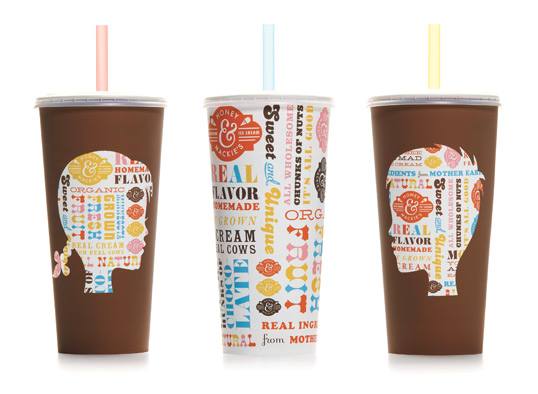 Designed by Wink | Country: United States
"Honey & Mackie's is a ice cream shop for kids that caters to parents. The name of the establishment comes from  the nicknames of the owners children. Thus, the branding & packaging needed to be modern, authentic & kid fun. In addition, the ingredients in their ice cream creations are all natural, organic and locally grown."