December 23, 2010 | 8 Comments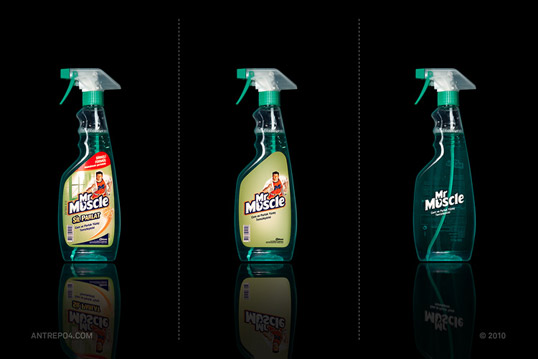 Produced by Antrepo | Country: Turkey
"Our latest project is about simplicity and we try to find alternate simple versions for some package samples of international brands. We think almost every product needs some review for minimal feeling."
December 23, 2010 | No Comments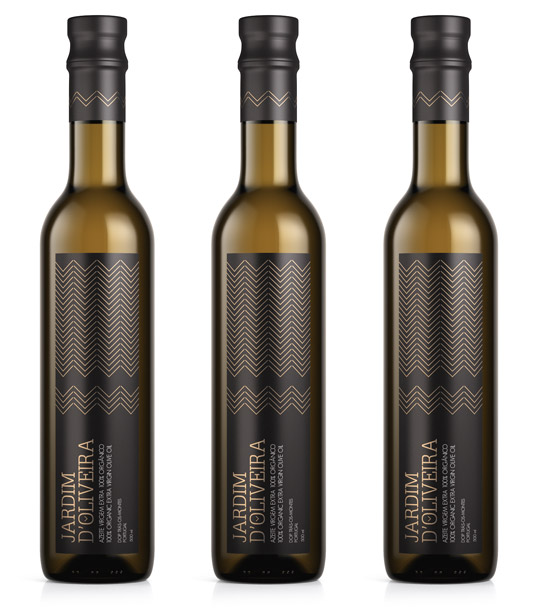 Designed by NTGJ | Country: Portugal
"Jardim D'Oliveira aims to be not only a simple and modern olive oil but also a part of peoples lifestyle.
It is a delicate DOP Trás-os-Montes 100% organic extra virgin olive oil with a pleasant taste of fresh olives and a beautiful golden color.
Jardim D'Oliveira is a blend of stylish conceptual design and premium quality Portuguese olive oil."
December 22, 2010 | 3 Comments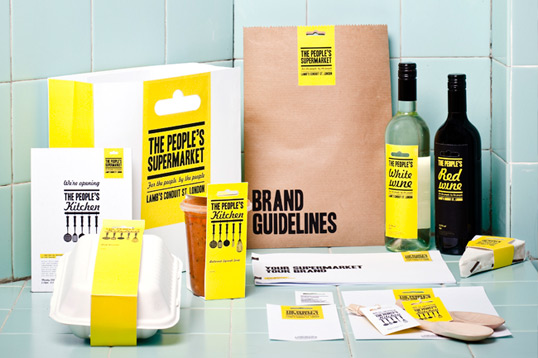 Designed by Unreal | Country: United Kingdom
"The People's Brand
After approaching the Supermarket to design some launch posters, we were tasked with developing the brand, which needed to reflect the co-op's core values of being communal, affordable and democratic without appearing too virtuous or elitist. A full identity programme was required including logo, stationery suite, advertising, packaging and brand guidelines.
As the organisation is not-for-profit and production budgets are consistently low, the designs needed to be simple to implement. As a result, much of the packaging and print material needed to be produced in-house.
December 17, 2010 | No Comments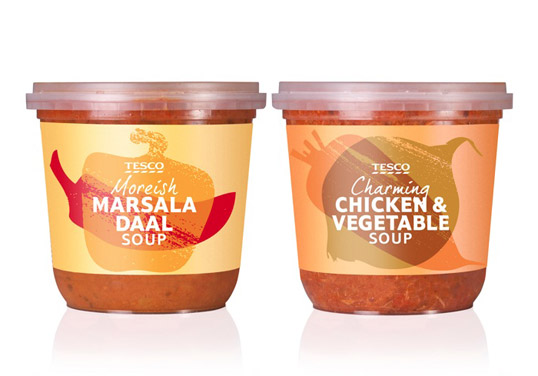 Designed by Buddy | Country: United Kingdom
"Buddy created the packaging for a range of fresh meal soups for Tesco.
The brief was to create a simple bold solution that celebrated the "big flavours" and ingredients of each soup and to communicate their natural filling & wholesome qualities.
Our solution is simply the idea of "bringing the ingredients together"; using overlapping woodblock prints of two of the ingredients as a holding device for the product copy on the front of each pack."
December 13, 2010 | No Comments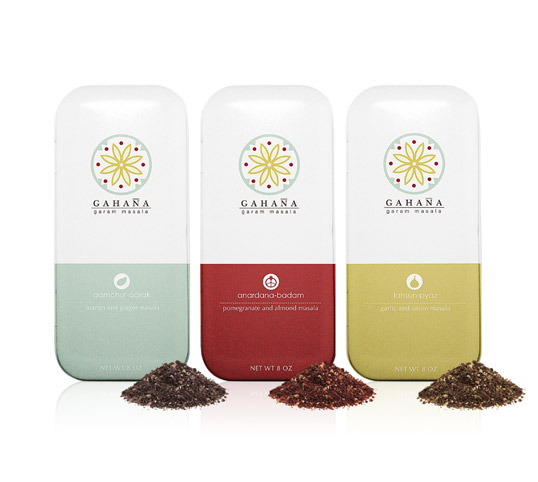 Designed by Christopher Vicente | Country: United States
"Gahaña is a line of Indian spice mixtures (masala) created for a branding and packaging project. This lines of spices consist of three mixed flavors: mango/ginger, pomegranate/almond and garlic/onion. In this project I tried to focus on designing something that's normally very traditional looking and giving it a more contemporary feel. Flavor identification was also very important when it came to the branding of this product. The colors as well as the flavor symbols were the two main things that I used to set the three flavors apart while making sure that there's continuity within the line of products."
December 10, 2010 | No Comments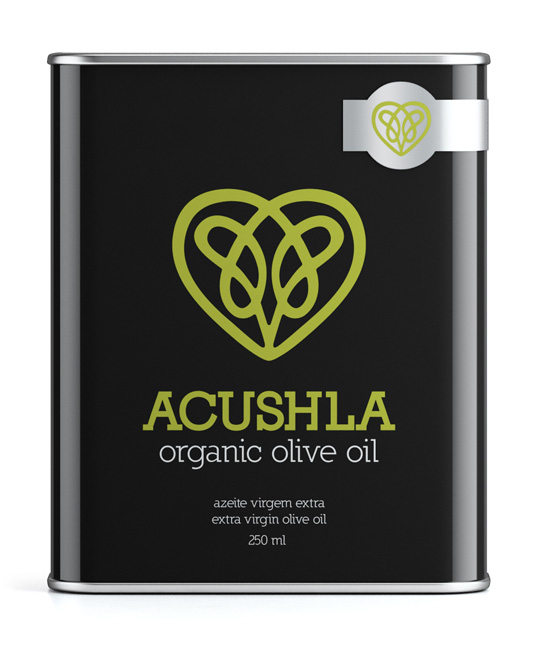 Designed by NTGJ | Country: Portugal
"Acushla is a premium portuguese extra virgin olive oil , from the Protected Designation of Origin (PDO) of Trás-os-Montes, ACUSHLA is a high quality product.
ACUSHLA is dedicated to a contemporary consumer, who searches for excellence standards at the table.
The deign is simple and elegant. Here the details make the design. The bottle is a normal bottle but with a black matte surface treatment. The graphics are simple and not noisy and it allows the bottle to be on the top of the table without being decanted.
ACUSHLA means "beat of my heart", it represents how passionate about olive oil the company is."
December 10, 2010 | 1 Comment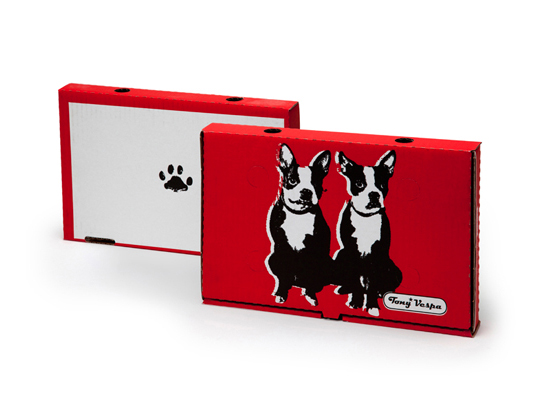 Designed by Yael Vons Jarzin & Shani Avni | Country: Israel
Nice delivery box packaging for Tony Vespa, a Tel Aviv based pizzeria chain.
"Inspired by the youthful and busy Tel Aviv city atmosphere, 7 new types of packaging have been created (3 large and 4 small) that deliver a unique and colorful eating experience."
December 9, 2010 | 1 Comment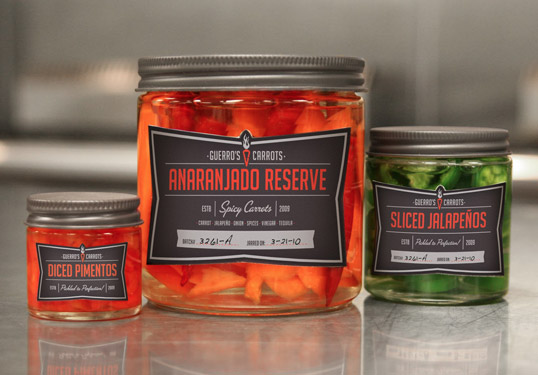 Designed by Daran Brossard | Country: United States
"Guerro's Carrots started as a faceless yet tasty jar of pickled vegetables with only an idea for a name. Now, after combining old world flavors with new world presentation, Guerro's offers the traditional Hispanic kitchen to an American audience in ways they're familiar with, including a tight identity and refined presentation These spicy carrots have the colorful attitude to match their look: bold and fiery with a hint of cheek, Guerro's  spicy carrots pair well with a light cerveza or chilled tequila—hold the lime."
December 8, 2010 | 3 Comments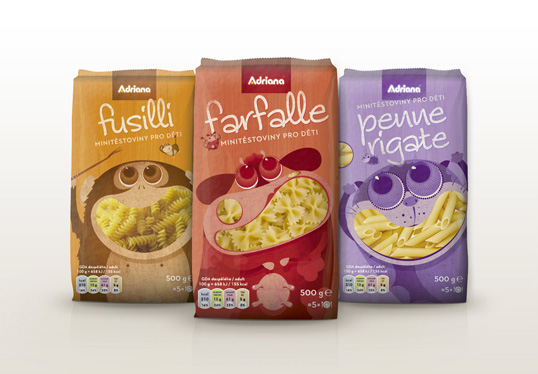 Designed by Design Herynek | Country: Czech Republic
"The project brief was to design new packaging of Adriana Mini-Pasta for children. The main characteristics are warm colours on each and illustrations of young animals."
December 1, 2010 | No Comments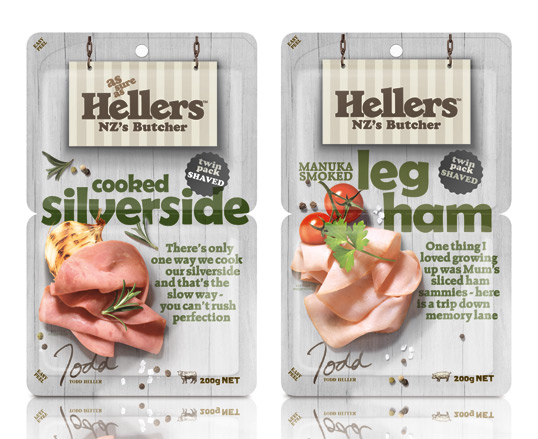 Designed by Dow Design | Country: New Zealand
"Hellers, the iconic meats brand, has been given a new look at the hands of brand design expert Dow Design.
The brand refresh positions Hellers as 'New Zealand's Butcher' bringing to mind the nostalgic days of friendly, fresh, local suppliers of produce.
The rebrand is the result of a long standing relationship between Dow Design and Hellers, the two companies having worked together for over a decade.
"We wanted to communicate that at its heart, Hellers is a passionate local butcher," says Dow Design's Senior Creative Andrew Sparrow. "While it may have outgrown the small shop where it all began in Brighton, Christchurch, the Hellers commitment to quality remains deeply rooted."