September 22, 2010 | No Comments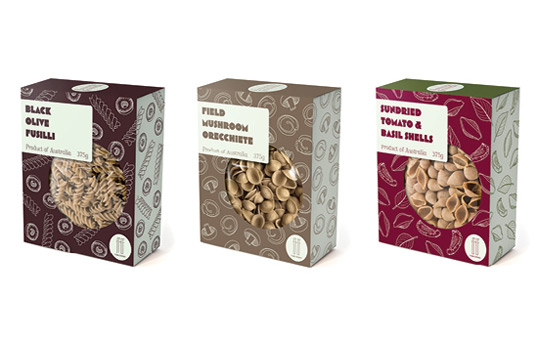 Designed by Katherine Low | Australia
"This package and branding 'Fork Friends' was created for a local organic deli, promoting fine home cooking with the use of locally produced organic ingredients. They wanted to stand out on the shelves with a modern and clean approach."
September 17, 2010 | 4 Comments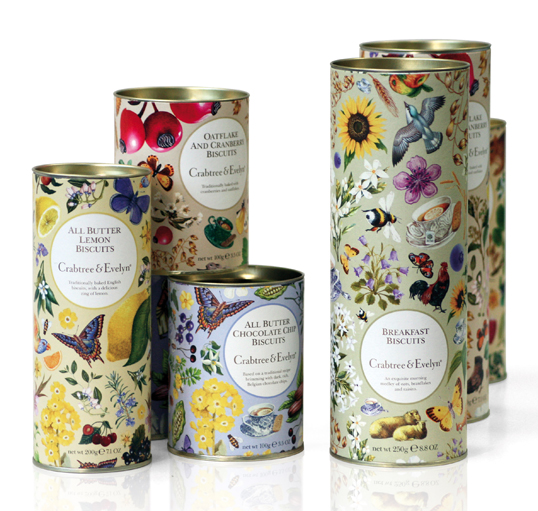 Designed by Smith & Milton | Country: United Kingdom
"This month sees the relaunch of Crabtree & Evelyn's fine food range under a new packaging livery by Smith & Milton.
In response to a challenging brief to inject life and character back into the brand, Smith & Milton delved deep into the Crabtree & Evelyn archives and found generations of beautiful hand-drawn illustrations, reworking them into an opulent wrapping to deliver stunning, and highly effective results.
September 16, 2010 | No Comments
Designed by McLean Design | Country: United States
New work from California based McLean Design. Ojio produces organic superfood products sourced from the most mineral-rich, nutrient dense, micro-environments on the earth.
September 15, 2010 | 2 Comments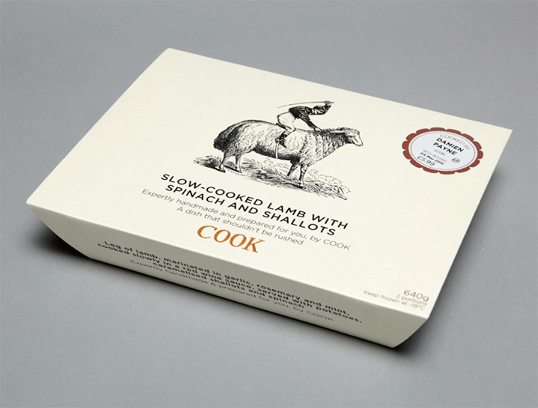 Designed by LOVE | Country: United Kingdom | Font: Gotham
A combination of wood cut illustrations and clever copy make this food packaging design stand out from the crowd. Stick-on labels provide the name of the chef who cooked the meal as well as pertinent information such as use-by dates and price.
"Working to a very tight production budget, LOVE's core challenge was to create packaging with cut-through in a cluttered market and reinforce COOK's position as the most respected provider of prepared meals in the UK. COOK has been supplying the nation with high quality prepared meals since 1997 and was afforded the confidence to communicate key ingredients in a way that emphasized their personality; sophisticated yet playful.
LOVE's Designer, Emma Morton, said: "We drew on consumers' insights into what makes a night in 'special' and brought them to life in an lively and engaging way. We made the dining at home 'occasion' our focus to draw people in. We also embraced and emphasized the fact all COOK's dishes are lovingly handmade (by people and not machines) and reflected this in every element of the design."
September 14, 2010 | No Comments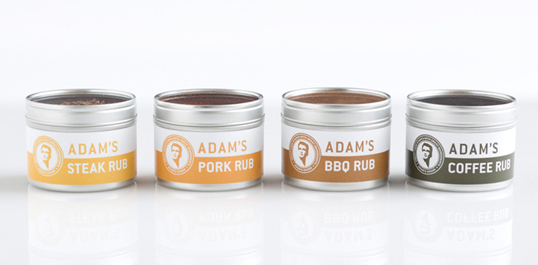 Designed by Adam Flissinger | Country: United States | Font: ITC Conduit | Buy it
"Adam's Goods started out as a hobby rooted in healthy competition. Created by Art Director Adam Flissinger of Ozone Advertising, Adam's Goods can be found online and through a handful of San Francisco retailers.
The clear top lid enables the consumer to actually see the product which creates a more interactive customer experience. The simple, clean and transparent design exemplifies Adam's Goods nonsense approach to cooking, " Great Food starts with Great ingredients".
September 10, 2010 | 5 Comments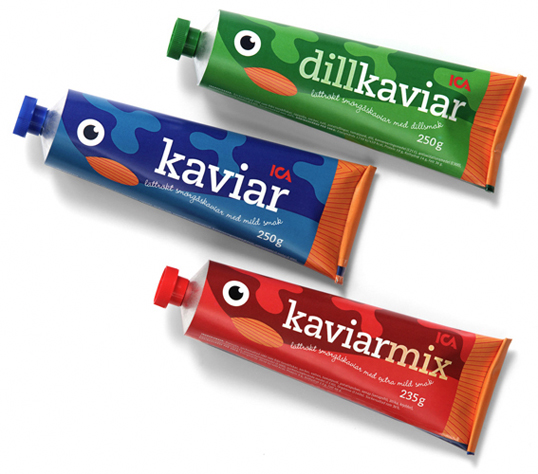 Designed by Identity Works | Country: Sweden | Font: PMN Caecilia
"A range of caviar for the Swedish Supermarket chain, designed ten years ago. The existing brands on the market had well known names like "Kalles" or "Svennes".  We wanted to create something that appealed directly to the consumers without using any brand names, but still have a direct approach. A clever solution: the supplier of the main ingredient became the hero."
September 9, 2010 | 5 Comments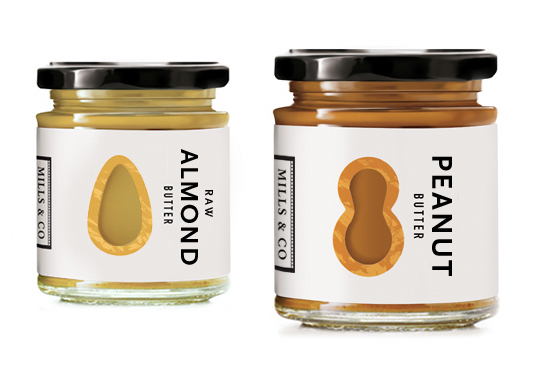 Designed by Danielle Davis | Country: United States | Font: FF Scala Sans
"Mills & Co is a higher-end, organic nut butter line proposed to be sold in DC restaurant Founding Farmers. Unfortunately the project never got to the production stage. The above rendering is a self-initiated concept of where I would have liked the packaging to go, just very simple and super clean."
September 8, 2010 | 8 Comments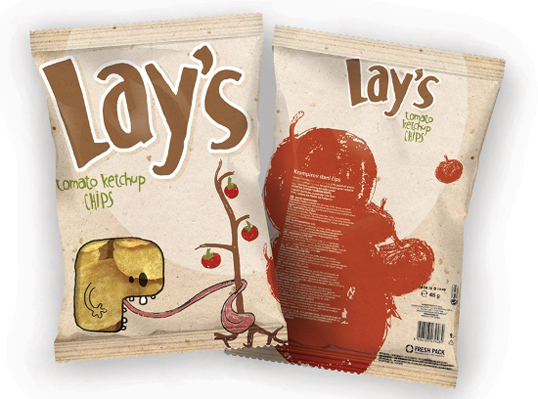 Designed by Tomislava Sekulić | Country: Serbia
"I made this packaging and logotype for "Lays" chips as a student assignment using kraft paper, playful characters and earth colors. It's recognizable, it stands out among all other snack bags, and brings extra fun for the parties!"
September 7, 2010 | 1 Comment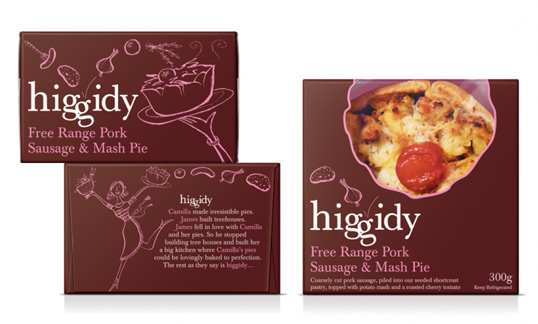 Designed by Ziggurat Brands | Country: United Kingdom
"Camilla Stephens is passionate about pies. She makes really yummy hand-made pies with high-quality ingredients. Uncommon pies, in fact. We loved her pies too and saw the opportunity to open up a market appealing less to your hungry man in a van and more to a discerning female audience. 'Too nice for the price' someone called them – probably with a big mouthful of pie."
September 3, 2010 | 8 Comments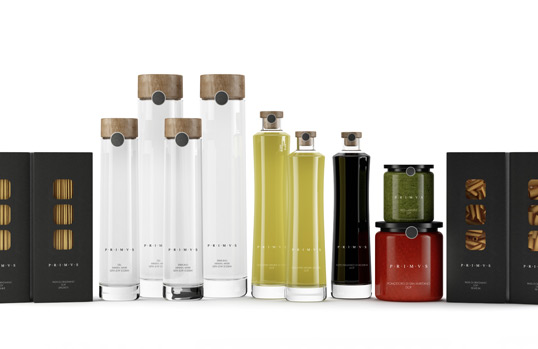 Designed by NTGJ | Country: Portugal
"PRIMVS is a brand that has decided to up the ante in a number of consumer sectors. It has initially turned its attention to food, a sector that has, for too long, been look upon as merely a necessity of life and requires limited in-depth packaging design.
PRIMVS feels that design and form have been neglected in the way food packaging is presented and our PRIMVS FOOD brand aims to attract those who appreciate premium quality food and design. PRIMVS FOOD sets out to prove that it is possible to achieve both the above objectives without compromising in either aspects. PRIMVS has merged quality food, with a minimalist stylised packaging that is both visual attractive and appealing.