July 27, 2010 | No Comments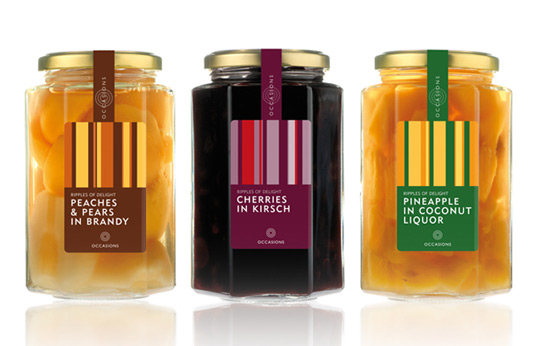 Designed by Mangion & Lightfoot | Country: Malta
"Mangion & Lightfoot were approached by Magro Brothers to design a package solution for the brand name 'Occasions'. Specifically produced for the UK market, the product required a logo and a series of three labels aimed for the middle to upper market sector.
Our solution was to create a contemporary design that could be extended across this range and any future ranges, even if the package was modified to accommodate different food products."
July 26, 2010 | 10 Comments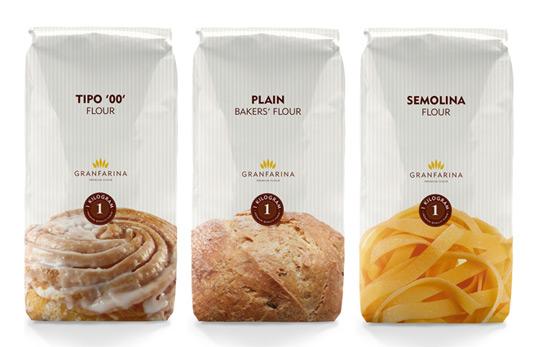 Designed by Mangion & Lightfoot | Country: Malta
"Gran Farina is a private label brand developed for use in Eastern Mediterranean markets and was commissioned by Federated Mills, Malta's only flour milling operation. We developed the name and visual identity along with a range of packaging for the 6 main types of flour they planned to market."
July 24, 2010 | 2 Comments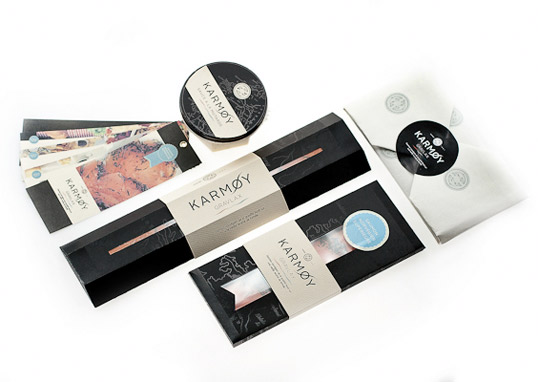 Designed by Klingsholm / Larsen / Saguate / Ekern / Aas
"The challenge was to pick a typical Norwegian product and redesign the packaging for international launch, primarily in France. Pay attention to cultural differences and design the package so that it stands out in the typical french retail environment.
We chose to promote the already well known Norwegian salmon. As this is an already popular product in France, we decided to focus on a specific type of prepared salmon called Gravlaks. In addition to a standard package containing the usual sliced pieces, we also designed a longer, narrower package containing smaller slices ready to eat. The project was exhibited in France at Axe Sud, a french school of graphic arts and visual communication."
July 23, 2010 | 13 Comments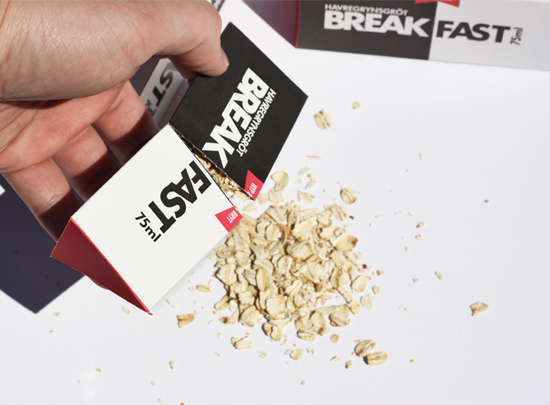 Designed by Niklas Hessman | Country: Sweden
"A kind of taste pack for oatmeal. This package contains the right amount of oatmeal with added sugar and salt. You break your BREAK FAST pack over a bowl, add water and cook in the microwave. Then you can tentatively serve with cold milk. The idea is to target a new audience that otherwise would not eat oatmeal, but also to those who are usually in a hurry in the morning and tend to skip today's most important meal, breakfast. Break it fast and have a BREAK FAST!"
July 18, 2010 | 1 Comment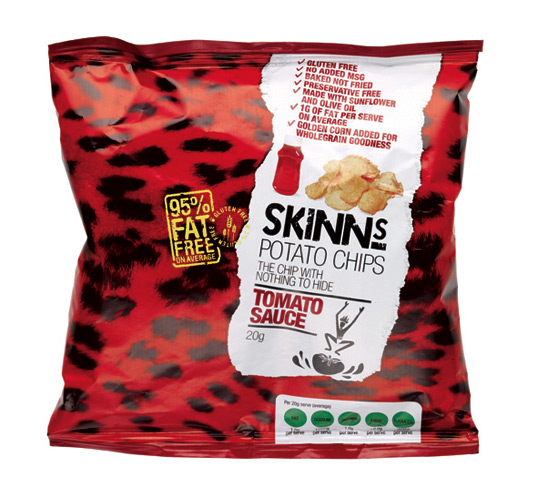 Designed by The Creative Method | Country: Australia
"Brief: Potato Magics created a new generation of chip that is lighter, less fattening and ultimately healthier than the competition. Off the back of this they were able to get chips into the primary schools as part of a healthy choice range. They needed to appeal to the 5-12 year old bracket, they also needed to be bright and bold and inform children, teachers and parents about their benefits.
July 17, 2010 | No Comments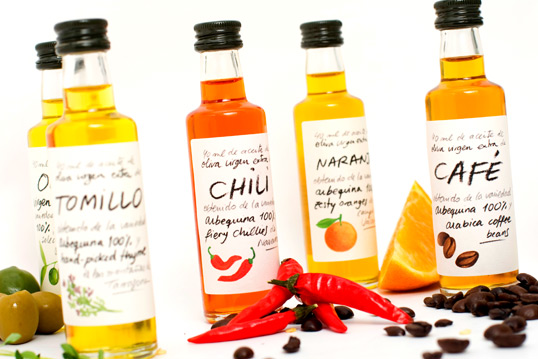 Designed by Carla Marin | Country: Spain
"At Azada Organic we wanted to place emphasis on the product and its Spanish origin and not on the logo itself. As such, we have decided against having the logo on the front panel as we believe it is more important to inform about the product. In order to do this, all labels are hand-written informing on how we make the oils and where we source the ingredients from. The tone of voice follows a 'Spanglish' style that portrays our origin and the Illustrations, also drawn by hand, convey the 'natural and healthy' ethos of our brand.
Furthermore, all labels are made from natural materials (95% of sugar cane fibers and 5% of hemp and linen) and all our stationary is printed using only vegetable based inks."
July 16, 2010 | 2 Comments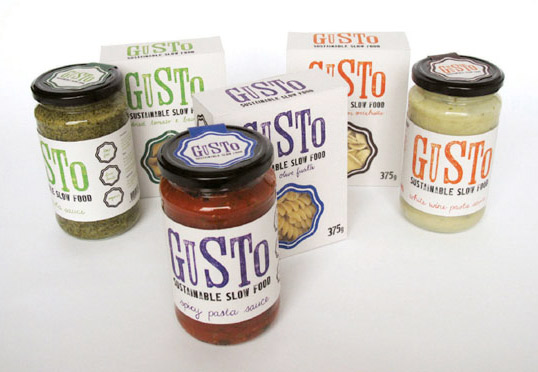 Designed by Parusha Lewis | Country: United Kingdom
"Gusto is a fictional family-run food company specialising in slow food (food that is ethical, environmentally friendly and often organic). The packaging design (letterpress, hand-lettering and a natural beige paper texture) reflects the homemade, natural goodness of the contents, a pasta range and complimentary pasta sauce range. The repetition of the rosette hints at the merits involved in purchasing the product – recyclable/reusable packaging, healthy food, plus the gentle impact on the environment and fair pay received by the farmers and people involved in producing the end-product."
July 12, 2010 | 6 Comments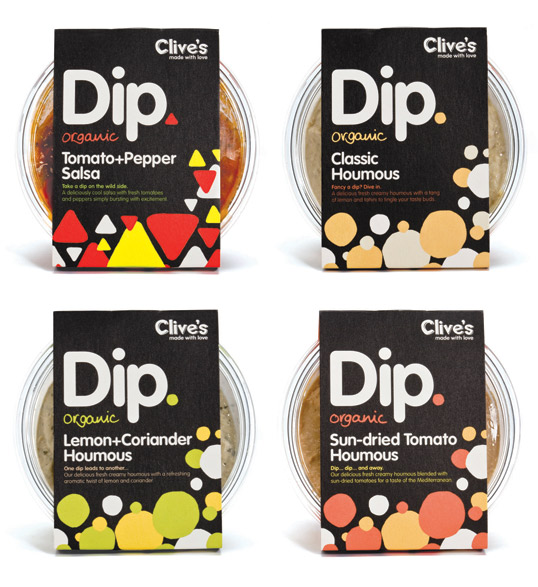 Designed by Believe In | Country: United Kingdom
"Our approach was to challenge packaging design in this market, currently saturated with uninspiring health food brands and larger supermarket 'own label' varieties who suffer from a lack of personality and brand appeal. Clive's new range challenges the competition in this area and stands apart from anything else on the market through clear differentiation — in both packaging and product.
"Inspiration came directly from the product itself," explains Blair Thomson, Creative Director. "The basic hand-drawn elements are abstract expressions of the dips and their ingredients. Bold use of colour and shape differentiates between flavours. The overall result is a striking, distinctive on-shelf presence."
July 9, 2010 | 2 Comments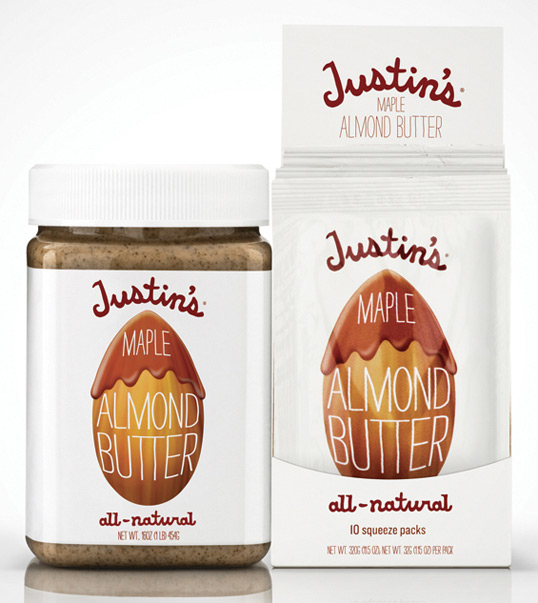 Designed by TDA | Country: United States | Buy it
Boulder Colorado based Justin's Nut Butters produces small-batch, natural and organic nut butters. TDA's design brief stated: signal brand's combined "culinary," natural, and fun qualities. From this they created all new packaging with the marketing challenges of increasing distribution in fine food outlets (e.g. Dean & DeLuca, Whole Foods, Crystal Farms) without jeopardizing existing sales at lower-price supermarkets (e.g. Kroger, Safeway, King Sooper).
July 9, 2010 | 5 Comments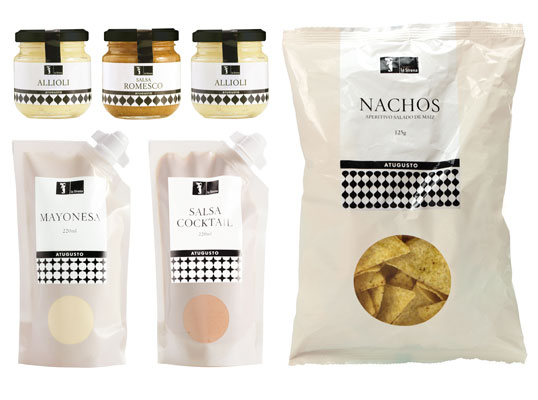 Designed by Marnich & Associates | Country: Spain
Some simple food packaging using circular windows/die cuts to show the product inside, and pattern to create visual interest.