June 18, 2014 | 1 Comment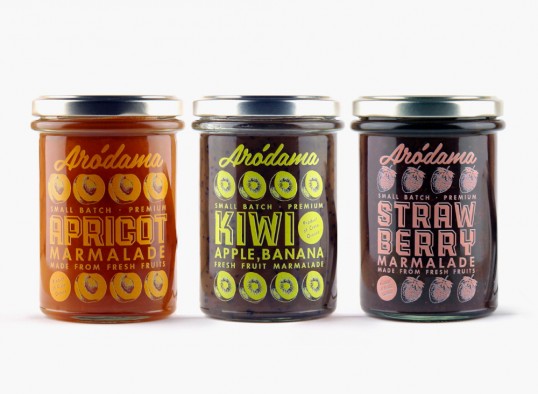 Designed by Bob Studio | Country: Greece
"Branding, packaging design and naming for the Arodama family, a new series of traditional Cretan products, aimed mostly to foreign markets.
Both the given name (Arodamos is the tender shoot in the Cretan dialect) and the design of the whole series using vivid colors and illustrations, give a cheerful and playful character to the products. Food is one of the best joys in life, especially for the Cretans and we wanted to transmit that through our design. We drew illustrations for every product showing its basic ingredients and created a pattern that applies to all labels in order to achieve a consistent image for the whole product family.
Products and corporate identity share the same design elements in order to create a direct relationship between them and a strong consistent image. The design patterns and illustrations have been implemented in jars, olive oil and raki bottles, packages, press kits, bags and the website."
June 16, 2014 | No Comments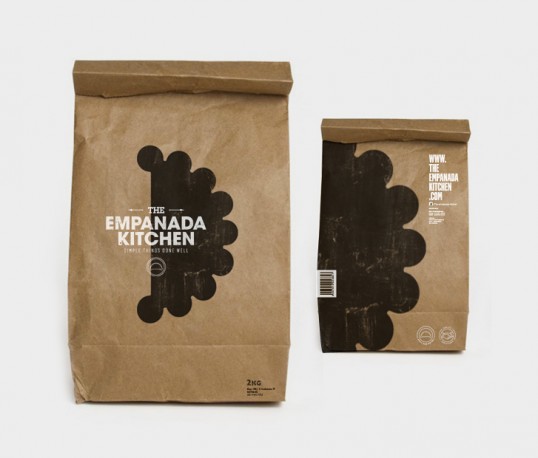 Designed by BARDO | Country: Australia
"The Empanada Kitchen is a young gastronomic company dedicated to make empanadas in New Zealand. It recipes combine unique flavors created especially by his owner with a spirit that characterizes it: "Simple things done well". The identity design reflects the traditional combined with the contemporary, giving the brand values such as honesty, strength and quality, generating a commitment to the product and the customer.
The main objective was to use simple shapes and noble typographies to maintain perdurability over time. At the same time it was thought the inclusion of miscellaneous that helps to symbolize his fresh and young spirit, differentiating itself from the competition"
June 12, 2014 | No Comments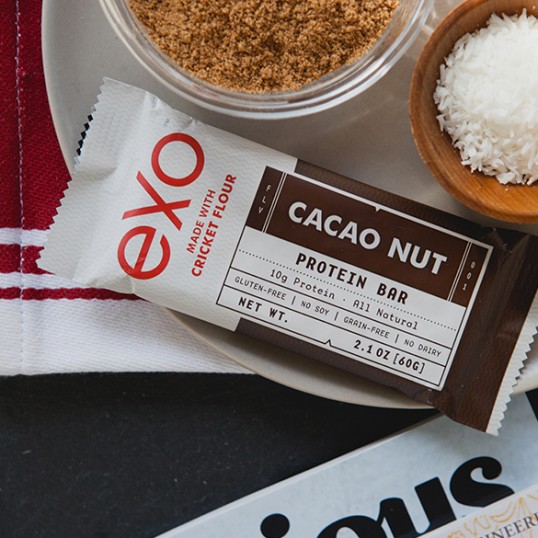 Designed by Tag Collective | Country: United States
"Exo's mission is to normalize the consumption of insects. Insects are a far more sustainable food source than poultry, fish or meat and have just as much nutritional value. For their first product Exo has created a delicious protein bar from cricket flour.
Building a brand that encourages Western cultures to challenge the taboo of eating insects is no easy task. Exo's identity and products were designed to showcase the brand's natural curiosity, universal appeal and visionary mission. The copy invites the adventurous and reassures the health conscious by touting the benefits of cricket flour."
June 11, 2014 | No Comments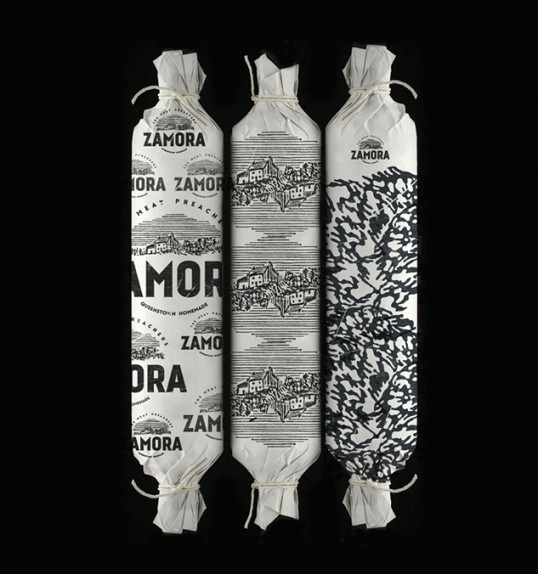 Designed by BARDO | Country: Australia
"Zamora shows its strongest side with character and commitment with the present, without ever losing sight of its traditions. 
We focus on a brand that calls us to discover their morphology. A brand that reflects the values of honesty and tradition demonstrated in caring for the manufacture of its products.
A brand that seeks to be young, but with a clear trend towards maturity."
June 10, 2014 | 2 Comments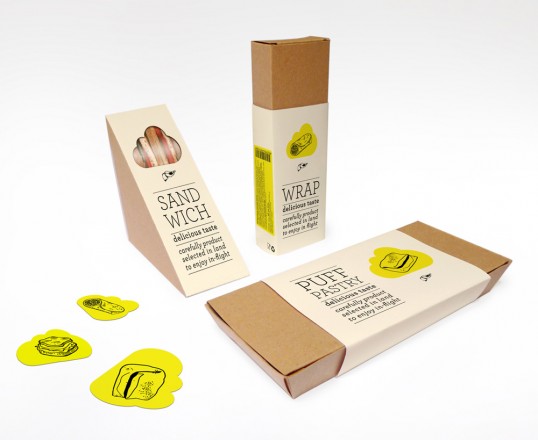 Designed by Antonio Dominguez | Country: Spain
"The leading European in-flight catering company's goal was to create an unbranded packaging to communicate an ecological and healthy product to introduce in the Scandinavian air market. The packaging design consists in cardboard boxes with transparent windows and simple paper bands to confer unity. Clouds can be removable from de paper bands to show the product inside."
June 9, 2014 | 1 Comment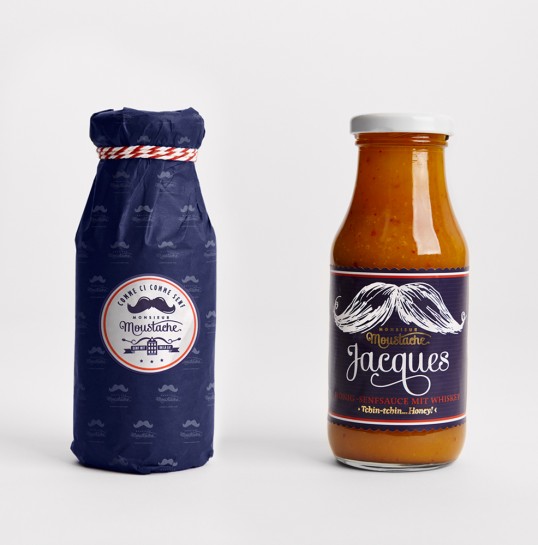 Designed by Studio Chapeaux | Country: Germany
"For more than 3000 years, mustard has been cherished as a sophisticated complement to the finest dishes, conquering the world's most illustrious dining tables. To bring to life recipes from across the mustard spectrum we have created a range of moustachioed connisseurs. Each expresses the character of a particular mustard through their moustache.
They are the grande monsieurs moustache."
June 8, 2014 | No Comments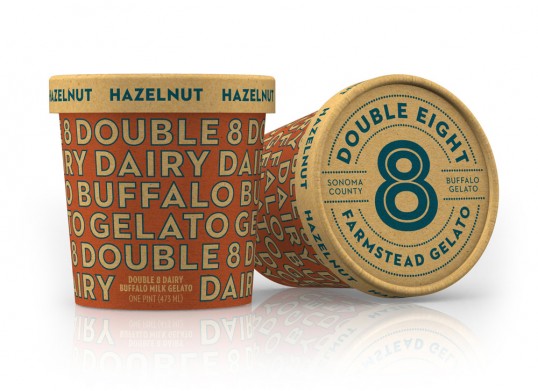 Designed by Cult Partners | Country: United States
"Water buffalo milk might seem like an esoteric ingredient to most, but in fact this milk is one of the richest, creamiest milks on the planet. Italians have milked buffalo for centuries to make cheeses like mozzarella di bufala. Double 8 Dairy decided to capitalize on the richness of the milk to create amazingly creamy farmstead gelato. The packaging captures this pioneering spirit by creating an unique aesthetic for ultra-premium ice creams and gelatos.  Positioned to stand out amongst other products in the high-end specialty food retailer, the design solution uses only color and repetitive typographic elements to create a bold and sophisticated branding statement. The end result is a package that exudes modernism, yet pays homage to the Italian heritage of the product itself"
June 6, 2014 | 1 Comment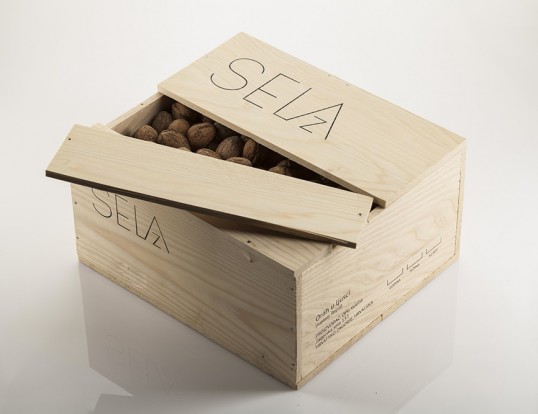 Designed by Bruketa&Zinic OM | Country: Croatia
"SELA Z is a brand from the Vukina Family Farm in Krapina-Zagorje County that needed a visual identity and packaging for the walnuts grown on the farm. The design was created by Bruketa&Zinic OM."
June 6, 2014 | No Comments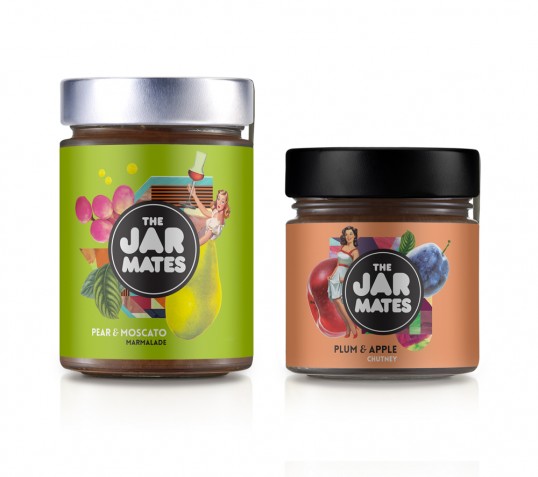 Designed by 2yolk | Country: Greece
"A low-volume producer of Greek delicatessen products entrusted us with the creation of their brand of marmalade and chutney for limited distribution in Greece, with a view to overseas marketing in the near future.
The unexpected marrying of two different but similarly packaged products, each of which is made in seven different recipes, was enough for us. THE JARMATES was an obvious choice of name. Tasting them all was yet another matter: a real trip! And it was just this that we were inspired to illustrate: a myriad collection of fruit, a kaleidoscope of flower blossoms, punk style pin-up girls, angular shapes, bright colours. All brought together in a collage to show you what you might see if you close your eyes just for a second as you taste the ultimate natural high: fragrant Greek fruits, and wines produced on Greek soil!"
June 4, 2014 | No Comments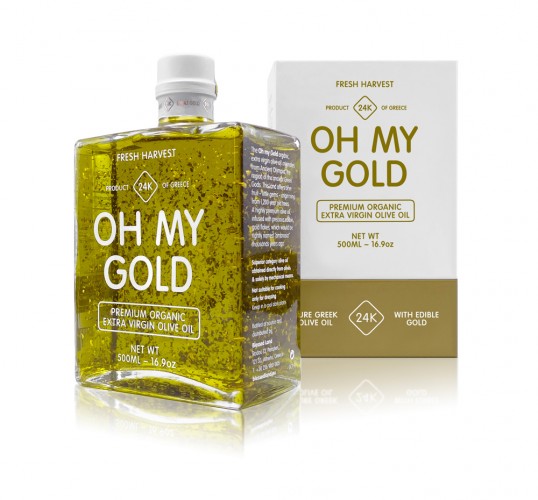 Designed by G Design Studio | Country: Greece
"A premium product line, of unprecedented quality, infused with edible gold. Container selection and typographic treatment, were inspired by the highly coveted gold bars. The unpretentious name that we created for this series, is a neologism addressing admiration, excitement and wonder."