March 24, 2014 | 2 Comments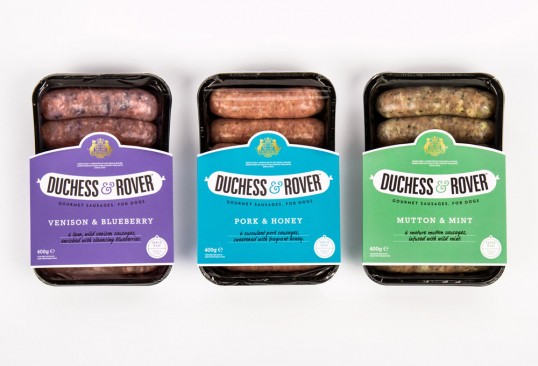 Designed by Robot Food | Country: United Kingdom
"Raw meat for dogs is a growing trend. It's the most natural way for dogs to get the fresh goodness they need and in answer to the rising demand, a whole new category has emerged. But however tasty it is for pets, there's no denying how unpleasant raw meat can be for owners.
Robot Food, the UK-based branding, packaging and new product development specialist, recognised the opportunity to offer dog owners a more appealing alternative. Instead of trays of frankly yucky product that's off-putting to handle, Robot Food came up with 'Duchess and Rover, gourmet sausages for dogs'. Working closely with a Yorkshire meat producer, the creative team developed the proposition, name, branding and packaging."
March 18, 2014 | 1 Comment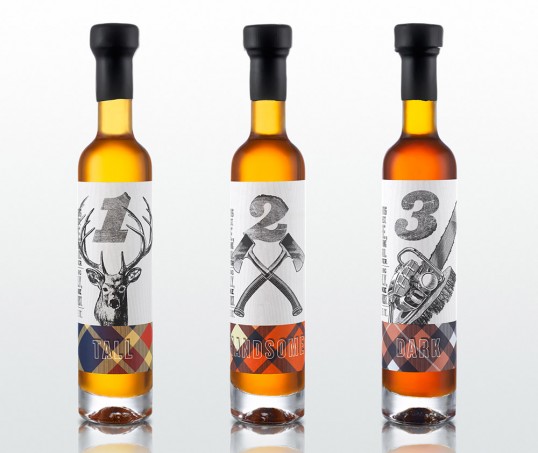 Designed by Goods & Services | Country: Canada
"For their 2013 client holiday gift, Goods & Services and Flash Reproductions decided to make the season a little sweeter by treating recipients to a flight of three different grades of maple syrup.
Following their mandate of giving handcrafted products from local producers, Goods & Services sourced the syrup from Matthews Maple Syrup, a family-owned farm in Powassan, Ontario. Ranging from light to medium to amber, each of the syrups was custom bottled and labelled with names that reflect an aspect of Canadiana: light like the song of a voyageur (light), smooth like the shot of a hockey player (medium), and strong like the arms of a lumberjack (amber)."
March 12, 2014 | 1 Comment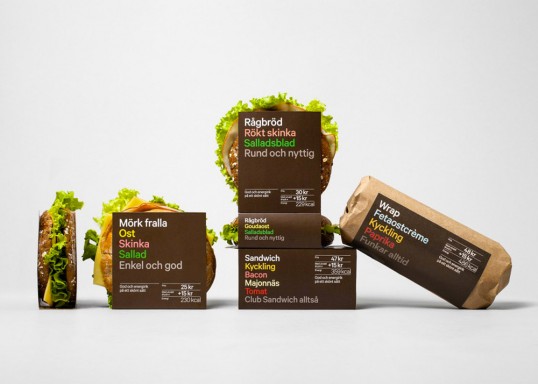 Designed by BVD | Country: Sweden
"More and more we choose a quick sandwich, wrap or salad for lunch. But if you are in a hurry, it can be dif­fi­cult to see what is hid­den in the pack­ag­ing and tricky to find what you are look­ing for. Is the food fresh? Is it healthy? With new pack­ag­ing 7-Eleven and Press­byrån in Swe­den want to enhance their fast food range."
March 12, 2014 | No Comments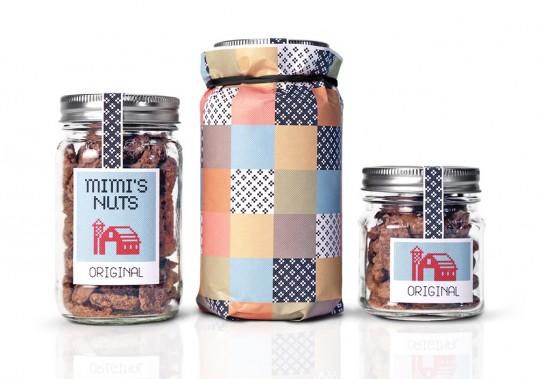 Designed by Drew Watts | Country: United States
"Mimi's Nuts is a small company that produces and sells many flavors of pecans. We developed a stitched motif to emphasize the hand made qualities of the product. We then chose to draw attention to the large and ever-changing variety of nuts by developing an icon system for all the individual flavors. A minimalistic approach to the label design allows for the focus to be on the icons which in essence is the Mimi's Nuts brand."
February 26, 2014 | 1 Comment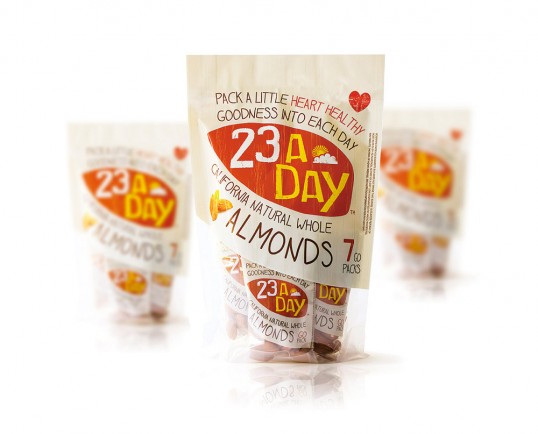 Designed by Edmundson Martin | Country: United States
"Ounce for ounce almonds are one of the most nutrient rich nuts on the planet. Just one handful a day can help support a healthy heart and provide valuable nutrition. Edmundson Martin was engaged by one of the largest California almond growers to create a new retail brand that would key on the health benefits a handful a day offers. The brand dubbed "23 a Day" offers an easy and convenient way to get the perfect daily portion of almond power. The new brandmark has a dynamic presence on pack, providing impact and distinction at shelf level. The overall tone is welcoming and energetic with a cool California vibe… inviting people of all ages to share in the goodness."
February 25, 2014 | No Comments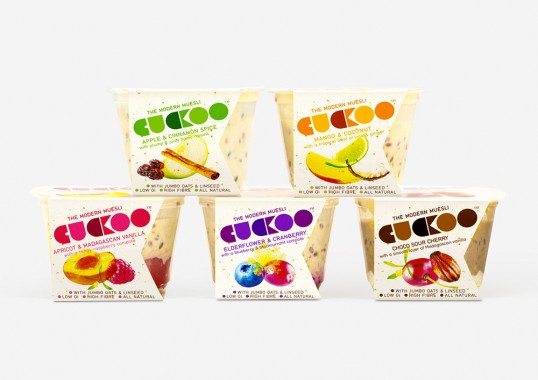 Designed by B&B studio | Country: United Kingdom
"B&B has created the name, identity and packaging for a new brand of bircher muesli. Sold in on-the-go pots, Cuckoo is a wholesome blend of jumbo oats, yoghurt and fruit inspired by the healthy Swiss lifestyle, but characterised by its range of innovative and adventurous flavours, including Mango & Coconut, Elderflower & Cranberry and Dark Chocolate & Sour Cherry."
February 24, 2014 | No Comments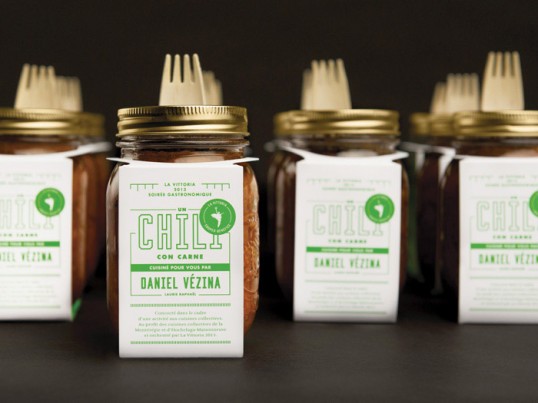 Designed by lg2boutique | Country: Canada
"For its 2013 edition, La Vittoria partnered with Cuisines collectives Hochelage-Maisonneuve and Montérégie, two organizations that promote food autonomy in Québec, notably by reintroducing their members to the basics of cooking. It was a natural fit given cooking is central to all La Vittoria events.
This year's theme took its cue from honoured chef Éric Gonzales (chef at Auberge Saint-Gabriel), who hails from France but now calls Quebec home. The event took shape around the theme of "Roots," inspired by the French heritage on Quebec soil and a return to vegetables from the ground. The creative paid tribute to the earth and its flavours through different pieces that showcased root vegetables, their freshness, raw perfection and elegant shapes.
The edition also marked the second appearance of guest chef César Troisgros, of the Michelin-starred Troisgros family. A further nod to the French heritage of Quebec cuisine."
February 13, 2014 | 1 Comment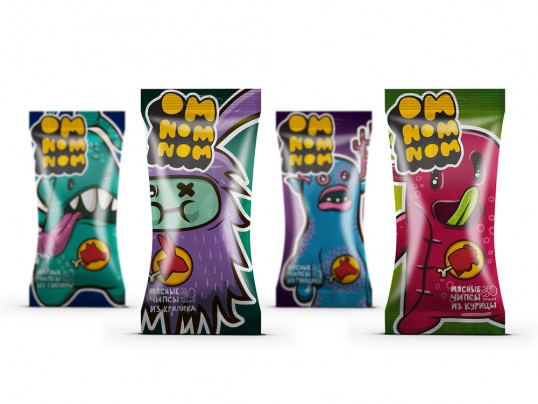 Designed by Anastasia Ovsyannikova | Country: Russia
"Packaging of meat chips for teens. The flavor lineup includes: pork, beef, chicken and rabbit. It's a fancy and healthy snack, an alternative to the ordinary chips, chocolate and other unhealthy snacks.
Small handy pack for usage while on the run. Each pack contains vinyl stickers in order to sticker bomb everything around. Visual idea is to combine street characters and stickers."
February 12, 2014 | No Comments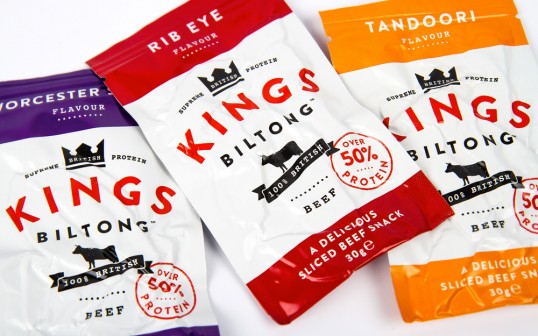 Designed by Robot Food | Country: United Kingdom
"The market for healthy, protein-packed snacks is booming, and Kings Biltong is leading the way. The nutrition brand, set up by three ex-England rugby-playing brothers, makes dried, sliced beef in a range of delicious flavours.
Produced on their North Yorkshire farm from grass-fed British-beef, the high-protein, low-fat snacks offer athletes an alternative to chalky protein bars and other supplement snacks that often miss the mark in terms of both taste and quality perceptions.
Specialist brand development agency Robot Food, was asked to kick their branding and packaging into touch. The clean, confident result uses bolder, simplified branding, messaging and colourways to put quality, taste and provenance first."
February 11, 2014 | 2 Comments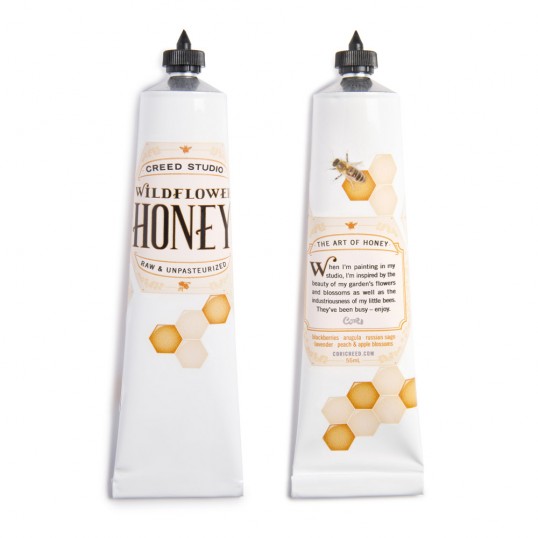 Designed by Saint Bernadine Mission Communications Inc. | Country: Canada
"Two passions collided to create Cori Creed's Wildflower Honey. Acclaimed West Coast landscape artist Cori Creed embraced a family tradition when she introduced bees to her flower garden – which can be admired from her studio window. To celebrate her first harvest, Cori wanted to create a limited edition package that she could share with friends, family, and supporters.
Designed by St. Bernadine, the packaging drew inspiration from Cori's first passion – painting. Using paint tubes, St. Bernadine created a unique and simple package that was perfect for the artist. Custom lettering was created to emphasize this personalized, one-of-a-kind honey, while subtle flourishes and intricate details reflected Cori's dedication to both her art and her garden. A die-cut label was wrapped around each tube, noting the individual flowers that helped to create the honey, along with a personal message from Cori."