April 7, 2010 | 22 Comments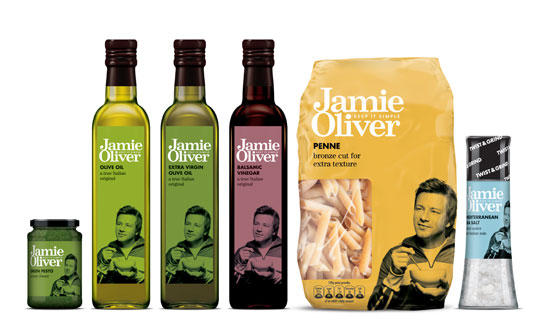 Designed by Pearlfisher | Country: United Kingdom
"Pearlfisher has redesigned the complete Jamie Oliver retail masterbrand range creating new identities for both the mainstream and specialist markets. The redesigned product ranges include food, cook and kitchenware, crockery, outdoor entertaining and gifting.
Continue…
April 1, 2010 | 4 Comments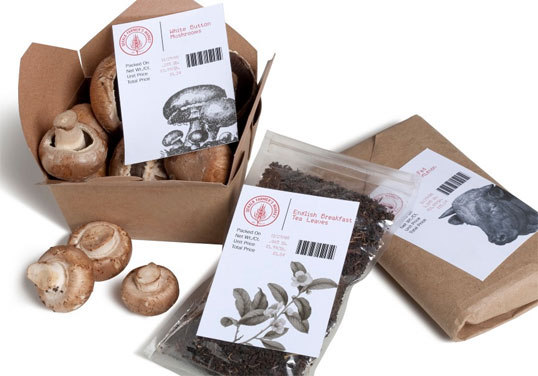 Designed by Bert Bacchus | Country: United States of America
"The Dekalb Farmer's Market is a loud, bustling epicenter of all things related to eating. I wanted the packaging to feel like you'd visited a port of call and just had your passport stamped. The labels are designed to work with a simple dot matrix printer."
April 1, 2010 | 1 Comment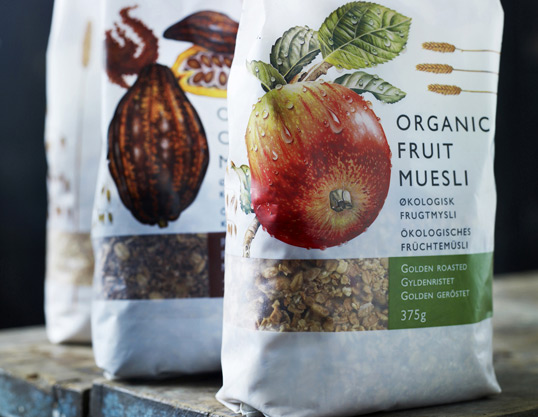 Designed by envision:design | Country: Denmark | Font used: Gill Sans
Crispy Food markets muesli with two simple demands: its contents have to be ecological and it has to taste great. envision:design got the assignment to express these two things in a concept and design packaging for the European market. The concept: "Muesli: the way it was meant to be" was the basis for design and communication. The design is based on traditional English textbook illustrations of the ingredients. This adds originality and emphasizes the ecological aspect without being boring. These componets are put into a light and simple Scandinavian design universe that challenges the way consumers are used to seeing muesli in the supermarkets. The illustrations are made by the British illustrator Roger Kent and Danish Illustrator Susanne Weitemeyer.
March 28, 2010 | 5 Comments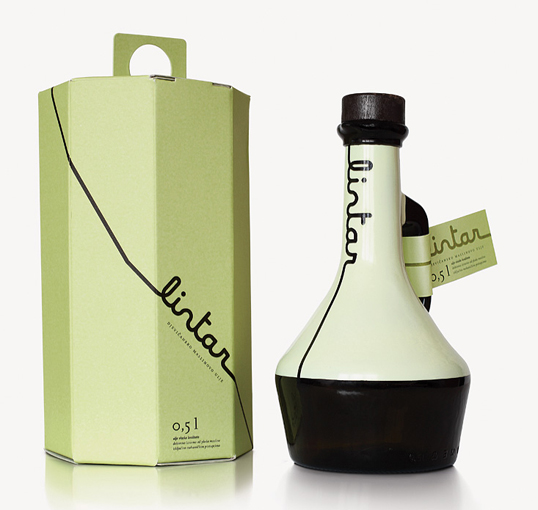 Designed by Tridvajedan | Country: Croatia
"Lintar olive oil is the product of years of investment of Cemex Croatia Company in sustainable development. On the southern slopes of Kozjak, local oil mill and the Cemex Company together made the project of regeneration by planting indigenous species of olive trees.
March 26, 2010 | No Comments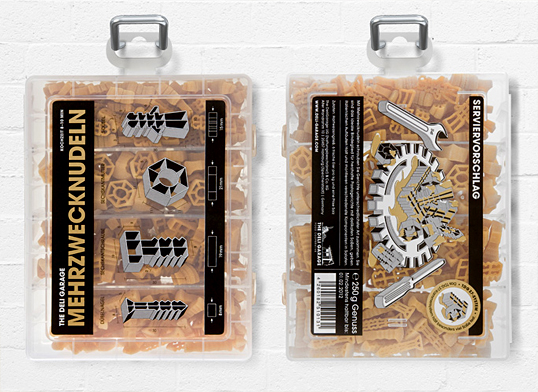 Designed by KOREFE | Country: Germany
The Deli Garage is known for it's fun and quirky food products inspired by industrial tools and packaging. Their Mehrzwecknudeln product slots into this concept nicely with it's fastener shaped pasta and fastener style packaging.
March 22, 2010 | 11 Comments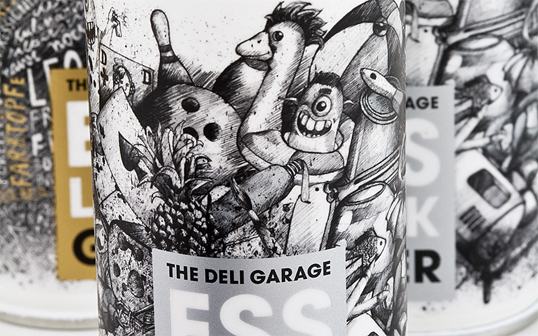 Designed by KOREFE | Country: Germany
"Esslack is food coloring in a spray can. With the two colors of gold and silver finishes it's a delectable delight of all kinds."
March 20, 2010 | 3 Comments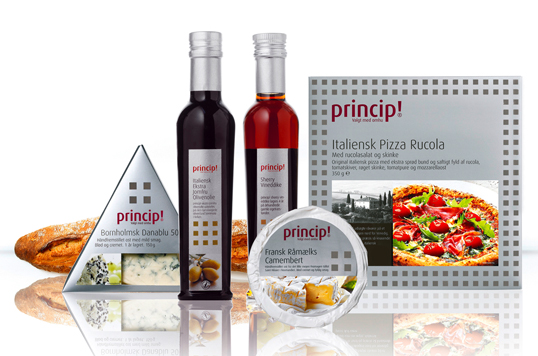 Designed by envision:design | Country: Denmark
"Princip! is Denmark's first premium private label. Princip! is based on high quality standards, both for the products themselves, but also for the production methods, to ensure a tasting experience out of the ordinary. The Princip! series consists of foods across all categories with over 100 products. This is a challenge to the design process, as traditions and packaging types vary extensively from category to category.
envision:design has been involved in the project from the beginning and has also taken part in the process of developing the concept, the quality level, the range and of course the marketing. The agency chose a simple, cool, Nordic design look, predominated by large silvergrey spaces and light images. Princip means principle – which refers to the high quality standards that are demanded of the suppliers."
March 19, 2010 | 4 Comments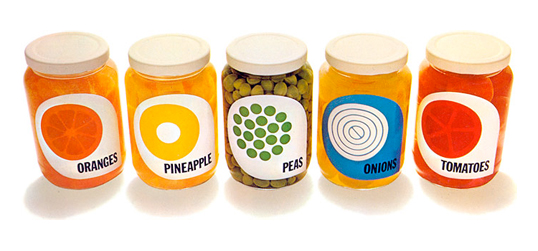 Designed in 1968 by Champion Papers – Creative Director: James Miho | Country: United States
This is a conceptual packaging project created by Champion Papers to promote their line of Kromekote paper. Although these designs are now 42 years old, they have a timeless simplicity which has inspired many a supermarket own-brand over the decades.
via Containerlist
March 19, 2010 | 4 Comments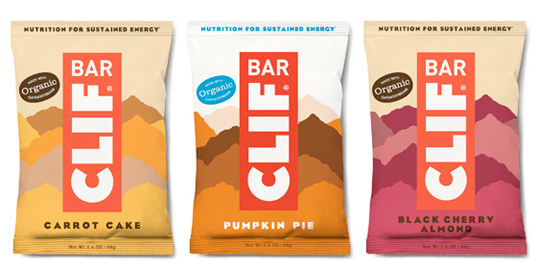 Designed by Eric Ellis | Country: United States
A student packaging redesign project where two different concepts were explored.
"While I didn't think the existing CLIF Bar's packaging was all that bad, I did have a few ideas for improvements. I wanted to pull the brand into more of an organic/healthy direction and not have as much emphasis put on the sporty aspect, with the idea that CLIF can be enjoyed even if you aren't planning on scaling a rock wall anytime soon."
March 18, 2010 | 2 Comments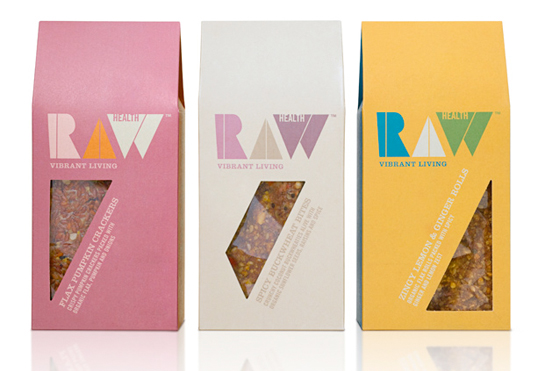 Designed by Pearlfisher | Country: United Kingdom
"New brand creation. Redefining the raw food movement, taking it from niche to a universally understood and accepted concept."