March 26, 2010 | No Comments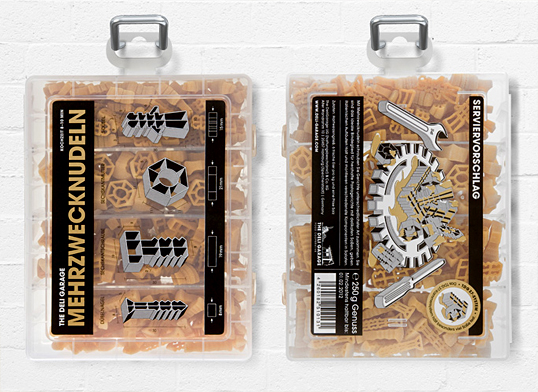 Designed by KOREFE | Country: Germany
The Deli Garage is known for it's fun and quirky food products inspired by industrial tools and packaging. Their Mehrzwecknudeln product slots into this concept nicely with it's fastener shaped pasta and fastener style packaging.
March 22, 2010 | 11 Comments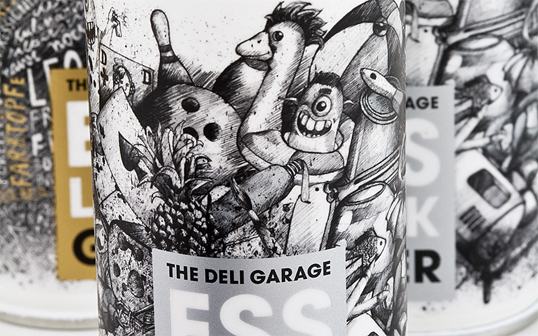 Designed by KOREFE | Country: Germany
"Esslack is food coloring in a spray can. With the two colors of gold and silver finishes it's a delectable delight of all kinds."
March 20, 2010 | 3 Comments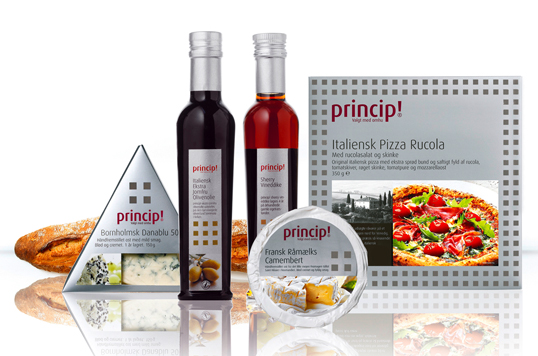 Designed by envision:design | Country: Denmark
"Princip! is Denmark's first premium private label. Princip! is based on high quality standards, both for the products themselves, but also for the production methods, to ensure a tasting experience out of the ordinary. The Princip! series consists of foods across all categories with over 100 products. This is a challenge to the design process, as traditions and packaging types vary extensively from category to category.
envision:design has been involved in the project from the beginning and has also taken part in the process of developing the concept, the quality level, the range and of course the marketing. The agency chose a simple, cool, Nordic design look, predominated by large silvergrey spaces and light images. Princip means principle – which refers to the high quality standards that are demanded of the suppliers."
March 19, 2010 | 4 Comments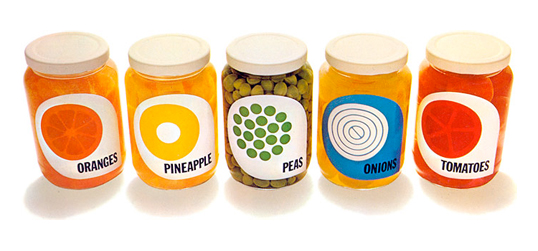 Designed in 1968 by Champion Papers – Creative Director: James Miho | Country: United States
This is a conceptual packaging project created by Champion Papers to promote their line of Kromekote paper. Although these designs are now 42 years old, they have a timeless simplicity which has inspired many a supermarket own-brand over the decades.
via Containerlist
March 19, 2010 | 4 Comments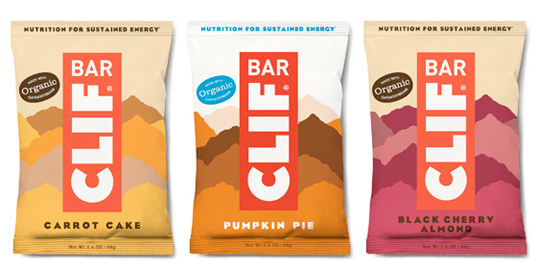 Designed by Eric Ellis | Country: United States
A student packaging redesign project where two different concepts were explored.
"While I didn't think the existing CLIF Bar's packaging was all that bad, I did have a few ideas for improvements. I wanted to pull the brand into more of an organic/healthy direction and not have as much emphasis put on the sporty aspect, with the idea that CLIF can be enjoyed even if you aren't planning on scaling a rock wall anytime soon."
March 18, 2010 | 2 Comments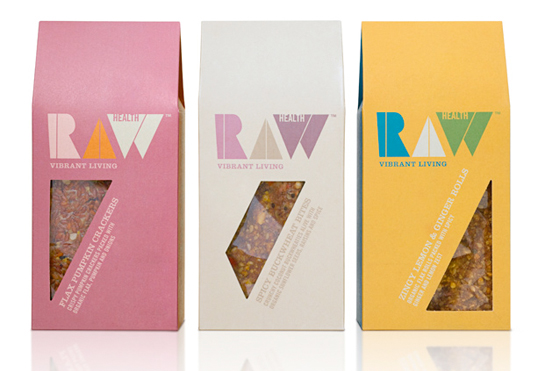 Designed by Pearlfisher | Country: United Kingdom
"New brand creation. Redefining the raw food movement, taking it from niche to a universally understood and accepted concept."
March 18, 2010 | 8 Comments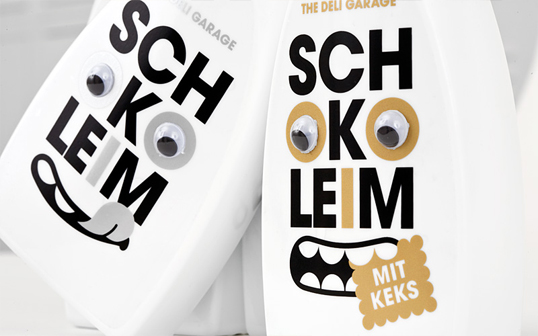 Designed by KOREFE | Country: Germany
"Schokoleim is a chocolate paste, packaged in the classic wood glue bottle. The Food Label The Deli garage offers "artisanal" delicacies made with high quality design and functionality of tools from the garage."
March 17, 2010 | 4 Comments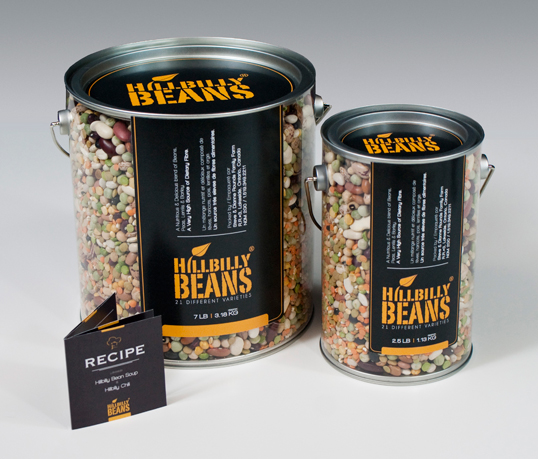 Designed by Andrew Matveev | Country: Canada
"The purpose of the project is to redesign the packaging and identity for this brand, in order to advance into a larger market, and compete with eye catching supermarket product designs. The product is currently being sold locally by vendors, and markets, and in order to begin its sales in a larger retail outlet, the product needed a face lift. We needed to create a design which would bring the product into the future. It would also need to be portable, flexible in sizes, stackable on shelves and able to ship in large quantities. The idea was not to just sell beans, but to sell it as a mix, which would include a recipe book with 2 recipes (Hillbilly Chilli, and Hillbilly Bean Soup) and promotional information. The idea is to revamp the companies look to prepare it for a larger market, while keeping in mind the details of product management."
March 15, 2010 | 2 Comments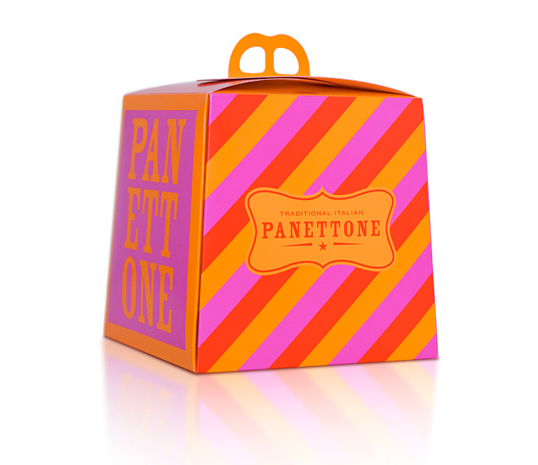 Designed by Pearlfisher | Country: United Kingdom
Pearlfisher have done it again, producing more beautiful and varied packaging work for Jamie Oliver. Check out our previous post on Jamie Oliver packaging here.
March 14, 2010 | 1 Comment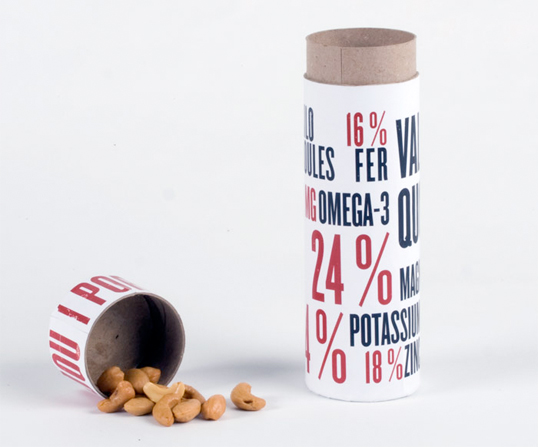 Designed by Jolin Masson-St-Onge | Country: Canada
A packaging concept for cashew nuts where the portion size is measured by the lid and the nutritional information of the product is presented in a large, typographic format.