March 3, 2010 | 1 Comment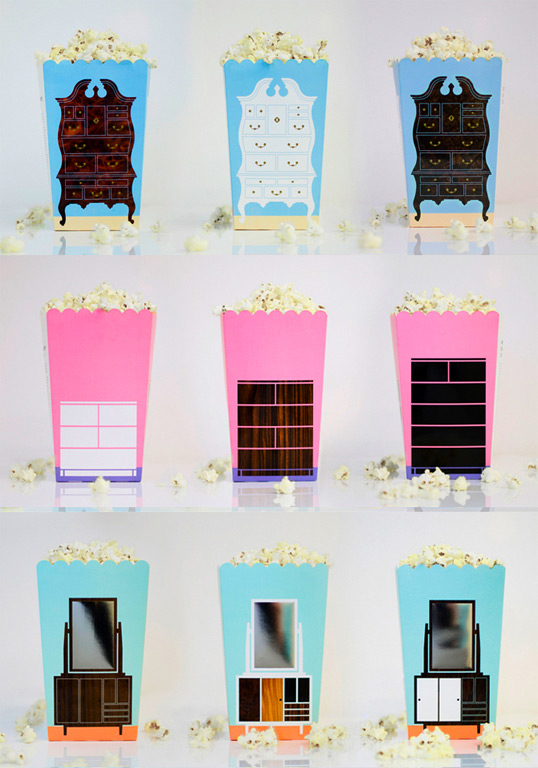 Designed by Milk | Country: Sweden
"Packaging design for  "Bureau of the Year 2010″ in Sweden. A competition where advertising-, media and design bureaus compete against each other based on clients' evaluations.
The event is sponsored by a printing company called Elanders. That allowed us to be more creative when it came to printing techniques. This series has partial gloss, 400 dpi raster on wood textures, silver foil and high quality paper to represent some of Elanders printing possibilities."
March 2, 2010 | 1 Comment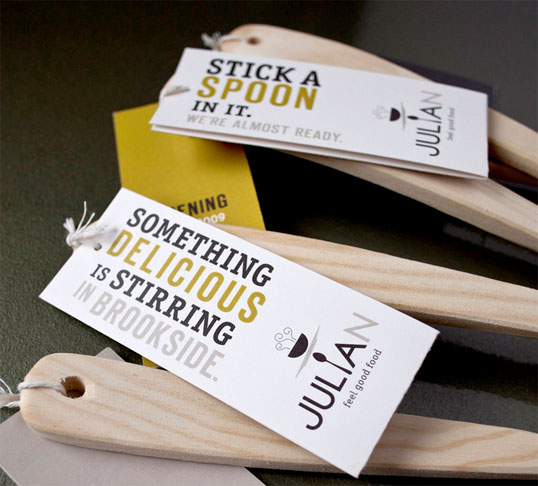 Designed by Jordan Gray Creative | Country: United States | Fonts: ITC Officina Serif
Part of a complete branding project for a new restaurant in Kansas City, this packaging uses a lovely simple colour palette and includes beautiful take-out boxes and bags.
March 2, 2010 | No Comments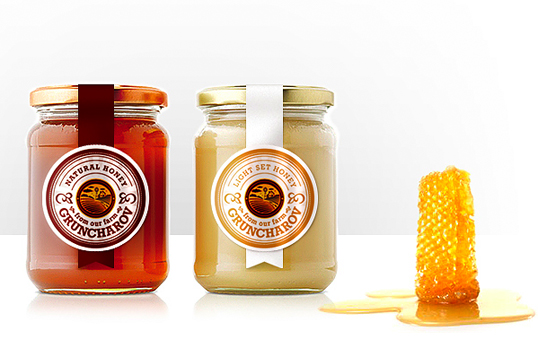 Designed by Dreamworx | Country: Bulgaria | Fonts: Rockwell
"The client wanted a very stylish retro-looking design, but with a modern appeal. So in the end it came down to a not so regular round shape, avoiding all the usuall bees, sunflower stuff."
March 1, 2010 | 3 Comments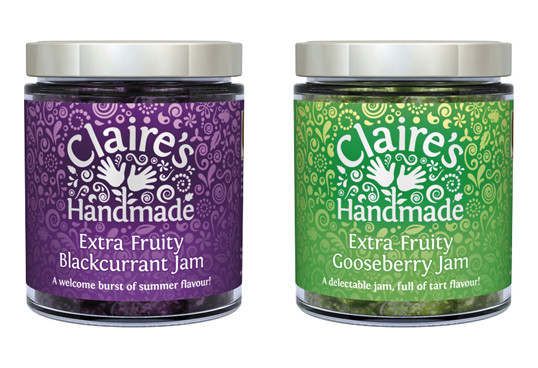 Designed by Simmer | Country: United Kingdom | Fonts: Fontin
"Specialist food and drink branding consultancy Simmer has just launched a new brand identity for artisan preserver Claire's Handmade.
Claire's Handmade makes delicious award-winning Preserves, Chutney, Piccalilli, Ketchup, Jam, Marmalade and Lemon Curd. Recipes are created by Claire Kent and her chef husband, ingredients are locally-sourced where possible and products hand-made in Cumbria. The range is sold in retailers around the North-West and further afield and are also served extensively in fine restaurants, tea rooms and foodservice outlets.
February 27, 2010 | 15 Comments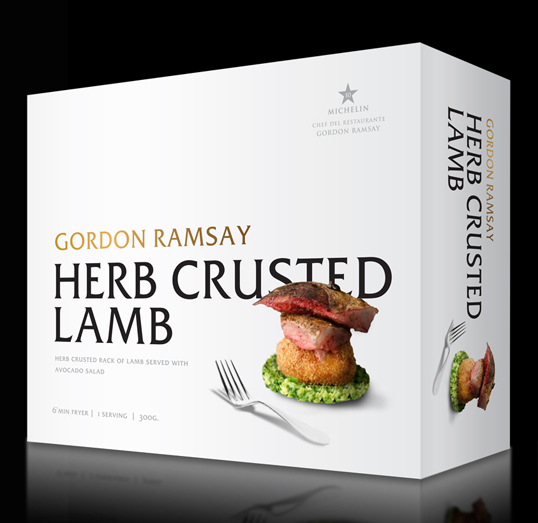 Designed by José Luis García Eguiguren | Country: Spain | Fonts used: ITC Friz Quadrata
"Our assignment was to create an elegant product-line for a famous chef. I chose Gordon Ramsay, a renowned UK chef who has received 10 Michelin stars. For this, I utilized a clean and simple design that emphasized the typography as a differentiating element to accompany the photography.  Instead of laying out the food as it would appear on a plate, it is placed in a more artistic manner as if it was a sculpture. I used photographs on the  lateral panels of the boxes in order to create a more dynamic brand (example: escargots and marmalades). As you can see, it's a very clean, elegant and simple way to create a brand that is unified by a typographic style."
February 26, 2010 | 2 Comments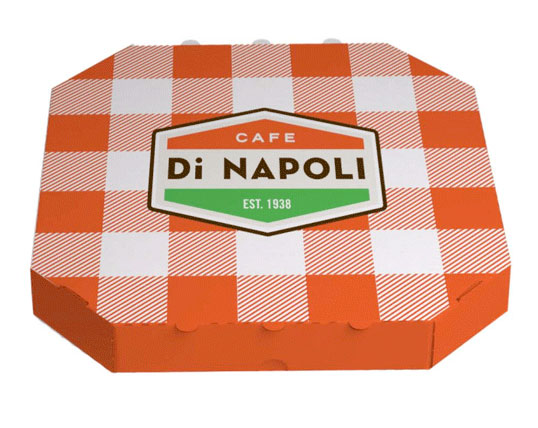 Designed by Gregory Hubacek | Country: United States | Fonts: Trade Gothic, Neutra Display Titling
"Serving traditional pizza, pasta, salads and other options, Cafe Di Napoli is the oldest Italian restaurant in the twin cities. After moving from its original location, the restaurant wanted to rebrand themselves as more of a quick lunch option for skyway travellers rather than a full service sit-down experience."
February 26, 2010 | 1 Comment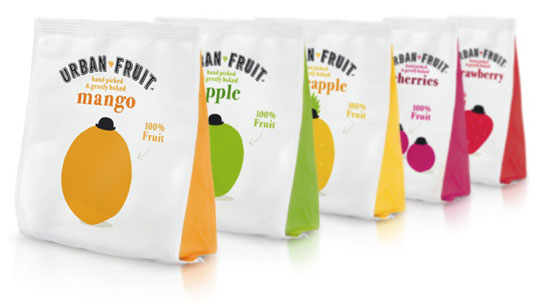 Designed by B&B Studio | Country: United Kingdom
Coloured gussets deliver a bright splash of colour while allowing the front of the package to stay very minimal in nature.
February 25, 2010 | 3 Comments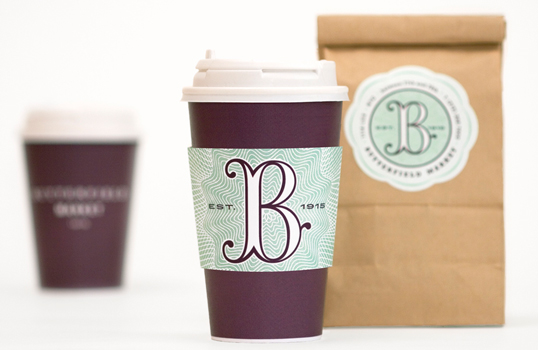 Designed by Christine Celic Strohl at Mucca Design | Country: United States
"An Upper East Side temple to luxury foods since 1915, Butterfield Market is a family-owned retail grocery famous for its superior quality food and outstanding customer service. With the addition of a new catering division, they needed guidance in creating a scalable, cohesive identity to facilitate the projected growth of the enterprise from a localized phenomenon to a widely recognized brand, with the potential to go national.
February 21, 2010 | 4 Comments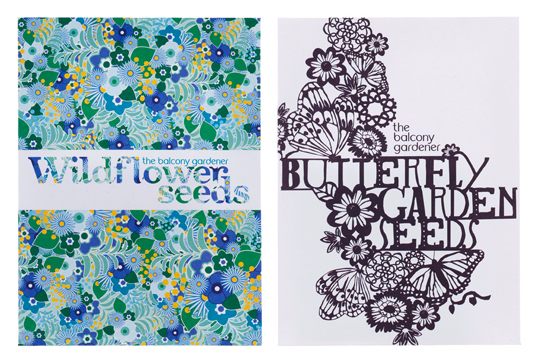 Designed by Chloe Dunne | Country: United Kingdom
The Balcony Gardener sells a unique range of packaged seeds for small gardens.
February 16, 2010 | 2 Comments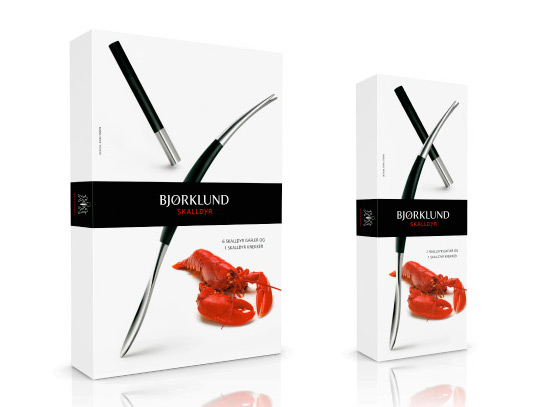 Designed by Strømme Throndsen Design | Country: Norway
"A classical symbol of Norwegian invention and design. From deficit to surplus."