November 10, 2009 | 10 Comments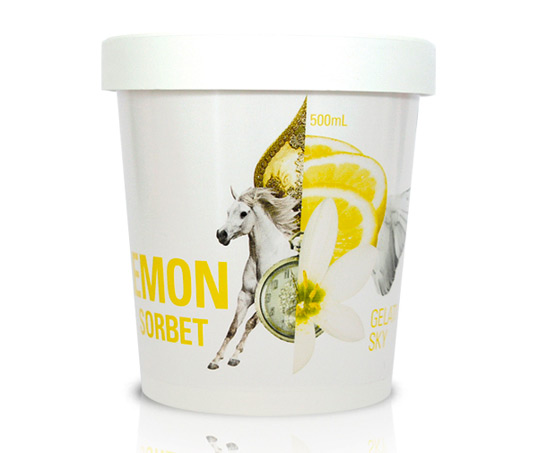 Designed by Truly Deeply | Country: Australia
"This project was to re-brand Gelati Sky, a boutique, premium gelati range. The story of Gelati Sky had such strong personality. It was based around Gelati Sky founder Paul Scalisi memories of growing up in Rome, eating gelati – 'a world where every moment seemed frozen in an amazing sensory assault and every cloud in the sky made you feel it was about to rain gelato'. We were looking for something that was strikingly unique, represented his story and would create conversation.
November 8, 2009 | 3 Comments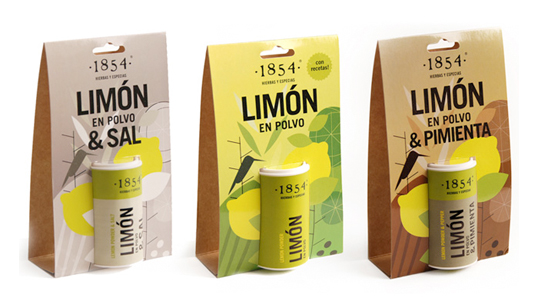 Designed by Estudio Clara Ezcurra | Country: Argentina
These cheery lemon powder shakers would easily make themselves seen on a busy spice rack or disorganized kitchen cupboard. The simple display packaging is useful to supermarkets who can either hang or stack the product.
November 1, 2009 | 9 Comments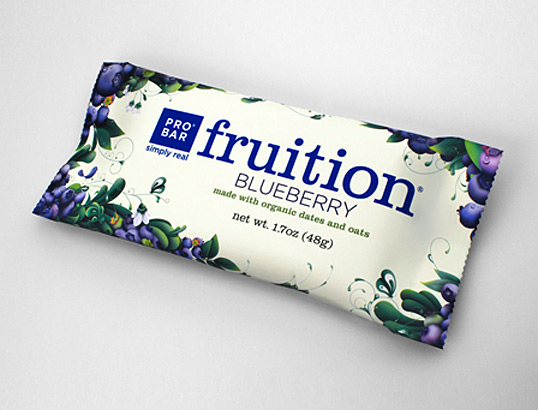 Designed by Moxie Sozo | Country: United States | Fonts: Clarendon, Gotham
"Probar is a high performance energy bar made from whole, raw foods. Each flavor is a different mix of fruits, nuts, berries, and seeds. Unlike most energy bars, Probar's ingredients are natural and recognizable. Moxie Sozo was hired to redesign Probar's entire product line. After the new launch, sales increased dramatically, market share improved, and the company picked up numerous new retail accounts."
October 28, 2009 | 8 Comments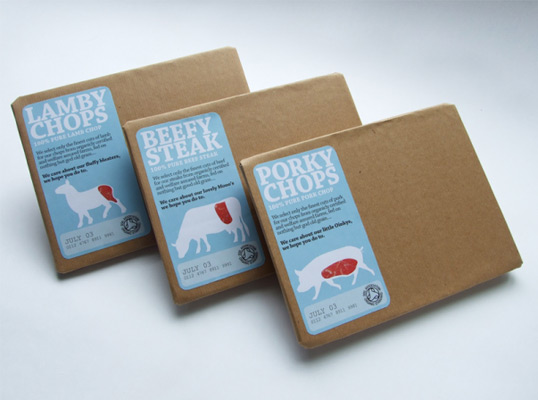 Designed by Chris Chapman | Country: United Kingdom
"A simple, biodegradable packaging concept for local organic meats."
October 27, 2009 | 3 Comments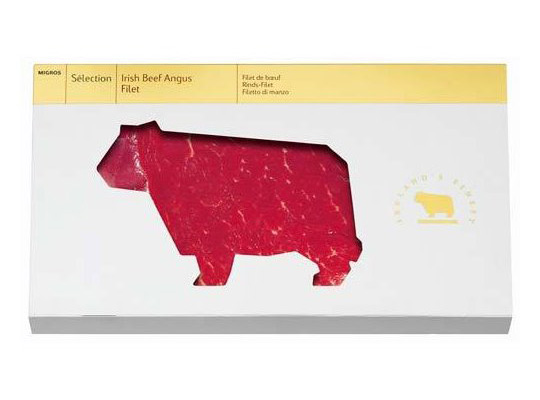 Designed by Schneiter Meier Külling | Country: Switzerland
Unique packaging for Swiss based food retailer Migros. The very simplistic design is offset nicely by the use of unique die cutting. If anyone knows who designed this please let us know.
October 26, 2009 | 11 Comments
Designed by Linn Gustafsson | Country: Sweden
"This was a project for a Japanese company who sells apples. The target group was young Japanese girls. I wanted to get a clean and modern feeling with the black color in different materials."
October 24, 2009 | 12 Comments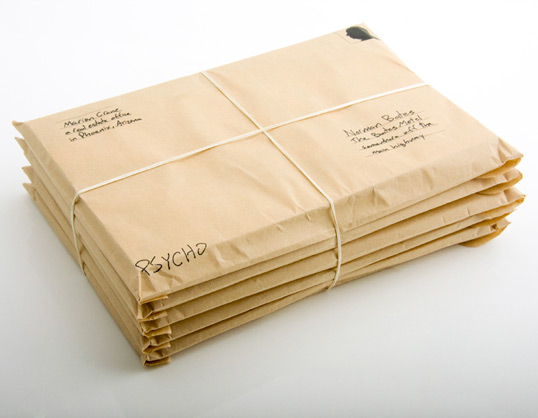 Designed by Sheldon Hui | Country: Canada
Recent Art Institute of Vancouver graduate Shledon Hui sent us a selection of his package design work.
October 23, 2009 | 6 Comments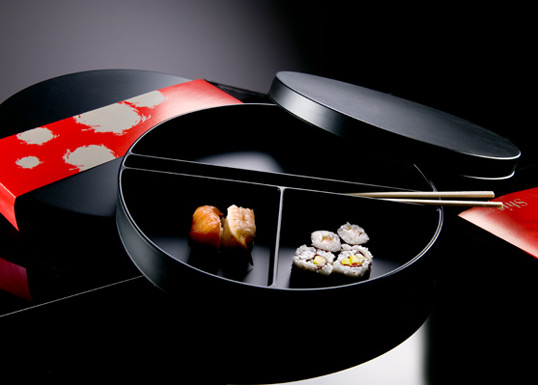 Designed by MPFXDESIGN | Country: Portugal
"Shis Sushi it's part of Shis Restaurant for which was developed sub graphic codes. Inspired in the oriental culture, red was the chosen chromatic color for the artwork applied in the circular package. This was inspired in the oriental geometry and in the restaurant logo. From the drawing mold to the graphic design and production, the package (in thermo-molded pvc for food), it  was thought to be resistant and practical for take away purposes. Inside it has different compartments to put the sushi, accompanied by chopsticks. Outside the package is sealed by belt of paper that identifies the content and the brand of the restaurant . The mentioned restaurant is situated by the sea in Porto, Portugal. All communication elements where designed by MPFXDESIGN, from a chromatic choice inspired in the sea."
October 22, 2009 | 1 Comment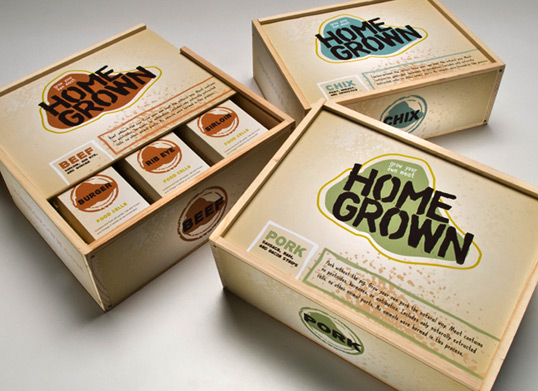 Designed by Heather Ashlee Rosenthal | Country: United States
"This isn't just any old meat packaging. This is meat packaging for an entirely new process of growing meat, separate from the animal! It might sound crazy but this project is a based on real technology. Be honest, there's nothing quite like a juicy piece of steak. Homegrown offers eco conscious meat lovers hormone and antibiotic free meat. Thanks to In Vitro technology, you can grow your own meat by nurturing food cells just as you would tend to a garden. The way it works is you extract a cell from a baby animal and keep it in a clean isolated place and nurture it by feeding it appropriate proteins and omega 3's. You can watch it grow just like you watch plants grow! Each pack includes cartoons with food cells as well a tubes of dissolvable protein tablets, omega 3, and even a growth chart!"
October 18, 2009 | 7 Comments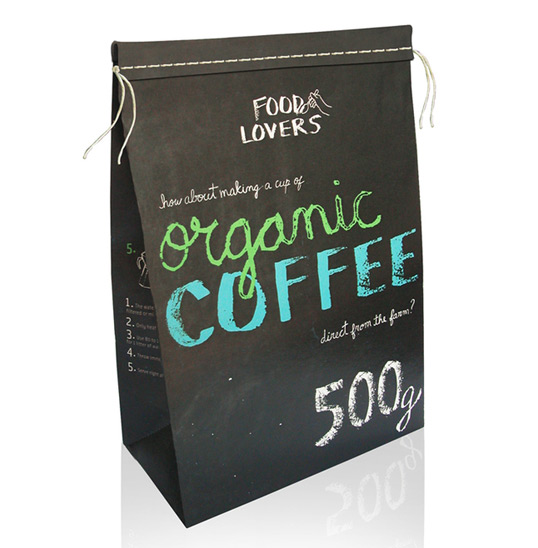 Designed by Isabela Serta | Country: Brazil
"The idea of this project is to promote a more healthy food consumption and, concurrently, to also promote sustainable local agriculture, which involves methods that do not harm the environment, respect workers and animals, provide fair wages to farmers and support farming communities.