August 6, 2009 | 2 Comments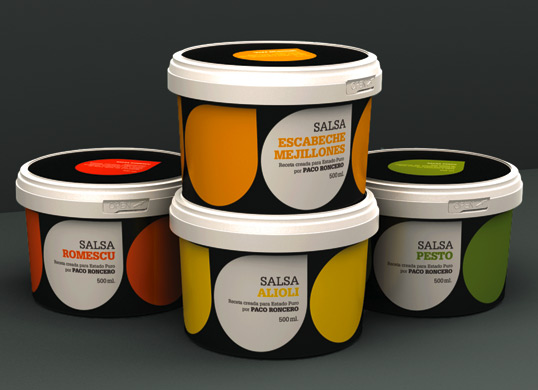 Designed by Justina&Co. | Country: Spain
Nearly two years ago Justina Sanchis left her position as Creative Director in one of the biggest design companies in Madrid to start her own company. Justina&Co.'s latest creation are these retro inspired designs for Paco Roncero's tapas sauces and olive oil.
August 3, 2009 | No Comments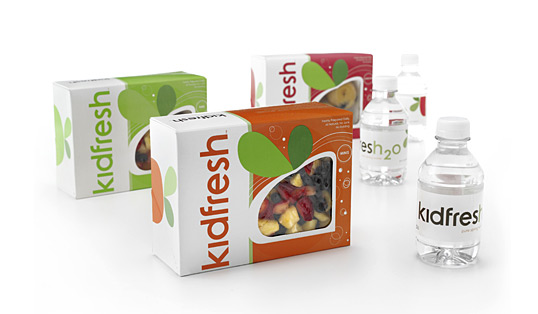 Designed by Landers Miller | Country: United States
"Kidfresh is a brand new lifestyle concept store that provides fresh, healthy foods especially for kids. The unique color-coded system of the products was our inspiration in creating the packaging, store graphics, signs, print collateral and website. As a startup store, we were involved not only in the strategy and visitor experience but also the naming of items such as "kidfresh2o," the "kidchen" and the "Kidfresh Dough Card"!"
August 3, 2009 | 1 Comment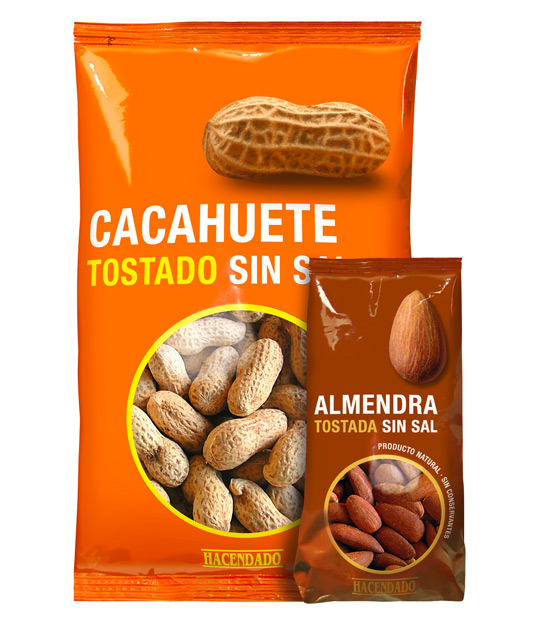 Designed by Lavernia & Cienfuegos | Country: Spain
"A dry fruits range produced by IMPORTACO exclusively for the supermarket chain MERCADONA. There was a main objective: to put order and to improve their visibility and to minimize the time in the shopping decision.
The solution is based:
– In the functional use of colours, which helps to identify the different ranges of products.
– A clear and very legible typography.
– Huge images of the nuts, which besides facilitating the identification provide a diferential and amusing aspect."
July 30, 2009 | 7 Comments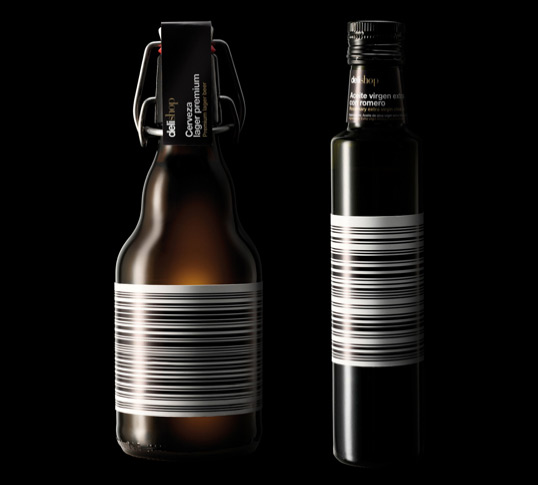 Designed by Enric Aguilera | Country: Spain
The bardcode/UPC is usually that one dreaded element that soils your beautiful package design. In the case of DeliShop, Enric Aguilera decided to create a brand which relies heavily on it.
July 23, 2009 | No Comments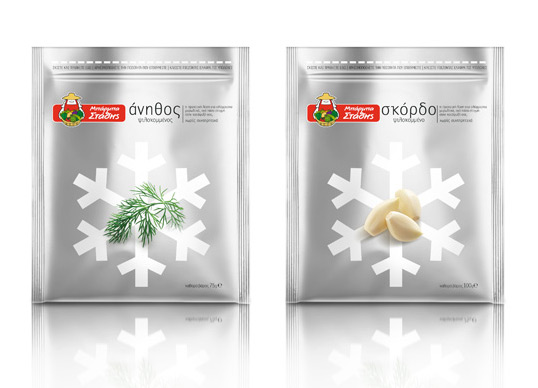 Designed by mousegraphics | Country: Greece
Nice clean work from Mouse Graphics for Uncle Statis Frozen Herbs. The pairing of product photography, a simple infographic styled icon and foil pouch, is a great way to visually illustrate exactly what's inside.
July 17, 2009 | 2 Comments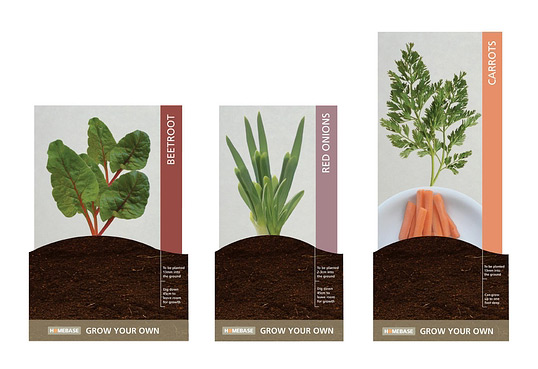 This year Turner Duckworth was the client for D&AD's Student Awards with their creative brief for Homebase. Students had to create packaging and point of sale for Homebase's 'Grow Your Own' fruit and vegetable range targeted towards novice gardeners.
July 14, 2009 | 7 Comments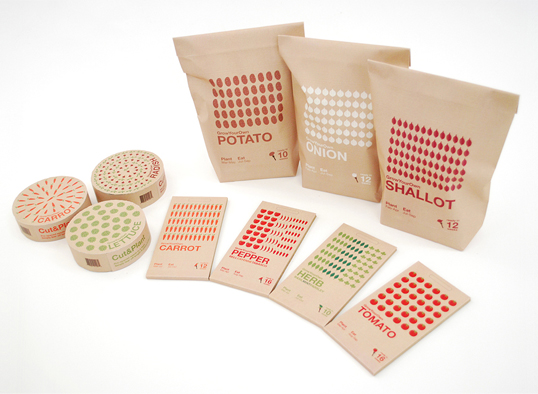 Designed by Adam Paterson and Santi Tonsukha | Country: United Kingdom
 Adam Paterson and Santi Tonsukha, students from the Royal College of Art have sent us in some images of their latest project 'GrowYourOwn', packaging for fruit and vegetable seeds for novice gardeners. This range of packaging works extremely well, the combination of clean attractive graphics with simple sustainable materials compliment how well each individual piece fulfils its purpose perfectly. Having won the 'In-Book' award for the D&AD student Awards 2009 we are eagerly awaiting their forthcoming projects.
July 10, 2009 | 5 Comments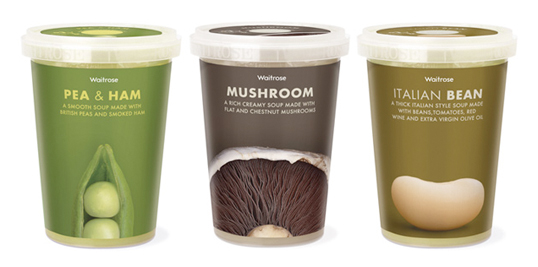 Designed by Pearlfisher | Country: United Kingdom
If only all supermarket own-brands had packaging that looked this good…
July 10, 2009 | No Comments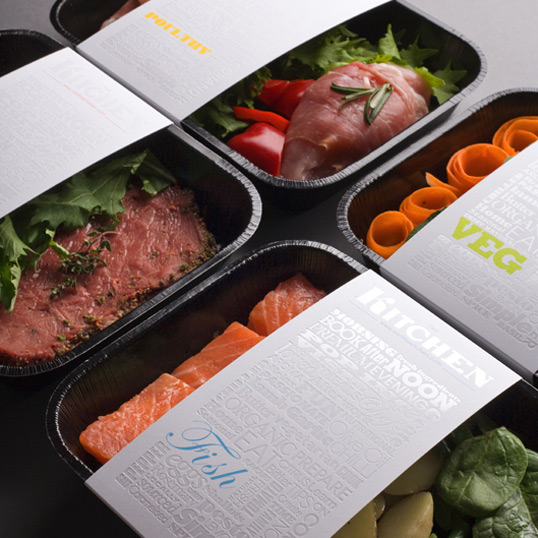 Designed by Design Friendship | Country: United Kingdom
"Project brief: To create a brand identity for a new culinary retail concept in the UK
The Kitchen's vision is you experience, first hand, how to create great tasting food from only the finest ingredients with Michelin Star Chef Thierry Laborde and his team."
July 9, 2009 | 4 Comments
Designed by Marque | Country: United Kingdom | Fonts: FF DIN | Buy it
"Since founding Kshocolat only four years ago, entrepreneur Simon Coyle has made an impressive impact on the international luxury chocolate market.  Our brief has been to help Simon carefully target a design conscious, modern market through his expanding range that incorporates innovative flavours – including lemon and pepper, and orange and cardamom.
Through an engaging, ongoing relationship Marque have worked to develop this British brand success from the base up, creating the brand identity, positioning and a range of over fifty different pieces of packaging. Kshocolat now export to two dozen luxury markets worldwide and can be seen in places such as British Airways First Class, Harvey Nichols, Liberty and Wholefoods Market."