August 18, 2009 | 3 Comments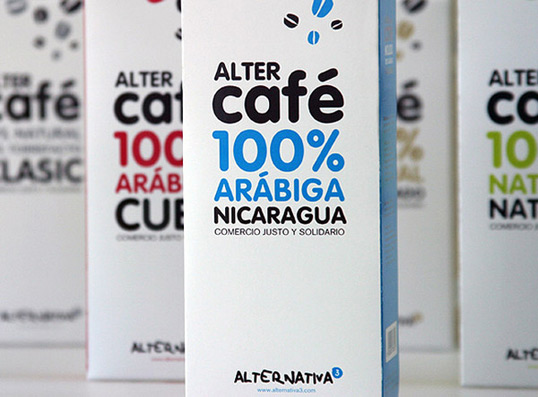 Designed by Nestor Urdanpilleta | Country: Spain | Buy it
"Alternativa 3, an organization working for Fair Trade since 1992, has come up with out-stand new packaging for their Fair Trade coffees range, within the process of the corporate identity change. The new design & identity are done by Nestor Urdanpilleta. The new identity captures the quality of the products and the clarity of Alternativa 3 philosophy as a Fair Trade organization. While the re-design is simple & clean, the message is clear as a Fair Trade organization."
August 17, 2009 | No Comments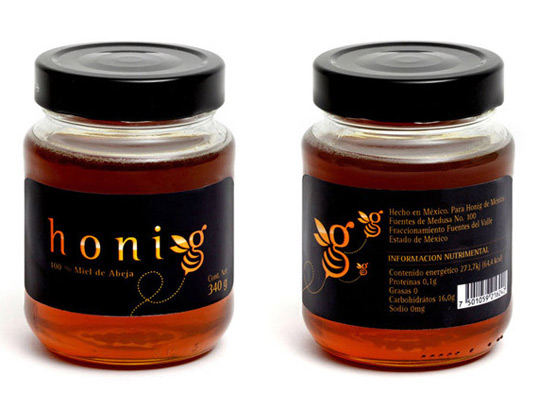 Designed by Factor Tres | Country: Mexico
Playful package design for Honig Natural Honey. The 'g' honey bee illustration is a nice touch which works seamlessly with the product name.
August 16, 2009 | 1 Comment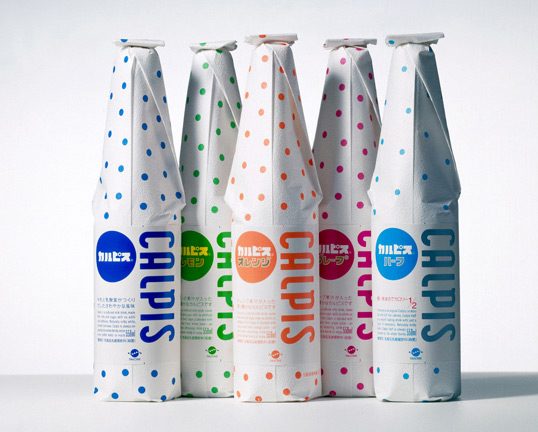 Designed by Taku Satoh Design Office | Country: Japan
Beautiful brand identity extending across multiple products for Japan's The Calpis Food Industry Co.
August 13, 2009 | 1 Comment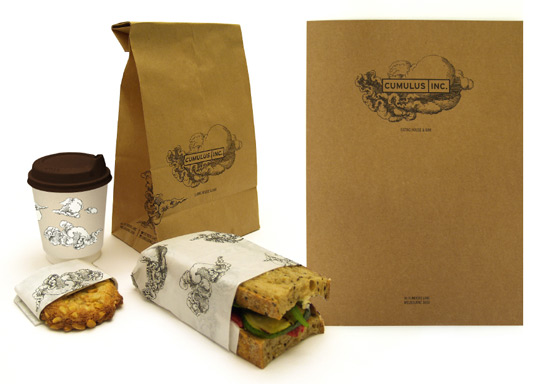 Designed by Round | Country: Australia
"The simple, environmentally friendly packaging range we developed for Cumulus Inc provides a flexible system and range of materials that can be adapted to suit the changing needs of the restaurant's takeaway business."
August 11, 2009 | 8 Comments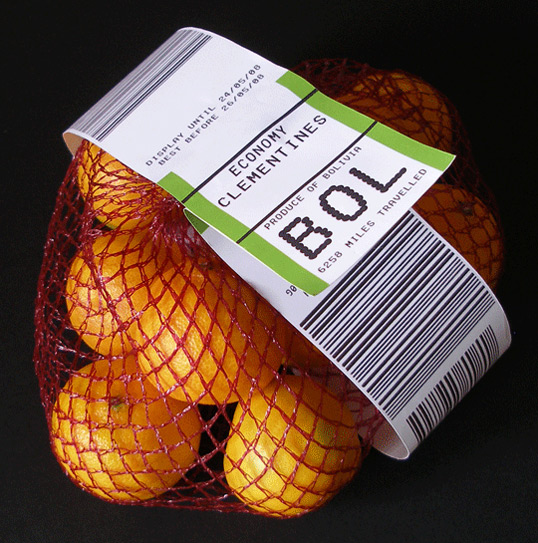 Designed by James Reynolds | Country: United Kingdom
Great concept from UK based designer James Reynolds which highlights the impact our daily purchases have on the environment.
"Alternative packaging for supermarket produce, highlighting the distances that some foods travel from and the resultant carbon dioxide released during the journey. The receipt features a boarding card style tear-off strip."
August 6, 2009 | 2 Comments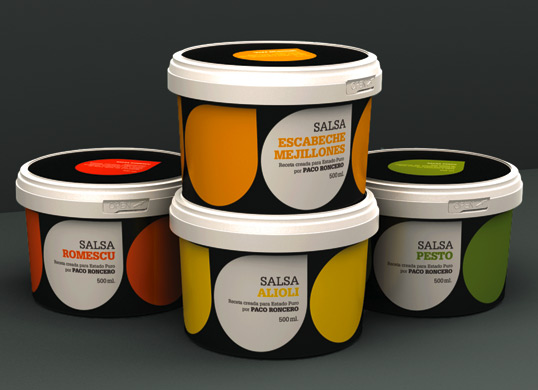 Designed by Justina&Co. | Country: Spain
Nearly two years ago Justina Sanchis left her position as Creative Director in one of the biggest design companies in Madrid to start her own company. Justina&Co.'s latest creation are these retro inspired designs for Paco Roncero's tapas sauces and olive oil.
August 3, 2009 | No Comments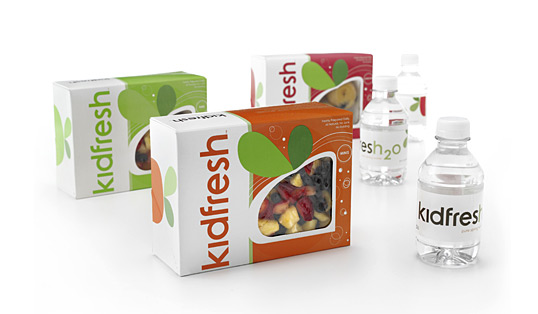 Designed by Landers Miller | Country: United States
"Kidfresh is a brand new lifestyle concept store that provides fresh, healthy foods especially for kids. The unique color-coded system of the products was our inspiration in creating the packaging, store graphics, signs, print collateral and website. As a startup store, we were involved not only in the strategy and visitor experience but also the naming of items such as "kidfresh2o," the "kidchen" and the "Kidfresh Dough Card"!"
August 3, 2009 | 1 Comment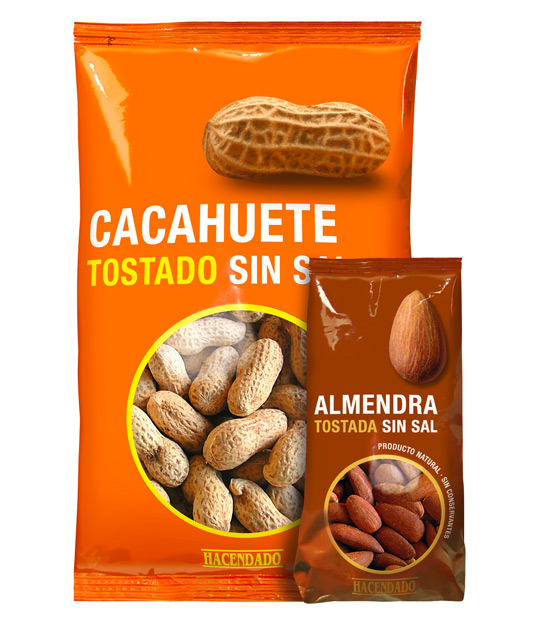 Designed by Lavernia & Cienfuegos | Country: Spain
"A dry fruits range produced by IMPORTACO exclusively for the supermarket chain MERCADONA. There was a main objective: to put order and to improve their visibility and to minimize the time in the shopping decision.
The solution is based:
– In the functional use of colours, which helps to identify the different ranges of products.
– A clear and very legible typography.
– Huge images of the nuts, which besides facilitating the identification provide a diferential and amusing aspect."
July 30, 2009 | 7 Comments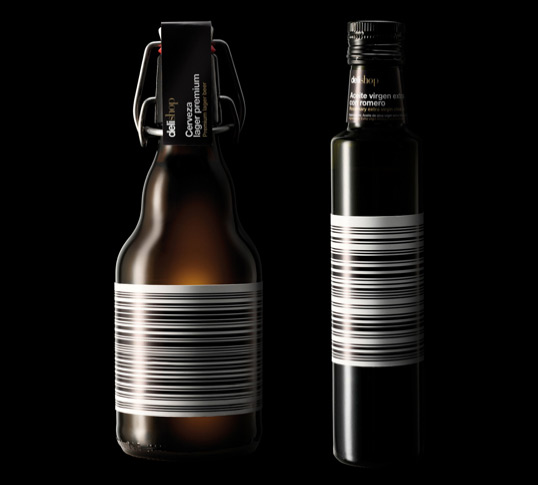 Designed by Enric Aguilera | Country: Spain
The bardcode/UPC is usually that one dreaded element that soils your beautiful package design. In the case of DeliShop, Enric Aguilera decided to create a brand which relies heavily on it.
July 23, 2009 | No Comments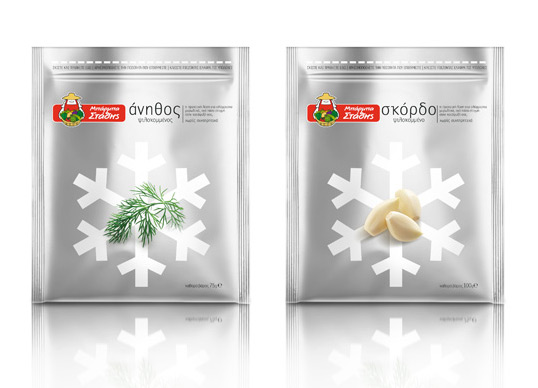 Designed by mousegraphics | Country: Greece
Nice clean work from Mouse Graphics for Uncle Statis Frozen Herbs. The pairing of product photography, a simple infographic styled icon and foil pouch, is a great way to visually illustrate exactly what's inside.