July 10, 2009 | 5 Comments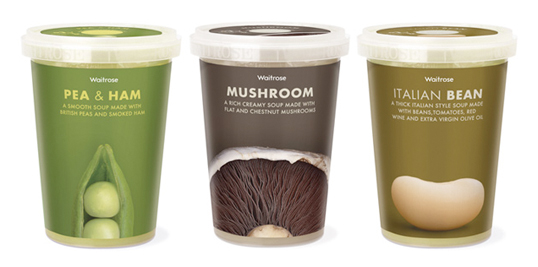 Designed by Pearlfisher | Country: United Kingdom
If only all supermarket own-brands had packaging that looked this good…
July 10, 2009 | No Comments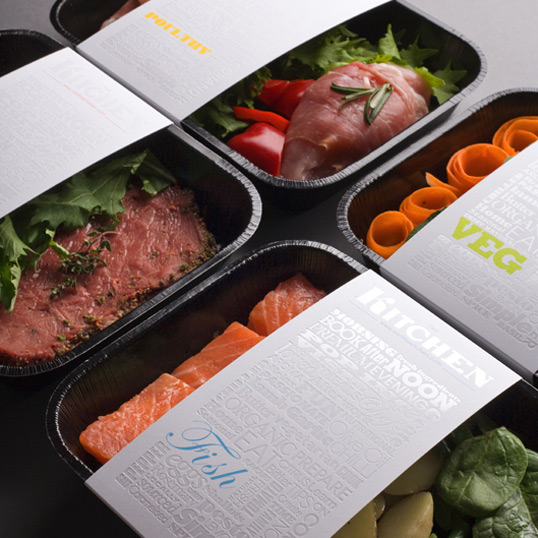 Designed by Design Friendship | Country: United Kingdom
"Project brief: To create a brand identity for a new culinary retail concept in the UK
The Kitchen's vision is you experience, first hand, how to create great tasting food from only the finest ingredients with Michelin Star Chef Thierry Laborde and his team."
July 9, 2009 | 4 Comments
Designed by Marque | Country: United Kingdom | Fonts: FF DIN | Buy it
"Since founding Kshocolat only four years ago, entrepreneur Simon Coyle has made an impressive impact on the international luxury chocolate market.  Our brief has been to help Simon carefully target a design conscious, modern market through his expanding range that incorporates innovative flavours – including lemon and pepper, and orange and cardamom.
Through an engaging, ongoing relationship Marque have worked to develop this British brand success from the base up, creating the brand identity, positioning and a range of over fifty different pieces of packaging. Kshocolat now export to two dozen luxury markets worldwide and can be seen in places such as British Airways First Class, Harvey Nichols, Liberty and Wholefoods Market."
July 8, 2009 | No Comments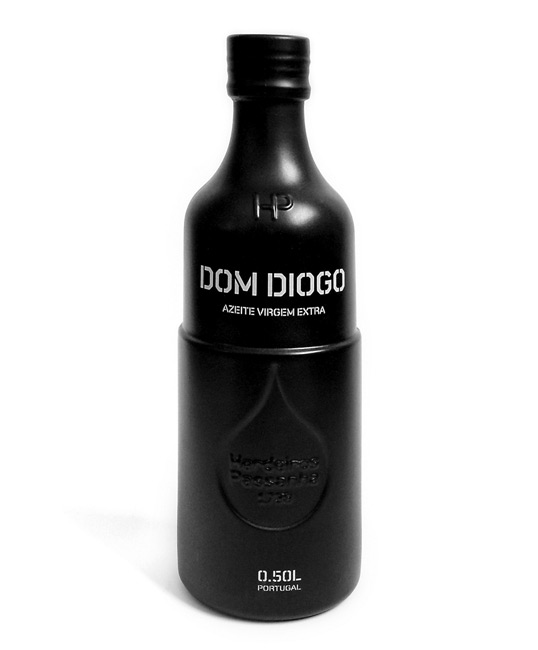 Designed by Base & Michael Young | Country: United States
"Base, an award-winning international design firm, introduces a luxurious new matte black design to celebrate the launch of Herdeiros Passanha's premier olive oil, Dom Diogo.
The design of the packaging is a further iteration of Base's collaboration with Hong Kong-based designer, Michael Young, on the AIGA award-winning bottles for Passanha's popular Quinta de São Vicente Olive Oil. The bottle silhouette represents an olive press divided into upper and lower parts by a horizontal ridge and featuring the signature drop that makes up the brand's graphic identity. The matte black coating is complemented by a contemporary stencil typeface, a reference to the handmade tradition of the Portuguese olive oil.
July 8, 2009 | 4 Comments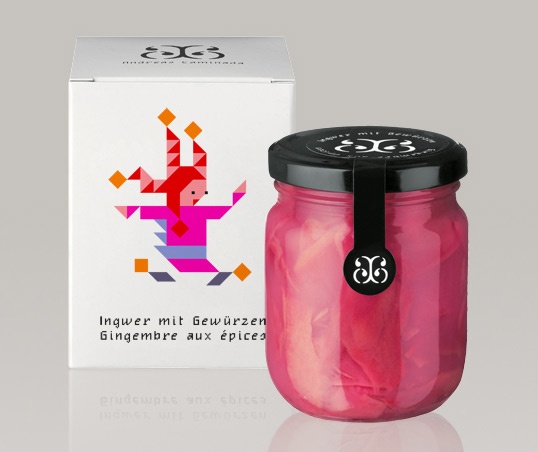 Designed by Remo Caminada | Country: Switzerland
"Andreas Caminada is cooking in a castle. The icons and the texts on the backside invite you to a special world of delicious food in a special atmosphere."
July 7, 2009 | No Comments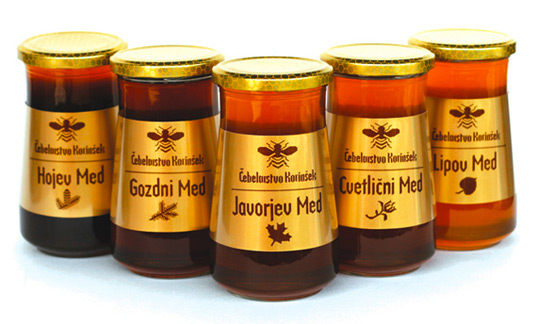 Designed by Katja Korinšek | Country: Slovenia
"Identity and packaging for honey makers Čebelarstvo Korinšek. In the logo is traditional Slovenian bee. The whole artwork is made of six-angle shapes. It includes five different sorts of honey and a honey candle."
June 24, 2009 | 5 Comments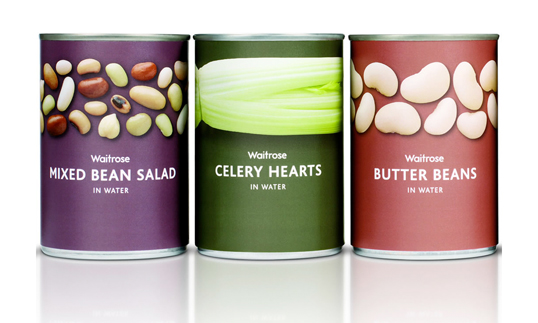 Designed by Turner Duckworth | Country: United Kingdom
Visually unified packaging solutions for a diverse variety of canned goods.
June 22, 2009 | 28 Comments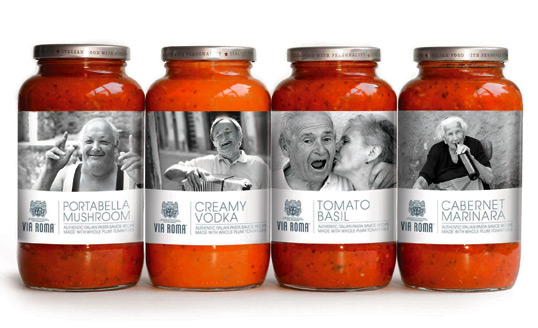 Designed by united* | Country: United States
"There are 3 million people in Tuscany. All different & all unique. This authentic Italian brand shows their true character, expression & emotion, in a way that has not been seen before in U.S. retail design."
June 21, 2009 | 4 Comments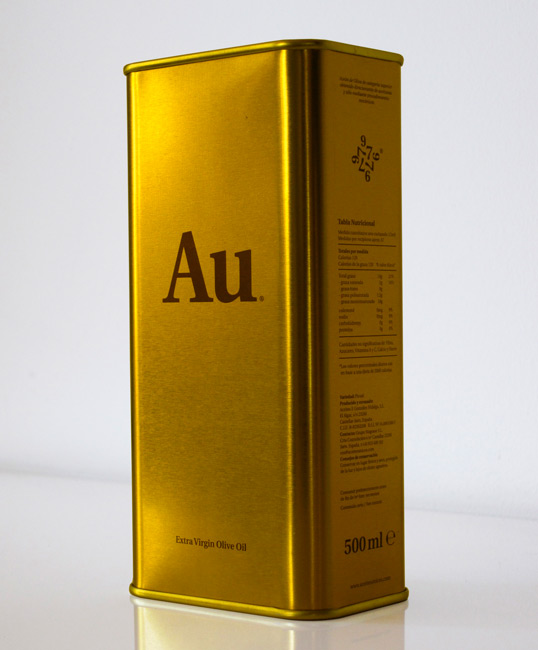 Designed by WESEMUA | Country: Spain
"Extra Virgin Olive Oil made from a pure variety of olives, produced in the famous region of Jaen, Spain. Traditionally Olive Oil is known as liquid gold, Au (lat. Aurum) is the symbol for the element Gold in the periodic table. Every tin of Au Olive Oil symbolizes a golden brick containing a pure variety of Extra Virgin Olive Oil. The Extra Virgin Olive Oil has a resemblance to gold in the brightness, the reflection of the oil in the light. Olive Oil is getting more precious everyday. Instead of creating a false coat of arms, we created a stamp using the 79, the Golds atomic number as the main signature for the rest of the range of oils, to give it more value and as sign of pureness."
June 17, 2009 | No Comments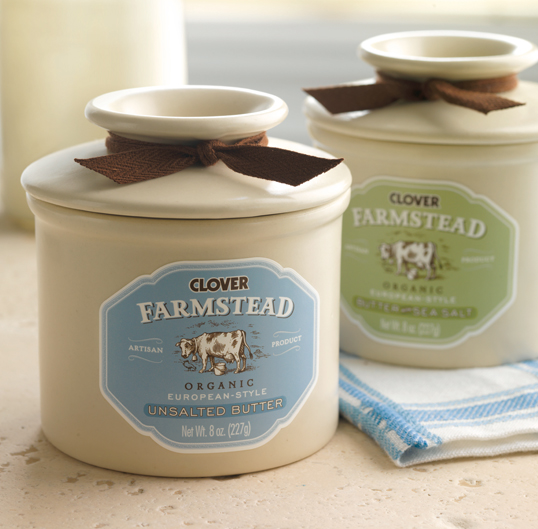 Designed by Voicebox Creative | Country: United States
"A circular, ceramic crock, in a natural cream-color with a matching "Clover Farmstead" embossed lid was selected for its old-world appeal. Adhesive labels were designed for the first two butter products. The front label, a proprietary shape with an embellished border, contains a woodcut-like sketch with "Artisan" and "Product" on either side with scroll-like details. As a finishing touch, Voicebox sourced a vendor to create a custom-dyed brown ribbon to tie around the crock lid for a compelling and distinctive shelf presentation."