April 28, 2009 | 5 Comments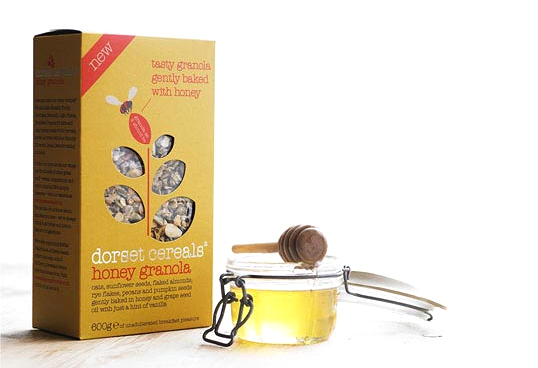 Designed by Big Fish | Country: United Kingdom | Font: ITC American Typewriter
Nice packaging for premium cereals by London based Big Fish.
April 27, 2009 | 2 Comments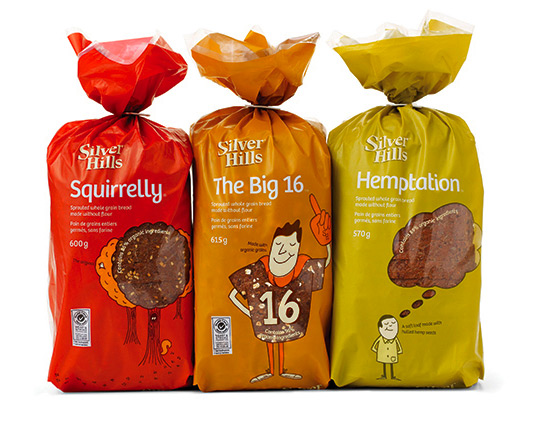 Designed by Karacters Design Group | Country: Canada
"The new creative concept was prompted by an insight discovered during brand strategy development that the bakery's "Squirrelly" bread had higher brand recognition and recall than the Silver Hills' parent brand.  Karacters Design Group's brand identity experts used this insight as an interesting naming strategy for the other breads and counseled Silver Hills to rename them with the following unusual, unique names:  Squirrelly, The Kings Kamut, Hemptation, The Big 16, Little Big Bread, Hardy Hearty Harvest, Mack's Flax, Marvelous Multi, Radiant Raisin and Steady Eddie.
April 27, 2009 | 1 Comment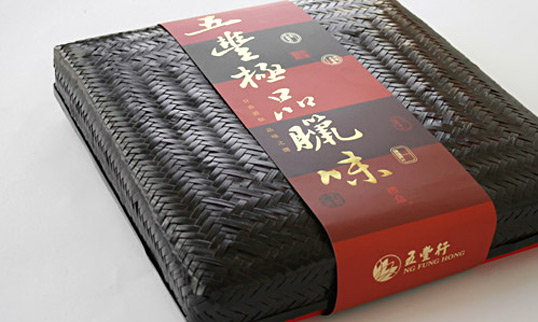 Designed by CODESIGN | Country: China
Package design for Ng Fung cured meat gift box.
April 26, 2009 | No Comments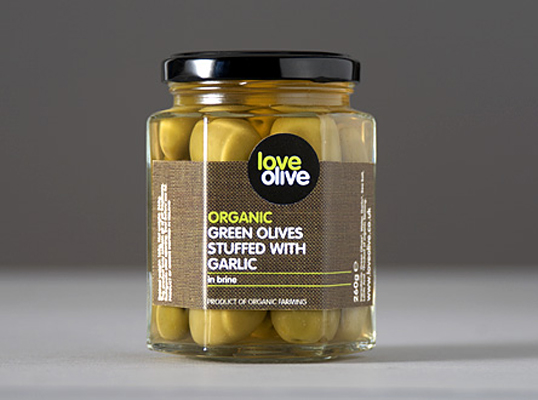 Designed by Sort Design | Country: Ireland | Font: VAG Rounded
"Love Olive is a new brand for Ireland's biggest olive wholesaler, supplying the finest olives and Mediterranean foods to trade, and directly through their retail outlets. Sort named and created the brand, and have worked with Love Olive over the last year to build and support the business through design. This has seen the opening of a flagship retail kiosk in Derry, several high-profile exhibition events and a full range of branded retail and business materials."
April 24, 2009 | 3 Comments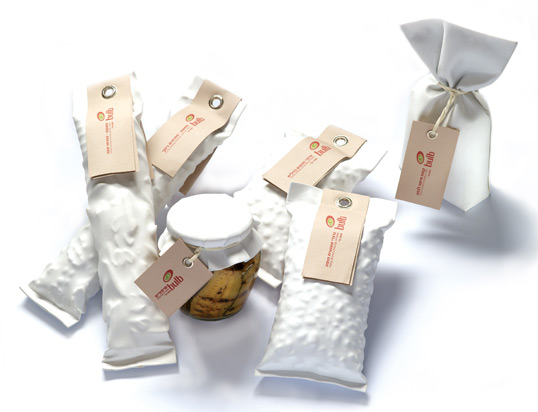 Designed by Igal Hodirker | Country: Israel
"The power of white is sometimes really underrated. As a designer I often hear "make it bigger, add more pictures, there's too much white space…"
These wonderful packages by Igal Hodirker demonstrates the power of white. The concept behind 'Bulb', an organic – GMO free fruit vegetables & food ingredients, is "the inner truth". Returning to nature, to our basic source, to the seed that grows within.
There are no distractions from this basic "truth", the product speaks for itself by giving it's own unique textures to the packages, which were designed with a soft and breathing white material.
Finally, a design so strong with it's silence, with a boutique charm, I could imagine it on a gallery stand…"
April 21, 2009 | 1 Comment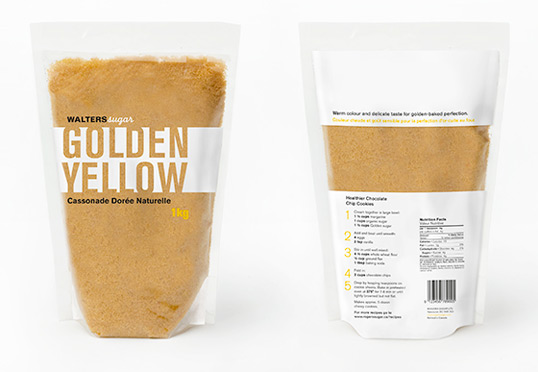 Designed by Felicia Hildebrandt | Country: Canada
Recent Capilano University IDEA graduate Felicia Hildebrandt sent in a few of her projects.
"This package redesign solves the problem of flimsy bags of brown sugar that spill easily. Walters Sugar resealable bag stands on its own and reduces clumping and spilling. Simple typography and design reflect ease of use and showcase the golden sugar."
April 21, 2009 | No Comments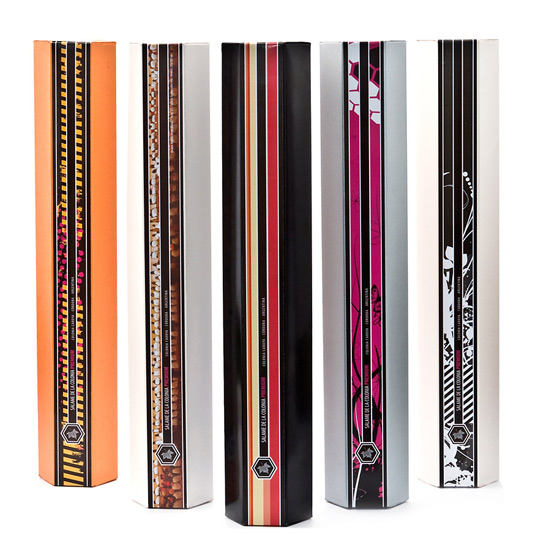 Designed by: Juan Carlos Lozada Chavez | Country: Argentina
Photographer Esteban Castagna sent us this unique packaging that he shot for Terra Colonna. The product range consists of premium food items such as ham, salami and cheese.
April 18, 2009 | 13 Comments
A few students in Package Design BFA who are studying at the Fashion Institute of Technology in New York sent us their work.
April 16, 2009 | 1 Comment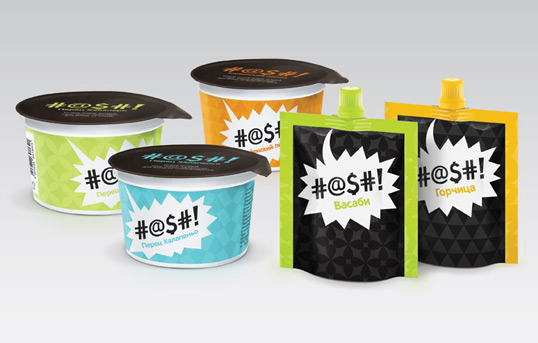 Designed by Hattomonkey | Country: Russia
"Hattomonkey has created a packaging design of hot sauce "Hashi" based on unique "non-censored" view. There is a huge selection of "Hashi" hot sauces: a very hot "Halapenio", extremely hot "Habanero", unbearable hot sauce "Cayenne pepper", as well as wasabi and mustard. That special look #@$#! was created just as soon as we tried this hot sauce at the studio. It's a comic stylized pack with logo consists of only symbols. So the exclamation balloon is to show an emotional wave. Designers have adopted a comic method. When it's hard to express feelings through words they supplement text by pictures. Thereby the sauce pack content is reintroduced by shout balloon with jagged edges. Hattomonkey informal packaging design is hot and excited. This is not just a simple sauce on a store shelf, it shouts the same language you do "#@$#!"."
April 14, 2009 | 3 Comments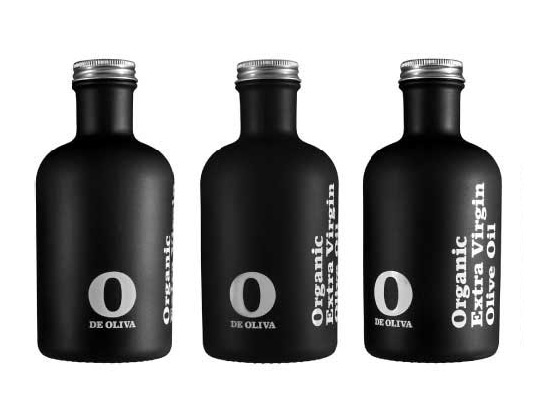 Designed by Eduardo del Fraile | Country: Spain
Beautiful simple design for O DE OLIVA olive oil. The contemporary design of the bottles creates a feeling of quality and craftsmanship.
"Aimed at the European market and targeting a consumer concerned with the manufacturing process and the quality of oil. This oil will be included in the range of products bearing an environmental certificate, and will accurately reflect how beneficial it is to our health.
By choosing a pack from the pharmaceutical industry, it is implied that the product is beneficial to our health. The opaque coloured bottle will preserve the quality of the oil.
In the case of oils combined with species, a band with a mosaic is used to reflect the variety of ingredients."