April 7, 2009 | 2 Comments
Designed by Tomer Zakai, Fogel Ogilvy | Country: Israel
"Happy-Happy-Joy-Joy. This is the feeling you get when you walk into one of MOSES restaurants in Israel. They wanted to reflect this feeling when ordering take away delivery as well. We designed different packages for their legendary "Artburger", amazing grilled sandwiches, sophisticated salads and mouth watering deserts. oh… and we didn't forget the utensils."
April 7, 2009 | No Comments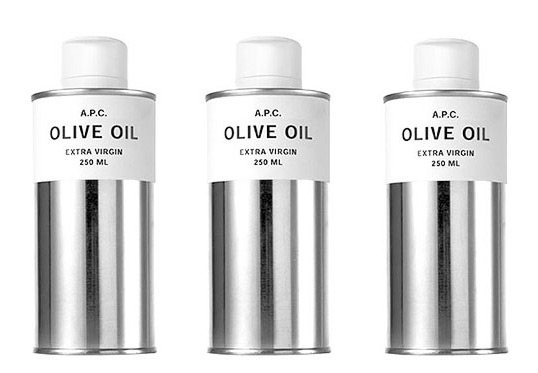 Country: France
Fashion brand A.P.C. designed their Olive Oil with the same clean minimal look of their clothing line. It almost has the feel of a fragerance product.
Via Selectism
April 2, 2009 | 1 Comment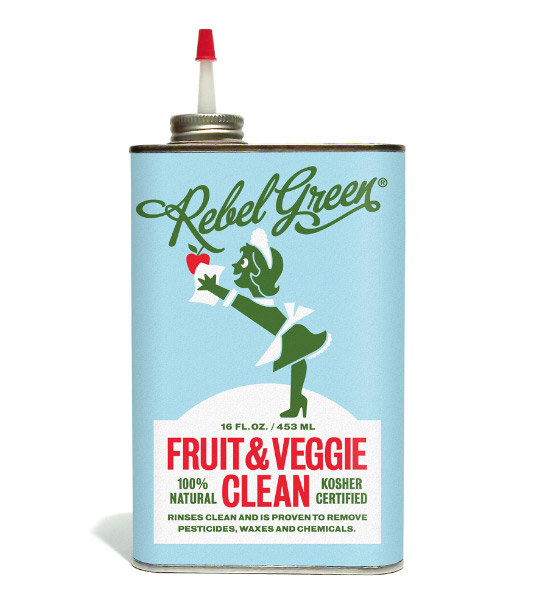 Designed by Wink | Country: United States | Buy it
"Rebel Green is a new breed of responsibly made products. Their fist step was to reach out to Wink for branding and product development. The result is brand that's authentic and a product line that's uniquely Eco-Americana, with just a dash of "you're not the boss of me" thrown in for good measure."
April 1, 2009 | 4 Comments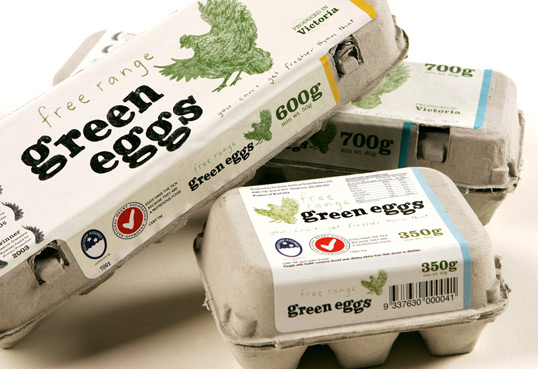 Designed by Swear Words | Country: Australia

"For the Greens, freshness and quality are the most important things, along with environmental sustainability and the happiness and welfare of their hens. Green Eggs are for people who share these values and want to supply the best products to their homes and customers, whilst supporting regional Victorian food producers.
We were asked to re-brand and package Green Eggs to communicate these values, and to have a some fun in the process. Check 'em out at all discerning eateries."
March 28, 2009 | 5 Comments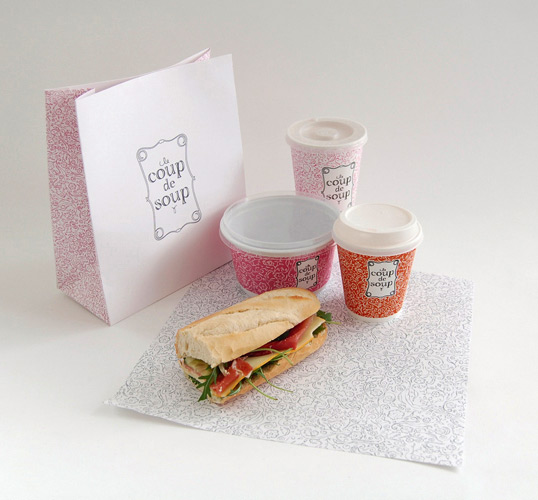 Designed by Peter Urban | Country: Denmark
Nice concept work by 21 year old Peter Urban from Copenhagen.
March 27, 2009 | 2 Comments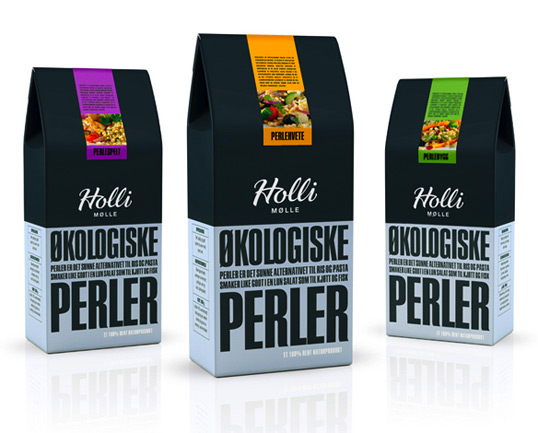 Designed by Strømme Throndsen Design | Country: Norway | Font: Helvetica Ultra Compressed
"Holli Mølle is a small organic mill in Eastern Norway, specializing in flour production with the use of ancient and nutritious grain types. The target audience is modern women who value health and nutrition and are willing to pay extra for the safety and taste of organic flour, thereby providing them with an extra feeling of love and care for their family.
In creating the name, visual language and packaging for Holli Mølle, the following criteria were highlighted:
– The identity should be based on traditional and authentic values.
– The packaging should be environmental friendly, functional, flexible and efficient in production.
– The identity should challenge the existing visual language in the flour category.
The result is a simple and unique graphical design, with fresh colours on the labels as the only differentiator between the 6 variants. The design communicates well with the target group, giving them a feeling that the flour really is "ground with love", as stated on the packaging in the personal message from the owner, Trygve Nesje."
March 25, 2009 | 2 Comments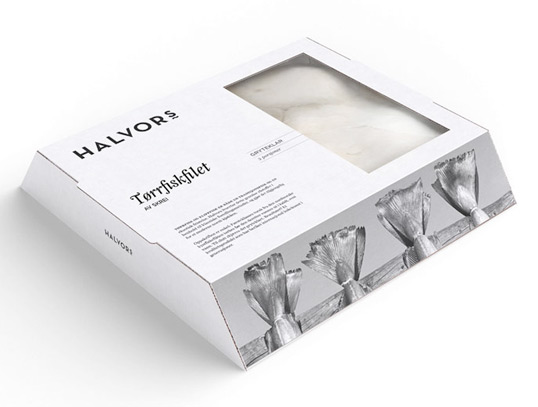 Designed by Tank Design | Country: Norway | Fonts: Neutraface, Farnham
The brief: packaging for Halvors Tradisjonsfisk, an exclusive brand of fish products.
Solution: a design inspired by old traditions and which supports the quality of the product by differentiating it from the competitors.
Result: the project has already been an award winner and it is sold through Norwegian retail stores.
March 20, 2009 | 4 Comments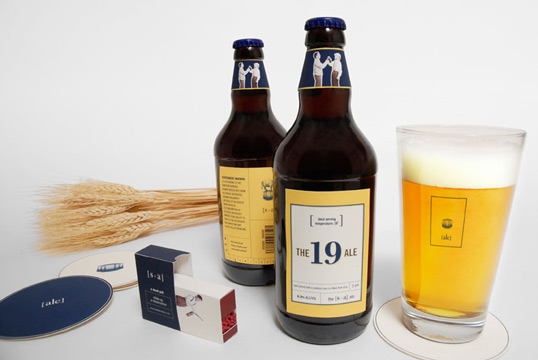 Designers: Lisa Llanes, Andy Carlyle, Elena Schroeder | Writer: Kimberly Healy | Art Director: Dave Ortega | Country: United States
"Steak and Ale: Rebranded Steak and Ale (s+a) with it's own beer and grilling items (utensils, rubs, wood chips) with a style combination of seriousness and wit and a fictional family history. Other items include matchboxes, Brewmaster's Society packaging, coasters, to-go containers, retail bag and a menu. Each item has a little surprise when you open it or flip it over."
March 19, 2009 | 4 Comments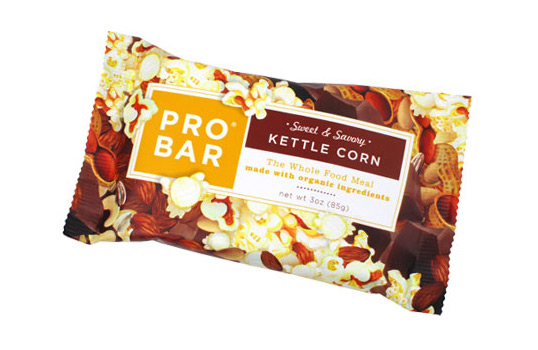 Designed by Moxie Sozo, Illustration by Stefanie Shank | Country: United States
"Probar is a high performance energy bar made from whole, raw foods. Each flavor is a different mix of fruits, nuts, berries, and seeds. Unlike most energy bars, Probar's ingredients are natural and recognizable. Moxie Sozo was hired to redesign Probar's entire product line. After the new launch, sales increased dramatically, market share improved, and the company picked up numerous new retail accounts."
March 18, 2009 | 2 Comments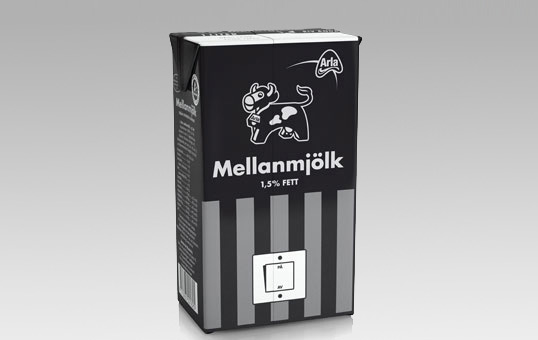 Designed by Milk | Country: Sweden | Fonts used: Futura
"Swedish advertising agency Milk has turned the classic white Arla milk carton black.
It is a campaign for WWF's Earth Hour. A worldwide event encouraging people to raise environmental awareness by turning off the lights for one hour."