March 20, 2009 | 4 Comments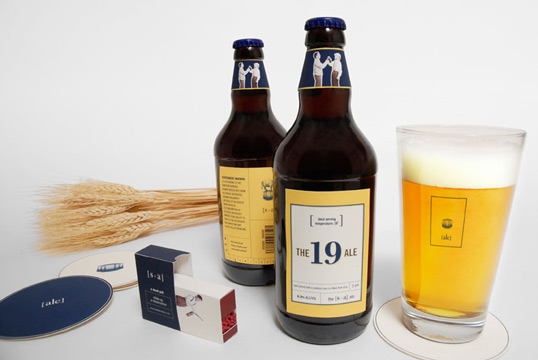 Designers: Lisa Llanes, Andy Carlyle, Elena Schroeder | Writer: Kimberly Healy | Art Director: Dave Ortega | Country: United States
"Steak and Ale: Rebranded Steak and Ale (s+a) with it's own beer and grilling items (utensils, rubs, wood chips) with a style combination of seriousness and wit and a fictional family history. Other items include matchboxes, Brewmaster's Society packaging, coasters, to-go containers, retail bag and a menu. Each item has a little surprise when you open it or flip it over."
March 19, 2009 | 4 Comments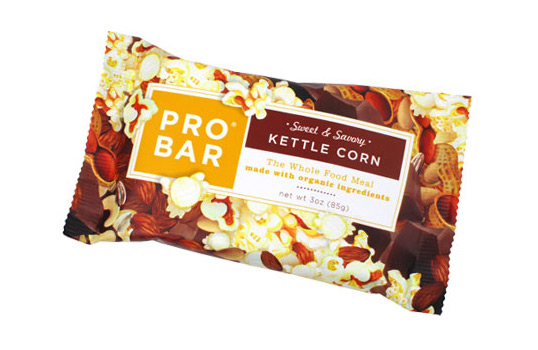 Designed by Moxie Sozo, Illustration by Stefanie Shank | Country: United States
"Probar is a high performance energy bar made from whole, raw foods. Each flavor is a different mix of fruits, nuts, berries, and seeds. Unlike most energy bars, Probar's ingredients are natural and recognizable. Moxie Sozo was hired to redesign Probar's entire product line. After the new launch, sales increased dramatically, market share improved, and the company picked up numerous new retail accounts."
March 18, 2009 | 2 Comments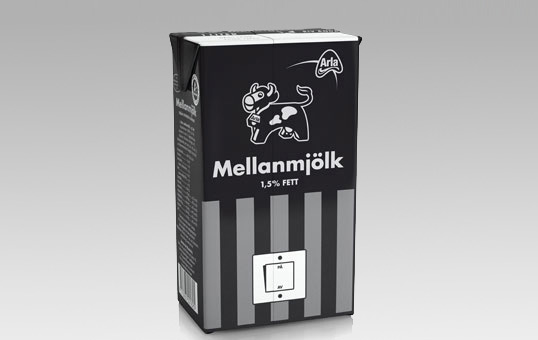 Designed by Milk | Country: Sweden | Fonts used: Futura
"Swedish advertising agency Milk has turned the classic white Arla milk carton black.
It is a campaign for WWF's Earth Hour. A worldwide event encouraging people to raise environmental awareness by turning off the lights for one hour."
March 18, 2009 | 3 Comments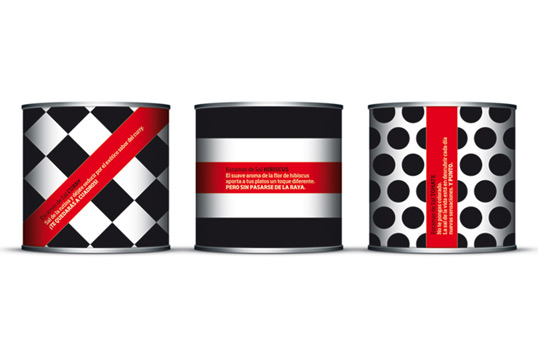 Designed by Supperstudio | Country: Spain
Beautiful work from Spain's Supperstudio. If anyone can translate the rationale and info behind this work we would really appreciate it.
Thanks to Mar for the translation.
Curry Salt Flakes: Break the routine ("Sal" means salt and go out/break) and surrender to the charm of the exotic curry flavor. You'll be on squares (that means "You'll be short of staff!")
Hibiscus Salt Flakes: The soft aroma from hibiscus flower provides your dishes a different touch. But don't go too far (don't cross the line).
Tomato Salt Flakes: Don't get red. The spicy (salt) of the life is discovering new sensation every day and that's it (and dot in spanish).
March 18, 2009 | 1 Comment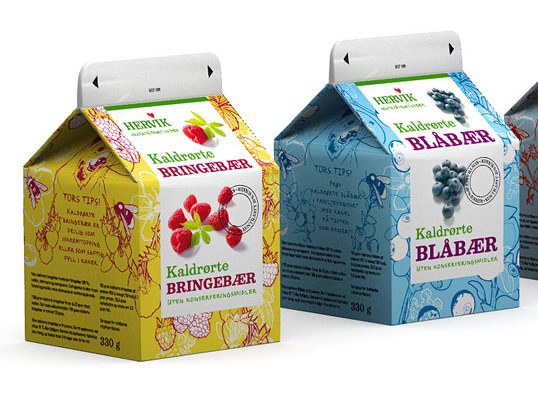 Designed by SDG | Country: Norway | Fonts used: Belizio
"Rogaland Konservefabrikk is a small-scale producer that has been attracting devotees in gradually increasing numbers ever since its humble beginnings in 1952, which saw the start of mail order sales of Hervik's concentrated juices and jams. Our packaging designs aim to capture the spirit of Hervik's cheerful, grounded core values."
March 16, 2009 | 1 Comment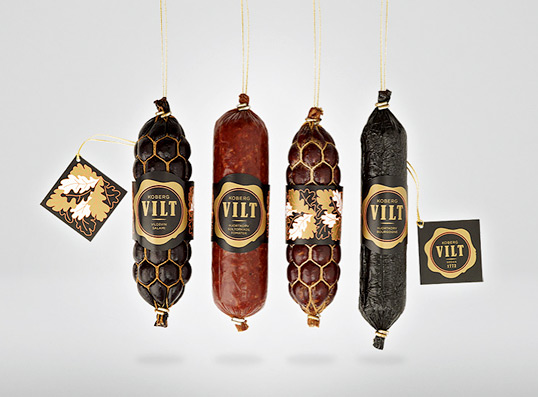 Designed by Silver | Country: Sweden
"Koberg Vilt is traditional Swedish food with a twist. Wild boar salami with chili and deer sausages with Bourgogne wine are just two of the many products made from game living on the Koberg estates. The vivid hunting colors and classic oak leaf patterns make the Koberg product line eye-catching."
March 15, 2009 | 4 Comments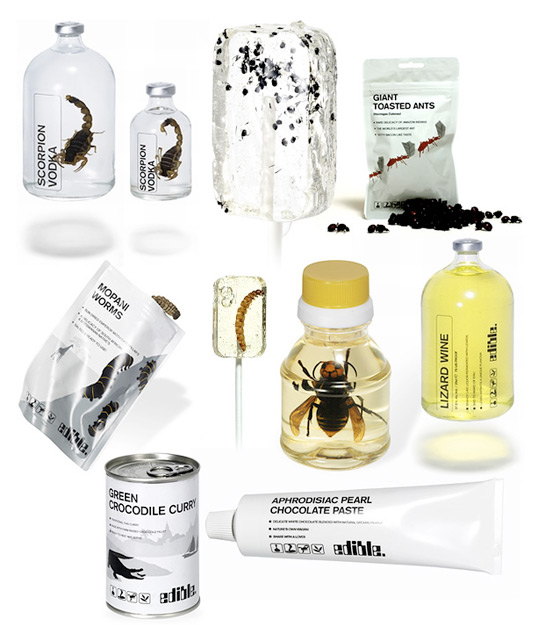 Country: United Kingdom | Buy it
"For centuries Insect consumption has been part of the everyday diet of many of the world's human inhabitants from the Aborigines of Australia and their favoured delicacy of Witjutie grubs to the night markets of Thailand where crisp, fried Locusts and Beetles are favourite snacks to be consumed with an ice cold beer! We in the west have closed our minds to Insect eating (also known as Entomophagy) but In doing so have forgotten that these are one of the most nutritious foods available, higher in protein levels than chicken and cholesterol free. All of these Insects are grown specially for Human Consumption and meet all strict health and safety guidelines."
Does anyone know who is responsible for this design?
Via Trend Land
March 15, 2009 | 2 Comments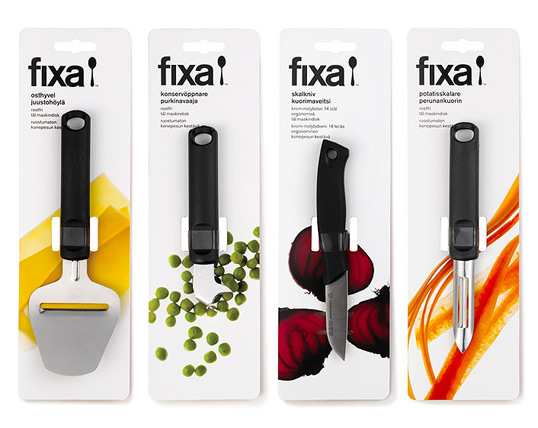 Designed by BVD | Country: Sweden | Fonts used: Helvetica
"A clear strategy for the brand and the range, along with the naming of two new brands: Fixa and Func, tailored to the Nordic market. The Fixa brand comprised kitchen utensils and cleaning implements. Func comprised technical products. The result was two strong brands within one dynamic design system. The packaging design is attractive, clear and highly visible on the shelf."
March 9, 2009 | 1 Comment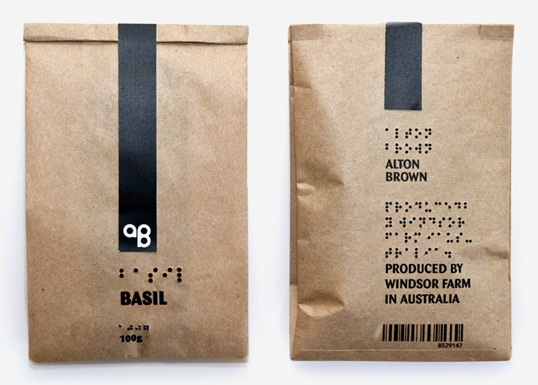 Designed by Hampus Jageland | Country: Australia | Fonts used: FF Sari
"Alton Brown is a spice range for blind and visually impaired people. The range also includes olive oil and balsamic vinegar. Together with these liquids a special spoon is provided which makes it easier to pour and measure them, it's the measure of a tablespoon. The text is placed on the exact same place on all the products and all the braille is embossed. The tubes are made out of PLA to make them sustainable and the refill bags are made out of recycled paper. The logo is communicating the exact same thing for blind as for the non blind since A is one dot and B is two."
March 5, 2009 | 2 Comments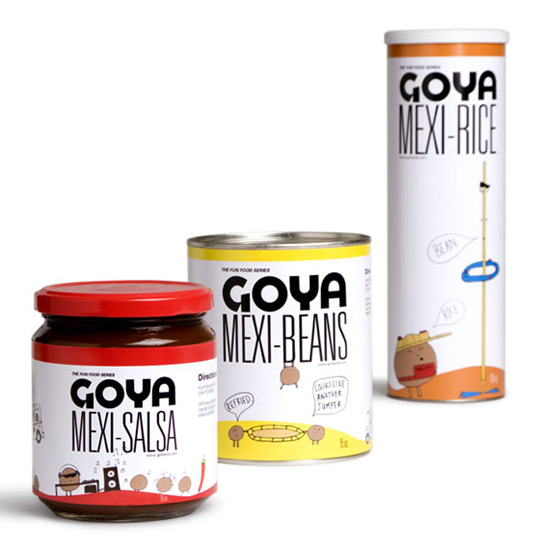 Designed by Jimmy Stones | Country: United States
Thanks to Portfolio Center grad Jimmy Stones for sending in his project for the redesign of Goya Packaging.
"For a class assignment, I decided to relaunch a large Hispanic brand (Goya) as the premiere fun food for college students. My solution was to use humor and simple hand drawn characters to communicate the fun fiesta spirit that is in every Goya product.  In addition, product titles became more relaxed and fun like "Mexi-Rice". Finally, the package sizes were enlarged and changed to different colors to create a more festive mood on the shelf.  The tagline – "The Fun Food Series" tied all the products together."