March 15, 2009 | 2 Comments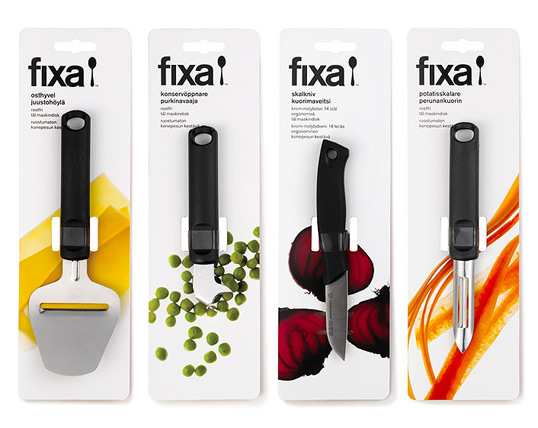 Designed by BVD | Country: Sweden | Fonts used: Helvetica
"A clear strategy for the brand and the range, along with the naming of two new brands: Fixa and Func, tailored to the Nordic market. The Fixa brand comprised kitchen utensils and cleaning implements. Func comprised technical products. The result was two strong brands within one dynamic design system. The packaging design is attractive, clear and highly visible on the shelf."
March 9, 2009 | 1 Comment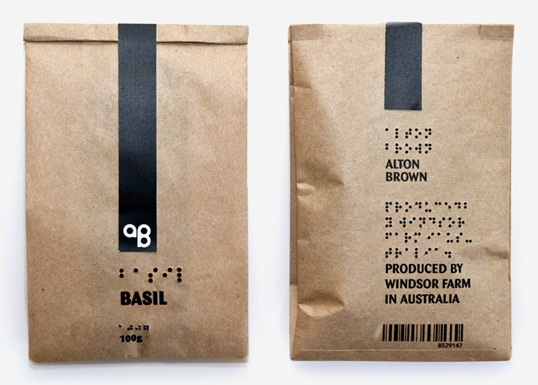 Designed by Hampus Jageland | Country: Australia | Fonts used: FF Sari
"Alton Brown is a spice range for blind and visually impaired people. The range also includes olive oil and balsamic vinegar. Together with these liquids a special spoon is provided which makes it easier to pour and measure them, it's the measure of a tablespoon. The text is placed on the exact same place on all the products and all the braille is embossed. The tubes are made out of PLA to make them sustainable and the refill bags are made out of recycled paper. The logo is communicating the exact same thing for blind as for the non blind since A is one dot and B is two."
March 5, 2009 | 2 Comments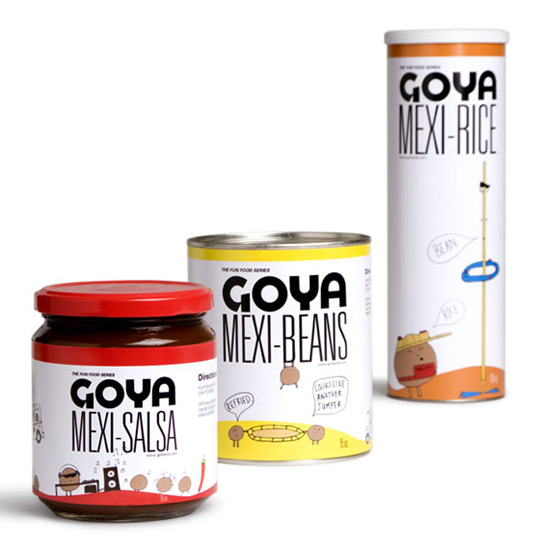 Designed by Jimmy Stones | Country: United States
Thanks to Portfolio Center grad Jimmy Stones for sending in his project for the redesign of Goya Packaging.
"For a class assignment, I decided to relaunch a large Hispanic brand (Goya) as the premiere fun food for college students. My solution was to use humor and simple hand drawn characters to communicate the fun fiesta spirit that is in every Goya product.  In addition, product titles became more relaxed and fun like "Mexi-Rice". Finally, the package sizes were enlarged and changed to different colors to create a more festive mood on the shelf.  The tagline – "The Fun Food Series" tied all the products together."
March 2, 2009 | No Comments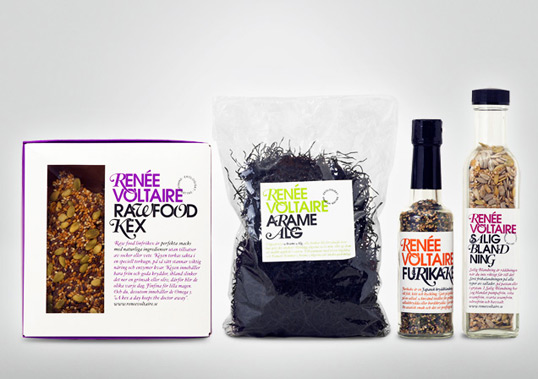 Designed by Silver | Country: Sweden | Fonts used: ITC Avant Garde Gothic
Swedish brand Renée Voltaire has some great minimalist packaging.
"A few years ago Swedish health foods weren't considered chic. But that was before Renée Voltaire taught us that organic fare tastes better – and good food can inspire our way of living. The packaging with its personalized texts plays a vital part in the product design. Which Silver has created from the start."
February 27, 2009 | 4 Comments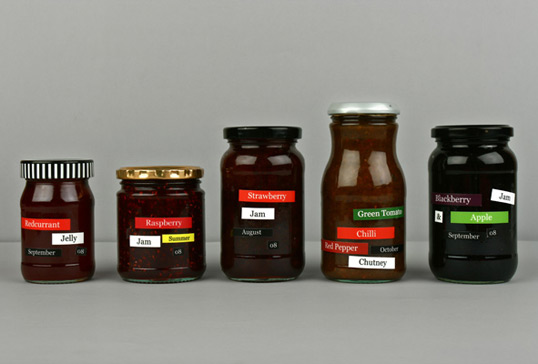 Designed by Company | Country: United Kingdom | Fonts used: New Century Schoolbook
"A bespoke labeling system for a cottage industry that makes seasonal jams, marmalades and chutneys.
We created a label for each ingredient (defined by the ingredient colour) and months of the year, to reflect the fact that recipes and ingredients change with the seasons."
February 23, 2009 | 3 Comments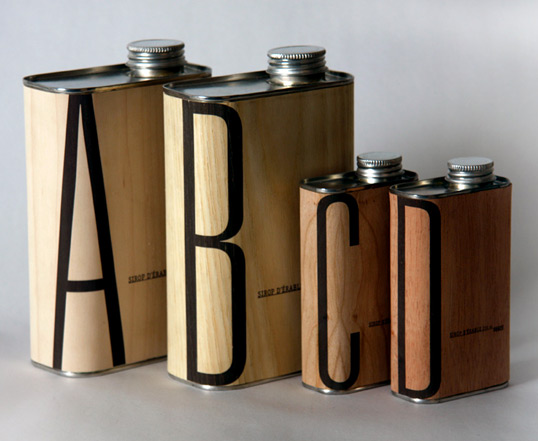 Designed by Andrée Rouette | Country: Canada | Font used: Univers
"What do we need from a package? We need a functional service of course, but also information about the product. Not a complex text that you don't have time to read, but a simple letter related in this case to the Maple Syrup classification system.

This is Andrée Rouette's project in my packaging class. Despite its expensive approach, this concept of maple wood laminated thin bottles they can be reused and therefore justified. Also they could be simply replaced by a wood texture printed-paper label as a cheaper version."
Via Packaging | UQAM
February 23, 2009 | 2 Comments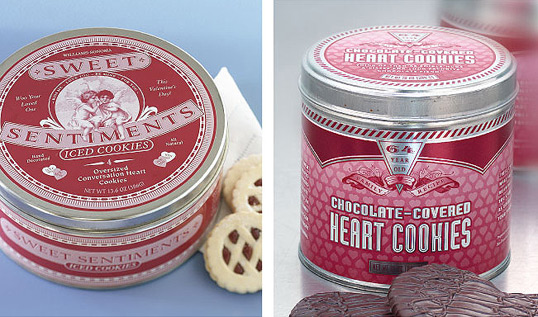 Designed by Juli Shore | Country: United States | Fonts used: Industria, Egizio
February 22, 2009 | 2 Comments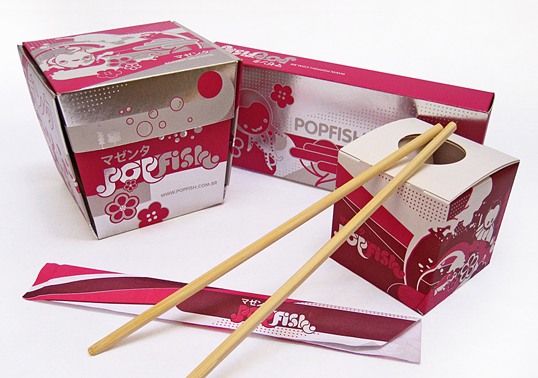 Designed by Daniel Neves & João Simi | Country: Brazil | Fonts used: VAG Rounded
"Popfish is a restaurant/shop located in Rio de Janeiro. The Design was inspired by Japanese and Tokyo imagery, using illustrations and characters to enhance its visual identity. A highlight in the visual identity is that each Popfish shop has a theme colour added to the shop's name. The first one called Popfish Magenta. More than a restaurant, Popfish is an attempt to join gastronomy and design at the same spot."
February 20, 2009 | No Comments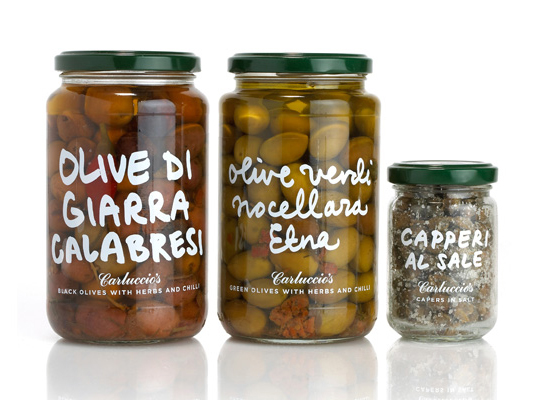 Designed by Irving & Co | Country: United Kingdom
"Carluccio's is a series of modern Italian caffès and food shops with a passion for design. From packaging and print through to web design, Irving has worked closely with the founders to build a brand which over eight years has developed from two stores into a hugely successful AIM listed series of destination caffès that has set a new benchmark on the high street."
February 19, 2009 | No Comments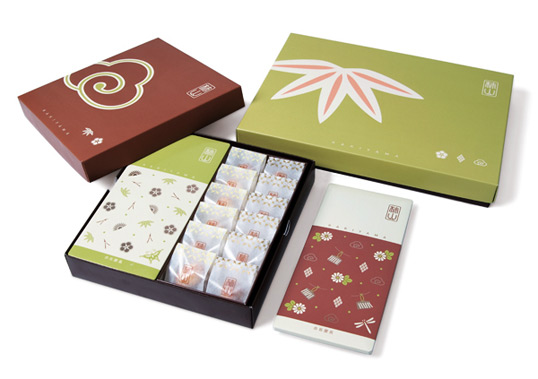 Designed by GT & CANARY | Country: United States
"KAKIYAMA is a long-established rice cracker brand in Tokyo, Japan and we designed their brand-new packages including the assorted gift box, tin box, gift wrapping & shopping bags. Our goal was to create a Modern Japanese yet traditional and luxury rice cracker brand that appeals to all ages consumers."