December 16, 2008 | 4 Comments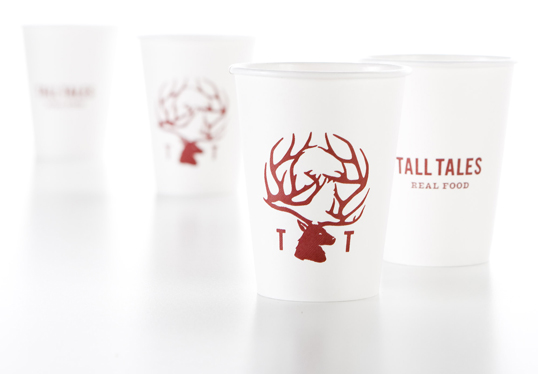 Designed by Duffy & Partners | Country: United States | Fonts used: Trade Gothic, Clarendon
"Minneapolis based Duffy & Partners used their creative design and branding expertise in creating the logo, food container packaging and other interior design elements for Gander Mountain's new Tall Tales-Real Food Restaurants.
Tall Tales-Real Food Restaurant is another extraordinary example of showing how design needs to be part of our everyday life and strengthens Duffy's leadership with in the hospitality industry!  There is really a lot of dimension behind its concept."
December 14, 2008 | 1 Comment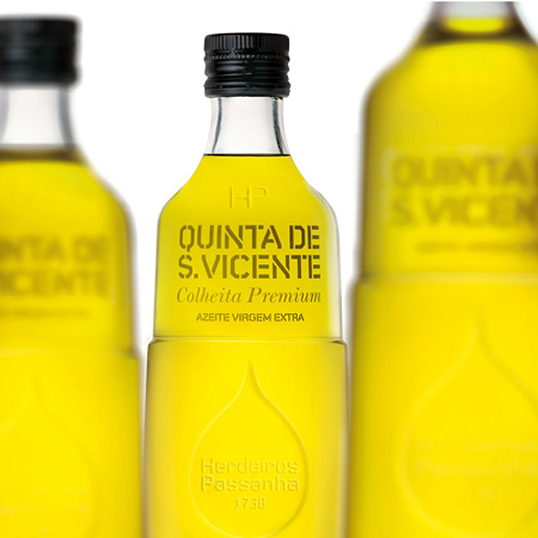 Designed by Base & Michael Young | Country: United States
"Michael Young was commissioned by Base and Passanha Oil to design this new glass bottle. The Passanha brand dates to 1749 and this bottle marks the re-launch of this historical olive oil company."
December 14, 2008 | 3 Comments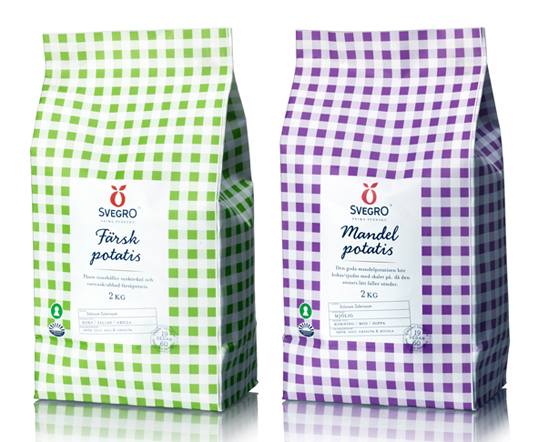 Designed by Amore | Country: Sweden | Fonts used: Handsome (the Pro version emulates real handwriting with contextual alternates), Mrs Eaves
"The job for the new Svegro packaging design is simple; to inspire food lovers to use loads of locally grown salad and herbs in their cooking. The new design began rolling out in stores in June 2008. Two months later, Svegro is already seeing results from buyers wanting much more products. This is the power of Love at First Sight®. Brand identity and corporate identity, including logotype, naming and packaging design."
December 12, 2008 | 1 Comment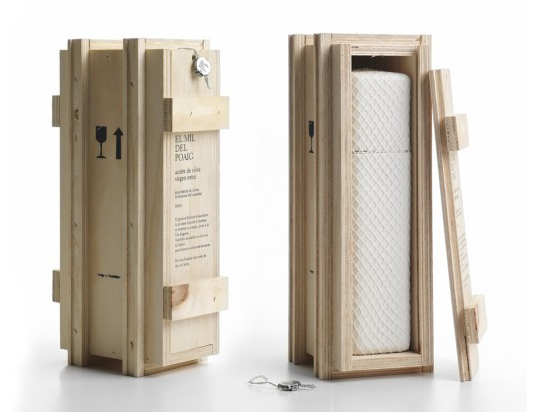 Designed by CuldeSac™ | Country: Spain
"Protect and communicate the great value of Olive Oil from milennial trees. A journey from Maestrar to the world."
December 12, 2008 | No Comments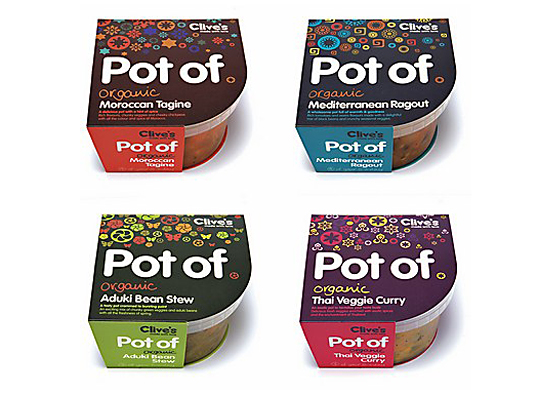 Designed by biz-R | Country: United Kingdom | Fonts used: V.A.G. Rounded
"Devon, England-based biz-R recently completed this project for Clive's new range of fresh organic meals available from independent food stores, farm shops and other organic food retailers. The approach challenges packaging design in a market currently saturated with uninspiring international brands and bland own label products; through distinct differentiation it assists Clive's as they expand and diversify their product range. What sets them apart from everything else in this market is a bold, graphic, identity based on symbology, pattern and color associated with each recipe's origin. The eye-catching result communicates beautifully, on and off the shelf. The cardboard sleeve was adapted to accommodate the clear plastic pot and reveal as much of the content as possible."
December 6, 2008 | 2 Comments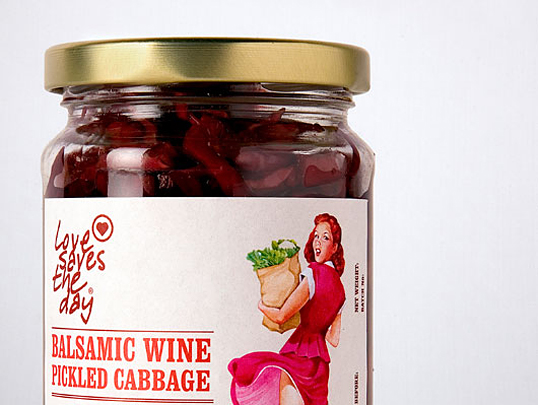 Designed by 999 Design | Country: United Kingdom
"Established almost 10 years ago, Love Saves the Day has become an integral part of Manchester's cultural and social district providing the city's discerning food lovers with a unique venue in which to meet and eat.
As regular customers within a stone's throw of Manchester's greatest deli, we were asked over a skinny latte, if we would care to develop a series of cool and quirky labels and packs to run across the entire product range.
December 6, 2008 | 1 Comment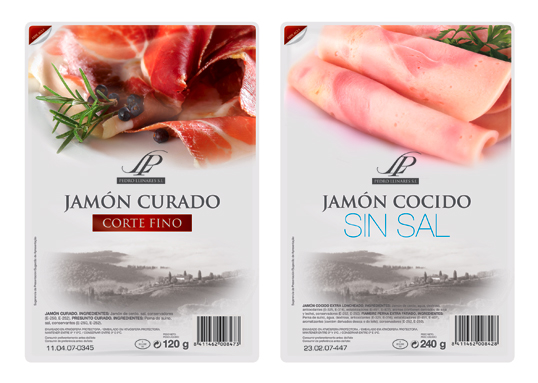 Designed by Narrow House | Country: Spain | Fonts used: Trajan, Neue Helvetica
"Design for Pedro Llinares´ range of pre packed pork products."
December 1, 2008 | No Comments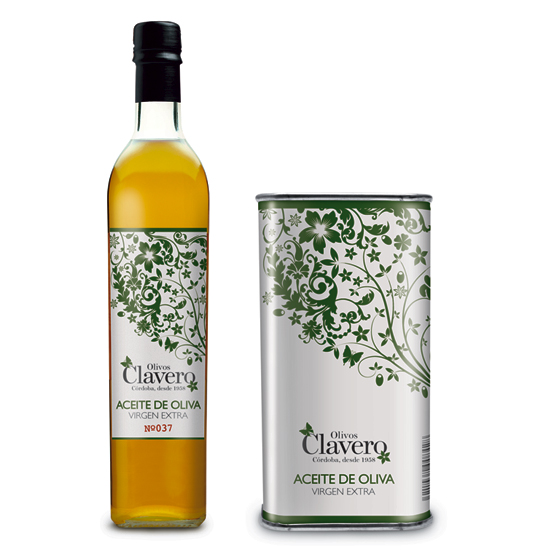 Designed by Narrow House | Country: Spain
"There are hundreds of producers of olive oil in Spain, and so Olivas Clavero needed a total re-brand of their product range in order to stand out amidst the crowd. An elegant and contemporary design solution that reflects the quality and modern attitude of this small yet dynamic producer of the finest olive oil."
November 28, 2008 | No Comments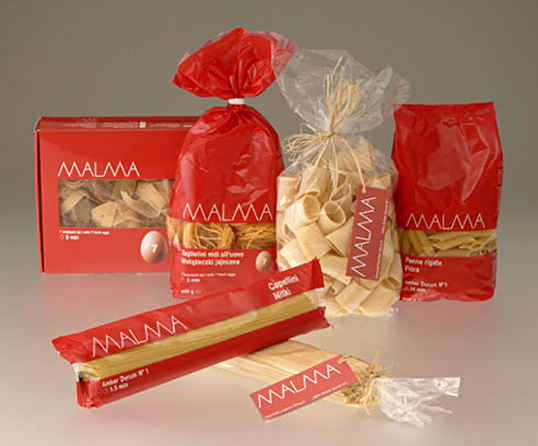 Designed by Vignelli Associates | Country: United States
"Made with the best wheat in the world and processed in their own mills, this is one of the very best quality of pasta, made in Poland with Italian equipment. We designed a new logo and all the packages, which are red for the large market, and clear for the gourmet line, with the identification on a hanging booklet describing the product."
November 27, 2008 | 1 Comment
Designed by Paprika | Country: Canada
Great Illustrations, and hand drawn package designs from Paprika.