February 20, 2012 | 1 Comment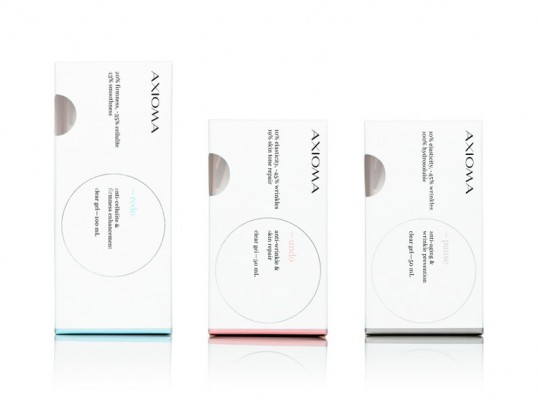 Designed by Anagrama | Country: Mexico
"Axioma is a new company specialized in skin care products for which we had to create a corporate identity that would reflect the company's philosophy: Offer the highest quality products made with authentic active substances.
Based on the fact that the effectiveness of each of the products is clinically proven, we chose honesty as the brand's leading value, therefore, we decided to use the name Axioma, which means "irrefutable truth".
We developed a clean visual language that would represent the products' honesty and its clinical purpose. However, the typographic selection was carefully handled so that it would evoke the high-end fashion industry."
February 15, 2012 | 4 Comments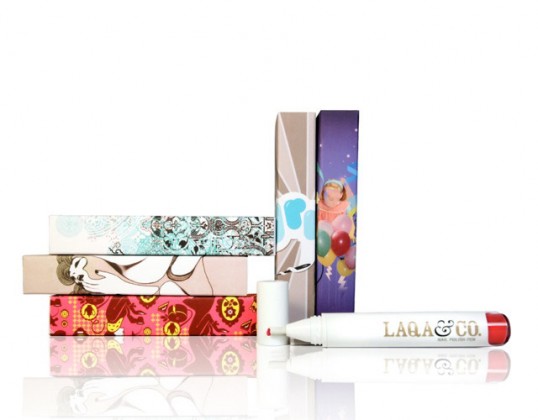 Designed by LAQA & Co. | Country: United States
"We are a start-up cosmetics brand that wanted not just to stand out, but to stand for something. More than just beauty, we try to provide inspiration for young women to achieve their goals and provide alternative roles models for them. Quite a tall order for a wee beauty brand, no?
Well we decided use our packaging as a canvas for young artists, featuring specially commissioned work, with artists receiving a profit share of each product sold.
Each product color is used to inspire each piece of art, that in turn can also hang on someone's wall. The box leaflet explains our mission and where to find the wall art for sale, in the most un-leaflet way possible."
February 8, 2012 | 2 Comments
Designed by Dowling | Duncan | Country: United States
"Cure is a company on a mission to make a difference. Their products cure your body with high-quality handcrafted ingredients, and also help cure the world. 20% of all purchases goes towards a selection of charitable organizations.
We helped promote this idea by pulling out a cross in their logotype. This symbol is instantly recognizable as the symbol for 'aid'. Therefore playing on the idea that these products are first aid for your skin as well as having the additional benefit of aiding charities in the world.
The products were launched at ZaZa Spa in San Francisco and can also be purchased online."
February 7, 2012 | 6 Comments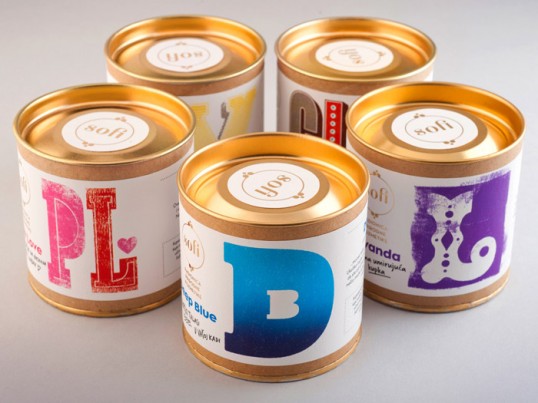 Designed by Popular Bruketa & Žinić OM | Country: Serbia
"Sofi, a small family production of organic handmade cosmetics, is a client our agency has already worked with, firstly defining the visual identity, and afterwards designing the packaging for soaps and gift packages. Emphasizing on the manual production, the quality of the resources as well as of the final products is something we kept in mind while designing the new packaging for their bath bombs.
February 3, 2012 | 24 Comments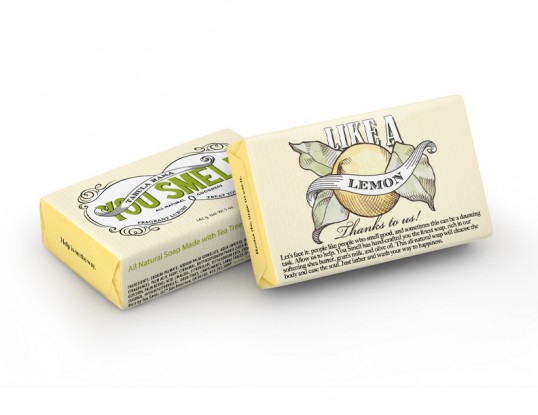 Designed by Megan Cummins | Country: United States | Buy it
When we initially posted You Smell three years ago we had no idea that Megan was going to take this product to the great heights that she has. If you're a fan of ABC's Shark Tank you probably watched her pitching You Smell to the sharks this evening where she came out on top with with an investment from Robert Herjavec. Congratulations Megan!
"This is a line of detergents called "You Smell" is an immediate eye-catcher, as it is eloquently presented, yet is initially insulting until the reverse side of the product is read. It continues to say "Like a Lemon!…Thanks to us!". The subsequent title 'Tabula Rossa', a derivative of 'Tabula Rasa', a Latin phrase for 'clean slate'. The sarcastic romance copy on the remaining sides creates an entire experience for the viewer, enticing them to continue turning the product in search of something new. It is printed on Neenah Laid paper to offer a subtle tactile quality."
January 22, 2012 | 3 Comments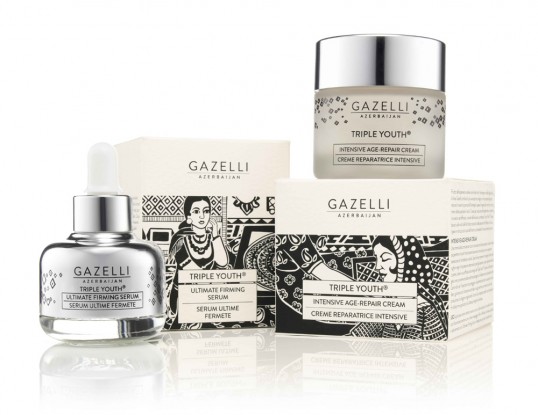 Designed by Gazelli Cosmetics| Country: Azerbaijan
"Using her scientific knowledge in the fields of genetics and prevention, Dr. Hamzayeva decided to develop beauty products from the magnificent natural resources found in her home country of Azerbaijan. From the earth itself, she created a brand she called Gazelli, a leading beauty group, in Azerbaijan and neighbouring countries.
December 28, 2011 | 18 Comments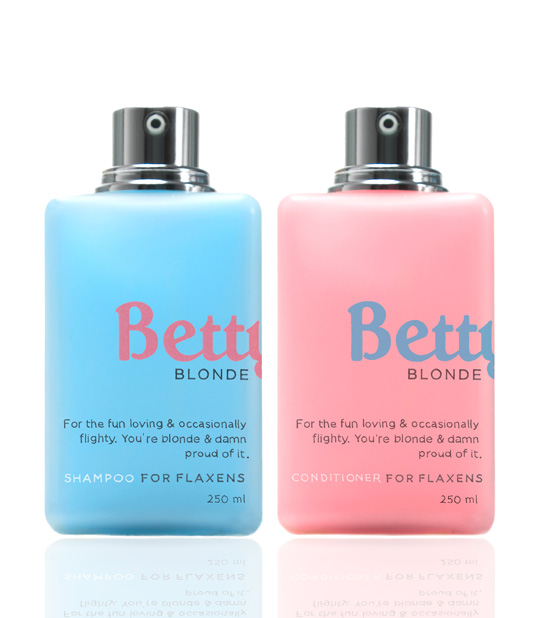 Designed by Holly Prince | Country: Canada
"Betty shampoo & conditioner is a product that brings out the best tones for specific hair types. Blonde, Brunette, Ginger and Noire. Instead of explaining the functionality of the product, which many of the competitors do, I decided to have fun with the copy and play around with stereotypes. The goal for Betty is to be fun, cheeky and smart.
The colour palette for each hair type relates to the stereotype and reflects the persona of who that person would be. The rectangular shape of the bottle would fit and stand nice on a bath ledge or shower rack. The bottles have a pump lid for convenience."
December 19, 2011 | 2 Comments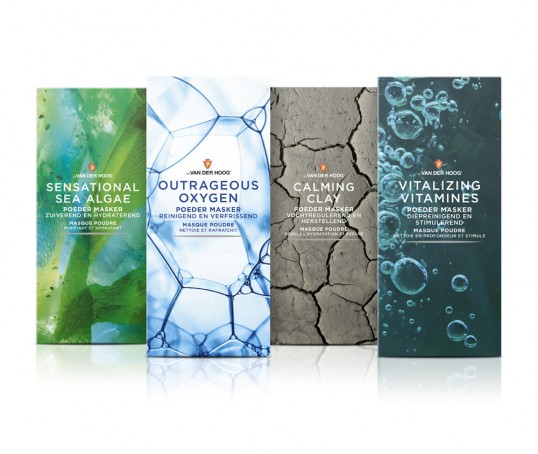 Designed by nu:amsterdam | Country: The Netherlands
"Dr van der Hoog is a Dutch Cosmetics brand with a 75 year heritage. They decided to radically reposition their brand to a stylish statement of natural beauty. The Creative network nu:amsterdam created the new identity for the 60+ products assortment.
The designers chose an iconic centered layout, applied to simple white packaging for the moisturizers category. Colour accents in the product descriptors help consumers navigate the 6 ranges assortment. Heavy materials, refined silver lines and the logo embossing confirm the quality and authority of the brand.
In the product presentation kit the contrast of the unfinished birch wood against the shiny packs makes a great impact, communicating natural beauty in a simple way.
The younger face masks category requires more dynamism and power, which is what explains the abundant use of natural ingredient photographs on the packs.
The humorous product descriptors add youth and fun to the packs, that are still part of the brand identity."
December 16, 2011 | 2 Comments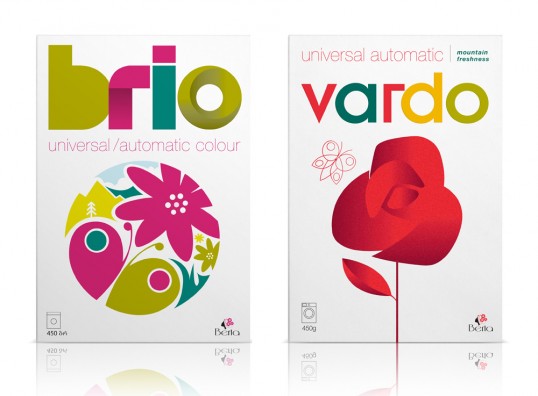 Designed by Studio h | Country: United Kingdom
"Branding and packaging design by Studio h for Brio and Vardo, two new brands for the first detergent products to be manufactured in Georgia. Aimed initially at the Georgian market and their neighbouring countries, it was important that Brio and Vardo appealed as local brands reflecting their Georgian provenance and at the same time competed on shelf with the large global competitors. Standing aside from the industry norms Studio h concentrated on using symbolic imagery to create an emotional link to the culture. The branding for Vardo uses a rose, Georgia's national flower. Brio's circular illustration reflects the mountains and trees of Georgia's landscape and the colour palette references the natural hues of the Southern Black Sea region."
December 12, 2011 | No Comments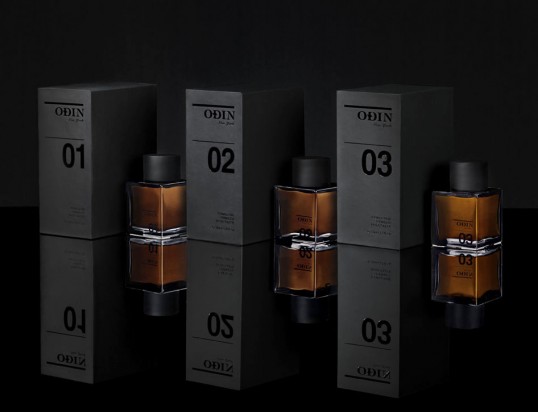 Designed by Purpose Built | Country: United States
"Odin Fragrance represents a joint venture that unites the retail and curatorial experience of Paul Birardi and Eddy Chai of Odin New York  and with the product design, manufacturing and brand engineering capabilities of Larry Paul and Kelly Kovack from Purpose-Built.
Form and function are the core essence of  Odin packaging.  An exploration in black with contrasting materials and surfaces promote discovery and a tactile experience.