September 24, 2011 | 2 Comments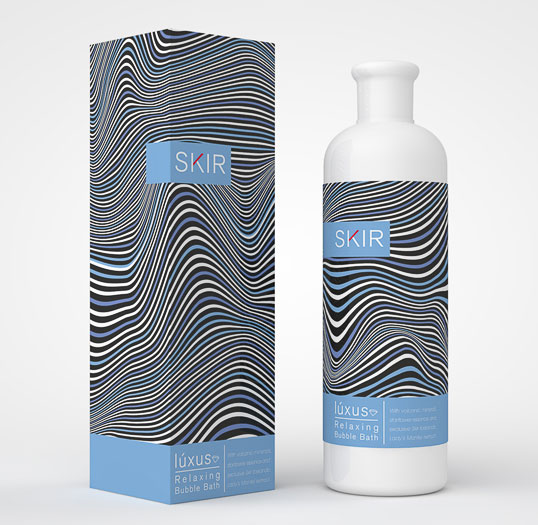 Designed by Denis Carroll | Country: Ireland
"A range of organic beauty products with volcanic minerals and aromatic essences.
The pattern I created is representative of volcanic sedimentary layers. It is used with variations of colour across the range. In turn, the product colour is representative of the aromatic essence inside."
September 17, 2011 | 1 Comment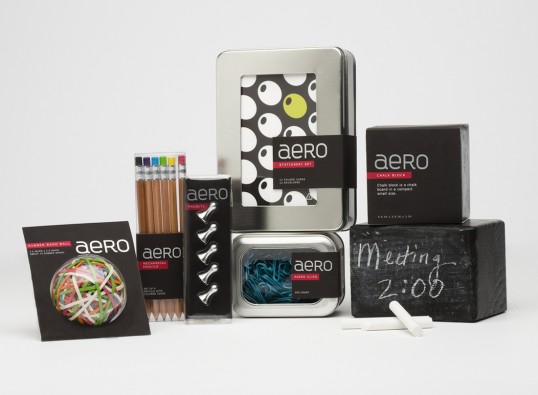 Designed by Caroline Saridewi, Gina Chang, Molly Weber & Sanna Luuka | Country: United States
"This project began with a question, If Target opened up a higher end store to compete with Crate & Barrell and WIlliam Sonoma, then how would they brand their products? Aero is the answer.
Aero is the line of branded house products that would be sold in Aero Stores. The line of departments are endless, however, we focused on office and performance products.
Aero store is targeted to deliver upscale quality home products and services in a friendly and sophisticated way. This store will be catered more to city dwellers and those who can choose to live a comfortable more rustic and modern design lifestyle. Aero's brand promise is to consistently deliver the highest quality, design forward products to our shoppers. Our commitment is to provide our guests with a superior shopping experience.
Taught under Michael Osborne at Academy of Art San Francisco."
September 13, 2011 | No Comments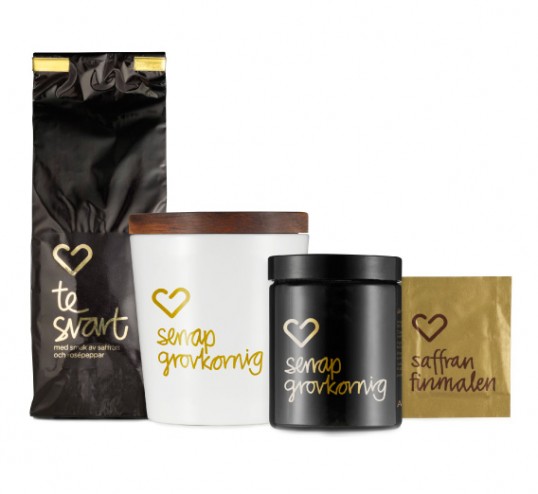 Designed by BVD | Country: Sweden
"Challenge: The Swedish pharmacy market was privatized in November 2009. In February 2010 Apotek Hjärtat opened, as the largest independent player on the deregulated pharmacy market with 207 pharmacies. Apotek Hjärtat wanted their new graphic identity to communicate credibility, knowledge and health in a modern and inspiring manner as well as signifying a pharmacy in a clear but subtle way. The logotype should be able to be applied to many different types of media profiles.
Solution: Our aim was to create a logo that could win the hearts of the Swedish people. The greatest challenge was to find a balance between knowledge and credibility on one hand, and cordiality and service on the other. The traffic-light green colour is an obvious signal that is easy to see and identify. The iconic heart symbol is unique because of its opening in the centre, which creates a feeling of openness and welcome."
September 7, 2011 | 4 Comments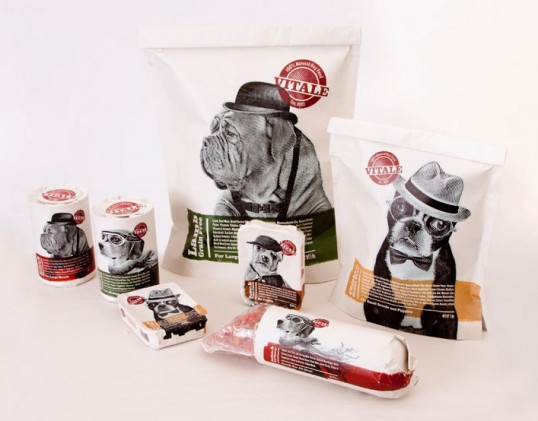 Designed by Sergey Grigoryan | Country: United States
"Vitale was a pet food packaging project. I designed a line of dog food for the animal lover who wants to feed there dog quality and nutritious and natural food. The whole line features the ingredients on the front with a characterized dog that personifies the pet as mans best friend. Butcher paper is also used to give the product a handmade/small batch and more natural feel."
September 6, 2011 | 4 Comments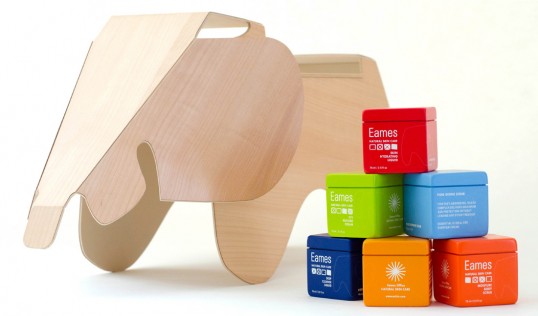 Designed by Anh Pham | Country: United States
"The Eames Office is dedicated to communicating, preserving and extending the work of Charles and Ray Eames. They feel that all three of those dimensions are important to keeping the office useful and vital. Charles and Ray's work was the result of a way of looking at the world—a design philosophy and process that is worth sharing in many different dimensions. They also believe that creating wholly new works is as consistent with that philosophy as restoring and distributing classic ones.
Overall I wanted to capture the Essence of Eames and their design philosophy, fun, and energy. As my exploration continued, my concept started to revolve around their Plywood Molded Elephant, patterns, and other modern toys.  As result from my research, I found the elephant to be the most unique, playful, and universally fun. It speaks to a broad audience of all ages, sexual orientation, or whether or not they know about Charles and Ray Eames.
This is skincare that can be left on the counter and gives that sense of sophisticated personified fun that Eames designs are known for."
August 25, 2011 | No Comments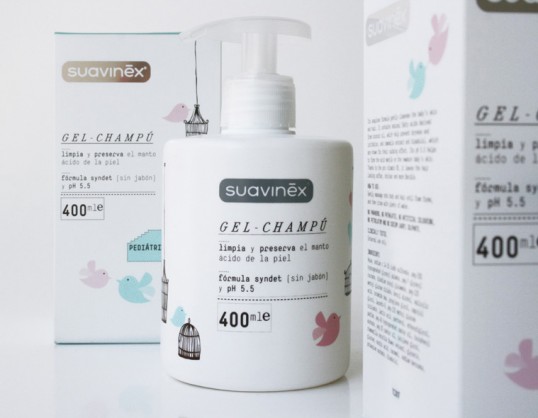 Designed by Estudio Mllongo | Country: Spain
"The design has been based on a low-chic strategy, giving as a result an innovative and clearly differentiated design for its particular point of sale. A special attention has been paid to the colour combination, typographic use and layout, as well as to the use of several illustrations which add a touch of tenderness to the packaging.
August 23, 2011 | No Comments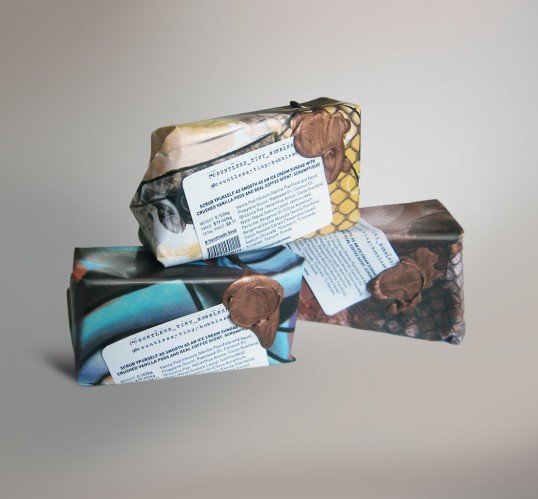 Designed by Natalia Gutsan | Country: Russia
"Self-initiated project. Countless Tiny Bubbles is a brand created for homemade soap. The concept for it's packaging is based on the mysteries during the products creation and use, whereby seemingly by magic the soap dissolves when in use by turning into countless tiny bubbles. This chemical process is sometimes a mystery to the everyday person, hence the pattern on the homemade soap packaging shows smooth stains in a haze which is reflects the overall chemical process associated with soap. The wax-seal motif adds another dimension of texture, making it stand out on the shelf and attractive for potential buyers."
August 19, 2011 | 4 Comments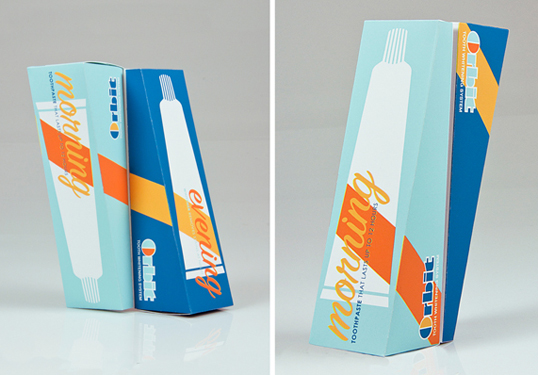 Designed by Veronica Clauss | Country: United States
"This is a tooth whitening system that contains a morning toothpaste and an evening whitener."
August 18, 2011 | No Comments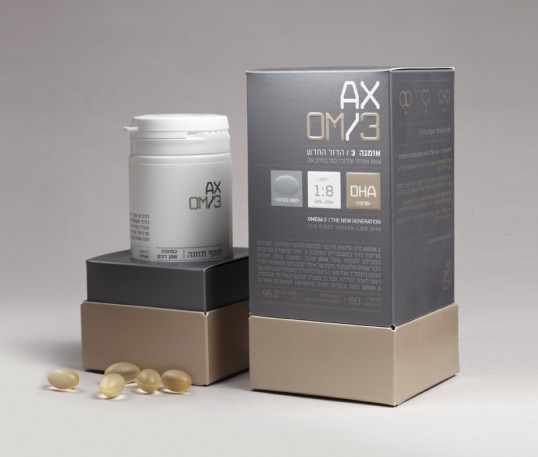 Designed by Blend-it Design | Country: Israel
"Axom 3 is the new generation of Omega 3 body supplement. The design is based in combining two graphic disciplines in one, the first, the visual world of science and high-tech and the second the indulgent world of rich and pampering cosmetics & perfume. The dialog between these two worlds was the base concept of the design of this new innovative brand."
August 9, 2011 | 7 Comments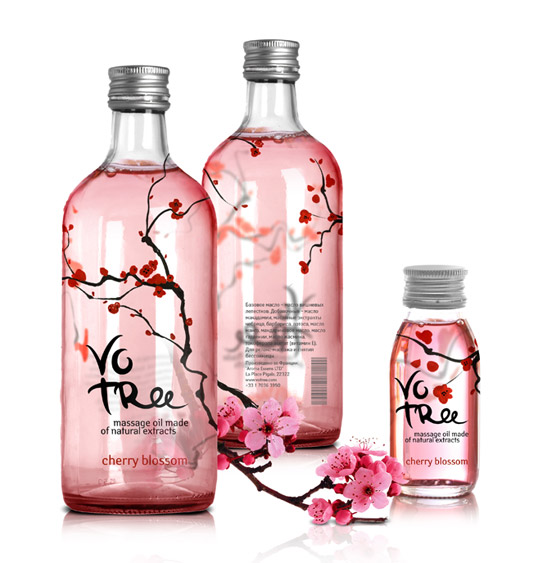 Designed by Ekaterina Dubeykovskaya | Country: Russia
"The massage oil VoTree is made from natural extracts, and comes in a variety of 3 flavors: cherry, fig and chestnut. I painted watercolor plants which became the basis of the design.
In Russian the title 'votree' sounds like a call to action – 'rub'."