August 25, 2011 | No Comments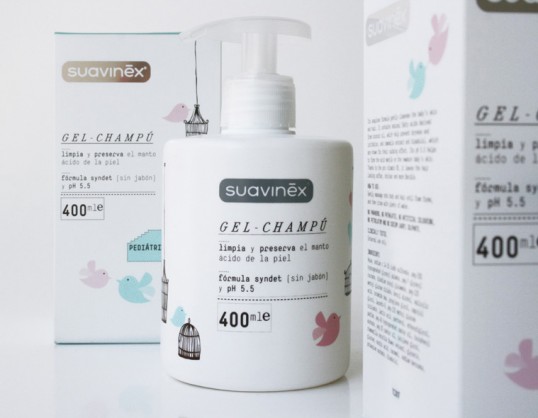 Designed by Estudio Mllongo | Country: Spain
"The design has been based on a low-chic strategy, giving as a result an innovative and clearly differentiated design for its particular point of sale. A special attention has been paid to the colour combination, typographic use and layout, as well as to the use of several illustrations which add a touch of tenderness to the packaging.
August 23, 2011 | No Comments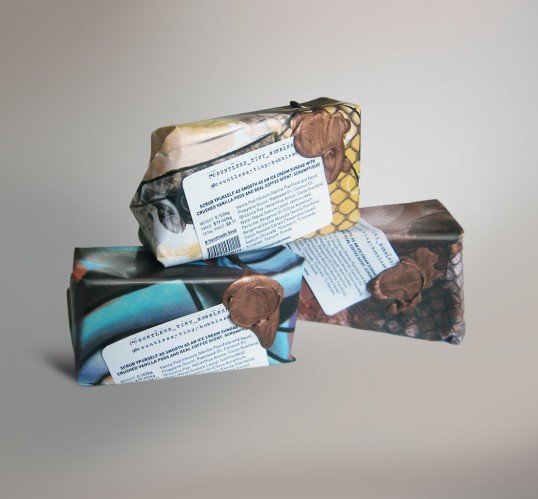 Designed by Natalia Gutsan | Country: Russia
"Self-initiated project. Countless Tiny Bubbles is a brand created for homemade soap. The concept for it's packaging is based on the mysteries during the products creation and use, whereby seemingly by magic the soap dissolves when in use by turning into countless tiny bubbles. This chemical process is sometimes a mystery to the everyday person, hence the pattern on the homemade soap packaging shows smooth stains in a haze which is reflects the overall chemical process associated with soap. The wax-seal motif adds another dimension of texture, making it stand out on the shelf and attractive for potential buyers."
August 19, 2011 | 4 Comments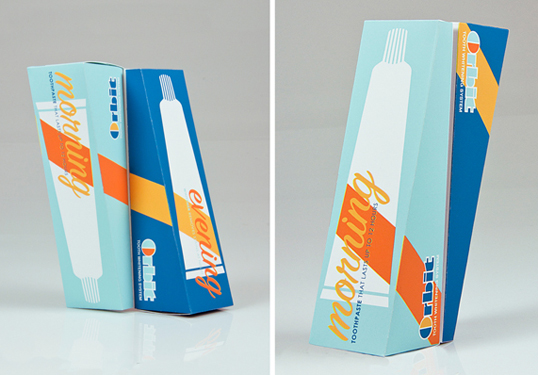 Designed by Veronica Clauss | Country: United States
"This is a tooth whitening system that contains a morning toothpaste and an evening whitener."
August 18, 2011 | No Comments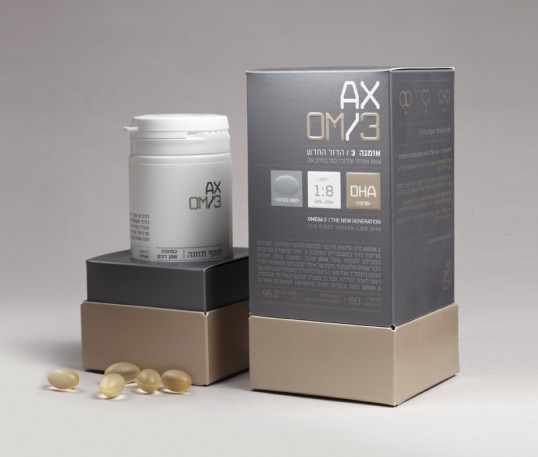 Designed by Blend-it Design | Country: Israel
"Axom 3 is the new generation of Omega 3 body supplement. The design is based in combining two graphic disciplines in one, the first, the visual world of science and high-tech and the second the indulgent world of rich and pampering cosmetics & perfume. The dialog between these two worlds was the base concept of the design of this new innovative brand."
August 9, 2011 | 7 Comments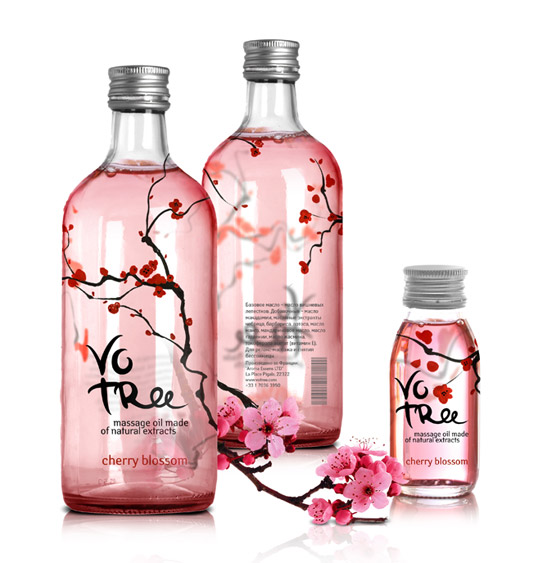 Designed by Ekaterina Dubeykovskaya | Country: Russia
"The massage oil VoTree is made from natural extracts, and comes in a variety of 3 flavors: cherry, fig and chestnut. I painted watercolor plants which became the basis of the design.
In Russian the title 'votree' sounds like a call to action – 'rub'."
July 30, 2011 | No Comments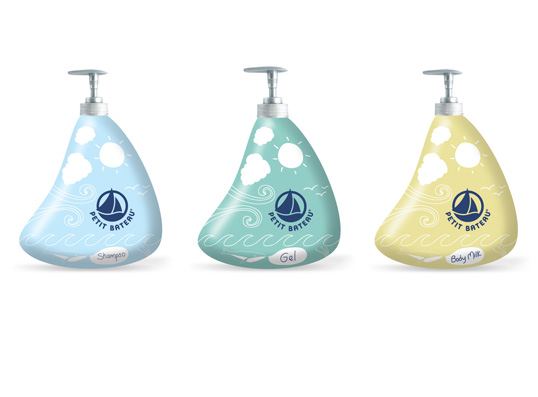 Designed by Sebastián Castro | Country: Colombia
"We were asked to design a bath product line (shower gel, body milk and shampoo) for babies using an existing brand.
I decided to make a representation of the symbol through the volume of the pack, avoiding the use of common bottles and giving the product more personality. For the graphic, I used the symbol as part of an illustration but still keeping it first in the reading hierarchy."
July 22, 2011 | 5 Comments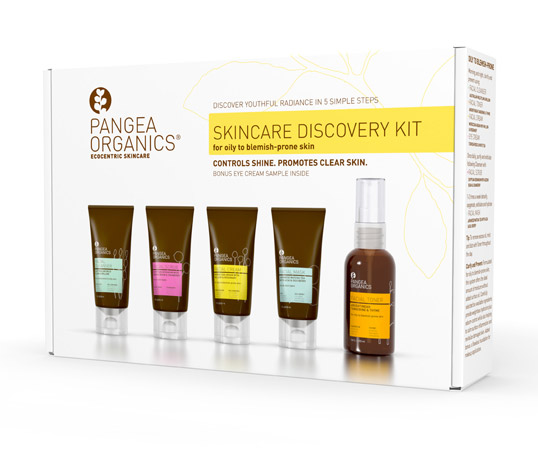 Designed by Josy Ivy | Country: United States | Fonts: FF DIN
New Pangea Organics Skincare Discovery Kits with travel size products enclosed. Three kits by skin type distinction.
July 20, 2011 | 5 Comments
Designed by Adam Deleeuw, Laura Davis, Phoebe Mak & Harshyla Singh | Country: United States | Fonts: Gotham, Tungsten, Garamond Premier, Clarendon, URW Wood Type, FIdo
"We are students at the Academy of Art University, San Francisco. The following group project was done for Michael Osborne's Package Design 4 class.
The assignment was to rebrand Costco, keeping in mind a brand matrix, that consists of a "House of brands" and "Branded house." Kirkland being the dominant private brand for Costco was considered the "Branded house" and a line of hypothetical private labels were designed for the "House of brands."
Within Kirkland, we categorized the brand into six lines:  bath, cleaning, paper goods, apparel, home and food products. Within the hypothetical private labels, we created the following : Ollie's Baking Co. which is Costco's bakery and cafe, Counter 74, a premium line of chef quality kitchen equipment, and Noc Noc which is an eco-friendly kid's line. The entire project consisted of almost 80 – 100 fully comped items."
July 18, 2011 | 2 Comments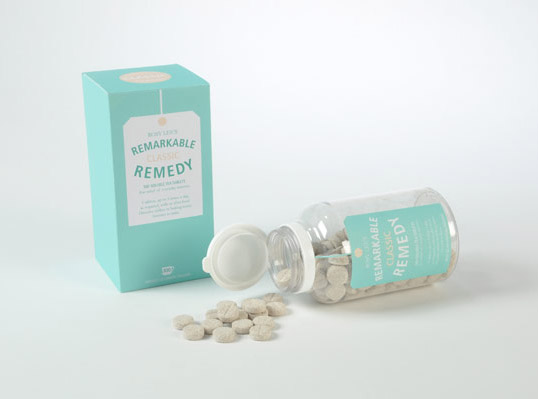 Designed by Kylie-Ann Homer, Sadie Hines-Dedman & Senwelo Foster | Country: United Kingdom
"Rosy Lee's Remarkable Remedy are soluble tea pills, which were created in order to illustrate the medicinal qualities of tea. Tea is often used to relieve the stresses and strains of everyday life, and Rosy Lee's allows for a quick release in the form of 5 soluble tablets that will dissolve in boiling water to create a relieving brew. Rosy Lee's comes in three varying strengths to suit different needs, the coloured dot on the packaging signifies the strength of the tea."
July 17, 2011 | 3 Comments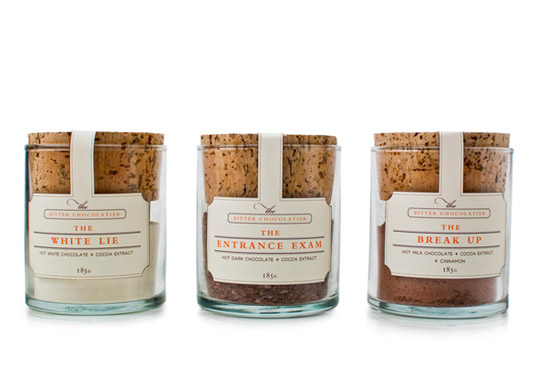 Designed by Miguel Molina | Country: Canada
"Brief: Create a sophisticated identity and packaging that reflect The Bitter Chocolatier's luxury offering and ironic humour.
Solution: The brand has an edge. The elegant look contrasts sharply with its ironic humour. Poking fun at himself, The Bitter Chocolatier tells his tales of misfortune throughout his life through the different flavours. The product differentiates itself from other brands while entertaining the consumer."