July 3, 2011 | 2 Comments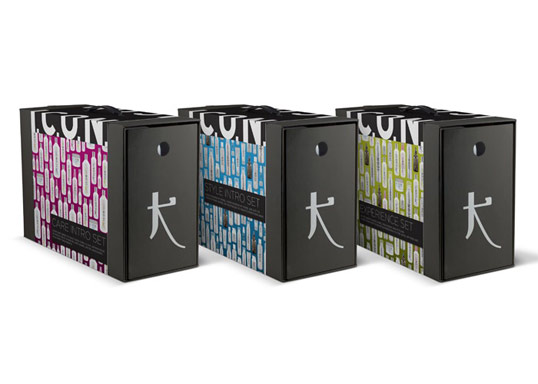 Designed by Version-X Design | Country: United States
"As part of I.C.O.N.'s rebranding initiative, Version-X was tasked with creating all new set and kit boxes for their products. They wanted packaging that would not only be beautiful, but also environmentally friendly. Three versions of the intro kit were designed, each using the same shell and drawer shape but with a unique, brightly-colored band around the outside to easily identify the contents.
The shell of each kit is constructed of corrugated e-flute with a 1-color charcoal flood coat on the outside. The inner drawers are also e-flute with a pattern printed in the same charcoal color. Each kit is wrapped in one of three brightly-colored bands that featured the contents of the box so that the different kits are easily identified. Each kit also has a handle, providing for portability of the heavy product.
June 23, 2011 | 4 Comments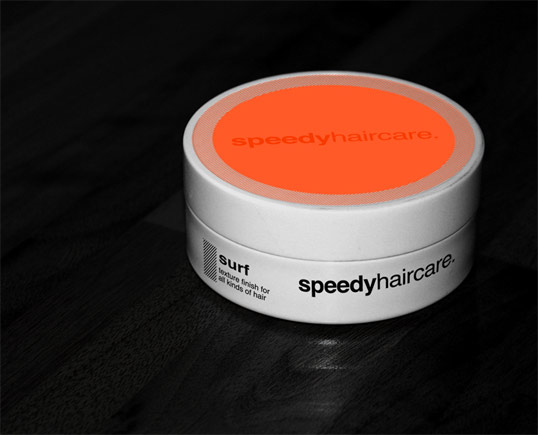 Designed by Dsignwrks | Country: Sweden
"Speedy Haircare pops off the shelves with bright fluorescent orange, and the product name in a matte finish on the lid."
June 15, 2011 | 2 Comments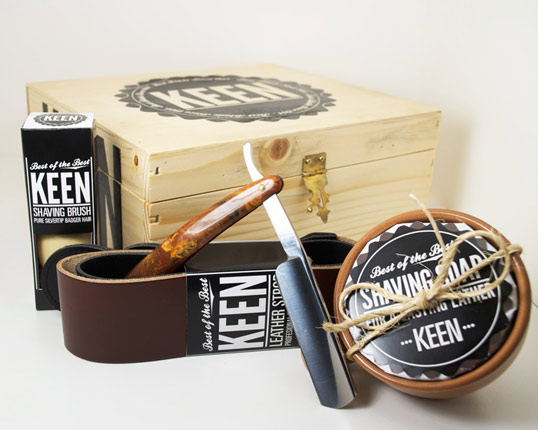 Designed by Chad Kirsebom | Country: United States
"The goal of this project was to create a package set for a health and beauty product. Instead of doing something that is seen everyday, I branched out. I chose to do an old fashion shaving kit. One that would include a straight blade razor, leather sharpening strop, silver tip badger hair shaving brush, a shaving cream soap bar, and a mug. The brand I created is called KEEN. The word 'keen', is also known as sharp and or razor edge. I felt like the name fit perfectly for this brand. I wanted KEEN to be seen as more of a modern company but with historic roots. Old fashion style with strong typographical design elements. I wanted their image to come of as clean and crisp as there product would leave your face."
June 10, 2011 | 1 Comment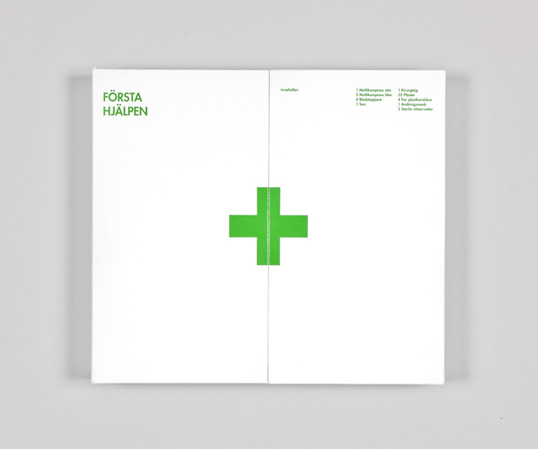 Designed by Tobias Eriksson | Country: Sweden
"The assignment was to create a First Aid kit for general purposes. The design is made with simplicity in mind, but also seen from an ecological point of view since it's all made out of paper. When someone gets hurt, it should be easy to find what you need to help them. With this First Aid kit, there's only one way to open it, and everything is structured so that it's easy to see what you need based on the pictograms and the information printed on the lid. Also, the sleeves are not detachable from the box itself, so all you need to do is pull until you can't pull any further."
June 3, 2011 | 3 Comments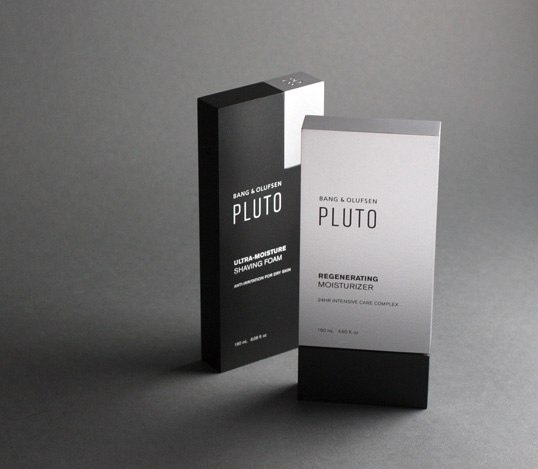 Designed by Karen Liong | Country: United States
An extremely high level of craft and production has gone into this conceptual work from Academy of Art University student Karen Liong.
June 3, 2011 | No Comments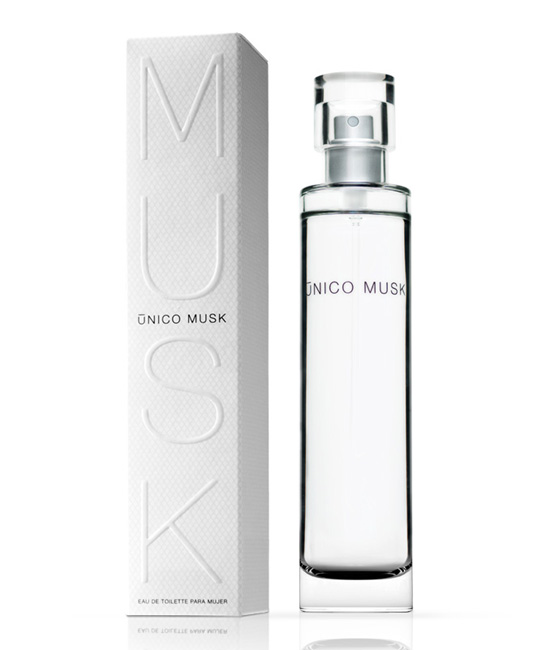 Designed by Lavernia & Cienfuegos | Country: Spain
"Musk is a highly valued substance in perfumery. It is very frequently used to give body and quality to many perfumes. Its delicate aroma evokes purity, clean skin, peacefulness, smoothness. The cylindrical bottle, the textile texture of the box, the graphic… and all, in the design of the Único Musk, want to evoke the pleasure of the habitual, of things simple, natural, authentic."
May 27, 2011 | 5 Comments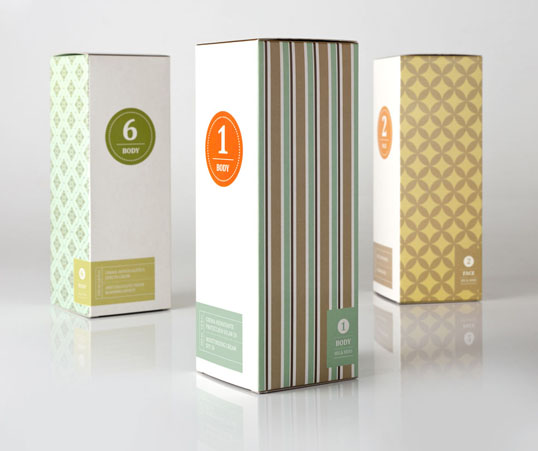 Designed by Imaginista Branding | Country: Canada
Pulsazione is a European company operating in the beauty sector that believes in offering services and products at a price that is accessible to everyone. Their new line of lotions and creams are currently being sold in Pulsazione stores globally.
One of the brand's core values is that their products and services are priced in a completely honest way, with no hidden costs. It was very important to carry this approach through to the packaging by keeping it simple, and labelling the tubes containing the product in clear, straightforward language.
There are seven families of product within the Pulsazione Cosmetics line. One of the main objectives of this project was finding a way to differentiate these families, while keeping the packaging visually unified. This was achieved through a numbering system, with each number representing a family of products.
The packaging had to reflect that the products and services Pulsazione offer are geared towards both a male and female market. Softer, curvilinear patterns were used on one side of the box to represent female consumers, and a harsher, geometric pattern on the other side to appeal to Pulsazione's male audience.
The white fronts of the packaging coupled with the beautiful, vibrant colours used on the sides of the boxes ensure they stand out on the shelves in the colourful Pulsazione stores.
May 26, 2011 | 3 Comments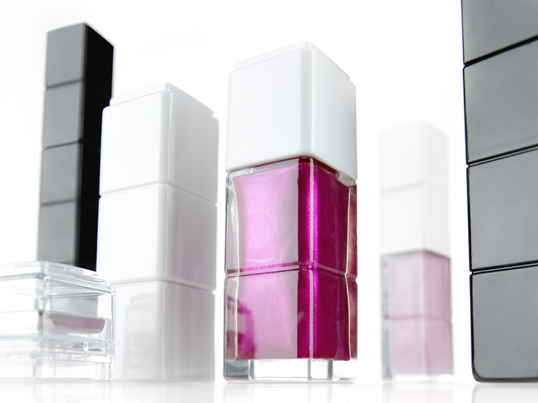 Designed by Landor | Country: Germany
"The brand agency Landor Associates in Hamburg, has developed a new brand identity for the cosmetic brand s.he stylezone. The brand s.he stylezone appeals to a young, modern target group with a strong sense of individuality, mobility and fun. A transparent cube is the basic building block of the new modular design and packaging system; the different packaging elements can be inserted into each other and flexibly combined, which inspires individual combinations. The modular system allows every girl to create her own personal s.he stylezone make-up kit."
May 25, 2011 | 6 Comments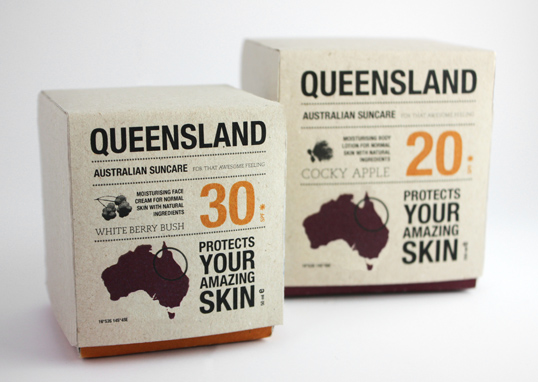 Designed by Hanne Årsnes & Solveig Nordal | Country: Norway
"Queensland Suncare is a fictitious Australian product for the Norwegian market. We created a series of suncare products which focus on natural ingredients and recycled materials."
May 25, 2011 | 1 Comment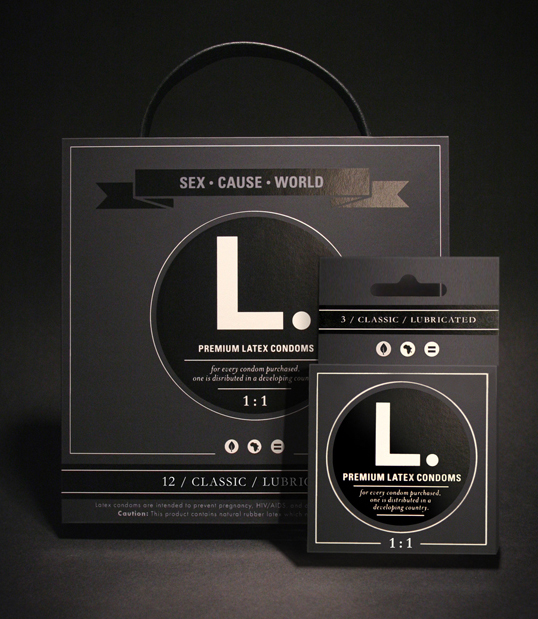 Designed by Adrian Gilling | Country: United States
"L. is a condom company with a cause: to empower women globally by supporting the human right to safe sex. For every condom you purchase, one is distributed in a developing country. L. not only provides those in need with safe sex options, but also educational programs in order to raise awareness about HIV/AIDS within communities highly affected by the disease. The initial packaging is designed to spread the message within developed countries in order to facilitate the "1 for 1" mission of the company, through the "SEX – CAUSE – WORLD" message, and bold shelf presence."