March 17, 2011 | 1 Comment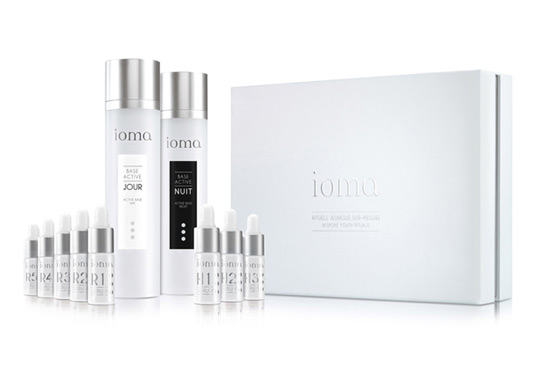 Designed by Bayadères | Country: France
"IOMA Rituels Jeunesse sur-mesure (Bespoke Youth Rituals), a truly personalized skin care elixir."
March 14, 2011 | 2 Comments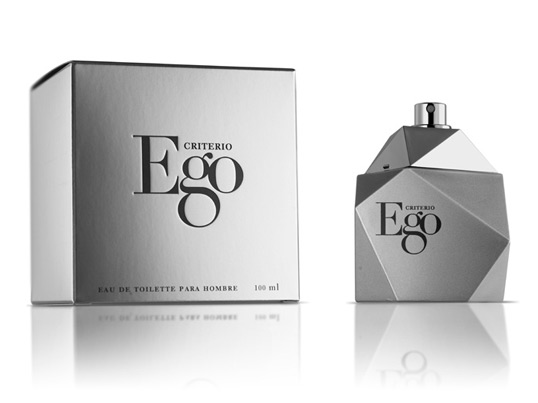 Designed by Lavernia & Cienfuegos | Country: Spain
"Ego aims to connect with a modern audience concerned about their appearance. The faceted glass pack has been painted in matte silver so that the volume of the piece is solid and clearly defined. Ego uses a visual language which is direct and at the same time refined. The logo was created with equal strength in mind. Didot typeface was used in which the characteristics of the letter g was enlarged so that in context, three letters together form a single entity with more personality."
March 11, 2011 | 1 Comment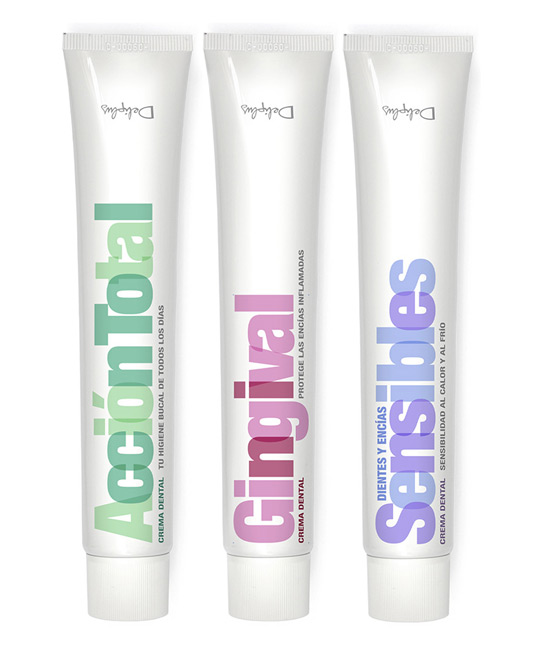 Designed by Lavernia & Cienfuegos | Country: Spain
"One of the design objectives was to comunicate the idea of an efficient, detailed dental care range thought to solve real problems, and at the same time different from the most important brands offering a similar quality. We used a typographic solution which is very functional because it can be read easily and communicates clearly the utility of the toothpaste. The overlapping of the letters and their transparencies provide the necessary graphic richness to personalize the range showing the quality of the products, and to suggest the attention to detail which they have been produced with."
March 5, 2011 | 2 Comments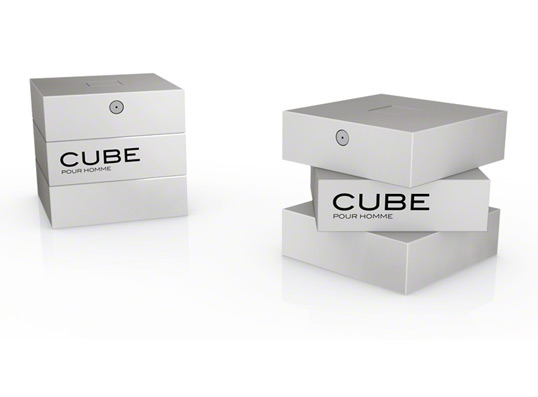 Designed by Mike Flache | Country: Germany
"Designer Mike Flache has created a new flacon. Inspired by the name itself, the packaging design focuses on elegant simplicity. The minimalist form is combined with functionality. The Cube has no cap that could fall off. Just twist the object to open/close it. The sprayer button is on the top side of the flacon. The result is an angular and masculine expression–a product that has a character all of its own."
February 28, 2011 | 2 Comments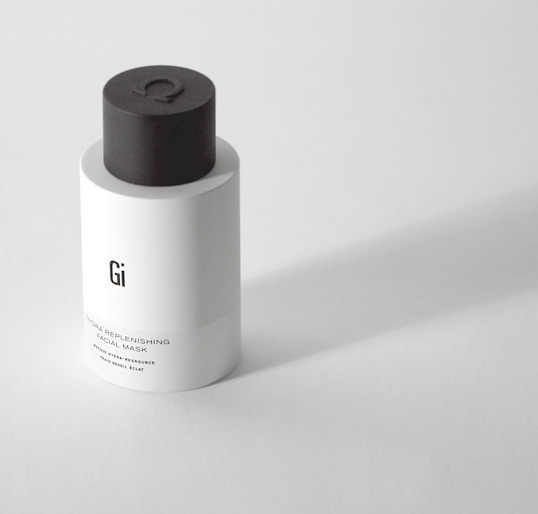 Designed by Tran Huynh | Country: United States
"Project Brief: To create a line of skin care products for an existing brand that is far removed from the world of cosmetics.
Brand: Omega SA is a luxury watchmaker based in Biel, Switzerland. Owned by the Swatch Group, it is one of the most known and recognized watch manufacturers in the world. Omega is defined by its pioneering spirit. Thus, I wanted to create a brand that is not only luscious and memorable, but also captures Omega's long rich history. I decided on the name Gi (γη), which in modern Greek means Earth-—the origin of all human adventures.
Concept: Omega's watch is the first and only watch that has ever been to the Moon. Thus, I chose Earth's only natural satellite to be my main inspiration. The design is influenced by the magnificent scene of earth rise seen from the Moon. The project's celestial palette was reduced to 3 main colors-—matte black, matte white, and pearlescent white. The bottles and jars are all in the basic shape of cylinders. Every effort was taken in order to make the typography the hero of the design. I wanted the type to look sophisticated and effortlessly beautiful to exhibit the luxury and timelessness of the brand, yet remain very modern and stylish to accommodate the young demographics. The in-store display was designed to follow the celestial theme. It was made to resemble one of the craters of the Moon that we can only get a glimpse of during the clearest of nights."
February 14, 2011 | 4 Comments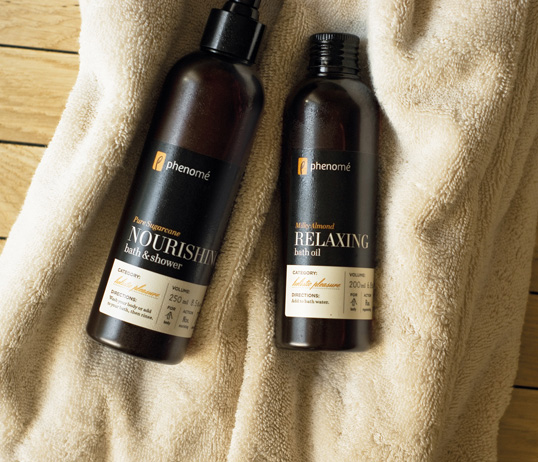 Designed by Ah&Oh Studio | Country: Poland
"We really like the idea of this new brand and store concept – natural, organic cosmetics, which take care both of our skin and our planet.
We were in this project from the very begining, and took part in many stages of brand and concept development. From brand idea, through naming, logotype design, preeliminary sketches of the store interior to the packaging.
The main goal was to merge the idea of natural, organic products with high pharmacetical standards inspired by the scientific base which company holds.
The packaging design stage was a huge and complex process. We had to deal with different sizes, volumes and materials for more than 100 skincare products (and it's still growing). To improve navigation among dozens of bottles and jars we developed system of codes and pictogramms (designed specifically for very small sizes)."
February 10, 2011 | 1 Comment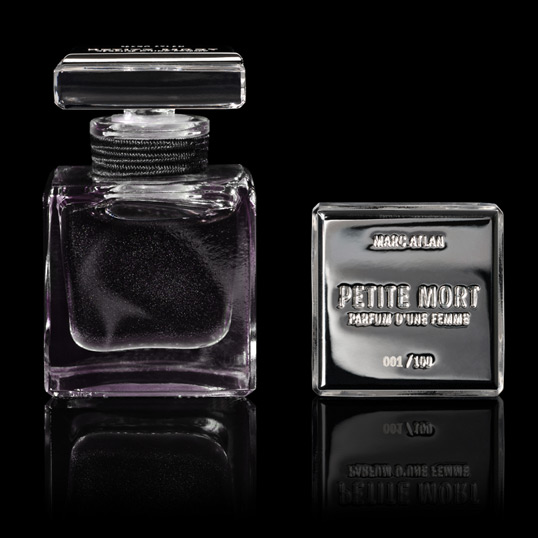 Designed by Marc Atlan | Country: United States
Creative Director Marc Atlan launches Petite Mort™, his first fragrance in a limited edition of 100 bottles.
"Inspired directly by the only bodily fluid secreted solely through desire and brain chemistry, Petite Mort™ (Parfum d'une Femme) embodies the elusive substance that is created by a woman when she is about to climax.
Petite mort, little death, total release; beyond a scent, more like a convulsion of the senses, like a hot, gasping breath that penetrates your memories and alters your subconscious.
An insidiously attractive, sharp redolence, on the fine line between repulsion and addiction, Petite Mort™ insinuates itself into your veins and your mind.
This fragrance is not really a classic scent. It is more the representation of a spiritual state, based on the paradox of an impossible ephemerality. It is perfume as art, the olfactory preservation of a moment, so that it may live forever.
The fragrance has been produced in an extremely limited edition of only 100 bottles and 15 Artist Proofs, each with its own signed and numbered certificate of authenticity. The bottle is an archetypal flask with an unorthodox twist. A cube of classic proportions, its neck is tied with a black band. The stopper is adorned by a polished cast metal plaque, engraved with each bottle's edition number. A deceptively simple fabric pouch holds and protects the perfume.
The glass bottle is made by Verreries Pochet, one of the oldest French luxury glassmakers, founded in 1623. Their first designer perfume bottle was commissioned by the Empress Eugénie in 1858. Pochet famously created the "Eau de Cologne Impériale" bottle for Guerlain. They were also instrumental in reviving the famous Lalique crystal company."
February 9, 2011 | No Comments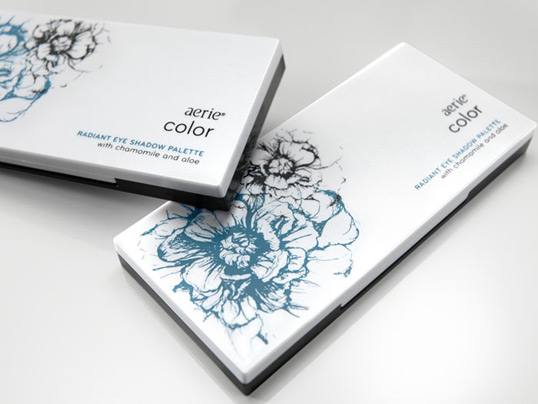 Designed by Ziba | Country: United States
"New packaging design for Aerie brand cosmetics by American Eagle. The fresh botanical illustration gives a natural, light and clean feeling to the new botanical makeup line."
February 6, 2011 | 5 Comments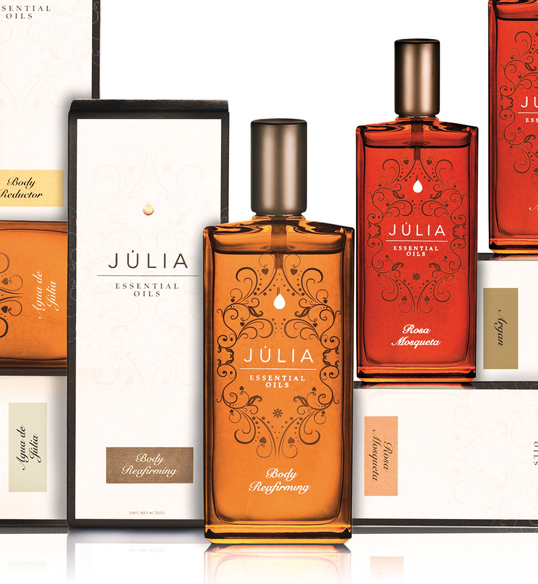 Designed by Garrofé | Country: Spain
"Perfumeries Julia has entrusted to Garrofé Brand&Pack the design of the packaging collection for the launch of their new line of beauty and cosmetic products, Júlia Essential Oils. This line has six essential oils for the care and the personal beauty: Júlia Water, Musk Rose Oil, Argan Oil, Slimming Body Oil, Firming Body Oil and Seduction Body Oil. The line also includes perfumed candles, Intense Candle, and a set of incense sticks, Mikados, to give the home some atmosphere.
Garrofé Brand&Pack has designed all the packaging of the new line thinking both about the natural and beneficial own properties of the essential oils and about the tastes and needs of the target, basically women with a moderate to high purchasing power who care about their physical and spiritual well-being, who look for high-range products and who trust in Perfumeries Júlia.
January 31, 2011 | 2 Comments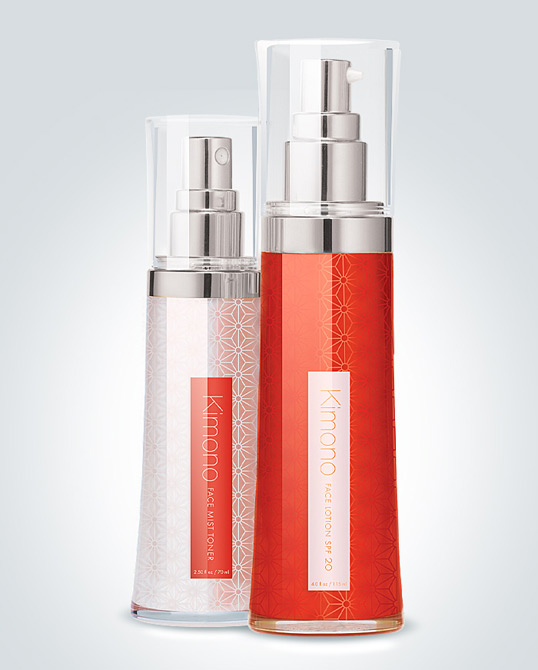 Designed by Belancio | Country: United States
"Kimono is a new luxury spa care line created to enhance the wellness of your skin, body and mind. The brand development included product packaging, logo development and art direction that captures the beauty and elegance of the entire line."