October 7, 2010 | 2 Comments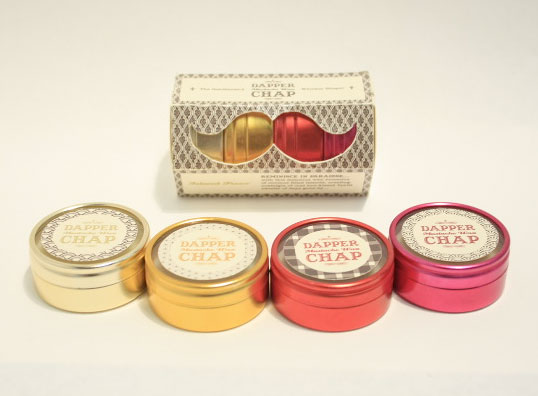 Designed by Chelsea Hendrickson | Country: United States
"I designed the identity and packaging for Dapper Chap Mustache Wax, the Gentleman's Whisker Shaper. This collection of fine waxes comes complete with 4 enticing aromas."
October 5, 2010 | 1 Comment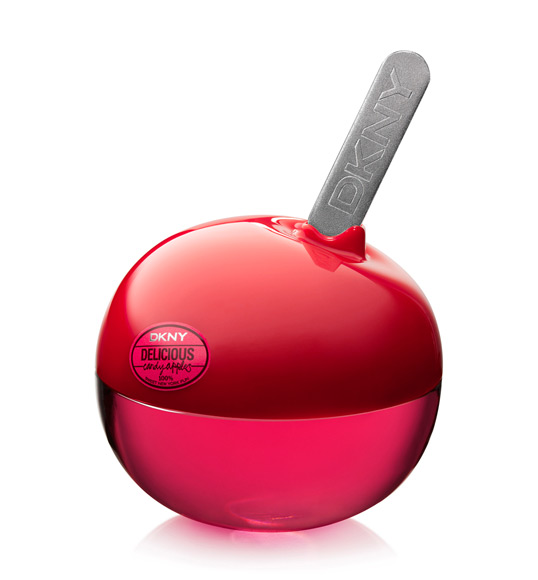 Designed by Estee Lauder & Laird + Partners | Country: United States
"DKNY Candy apples, perfume bottle. An extension of the 'Delicious' range of fragrances. The concept of the candy apple is targeted towards a teenage audience. Using some of the same components as the original 'delicious' bottle."
October 4, 2010 | No Comments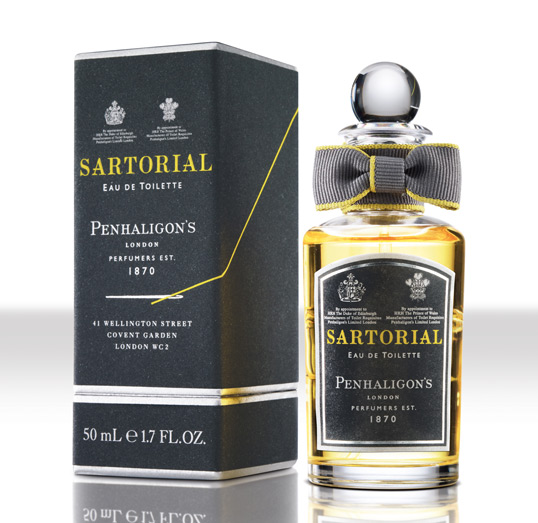 Designed by jkr | Country: United Kingdom
"This month sees the launch of jkr designed Sartorial, a new fragrance from boutique perfumer Penhaligon's. In keeping with the charismatic eccentricity of the brand, Sartorial captures the smell of a Savile Row tailors shop. The scent was brought to life by renowned perfumer Bertrand Duchaufour inside Norton & Sons at 16 Savile Row, London. Duchaufour found himself captivated by the unique smell of the shop and tailor's workroom, and as such, Sartorial evokes the masculine scent of sewing machines, needles, wool and cloth – the ultimate bespoke fragrance.
The packaging gives the Pengaligon's brand (who are renowned for their heritage and history) a clean, elegant and more modern look. "Sartorial is for men of today and Savile Row is very much having a revival among young gents" said Jovan Buac, Senior Account Manager, jkr. "It was a challenging brief. We didn't want to use any tailoring clichés and the design had to fit with the brand's other fragrances, some of which have been around for over 140 years."
October 4, 2010 | No Comments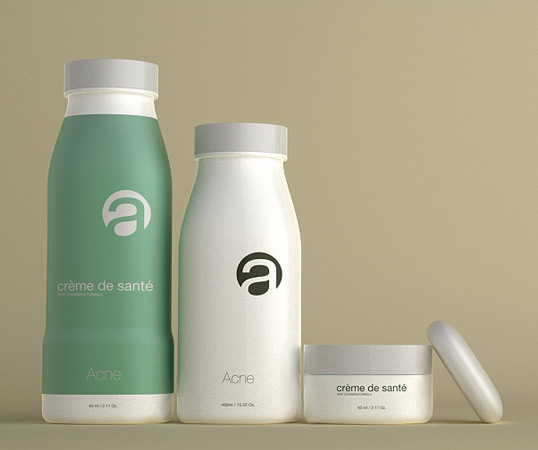 Designed by Streng | Country: United States
"Inspired by the lines of classic glass milk bottles, Crème de Santé packaging pairs subtle vintage charm with a clean, modern aesthetic. Matte silver screw tops and color-coded graphic wraps with a crisp geometric typeface create a freshly contemporary, yet elegant design.
This packaging takes refinement a step further with its multifunctional features. A convenient stacking system fuses three product tiers–soap bar, exfoliant cream, and treatment cream–into one. And the curved top of the exfoliate cream acts as a soap reservoir which holds the custom-shaped bar perfectly.
Such attractive, versatile packaging captures the eye on store shelves and challenges the notion that product is best kept hidden in a cabinet at home. On the contrary, Crème de Santé packaging is ideal for prominent display."
September 30, 2010 | No Comments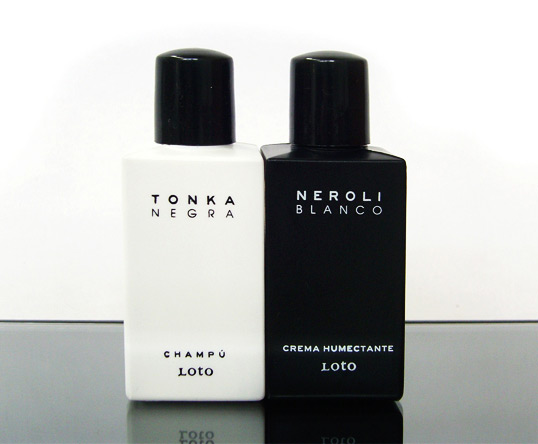 Designed by Cosmetika | Country: Colombia | Fonts: ITC Avant Garde Gothic, Sackers Gothic
"Sophisticated and unique, the Tonka Negro/Neroli Blanco (Black Tonka and White Neroli) collection stands out for its elegance and glamour with its clean and straight shapes. Two fragrances get together to conquer the insatiable taste of the Hotel Avia 93's hosts, located in Bogotá. Tonka Negro represents a intense aroma with sensually savage effects; Neroli Blanco is the royalty's perfume (Azahar flower), which represents the beauty and elegance."
September 23, 2010 | No Comments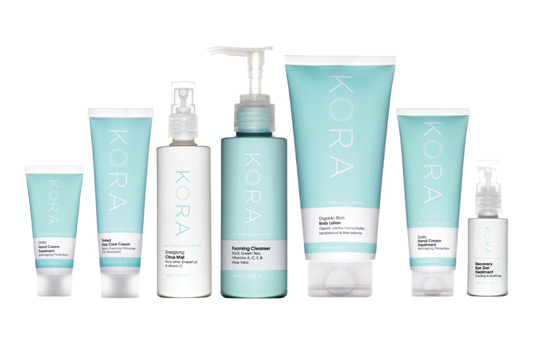 Developed by Jane Abma | Country: Australia
"Packaging design for a new skin care range represented by Australian Super Model, Miranda Kerr. The project involved creating the name KORA, designing the logo and developing concepts for the rest of the branding and website. Although the product is organic skincare and would lend itself to natural and muted tones, we ended up going with an aqua to reflect the purity of the ingredients and to distinguish between it and competing brands."
September 21, 2010 | No Comments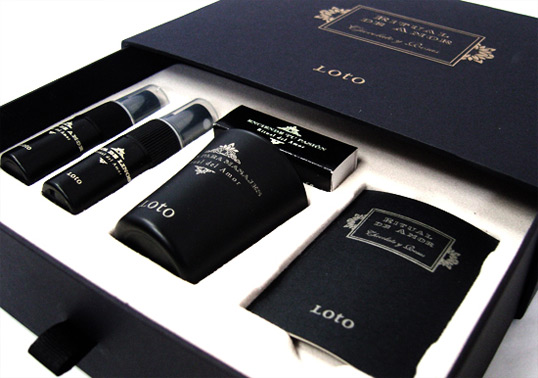 Designed by Cosmetika | Country: Colombia
"Ritual de Amor (Love Ritual) by Loto is a compendium of secrets and millenary practices made for the art of seduction and passion. We have recollected one and each of those secrets, capable of unleash the most sublime passions, to give them to you inside this coffer. We have carefully kept the fascinating history of love and its origins. We have been inspired by magic uses of the chocolate and the roses."
September 18, 2010 | No Comments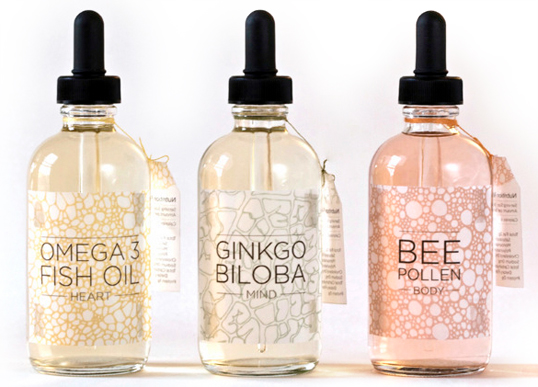 Designed by Sarah Cespedes | Country: United States
"Heart, mind, & body vitamins are geared towards people who are interested in natural supplements. The packaging is slightly transparent in order to highlight the beauty of the natural products. The products are in liquid form for people who don't want to spend their days taking a lot of pills. The patterns on the labels abstractly reflect the different systems of the body that the particular vitamin benefits. The color palette is soothing and pleasant which gives the user a feeling of ease and assurance that the supplements they're taking are pure and natural."
September 16, 2010 | No Comments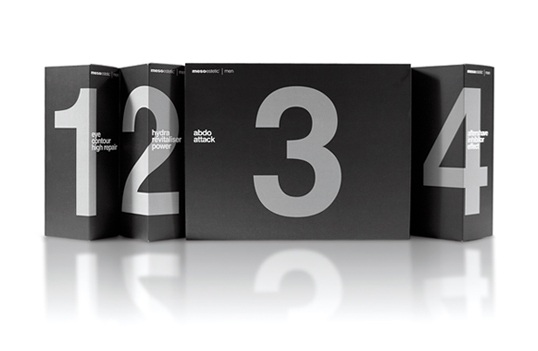 Designed by Espulga + Associates | Country: Spain
Simple typographically driven packaging for Mesoestetic's line of men's skin products. The numbers represent the steps involved for treatment.
September 9, 2010 | 1 Comment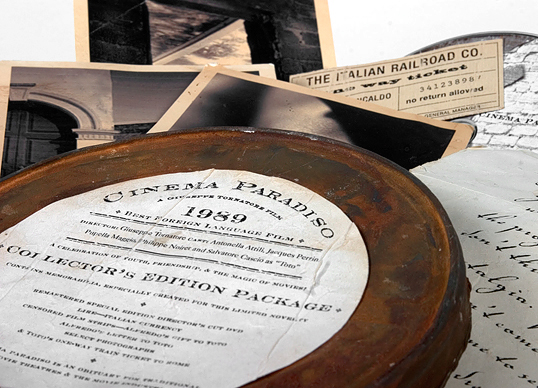 Designed by Nitin Budhiraja | Country: United States
"Special edition DVD set, inspired by the movie Cinema Paradiso—a nostalgic film that evokes a feeling of love and passion through the bonds which the characters share, and the simple lifestyles of rural Sicilians. The music is a masterpeice in its own right, and so this package takes parts of the movie as key points to garner a sense of warm antiquity, that is exotic yet so familiar and human."