March 19, 2010 | 4 Comments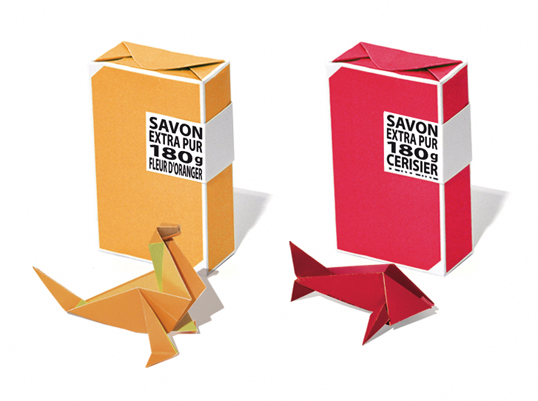 Designed by Studio Plastac | Country: France
New work from this French graphic design and packaging studio for a line of soaps made in Marseilles. Each soap wrapper comes with instructions to turn it into an origami animal.
March 19, 2010 | No Comments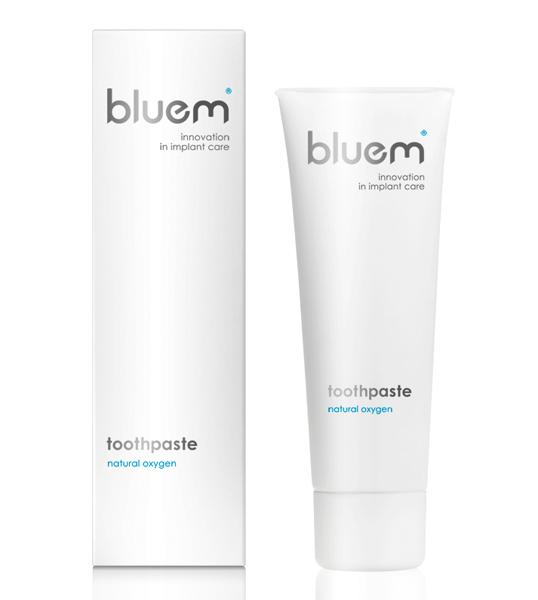 Designed by LOTS OF | Country: The Netherlands
"Bluem is a toothpaste for healthy teeth and implants. It contains natural oxygen and has been specially developed by a team of implantologists, oral surgeons and dentists."
March 16, 2010 | 2 Comments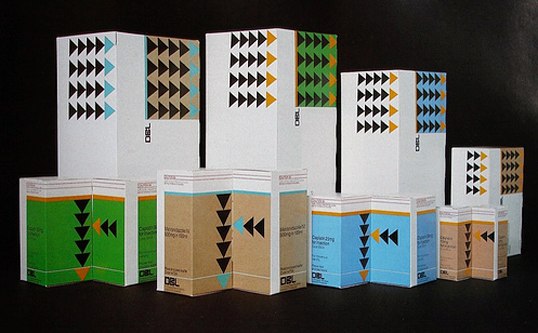 Vintage medicine packaging from the 1960s-1980s, most of which originate from the (out of print) 1984 publication Graphis Packaging 4. If you own this book or happen to know the designers of the first two pieces featured, please let us know in the comments.
Above: Designed by: Gary Emery of Emery Vincent Associates for David Bull Laboratories
March 6, 2010 | No Comments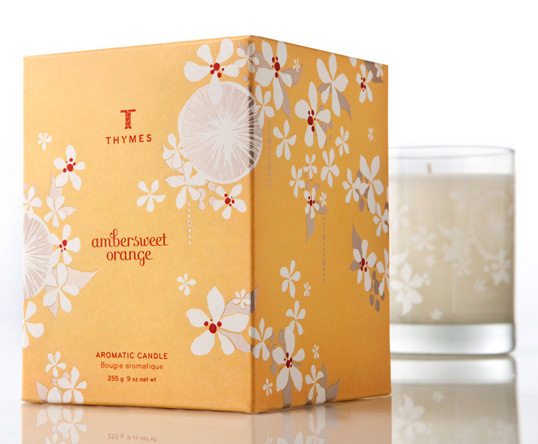 Designed by Zeus Jones | Country: United States | Font: Fling
"The Thymes Ambersweet Orange fragrance line is a wholesome blend of orange blossom, yogurt, and humectant honey. The color choice echoes the product's warm, enveloping quality while the illustrations convey the sweetness of orange blossoms and honey."
March 4, 2010 | 1 Comment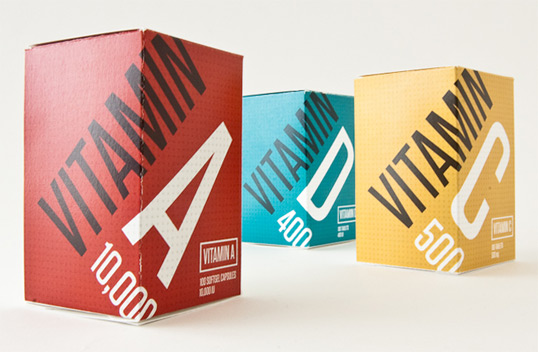 Designed by Colin Dunn | Country: United States
"A concept series for vitamin packaging. My emphasis was on the typography and the objective was to encourage the viewer to interact with the object. When sitting on a store shelf only a piece of the larger image is visible to the viewer — a move that is intended to pique the viewer's curiosity enough to handle the package."
March 4, 2010 | 3 Comments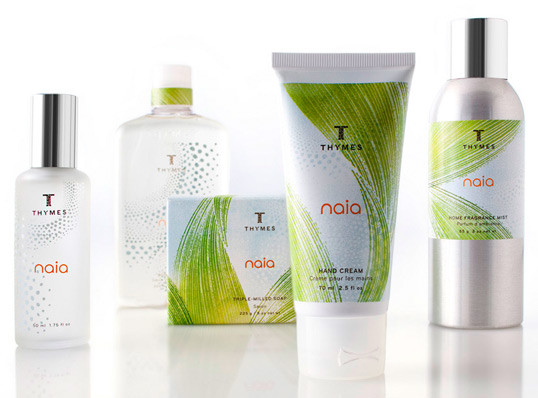 Designed by Zeus Jones | Country: United States
"Naia is a clean, crisp fragrance that activates the senses. The packaging highlights the fresh simplicity of the products by wrapping them in illustrations of translucent leaves and splashes of water."
March 4, 2010 | No Comments
Designed by Omar Tehawkho | Country: Israel
"These are mock-ups for a packaging concept i came up with for a rebranding project we had during "character design" class. For my project i chose to rebrand "MEM", which is a shaving cream brand consumed mostly by older men and even older barbers.
The general concept was the simple and traditional "be a man" vibe all shaving products seem to go by, but i chose a different kind of "man", the ol' fashioned yet young and hip kind. so throughout the whole procces i tried to keep an "old times-vintage" feel going, while lightening things up with proud and silly tales of simple manly insight."
March 1, 2010 | 27 Comments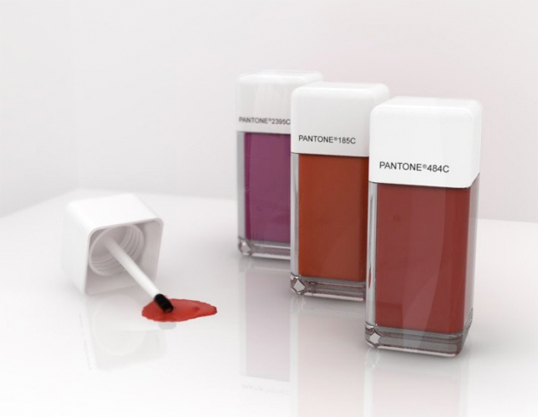 Designed by Renata Veiga | Country: Brazil | Fonts used: Neue Helvetica
A concept for Pantone-licensed makeup, executed in a simplistic style akin to existing Pantone merchandise.
February 26, 2010 | 1 Comment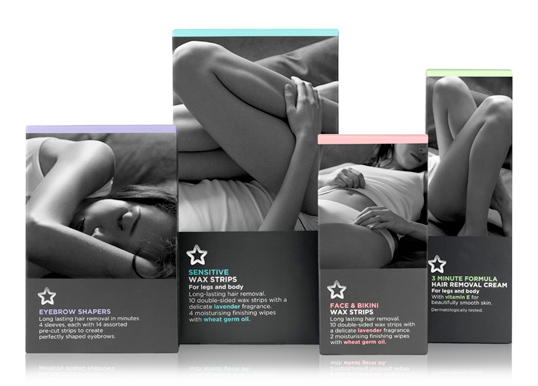 Designed by Burst | Country: United Kingdom
"We wanted to take away the embarrassment factor of the whole depils sector, which seems to be generally treated the same as SanPro in its styling. We have focused on the beautiful natural body, using high contrast black and white photography that has a sheen effect, emphasising the smooth skin and evoking the emotion of someone being at one and relaxed with the whole situation. The close up black and white editorial photographic style to empower and inspire the purchaser, not make her feel like a 'bloke' that needs a shave or a 'hairy old witch'. The high contrast images use relevant parts of the body to help communicate which product to use and the coloured band at the top helps differentiate further."
February 25, 2010 | 2 Comments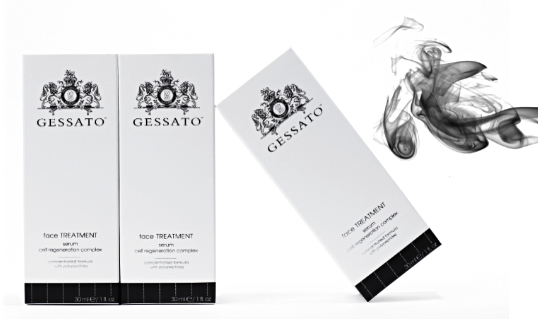 Designed by Gessato | Photography: Christian Garibaldi | Country: United States | Buy it
"The name Gessato describes the chalk-stripe suiting fabric that sets the tone for the products and packaging inside and out, and refers to the traditional elegance of contemporary Italian aesthetics and culture.
The noble lions af Italian royalty, a symbol of richness and strength, the naturally stark silver and white palette, symbols of peace, serenity and well being; and the Latin motto, "providentiae memor" (with gratitude for divine guidance) converge to outwardly represent the essence of Gessato's products."