July 17, 2009 | 4 Comments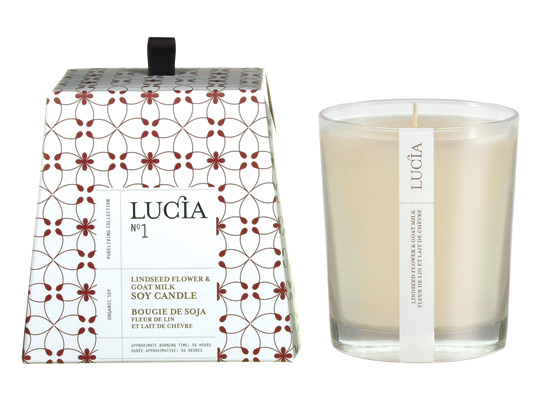 Designed by Pure Living | Country: Canada
"LUCIA was inspired by Lucie Bernier (president) of Pure living products. Her many travels to Europe, Asia, etc has led her to bring back through the years an assortment of Renaissance designs on fabrics from Florence, ceramic work from Portugal, Spain and  Italy, etc. She wanted to create a line of specialty soaps (now candles also)  that reflected these rich  textured designs. Each design reflects old world charm with a modern touch. The logo LUCIA in black & white reflected the 'cleanness' of a soap product and at the same time counter-act the rich and 'busy' textures of the old world designs. Also, this was a product that was designed in our contemporary times so the logo had to refect this. The box construction of the soaps was inspired from old, pre-war soap designs from Spain & Portugal. The candle box contruction was inspired  by the 'Pannetone' cake found in Italy."
July 17, 2009 | 2 Comments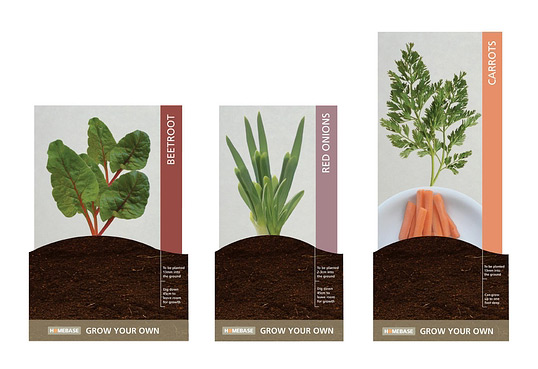 This year Turner Duckworth was the client for D&AD's Student Awards with their creative brief for Homebase. Students had to create packaging and point of sale for Homebase's 'Grow Your Own' fruit and vegetable range targeted towards novice gardeners.
July 8, 2009 | No Comments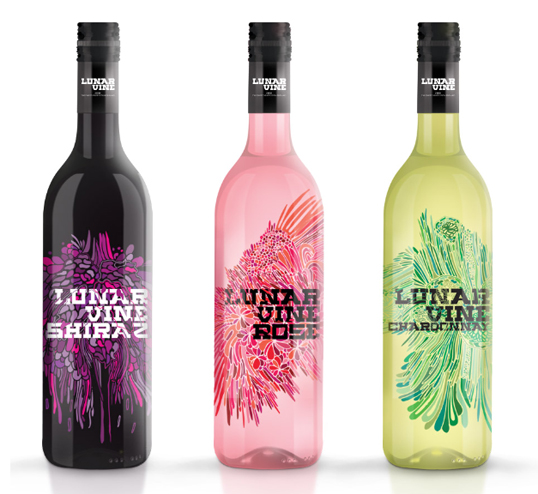 Designed by Death By Colour | Country: United Kingdom
This isn't actually a concept that went to shelves but it'd be lovely if somebody ran with these, as they're really beautiful bottle designs.
July 6, 2009 | 2 Comments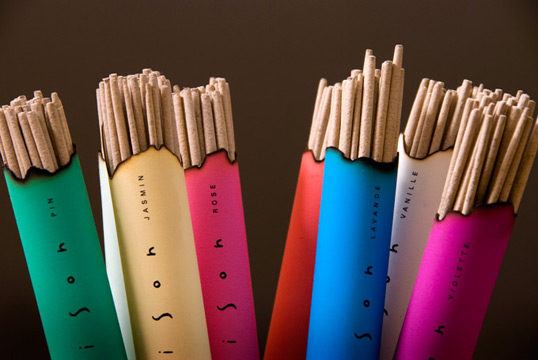 Designed by Louis Beaudoin | Country: Canada
Simple and unique design concept from Montreal based designer Louis Beaudoin.
July 2, 2009 | 3 Comments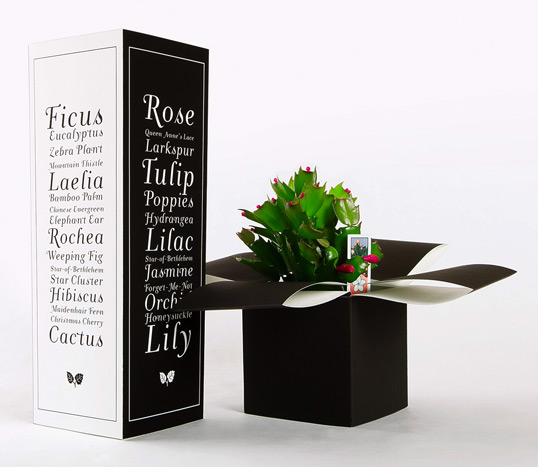 Designed by Jessica White | Country: United States
Jessica White is a student at the Maryland Institute College of Art, studying graphic and environmental design.
"Fresh Flowers: My goal was to create a sturdy and intriguing package for flowers and plants for easy transporting. The plastic wrap fresh flowers are placed in today don't protect the plant's fragility. It also doesn't support a base in which you can easily travel it from one place to another, especially in your car! I choose to make the color palette black and white not only for simplicity but to allow the colors of the flower to pop!"
June 4, 2009 | 1 Comment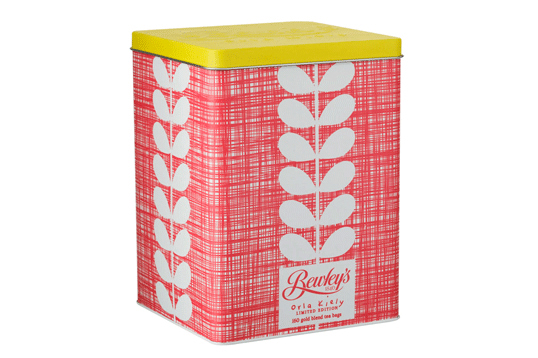 Designed by Orla Kiely | Country: United Kingdom
Serving as both protective packaging and tea storage solution, the Bewleys tea caddy is in its second limited edition run.
"Bewley's was an important sanctuary to me as a student living in Dublin and I am delighted to be working with them as they are an iconic Irish brand. We chose one of our signature prints – the 'Scribble Stem' in a classic red and cream with bright chartreuse contrast lid. We hope our tea caddy will add a flash of colour and become a treasured feature in the kitchen."
June 3, 2009 | 1 Comment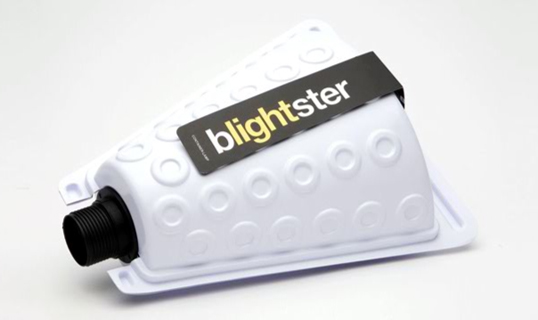 Designed by Rodrigo Alonso | Country: Chile
The package is also the product: a light and lampshade made using the same method used to manufacture blister packaging.
"The technique of thermoforming commonly used to make a container that once opened its rejected as trash, now is the final product: the container and content at the same time.  Blightster is a thermoformed lampshade that by simply attaching the electric connector found inside (does not require electrical installation), its transformed to a beautiful lighting piece, that may be used as a ceiling lamp as well as a table top one."
May 25, 2009 | 48 Comments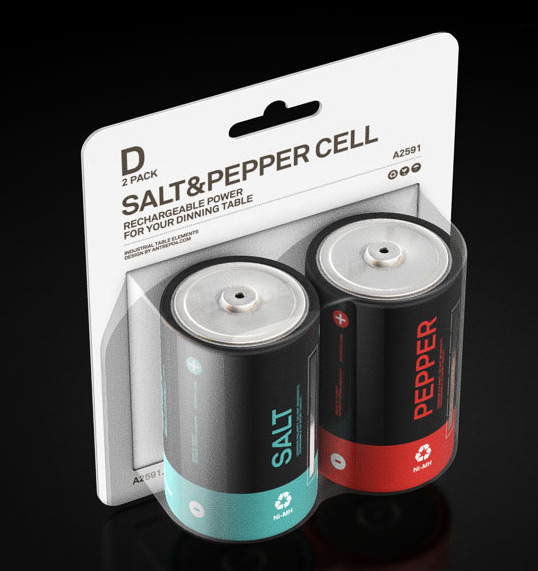 Designed by Antrepo Design Industry | Country: Turkey
"We love the minimal salt & pepper shaker design but we want some industrial touch in our life. Our new concept is for your dining table. These are the last members of "the I'm not product series" ( other part of series: TunerTime, Minutuner, TimeTuner. )
Created by Antrepo Design Industry as "Salt&Pepper Cell" and it is like a D size battery also the dimensions too. Material used is stainless steel and glass, the power indicators on the sides correlate to the amount of spices left in the shakers, before refill time. The color options are Red & Turquoise or Black & White."
May 19, 2009 | No Comments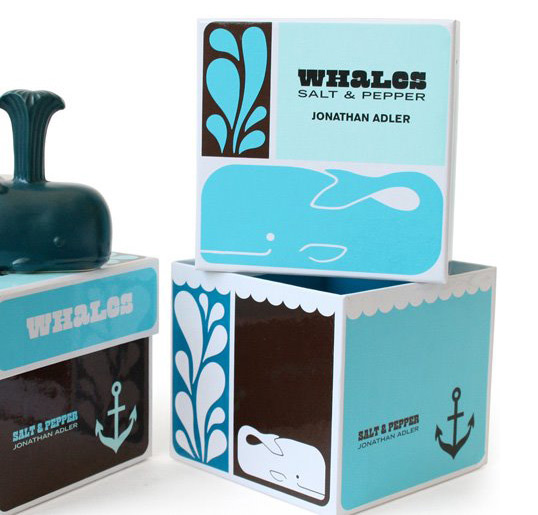 Country: United States
"Really cool packaging for Jonathan Adler's new salt & pepper shakers. each set of shakers have their own unique packaging inspired by the shape of the products. lovely colours and great graphics. this brand new collection will be released soon."
May 18, 2009 | 7 Comments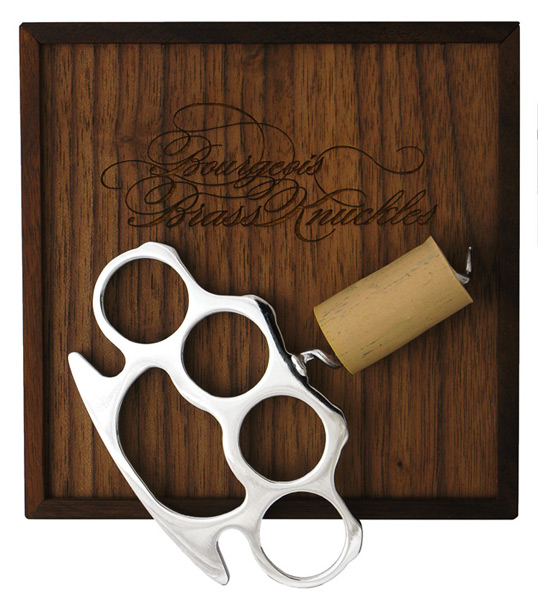 Designed by Chromoly | Country: Canada
"The Bourgeois Brass Knuckles are a cross between two iconic objects whose cultural and socio-economic associations lie at opposite ends of the spectrum from one another. Originally designed by Jonathan Sabine, the BBK is being produced in a numbered limited edition run of 50 by the Chromoly studio. Each chrome plated Bourgeois Brass Knuckle comes in a laser etched handmade walnut box."