April 4, 2009 | No Comments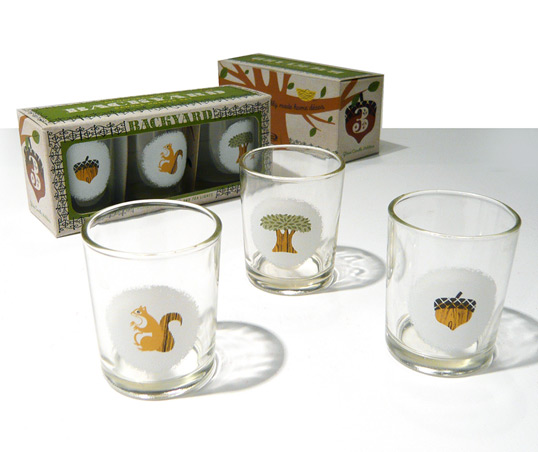 Designed by Wink | Country: United States
"A set of three glass votive candle holders decorated with the cutest little forest inhabitants that sit right outside your home…your backyard. Light up nature, inside!"
April 2, 2009 | 1 Comment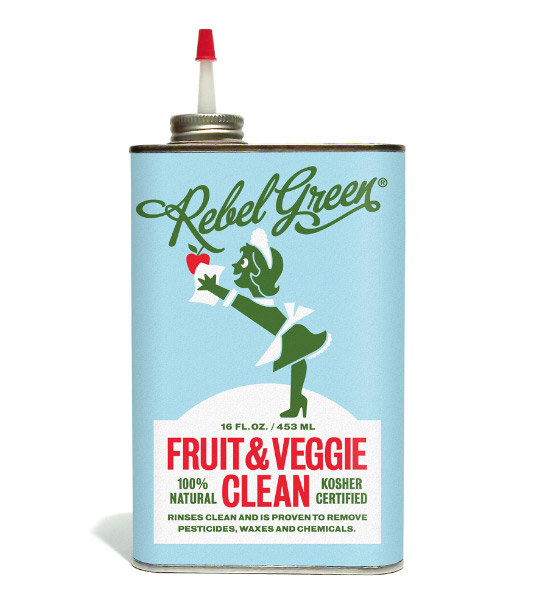 Designed by Wink | Country: United States | Buy it
"Rebel Green is a new breed of responsibly made products. Their fist step was to reach out to Wink for branding and product development. The result is brand that's authentic and a product line that's uniquely Eco-Americana, with just a dash of "you're not the boss of me" thrown in for good measure."
March 31, 2009 | No Comments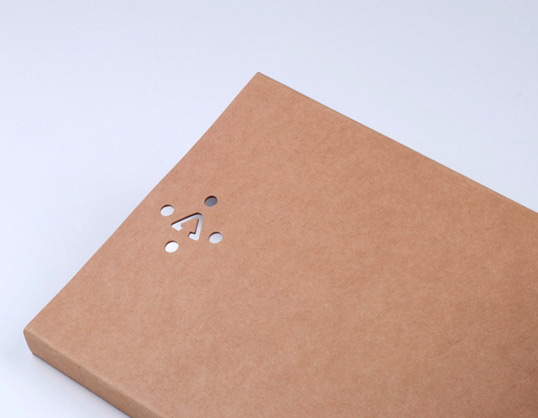 Country: China | Buy it
"Naolab's signature packaging is inspired by Origami and Majiang. Opening a Naolab package reveals elements of surprise – designed as a treat for yourself or for a gift-giving ritual. Carefully designed to provide intelligent protection for products, Naolab's environmental awareness ensures that the least amount of materials, papers and inks are used at all times."
March 30, 2009 | 1 Comment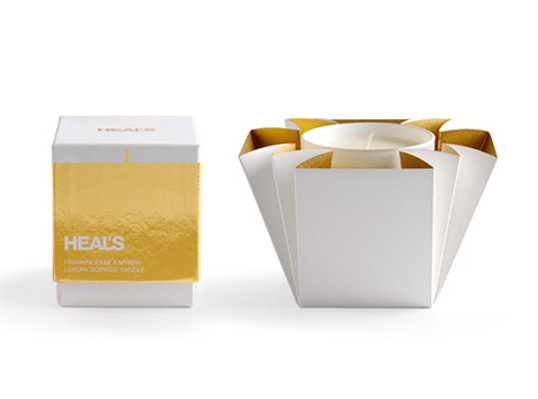 Designed by Aloof | Country: United Kingdom | Font: Helvetica
"Packaging of luxury scented candles for 'Heal's Discovers'.
Each year select designers are chosen to create exclusive products for the Collection. This is the first structural packaging brief to be included within Heal's Discovers."
March 25, 2009 | No Comments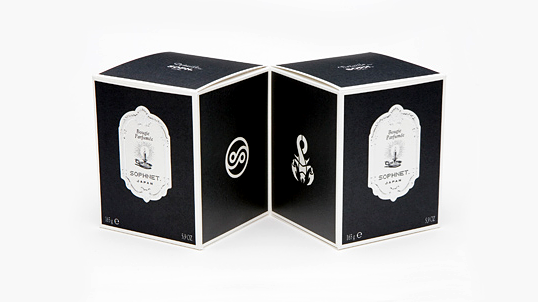 Country: France/Japan
Packaging for special edition scented candles for Sophnet, from classic French parfumier Detaille.
March 24, 2009 | 1 Comment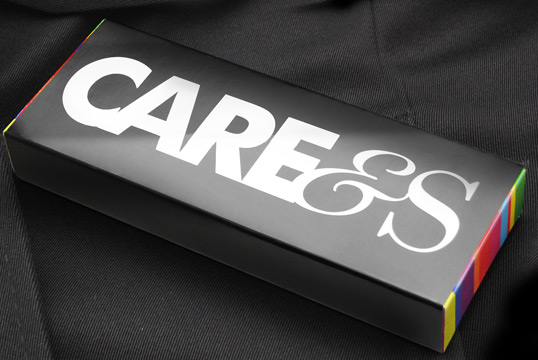 Designed by Love for Art & Business | Country: Sweden | Font: Futura
"A brave new detergent aimed for people who loves clothes and care for the environment. It is neatly packaged in pill-form to avoid the biggest problem laundring today, the overdosing that simply destroys your fine garment.
Apart form other detergent Care&s does not have tensides and bleach as their active ingredient, but an organic enzyme,  which it's why it is very kind to mother nature and it's inhabitants. Care&s is available in selected fashion stores across Europe."
March 20, 2009 | 4 Comments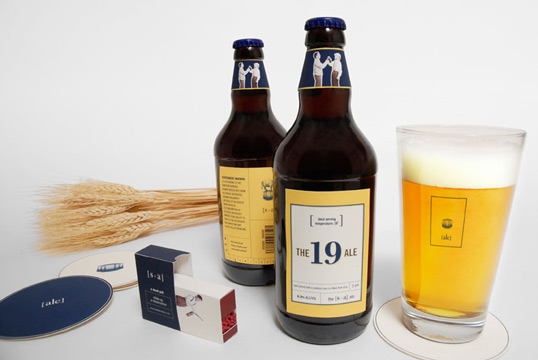 Designers: Lisa Llanes, Andy Carlyle, Elena Schroeder | Writer: Kimberly Healy | Art Director: Dave Ortega | Country: United States
"Steak and Ale: Rebranded Steak and Ale (s+a) with it's own beer and grilling items (utensils, rubs, wood chips) with a style combination of seriousness and wit and a fictional family history. Other items include matchboxes, Brewmaster's Society packaging, coasters, to-go containers, retail bag and a menu. Each item has a little surprise when you open it or flip it over."
March 15, 2009 | 2 Comments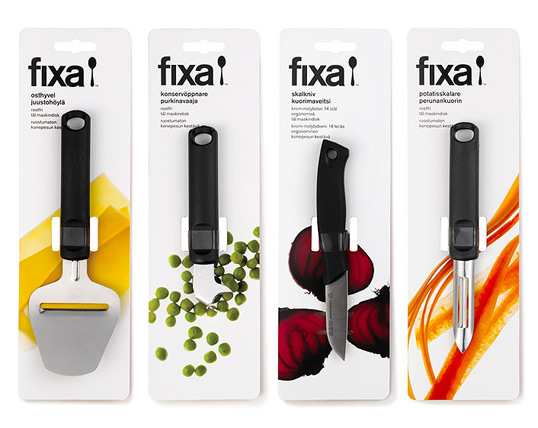 Designed by BVD | Country: Sweden | Fonts used: Helvetica
"A clear strategy for the brand and the range, along with the naming of two new brands: Fixa and Func, tailored to the Nordic market. The Fixa brand comprised kitchen utensils and cleaning implements. Func comprised technical products. The result was two strong brands within one dynamic design system. The packaging design is attractive, clear and highly visible on the shelf."
March 13, 2009 | No Comments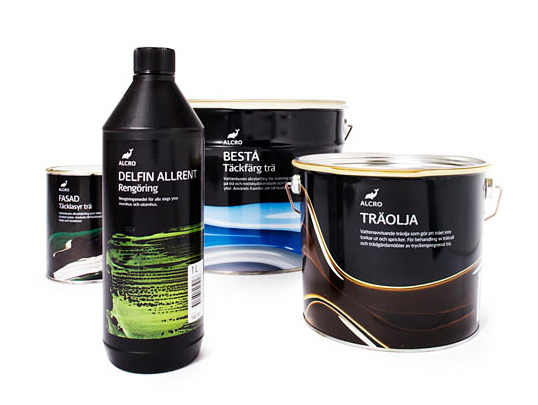 Designed by BAS | Country: Sweden | Font used: Alcro Sans (custom font).
"Project: Development and implementation of a new design strategy for the Alcro brand.
Scope: Development of logotype, unique type face, graphic identity, packaging design and retail store concept.
Delivery: Logotype, idea and design of unique type face "Alcro sans". New graphic manual. New packaging design for 150 products. New concept for Alcro's own stores. "
March 7, 2009 | 3 Comments
Designed by Avi Cornfeld | Country: Israel | Fonts used: Helvetica
"The packaging design for Moiré were created from the world of the moiré effect phenom – a visual perception that occurs when viewing a set of lines or dots that is superimposed on another set of lines or dots."