May 29, 2011 | 1 Comment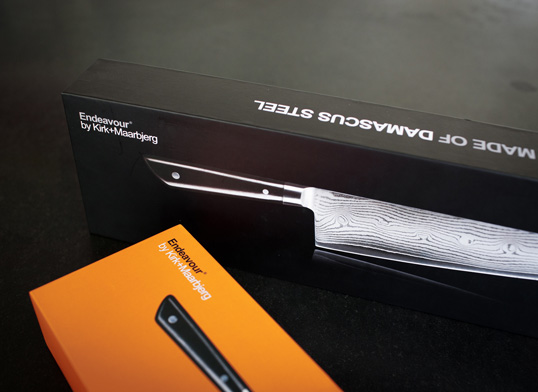 Designed by KIRK+MAARBJERG | Country: Denmark
"We are two chefs (Mikkel Maarbjerg and Nikolaj Kirk) who since 2007 have worked on our own series of knives, called Endeavour. Together we run Kirk+Maarbjerg, which is a Scandinavian company, based in Copenhagen. Today, the Endeavour knives are sold in select stores in Denmark, England, Finland, Germany and the United States.
The expression in Endeavour series is sought to be young, urban and funky in a minimalistic fashion – simply because it appeals to us as individuals. The basis for the design is found in the mixture of the strict expression and the more flamboyant style that we have experienced in our chefs-world in the two opposites of the Michelin- and street-kitchen.
Endeavour is exclusively our design. Our experience over many years in the kitchen and our approach to aesthetics has shaped both the knife-series, but also the packaging. The basic idea behind the boxes is to convey the feeling of an experience when un-packing a new Endeavour knife. The hope is that one is almost starving for the content, even before you get the box opened, just as we ourselves know it from some electronic gadgets.
We believe that we have managed the task of bringing together the experience from quality gadgets with the gastronomic world, so now we look forward to hearing what our customers think."
May 29, 2011 | No Comments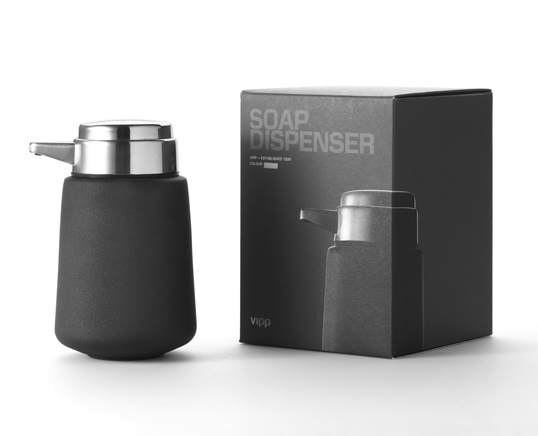 Designed by Vipp & Box House | Country: Denmark
"It all began with a pedal bin in 1939, but since then Vipp has grown into a large family offering a wide range of products. Today, the original bin has been joined by several new bathroom and kitchen products all displayed & stocked in premium interior- & design shops around the world.
Our ambition for the new Vipp packaging was to create a unique packaging concept that embodies Vipp's principles on aesthetics and function.With this design we have succeeded in implementing a packaging concept to very different products both in terms of size and function. The packaging is manufactured in premium matt certified FSC paper and inserts are in black corrugated cardboard with colored core."
May 5, 2011 | 1 Comment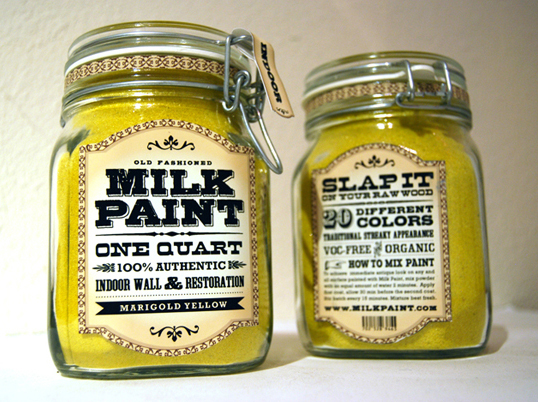 Designed by Dawn Steinbock | Country: United States
"Milk Paint is a dry paint that comes in a powder form. It's history comes from the type of paint that was used on farms and old antique furniture. The paint has an antiqued-finished quality that I expressed through using old wood type style typefaces, and kept it mainly typographic to let the attention flow from the brilliant color and to the labels."
May 3, 2011 | 4 Comments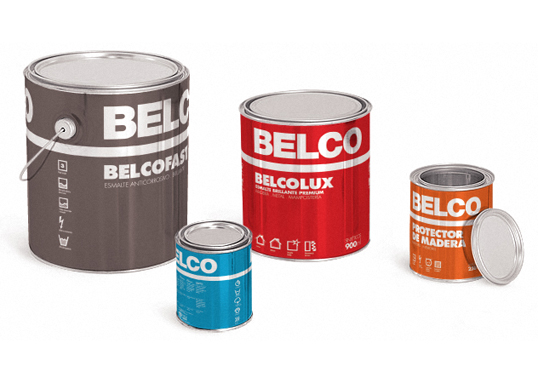 Designed by Atolón de Mororoa | Country: Uruguay
"The project involved the redesign of four lines of products for Belco. There was a need to update their image to bring it in line with their current product. We created a color identification system with a simple design that would be easily recognizable by both sellers and buyers. To highlight the properties of each product we worked in an iconography disposed in a secondary reading."
April 27, 2011 | 5 Comments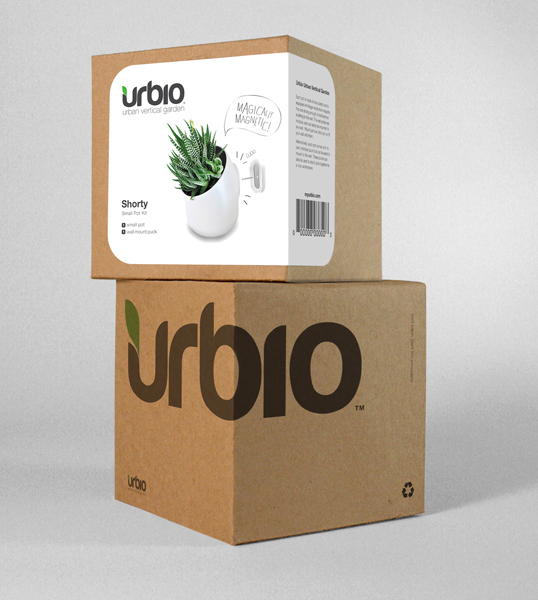 Designed by Christina Rotundo | Country: United States
"We needed to create a strong identity and packaging system for this product along side the actual product design, so we developed approachable, eco-friendly packaging that we feel fits the ease and style of this product and the culture it speaks to.
Urbio is an urban vertical garden that is booming on Kickstarter. We're very excited about the concept and the trend it will lead. Urban gardens are super hot right now and Urbio is the newest and best solution we've seen yet.
We feel that this concept resonates so well with the general design population and are exited that we've funded 3 times our asking on Kickstarter!"
April 25, 2011 | 2 Comments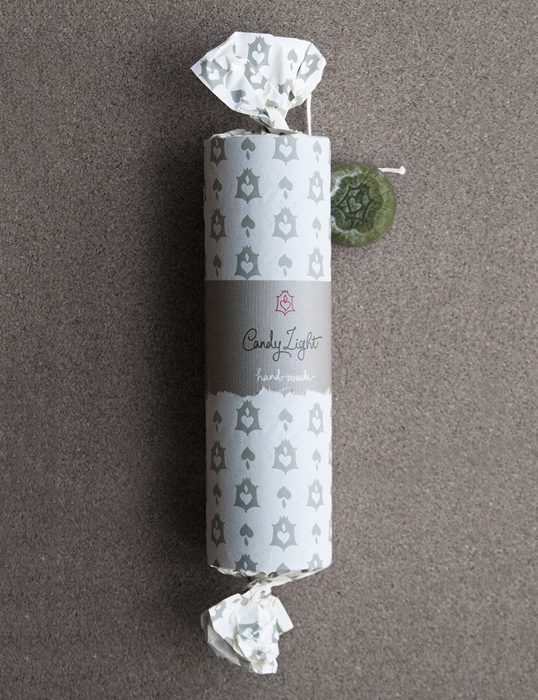 Designed by Vadim Paschenko | Country: Ukraine
"My task was to create a brand name, corporate identity and packaging for the manufacturer of handmade wax candles. The product packaging was designed to look like a pack of confectionery."
April 16, 2011 | No Comments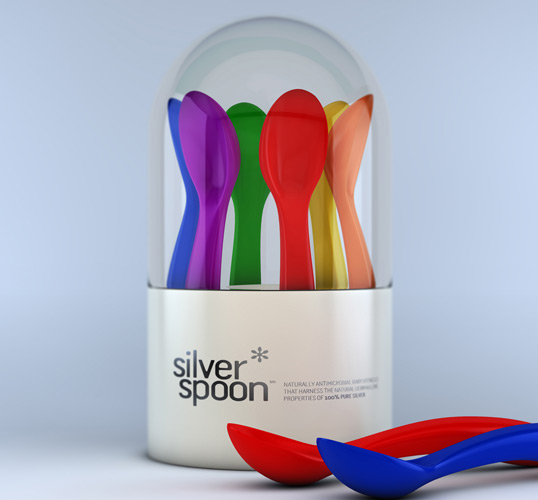 Designed by Special Projects | Country: United States
"There are two things you don't want to put into a baby's mouth – germs and chemicals. So we came up with a unique product to deal with this conundrum – Silver Spoon. It happens that silver is naturally antimicrobial, so we infused our recycled plastic baby spoons with 100% pure silver ions in order to keep your little one away from nasty germs without using common chemical germicides. We also wanted to create a gift-able item out of a otherwise utilitarian baby product, so we packed it accordingly."
April 13, 2011 | 3 Comments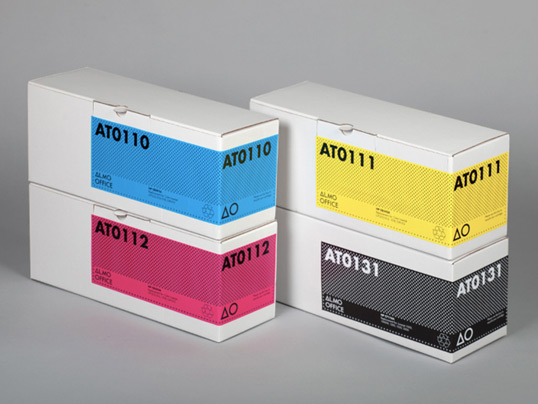 Designed by Company | Country: United Kingdom
"Being the greenest office supplies company, means you have to keep looking for innovative ways to help the environment. After 5 years of research and development, Almo are please to have released their own toner cartridges. In addition to great quality and value for money, the partnering manufacturer has genuine green credentials. With so many printers and models available, we decided to make the delivery operation easier, by making the toner colour and model number really stand out."
March 31, 2011 | 1 Comment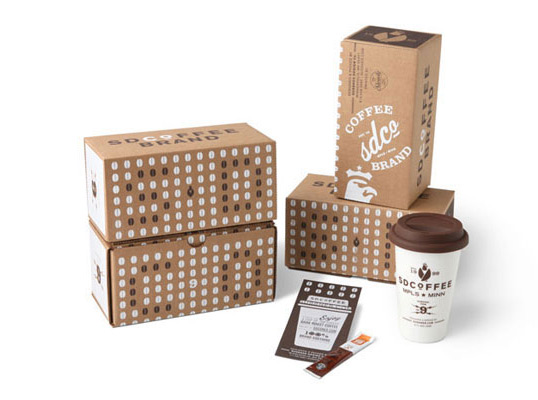 Designed by Sussner Design Company | Country: United States
"Every year Sussner Design Company designs a survival item to send to our friends, clients and new business leads. This year's survival item is a ceramic coffee cup that comes with a packet of instant coffee to be used for their first cup of joe. Also included is a card to inform recipients of our newly designed website. Its hard to go wrong with great coffee and design."
March 25, 2011 | 1 Comment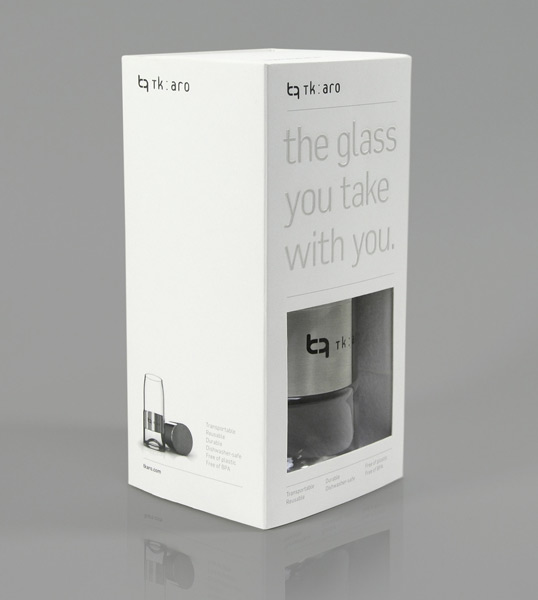 Designed by Monnet Design | Country: Canada
"To match the elegance of the product itself, we kept the design and copy to a minimum – focusing on creating a clean, bright package with hints of luxury (embossed logos on all sides, a foil-stamped message on the front and multi-level embossed photographs on the sides).
One package had to be created that could be used for all of the colours tk:aro will soon be offering. An added requirement was the need to showcase custom engraving on the front of the bottle – for example if a company had the lower metal rim of the bottles emblazoned with their logo, it would need to be visible. To address those concerns we added a custom die-cut window to the front of the packaging which reveals the color of the product as well as the engraved logo. We made a conscious decision not to have a larger PVC-covered front window, as the point of the reusable bottle is to eliminate the unnecessary use of plastics. The printed front was instead used to list some of its biggest selling features and to boldly proclaim what the product is: "the glass you take with you."
The packaging was printed on FSC-certified paper and the inner tray in which the product sits is molded from pulp which is made of 100% post-consumer fibers and is 100% compostable.
The tk:aro bottle is a reddot design award winner, 2010."