August 26, 2010 | 1 Comment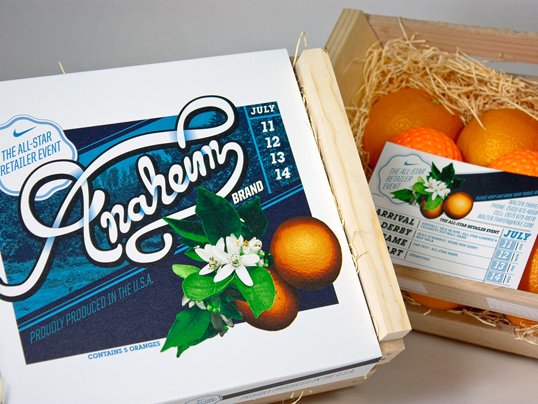 Designed by HUB | Country: United States
HUB teased Nike's top baseball retailers with a series of captivating invitations, each revealing more and more information about this year's retailer retreat. First, recipients received a woody car with a surfboard save-the-date. Then, a postcard came in the mail. And, finally, the pièce de résistance: a crate full of both oranges and orange batting practice balls and their official retreat invitation.
August 10, 2010 | 5 Comments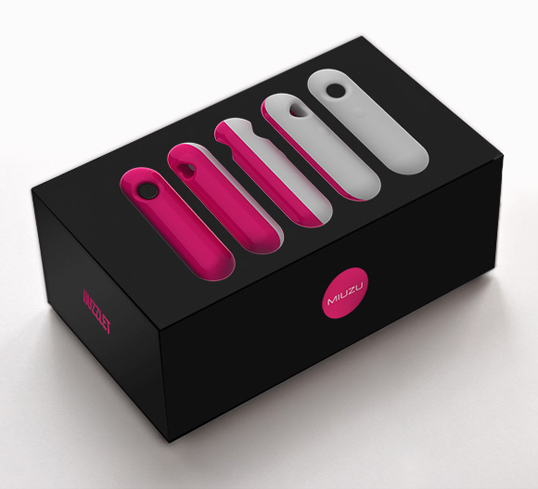 Designed by Straydog Marketing + Design | Country: Canada
"Miuzu needed a brand that was as sophisticated as their premium products, and as enticing as their lifestyle products. Our solution was to combine punchy with a modern sensibility, creating a brand that feels both striking and refined."
August 8, 2010 | 3 Comments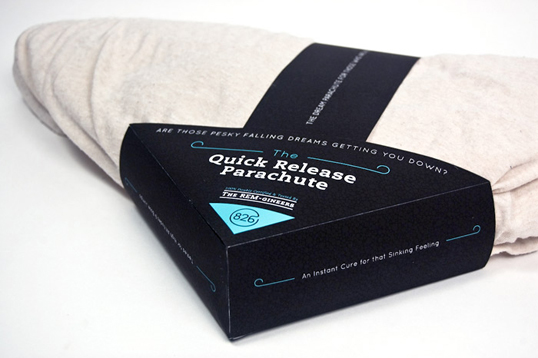 Designed by Bryan Connor | Country: United States
"This is my concept for a hypothetical extension of the 826 Valencia tutoring center and store for Baltimore called "The Stuff of Dreams."
Like the existing 826 stores, the 826 Baltimore store sells re-purposed and redesigned products around a theme. For "The Stuff of Dreams" all products sold can be employed to aid you during your active night of dreams."
August 5, 2010 | 1 Comment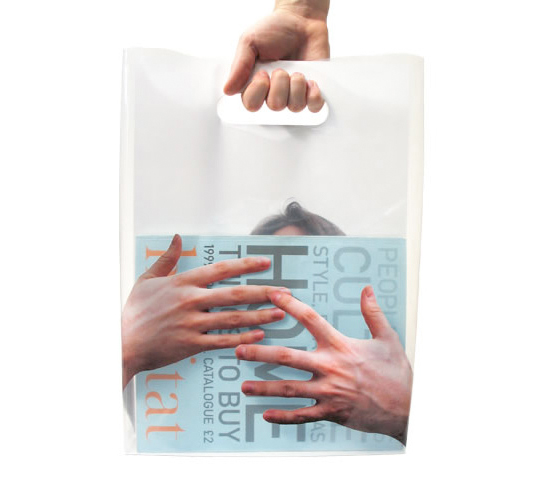 Designed by Jamie Wieck | Country: United Kingdom
Some great work for a carrier bag using the packaging medium itself as the inspiration for the design. (In many parts of the UK, plastic bags are also referred to as carrier bags.)
"Inspired by a transparent bag I was using to collect my rubbish, I created a pair of carrier bags to quite literally carry the shopping."
July 22, 2010 | 3 Comments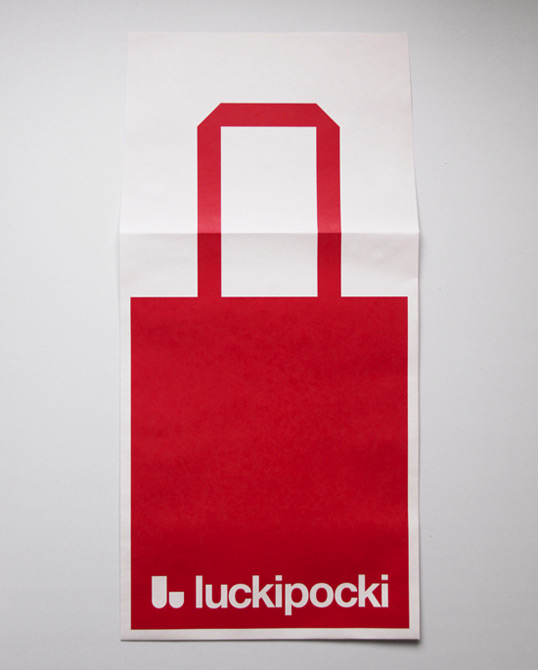 Designed by Blow | Country: Hong Kong
"Luckipocki is a young and fashionable tote bag brand. Their products are sold on-line. Therefore, the products need a package that can be mailed. We have designed an envelope which has a very bold tote bag graphic. The red tote bag graphic is eye-catching and clearly deliver the brand nature. This packaging can be easily recognized in a chaotic mail environment."
July 16, 2010 | No Comments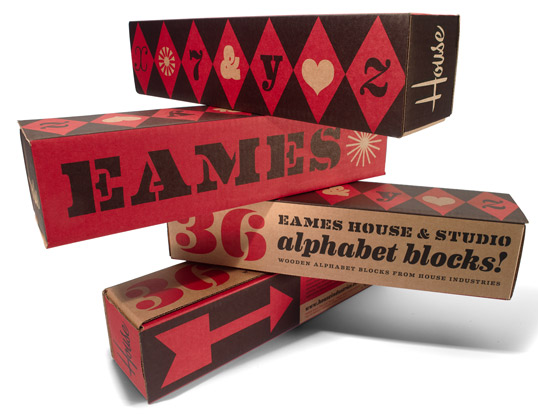 Designed by House Industries | Country: United States
These printed corrugated cardboard boxes are beautiful while remaining functional and protective of the product inside.
July 11, 2010 | 2 Comments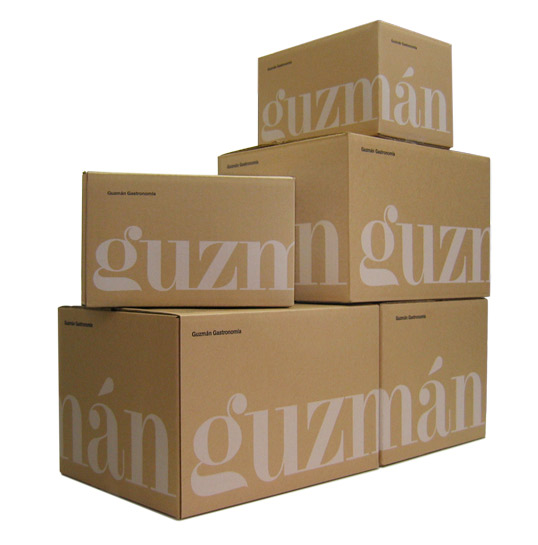 Designed by Marnich & Associates | Country: Spain
Simple type-driven design for the delivery boxes for a product distributor and wholesaler. The type tessellates together nicely from one box to the next.
July 6, 2010 | No Comments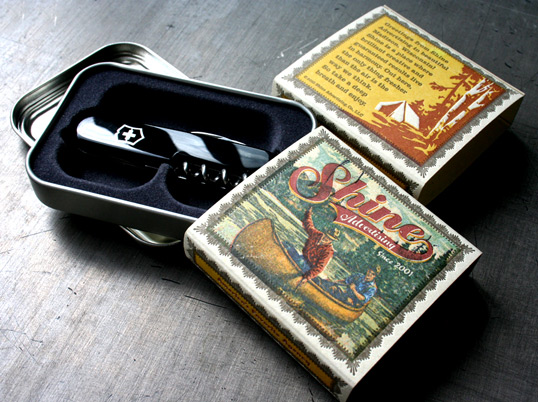 Designed by Shine Advertising Co. | Country: United States
"This ephemera was designed by the folks at Shine Advertising to dress up a pocket knife mailing sent to their clients as a promotional item. You might ask if that is really letterpress? Yep, actually that's four color process plus two spot color letterpress printed one pass at a time. That means that lil' piece of paper went through the presses seven times. (six color passes and a letterpress matrix score) Certainly not a typical use of letterpress, but that's why it was so fun to print it. Laying down color one at a time means a little guess work as you build the color density for the final image, but fun to watch it unfold. The process printed picture was from CSA stock images and worked pretty well to break out into plates even though it started as a heavily line screened image. The plates were printed with a 90 line per inch screen on Mohawk Loop Husk 160lb Cover."
June 30, 2010 | 2 Comments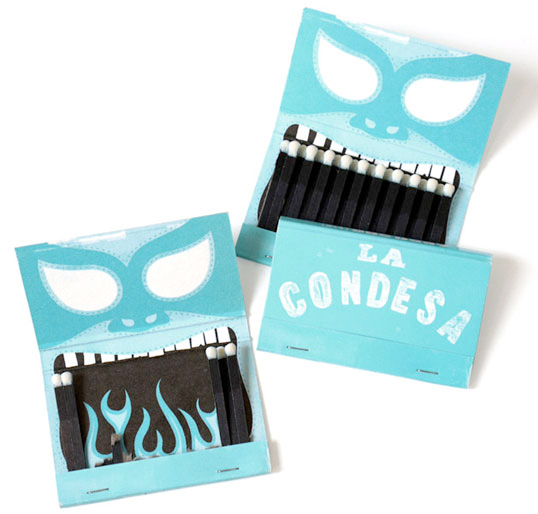 Designed by Mucca Design | Country: United States
"After researching the vibrant visual landscape in the Condesa neighborhood, we were excited to translate the area's energy into a bold restaurant brand. To create an authentic experience, we hand-painted the typography in the style of the signs and menus found at market stalls and lunch counters throughout the region. Hungry luchadors—masked wrestlers—grimace from the inside of matchbook covers, and traditional fortune-telling songbirds pose on coasters with stamp-on fortunes for customers to take away."
June 28, 2010 | 4 Comments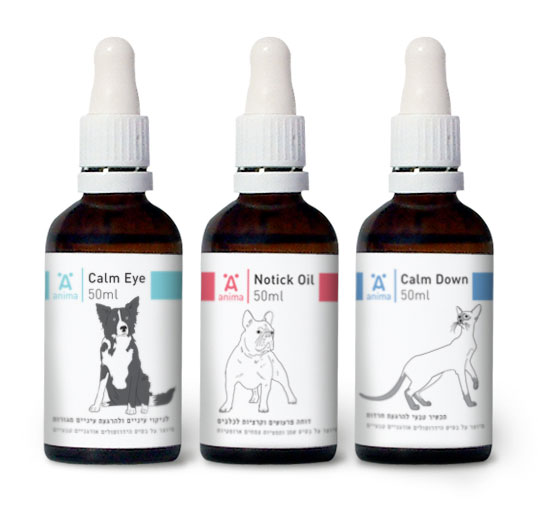 Designed by Michael Golan | Country: Israel
"Anima is a company that manufactures organic care products for animals. All their products are chemical free and made from natural hydrosoils and flower essences. Since the company is still in its infant stage, it was important to the owners that the production cost of the packages wasn't too high. That is why it was decided to produce labels for now. So far the products are proving to be a great success.
The products are now sold only in Israel but since they will soon be available in Europe too."