August 30, 2011 | 7 Comments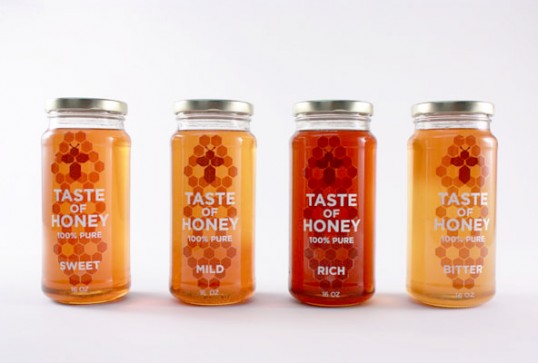 Designed by Danielle Mitchell | Country: United States
"This project was based on a lyric or song from The Beatles. I choose the song "Taste of Honey" and turned it into a honey brand. To showcase the variety of flavors in an elegant way, I designed a minimal type treatment and paired it with a honey comb pattern. The elements of the honey comb pattern also make the the bee and flower icons shown throughout the packaging and recipe cards."
August 28, 2011 | 4 Comments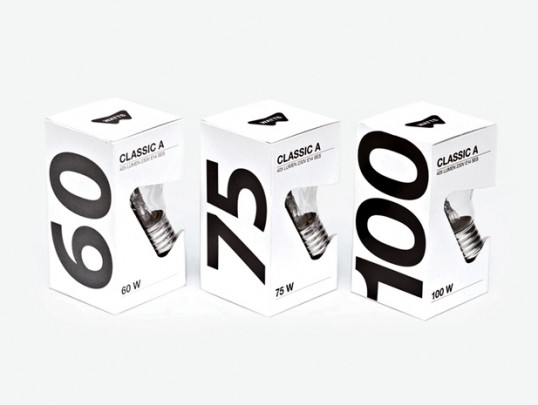 Designed by Valentin Bussard | Country: Switzerland
"Packaging and innovative light bulbs with three simple lines 60 watts, 75 and 100 available in 3 colors. By keeping the dimensions packaging standard, two cuts on an angle can change complete the look of the package and provides an opportunity for customers to view the bulb being as well protected as in a conventional box."
August 26, 2011 | 7 Comments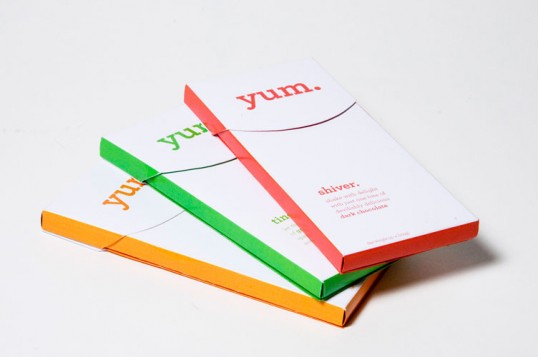 Designed by Kyla Tom | Country: United States
"yum. is a playful and fictional chocolate bar brand I created for a class in college. We had to create a brand identity and theme as well as the packaging. The idea behind yum. is to embrace the simplicity of chocolate. Chocolate is a joyful experience that can be felt as soon as it hits the tongue. Ultimately, this experience can be summed up in one word: yum. Color pops were brought in to a stark white background to hint at the burst of flavor and the fulfilling experience as soon as the chocolate is eaten. When the packaging is opened, the chocolate bars smile, bringing in a fun and playful nature to the brand. Simple, delicious chocolate. That is yum."
August 21, 2011 | No Comments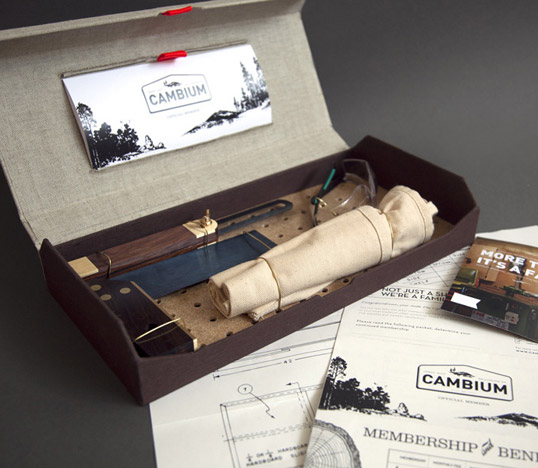 Designed by Stren Pipkin | Country: United States
"Cambium is more than a shop, its a family
Main demographic focuses on 50-60 yr male woodworkers who lives in the city but currently don"t have access to a shop. Members of Cambium pay a monthly fee to have access to industrial machines and tools. Once enrolled in the program members receive a canvas covered clam-shell box with magnetic closure and orange nylon detailing. Inside this box they will find a 4 piece kit of fine rosewood and brass tools, apron and safety glasses.
This concept focuses on 1940's muted color scheme, traditional illustrations with modern styling."
August 19, 2011 | 4 Comments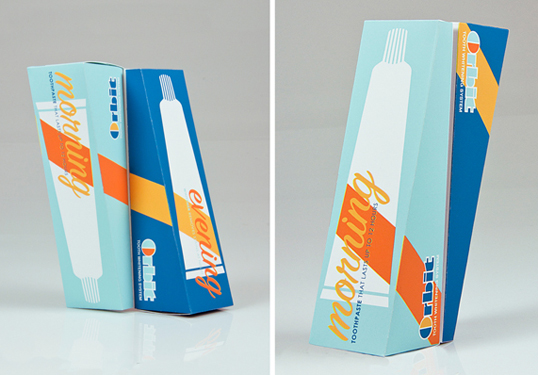 Designed by Veronica Clauss | Country: United States
"This is a tooth whitening system that contains a morning toothpaste and an evening whitener."
August 18, 2011 | No Comments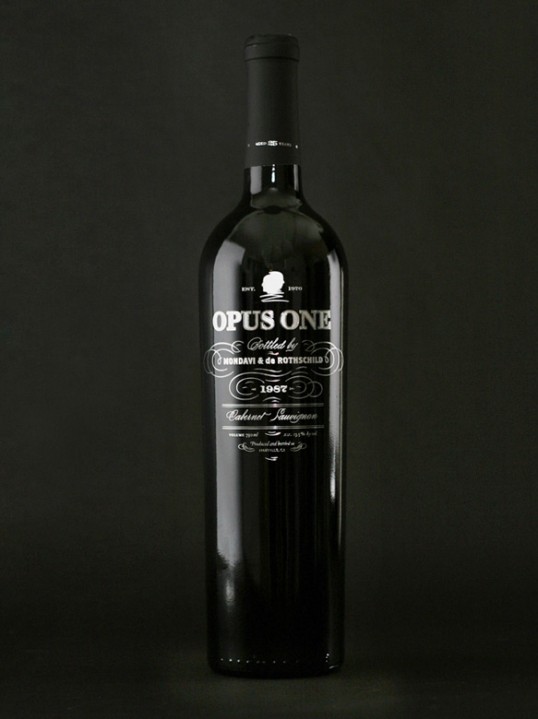 Designed by Jennifer Wijaya | Country: United States
"As a part of advanced packaging class in the Academy of Art University in San Francisco, the assignment was to pick an existing California winery to design their wine label. T his include designing two lower-tier wine, Cabernet Sauvignon and Chardonnay, priced on $40 per bottle, and a higher-tier Cabernet Sauvignon priced at $150 per bottle that comes with a wine case. I picked  Opus One Winery,  America's first, ultra-premium brand wine born under the partnership of Chateau de Rothschild and Robert Mondavi. The main goal is  to reflect their exquisite and delicate wine production technique through the new label. The inspiration came from the 1800s music sheet covers, after referring back to the meaning of the word Opus (the first masterwork of a composer), but still keeping it modern and current."
August 15, 2011 | 2 Comments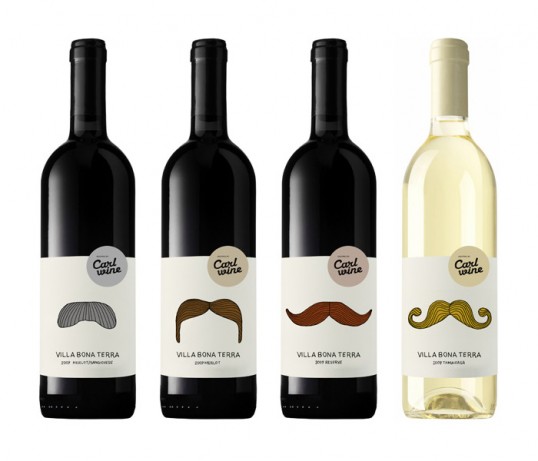 Designed by Pia Storm & Rine Boland Folden | Country: Denmark
Carl wine is an independent and family owned company founted in 1973 by Erling Carl, and currently under the management and ownership of his two sons, Michael and Gert Carl. During its more than 35 years of existence the company has developed from a one-man operation, to a business group with wine production in Bordeaux and Romania.
The Romanian low-medium prized wines are sold in discount grosery shops. The insight is that people buying wine in discount shops often know very little to nothing about wine. Therefore we wanted the help the consumer by letting the label reflect the taste and quality of the individual wine. From the cheap Merlot/Sangiovese to the more expensive Reserve and white wine.
August 14, 2011 | 6 Comments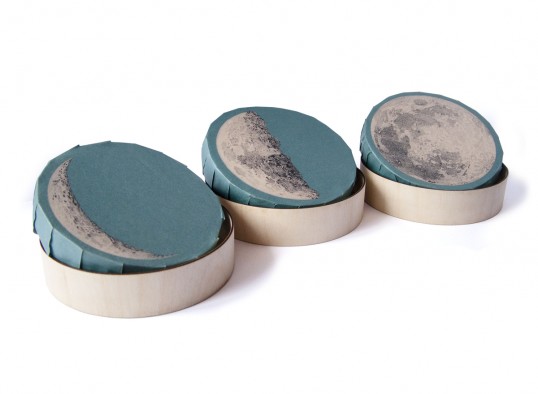 Designed by Tim Sumner | Country: United Kingdom
"The Brief was to create a piece of packaging based on a myth.
Taking inspiration from the children's fable of the Moon being made up of Green Cheese, the idea is using the surface and cycles of the moon to replicate the strength of the cheese. Using 19th century engravings of the moon this gives it an overall unique look that the packaging needs to set itself away from the modern day supermarket brands.:
August 12, 2011 | 4 Comments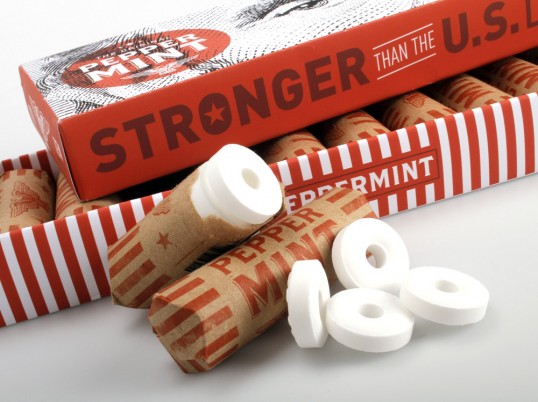 Designed by Cory Etzkorn | United States
"What's fit for the oval office, flyer than Airforce One, and Stronger than the U.S. dollar? The Original PepperMint, of course! These federal-reserve-fresh mints come in two delicious and highly stylized varieties sure to please your inner capitalist.
August 9, 2011 | 7 Comments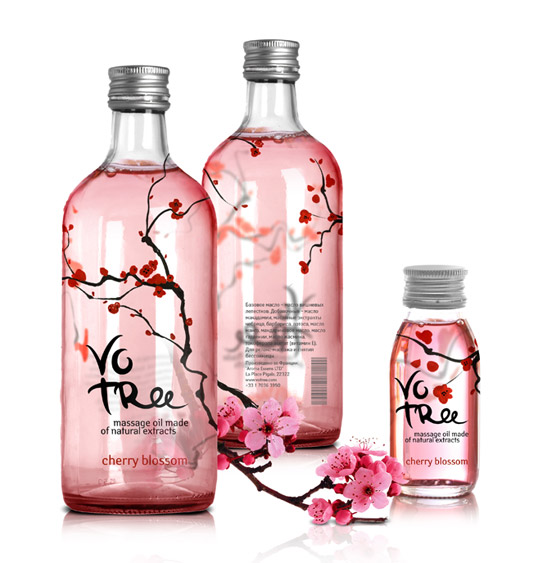 Designed by Ekaterina Dubeykovskaya | Country: Russia
"The massage oil VoTree is made from natural extracts, and comes in a variety of 3 flavors: cherry, fig and chestnut. I painted watercolor plants which became the basis of the design.
In Russian the title 'votree' sounds like a call to action – 'rub'."