August 8, 2011 | 1 Comment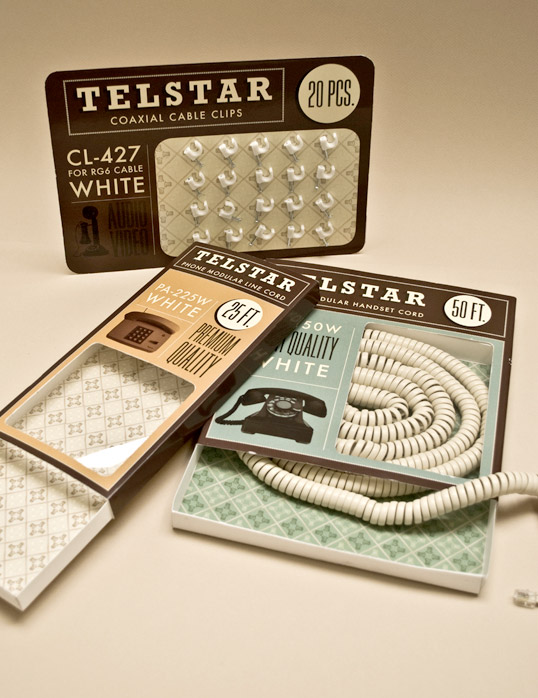 Designed by Roza Gazarian | Country: United States
"Package redesign of telephone cables and cable clips purchased at a 99¢ store."
July 30, 2011 | No Comments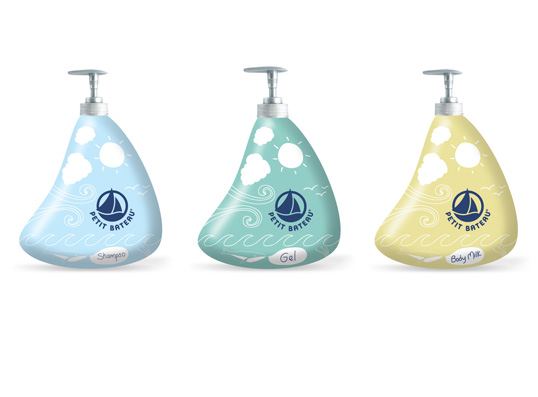 Designed by Sebastián Castro | Country: Colombia
"We were asked to design a bath product line (shower gel, body milk and shampoo) for babies using an existing brand.
I decided to make a representation of the symbol through the volume of the pack, avoiding the use of common bottles and giving the product more personality. For the graphic, I used the symbol as part of an illustration but still keeping it first in the reading hierarchy."
July 24, 2011 | 2 Comments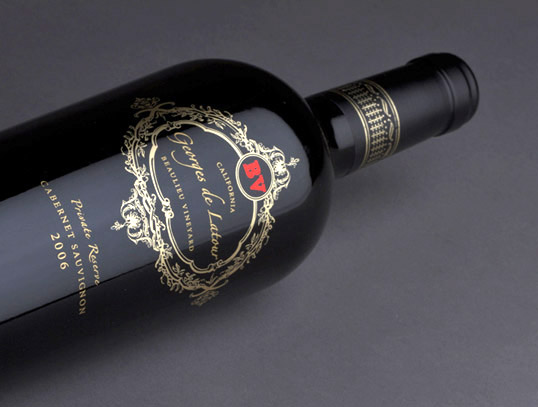 Designed by Phoebe Mak | Country: United States
"The assignment was to redesign an existing brand of wine in the market today. I chose Beaulieu Vineyard as my brand and designed labels for a lower end Cabernet Suavignon and Chardonnay and a higher end Cabernet Sauvignon along with a wine case."
July 21, 2011 | 16 Comments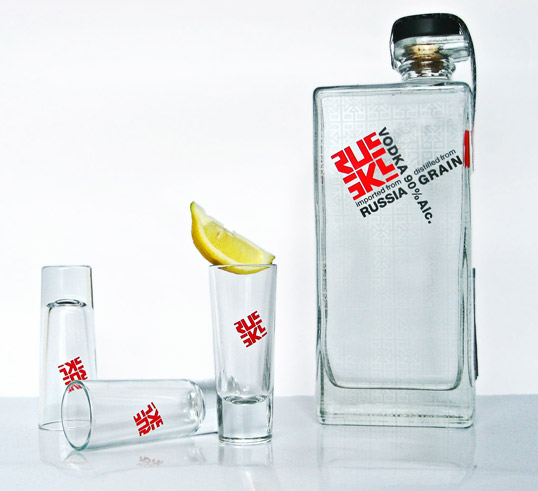 Designed by Larisa Mamonova | Country: United States
"Russky is a project for logo class where we had to come up with a hotel idea. I decided to go with Russian theme for my hotel idea.  Russky would be a prestigious and luxurious boutique opening it's location in the heart of San Diego. The hotel will have identity and branding system to appeal to hip and urban  young professionals, ages 25-40. The unique challenge of this task was not to relay on stereotypical elements of Russian culture that American audience is most familiar with, instead I decided to look beyond commonly known novelties. I searched for inspiration from vintage documentation during Soviet Era, 40's and 50's Russian fine art, and of course propaganda posters.  The key was to combine all those traditional and historical features with the clean look of contemporary design movement. With that combination of ingredients I was able to give a fresh look to a familiar subject of Russian constructivism and old world charm. Russky hotel is a history driven concept without looking dated provides an ultimate New Russian experience that is integrated into brand's sensibility through luxurious accommodations and attention to detail."
July 20, 2011 | 5 Comments
Designed by Adam Deleeuw, Laura Davis, Phoebe Mak & Harshyla Singh | Country: United States | Fonts: Gotham, Tungsten, Garamond Premier, Clarendon, URW Wood Type, FIdo
"We are students at the Academy of Art University, San Francisco. The following group project was done for Michael Osborne's Package Design 4 class.
The assignment was to rebrand Costco, keeping in mind a brand matrix, that consists of a "House of brands" and "Branded house." Kirkland being the dominant private brand for Costco was considered the "Branded house" and a line of hypothetical private labels were designed for the "House of brands."
Within Kirkland, we categorized the brand into six lines:  bath, cleaning, paper goods, apparel, home and food products. Within the hypothetical private labels, we created the following : Ollie's Baking Co. which is Costco's bakery and cafe, Counter 74, a premium line of chef quality kitchen equipment, and Noc Noc which is an eco-friendly kid's line. The entire project consisted of almost 80 – 100 fully comped items."
July 18, 2011 | 2 Comments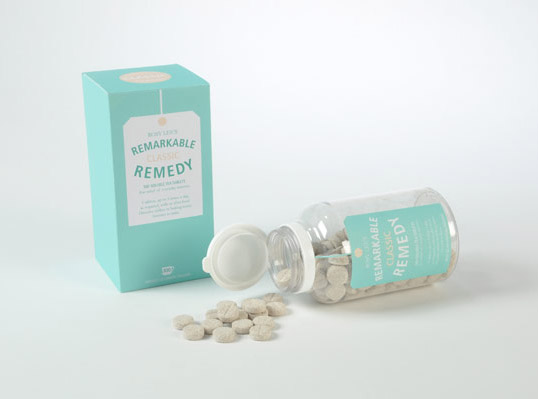 Designed by Kylie-Ann Homer, Sadie Hines-Dedman & Senwelo Foster | Country: United Kingdom
"Rosy Lee's Remarkable Remedy are soluble tea pills, which were created in order to illustrate the medicinal qualities of tea. Tea is often used to relieve the stresses and strains of everyday life, and Rosy Lee's allows for a quick release in the form of 5 soluble tablets that will dissolve in boiling water to create a relieving brew. Rosy Lee's comes in three varying strengths to suit different needs, the coloured dot on the packaging signifies the strength of the tea."
July 17, 2011 | 3 Comments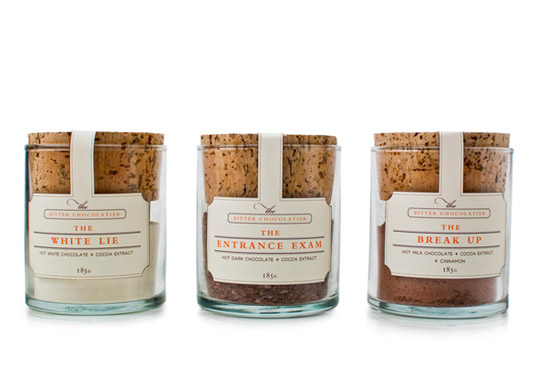 Designed by Miguel Molina | Country: Canada
"Brief: Create a sophisticated identity and packaging that reflect The Bitter Chocolatier's luxury offering and ironic humour.
Solution: The brand has an edge. The elegant look contrasts sharply with its ironic humour. Poking fun at himself, The Bitter Chocolatier tells his tales of misfortune throughout his life through the different flavours. The product differentiates itself from other brands while entertaining the consumer."
July 16, 2011 | 5 Comments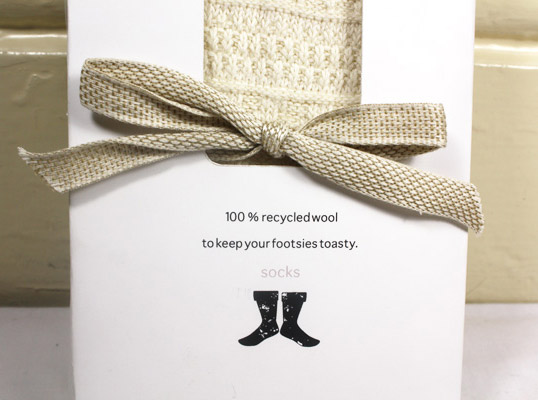 Designed by Lauren Elise Cassar | Country: Australia
"A wool store -Rust Suffolk is a fictitious store which overall encapsulates the spirit of the Australian woolen culture, combined with a modern day look to attract the inner city client. My design solution employs the soft coloured tones of natural wool, the packaging formulated to be naturally bought and given as a gift, for small woolen accessories such as gloves and socks. Tags were also designed, to be simply wrapped around a ready made scarf using twine."
July 13, 2011 | 3 Comments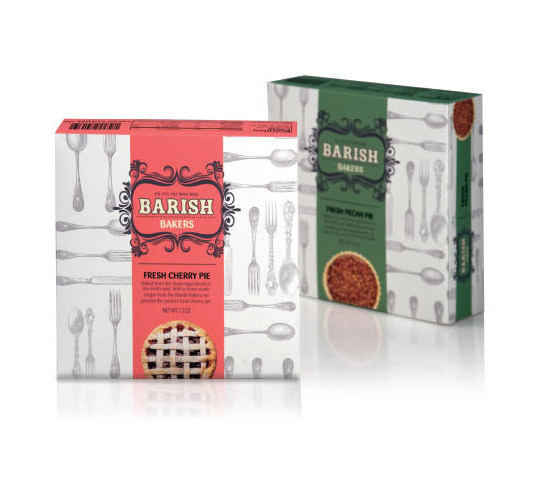 Designed by Allison Braunstein | Country: United States
"The project was to brand a line of baked goods that would be sold in specialty stores. Barish Bakers is a line of baked goods inspired by my great grandmother Anne Barish. Her legendary recipes were a hit with everyone. The design was inspired by Marthas Vineyard, where she spent every summer. The packaging was also inspired by Victorian illustrations."
July 12, 2011 | 1 Comment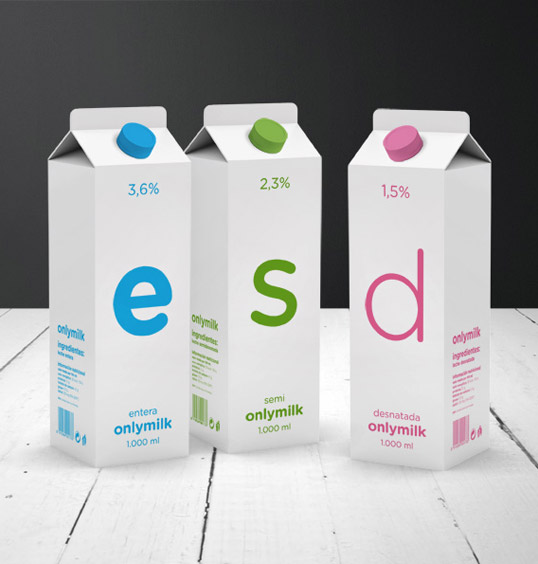 Designed by Pau Puig Vázquez | Country: Spain
"In a market as saturated as the milk, comes Onlymilk, a new brand with the intention communicate the purity of milk. An all white package with only the necessary information highlighting the various types of milk."