February 24, 2011 | 14 Comments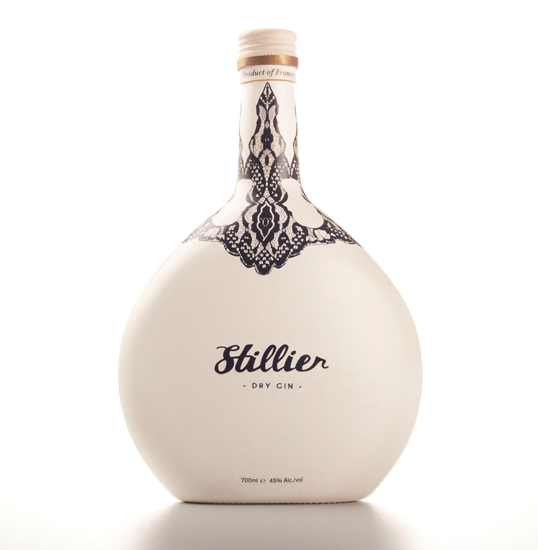 Designed by Lillian Cutts | Country: United States
"Stillier is a conceptual french gin, designed to appeal to female premium spirit buyers. The bottle design was influenced by the the delicate and feminine qualities of french lace. This embellishment is often used to adorn a woman making her feel romantic, provocative yet delicate. These are the qualities of this tripple distilled gin which is designed to appeal to women who often think gin is a hard, masculine drink. The curvaceous form of the bottle teamed with the intricate artwork proves that gin drinkers aren't always who you think they are."
February 23, 2011 | 2 Comments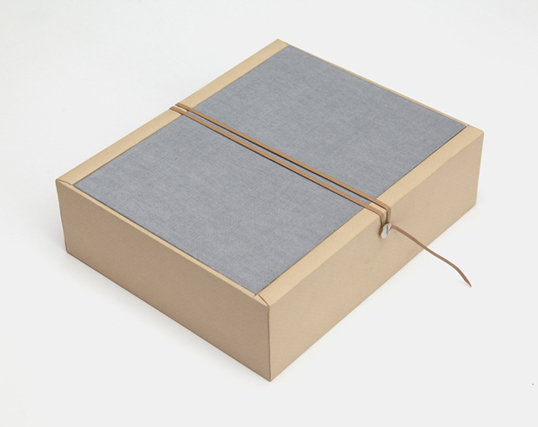 Designed by Jackson Dickie | Country: Australia
"Australian Forensic Investigations is a documentary style series which reveals how forensic and science techniques are used in the solving of major crime and accident cases. To communicate the intricate aspects involved in the series, a chest was designed with features such as a concertina with concealed magnetics, invisibly attaching each DVD case. The chests anonymous facade masks its immediate identification."
February 20, 2011 | 20 Comments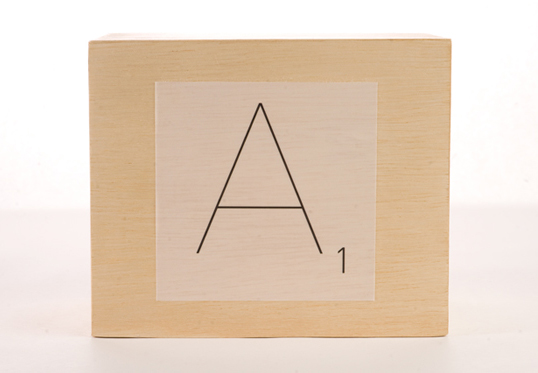 Designed by Andrew Capener | Country: United States
"The A-1 Scrabble designer edition. The purpose of this project was to revive an old, but loved game: Scrabble. The idea was to excite people about typography by giving them the ability to choose what font their scrabble set would come in. The set would come in the font of your choice or with an assorted font pack. The scrabble board and interior box are made out of solid walnut, and the exterior box is made from birch. Each of the 6 board pieces is magnetized to fit together perfectly and each piece slides nicely into its respective slot in the box and is secured by interior magnets as well. The interior of the exterior box as well as the bottoms of the 6 board pieces are lined with cork, to protect them while in use."
February 19, 2011 | 9 Comments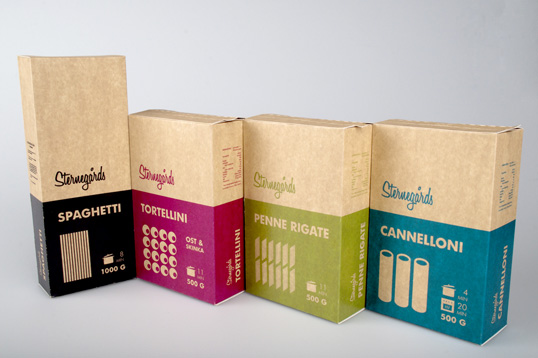 Designed by Erik Johansson | Country: Sweden
"The assignment was to design a low-price pasta brand. I chose to keep it one color only and printed on unbleached cardboard, to keep costs down."
February 15, 2011 | 1 Comment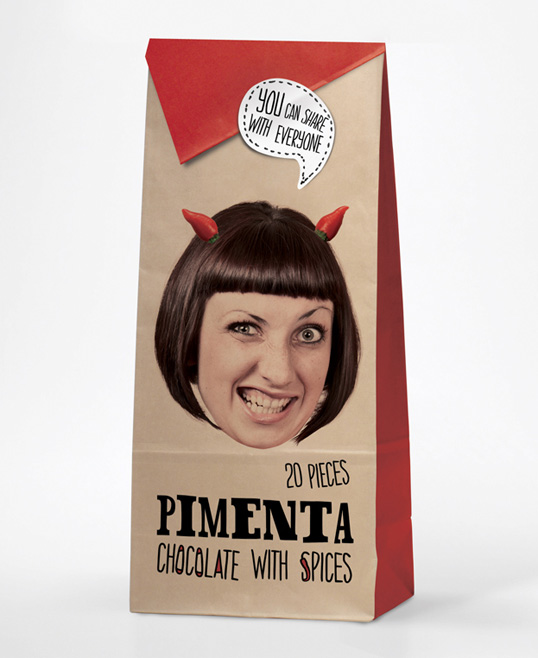 Designed by Ivanna Shashkina | Country: Russia
"Sweet & Hot is a product that pairs chocolate with spices. The project concept is that different faces show the varied degree of peppered spice."
February 13, 2011 | 9 Comments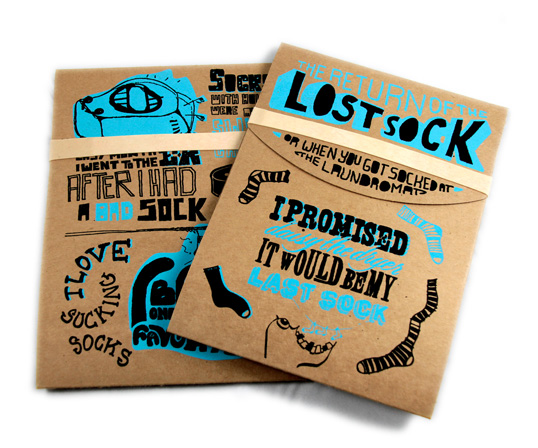 Designed by Camille McMorrow & Bruno Zalum | Country: United States
"Stefan Sagmeister asked his MFA Design class at the School of Visual Arts "Can design touch the hearts of strangers?" Bruno Zalum and Camille McMorrow interpreted the question with a wink, and decided to lighten the hearts of people in the midst of a truly dreadful experience: doing laundry!
The gift that they distributed to New Yorkers in laundromats is a single sock, in a custom package silkscreened with hand-type and illustrations. The packaging tells a story of a washing machine named Gene who has been eating everyone's socks all these years. He was hopelessly addicted to socks. After hitting rock bottom, the story goes that he made these gifts as amends for all the disappeared socks. Camille and Bruno then hit the streets in a Gene the Washing Machine costume they'd designed, distributing the packages to surprised and delighted city-dwellers."
February 10, 2011 | 7 Comments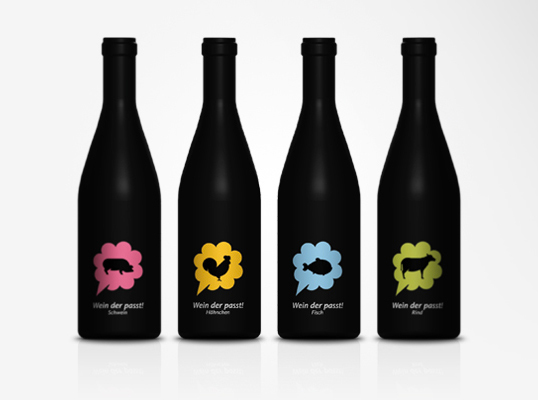 Designed by Sascha Elmers | Country: Germany
"A series of wine bottles that use simple pictographs to illustrate the relationship between the wine and the food with which it should be paired. The definitive pictographs also act to substitute the lengthy descriptions often printed on wine labels, thereby making the bottles visually appealing and minimal. On the shelf amongst other wine they stand out, and are easily read by the customer, so they're quickly able to determine which wine they should choose with their meal."
February 3, 2011 | 14 Comments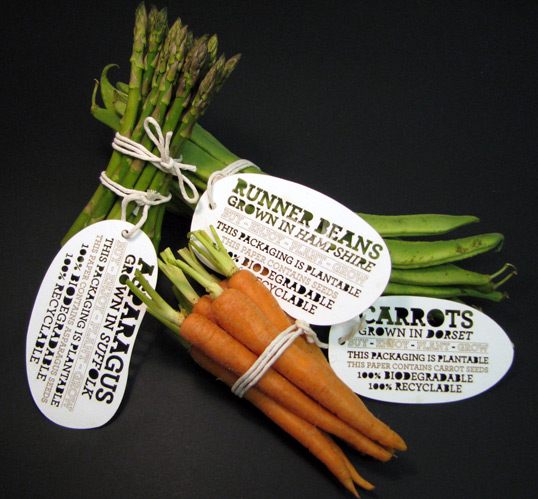 Designed by Ben Huttly | Country: United Kingdom
"Through experimentation and innovation I have developed a form of packaging that is 100 percent biodegradable and recyclable. If the packaging is discarded it will have a positive effect on the environment due to the seed embedded biodegradable paper. The twine used to secure the product and label is natural cotton and 100 percent biodegradable."
February 2, 2011 | 3 Comments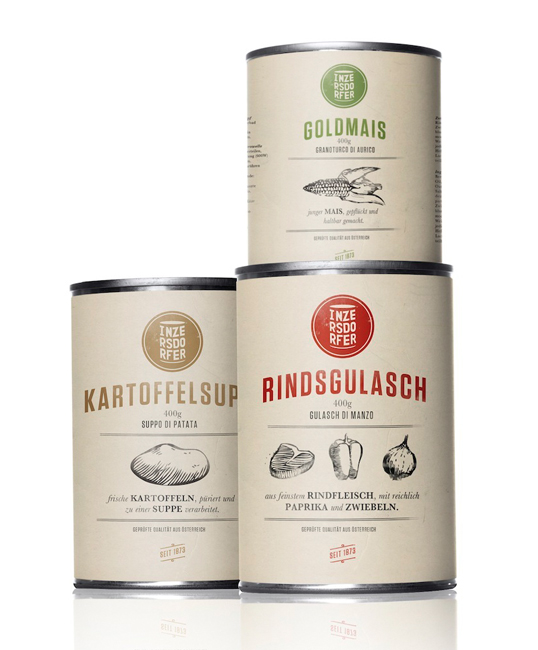 Designed by Michael Nagy | Country: Austria
"The assignment at Uni was to redesign the logo and packaging of Austrian canned food producer "Inzersdorfer" which is an iconic brand in Austria with its first factory built during the reign of the Austro-Hungarian Empire in 1870. Our deadline was 4 weeks after we had started the project.
My problem with canned food was that first of all, most of the logos and packaging looked very similar and hardly distinctive. Secondly it was trying to sell something on the package shot it didn't contain. Healthy food that also looks good when being served. Everyone knows that canned food is jam-packed with preservatives and flavour enhancers.
January 27, 2011 | 4 Comments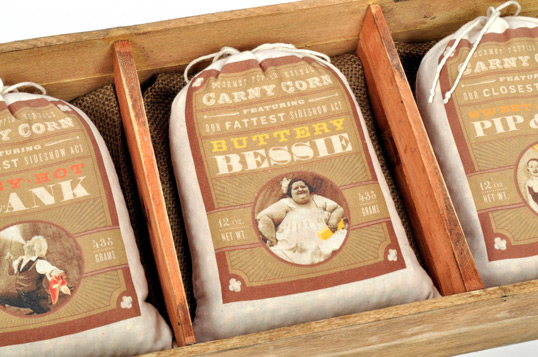 Designed by Theresa Decker | Country: United States
"The assignment was to design packaging and a carrier for three flavors of gourmet popping kernels called Carny Corn. I chose to do a Circus side show act theme including Buttery Bessie (worlds fattest woman), Firey Hot Frank (fire breather) and Sweet & Salty Pip and Pop (siamese twins). I used vintage broadsides as typographical inspiration and manipulated black and white imagery for each label. The bags are printed canvas and are held in a custom made wooden crate with transferred typography."