December 1, 2010 | No Comments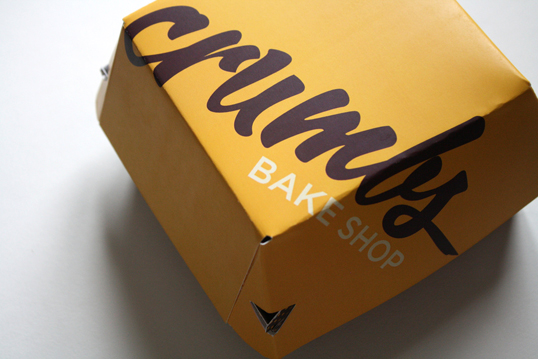 Designed by Beth Chapleau | Country: Canada
"The goal of this project was to select an existing brand and redesign their identity for a series of 3 packages that changed based on 3 different flavours. Crumbs Bake Shop was chosen and packages for their Candy, Smores and Brownie cupcake flavours were created. The boxes use colours that coordinate with the cupcake they house, this helps distinguish the various flavours to employees and customers. The boxes are made of recycled paper so they're more green than the existing plastic containers. Trays were also designed to fit in the boxes so the cupcakes didn't topple while inside the box."
November 29, 2010 | 2 Comments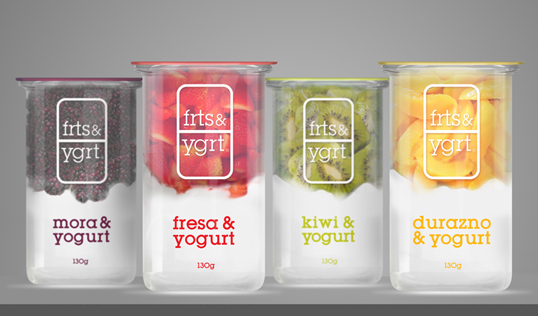 Designed by Mika Kañive | Country: Spain
"With fresh and delicious fruits, the yogurt  tastes better. That's idea of this product, having the same portions for those who want more fruit than the tipical yogurt, just half and half. This pack could be re-used as a glass and the impact to ecology is reduced with this materials (glass and carton). The name FRTS & YGRT, taking out the vocals, the product could be read the same in english as in spanish. The logo takes reference of the pack, clear and simple."
November 28, 2010 | No Comments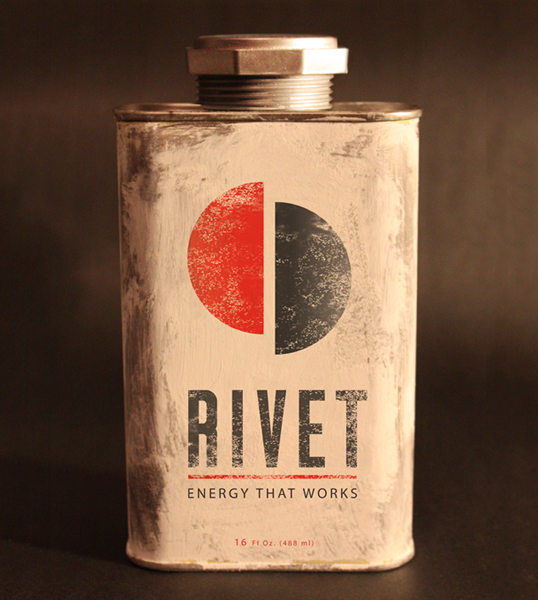 Designed by Stephen Bamford | Country: Canada
"Virtually every energy drink today is marketed towards youth culture, the kind that wants a quick buzz just to keep the fun going. What about the blue collar worker that just wants to have energy to get the job done or the fisherman that woke up at 3:00AM to get to the best fishing spot? RIVET is for them."
November 26, 2010 | No Comments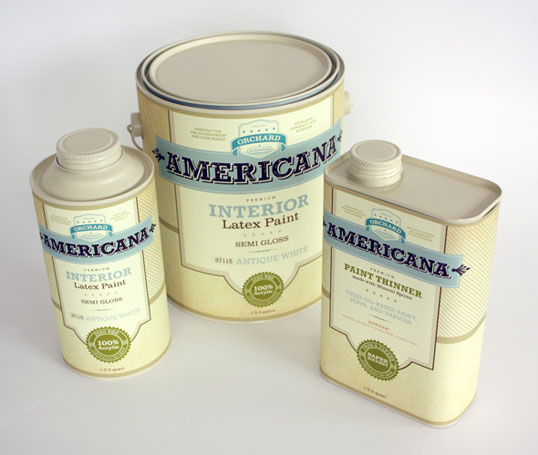 Designed by Hana Lee | Country: United States
Clearly, this is a student with a very bright future ahead of her. We're excited to feature three projects of hers today: a paint product line, candles and a range of pharmaceutical products.
"In creating this Americana line of paints for Orchard Supply Hardware, I wanted to develop the value of the OSH brand and bring a sense of America, by using multiple layers, a rustic texture, classic typefaces, and old style tin cans. The most challenging part of this assignment was to research the American paint market, and try to understand this aspect of American culture."
November 24, 2010 | No Comments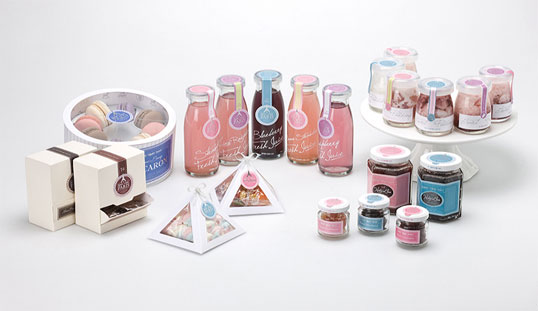 Designed by Chong-Min Kang | Country: South Korea
"The Berry Verry Paris is a trendy lifestyle dessert, which provides stress relief to tired modern people with its fresh and sweet flavor. This is a dessert to help relieve fatigue and restoring health by using berries. Berry Verry Paris's design concept is sweet in color, slim in form, and uses Paris as a motif."
November 8, 2010 | No Comments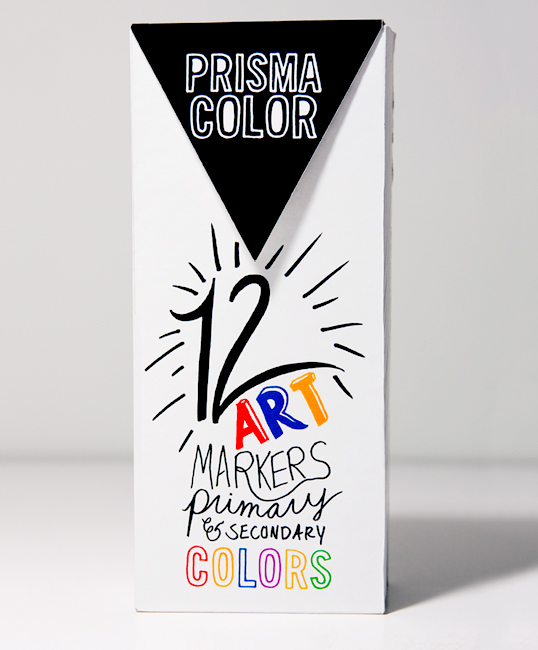 Designed by Lauren Mae Oswald | Country: United States
"Redesign of the Prismacolor 12 set marker package. The new package offers better functionality and durability, while embracing the artistic expression of the brand. All type was hand rendered and shows the utilization of the product."
November 7, 2010 | 1 Comment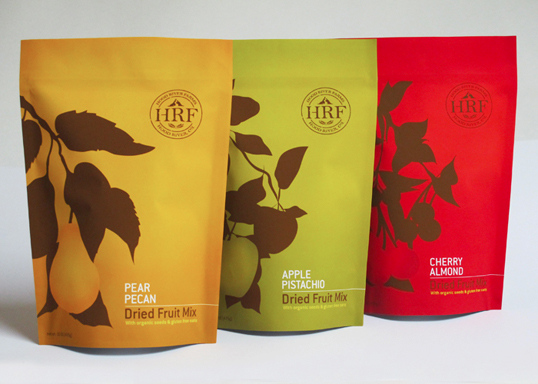 Designed by Tim O'Brien | Country: United States | Font: ITC Conduit
"This set of packaging is one piece of an identity system designed for a fruit distributor in Hood River, OR. The objective was to balance contemporary + organic styling."
November 4, 2010 | No Comments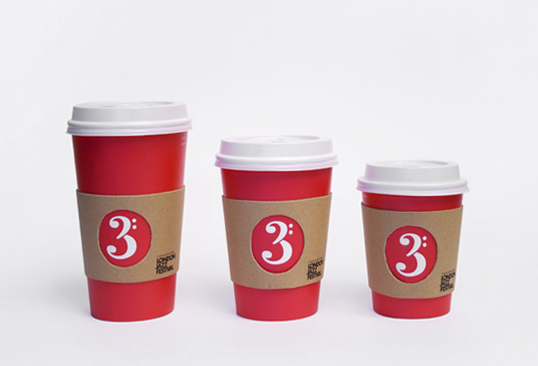 Designed by Jason Nye | Country: United Kingdom
"The aim was to create a visual presence for Radio 3 at the London Jazz Festival venues and promote it's award winning coverage of the event.
This was done through disposable coffee cups, clutches, and novelty instrument stirrers which would be seen at places like the Southbank Centre, inside, outside, on the street, in cafes, and on benches. The campaign was to have an 'elitist' edge and hit the right demographic whilst remaining fun, interesting and informative."
November 3, 2010 | 3 Comments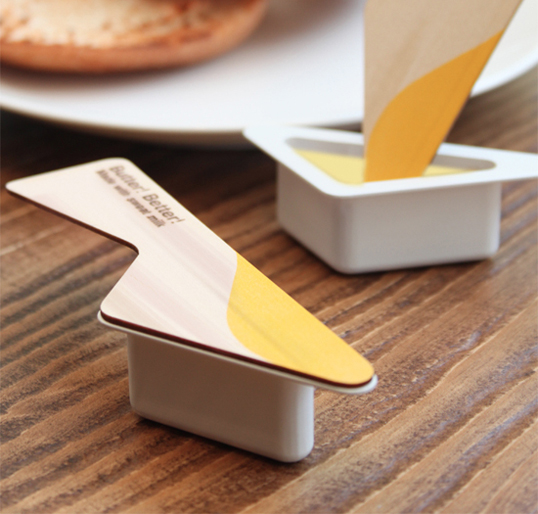 Designed by Yeongkeun | Country: South Korea
"Whenever we eat bread, at the picnic, in the cafe or airplane, we usually use disposable butter. I replaced its ordinary container lid with a wooden, knife shaped one. This way butter can be easily and quickly spread. Butter has 4 flavors which allow the user to make a choice, just as he would chose his favorite ice-cream. This container is not only easy and fast to use but also it makes daily routine of spreading butter more fun and exciting."
November 2, 2010 | No Comments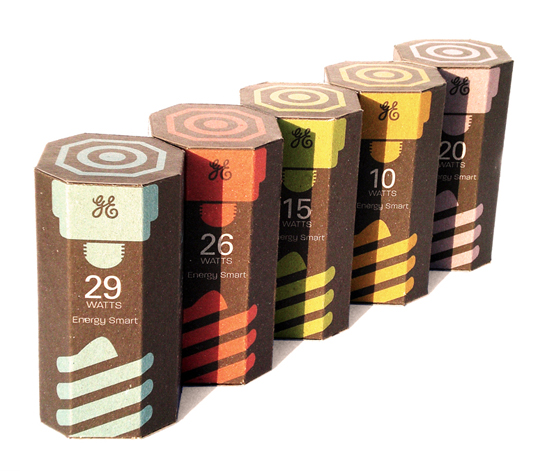 Designed by Kevin Kwok | Country: United States
"The redesign of General Electric CFL light bulbs is aimed to bring a friendlier shelf presence through the use of basic informative graphics. An advantage of the redesign is the ability to stack the packages together to complete the graphical form of a CFL light bulb. The top and bottom of each package might look familiar, they graphically resemble what the top and bottom of a CFL light bulb. Also something to note is each wattage has it's own color identity.
The redesign also considered the environment, the new design is packaged with post consumer cardboard rather than calm shell plastic. This ensures the use of less natural resources and therefore less impact on the environment. GE would also allow consumers to put old CFL light bulbs back in these packages and mail them back to be recycled."