November 3, 2010 | 3 Comments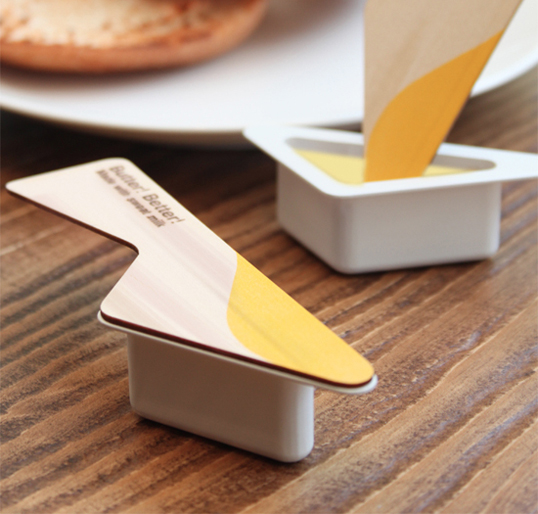 Designed by Yeongkeun | Country: South Korea
"Whenever we eat bread, at the picnic, in the cafe or airplane, we usually use disposable butter. I replaced its ordinary container lid with a wooden, knife shaped one. This way butter can be easily and quickly spread. Butter has 4 flavors which allow the user to make a choice, just as he would chose his favorite ice-cream. This container is not only easy and fast to use but also it makes daily routine of spreading butter more fun and exciting."
November 2, 2010 | No Comments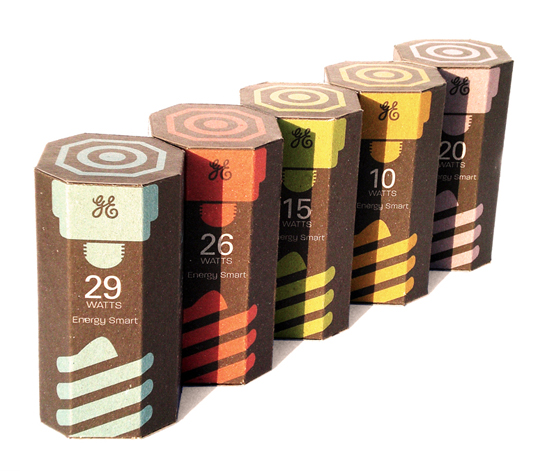 Designed by Kevin Kwok | Country: United States
"The redesign of General Electric CFL light bulbs is aimed to bring a friendlier shelf presence through the use of basic informative graphics. An advantage of the redesign is the ability to stack the packages together to complete the graphical form of a CFL light bulb. The top and bottom of each package might look familiar, they graphically resemble what the top and bottom of a CFL light bulb. Also something to note is each wattage has it's own color identity.
The redesign also considered the environment, the new design is packaged with post consumer cardboard rather than calm shell plastic. This ensures the use of less natural resources and therefore less impact on the environment. GE would also allow consumers to put old CFL light bulbs back in these packages and mail them back to be recycled."
November 1, 2010 | No Comments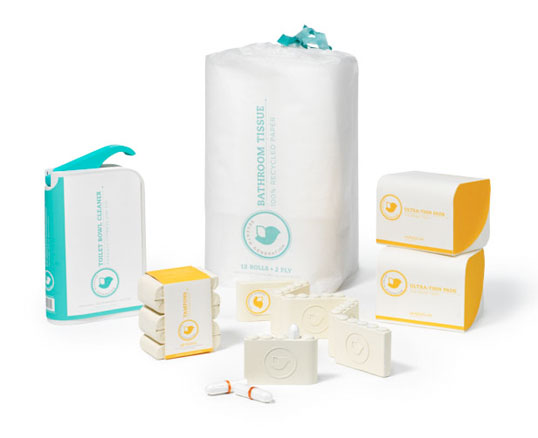 Designed by Johana Tran | Country: United States
"Through a redesign that exudes a natural charm and confidence, Seventh Generation offers consumers a promise of liberation from the burdens associated with mundane household tasks. The package design utilizes sustainable materials, while maintaining a hygienic appeal, ensuring a product that users can trust to be safe for both the environment and the body. Tampons are packaged in individual molded paper pulp packs of 5, featuring a quick dispense method for convenience, while also offering the advantages of being easily portable and discreet. Pads are packaged in a sturdy paper pulp box. Toilet paper is packaged in a reusable biodegradable bag and the toilet cleaner features a hygienic hideaway nozzle."
October 28, 2010 | No Comments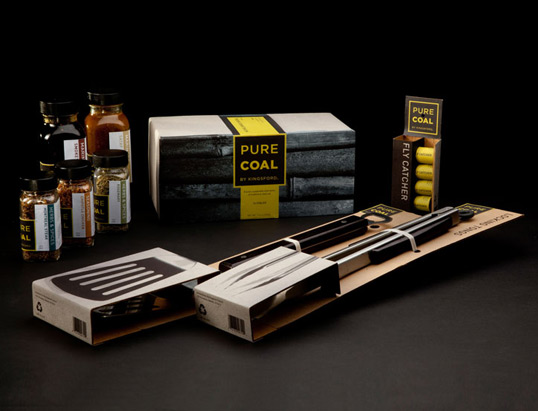 Designed by Winnie Yuen | Country: United States | Fonts: Gotham, FF DIN
"Pure Coal®, a 100% natural bamboo charcoal, is a sustainable alternative to traditional charcoal. The product offers consumers a delicious and playful barbecue experience, while maintaining the Kingsford's guarantee of quality."
October 27, 2010 | No Comments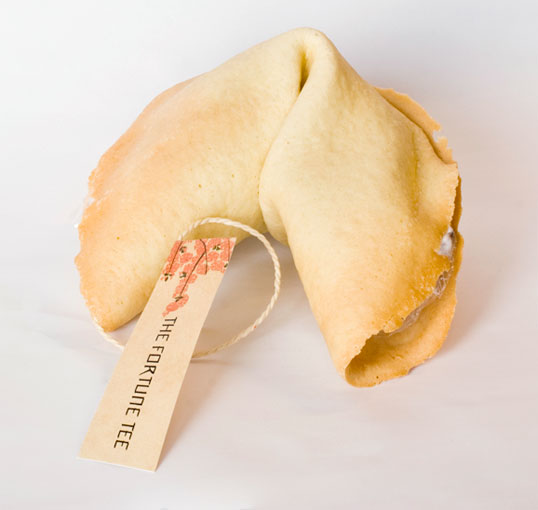 Designed by Fredrik Staurland | Country: Australia
"A limited-edition packaging design for a t-shirt, packaged in a giant fortune cookie, with the fortune on the t-shirt inside."
October 24, 2010 | 1 Comment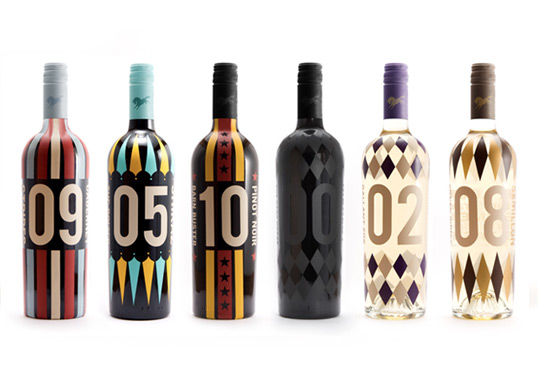 Designed by Victoria Abrami | Country: United States
"The redesign of Yarraman Estate's Barn Buster wines. Each individual bottle represents a unique flavor and embodies a race horse like quality."
October 22, 2010 | No Comments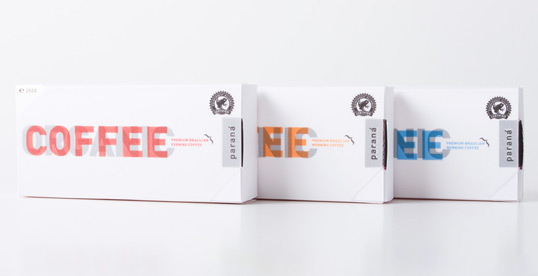 Designed by Kristian Skramstad | Country: Norway
"Coffee package design. The package design has no glue and is only folded together. From a distance you will read Organic and when you get closer you read Coffee."
October 20, 2010 | 4 Comments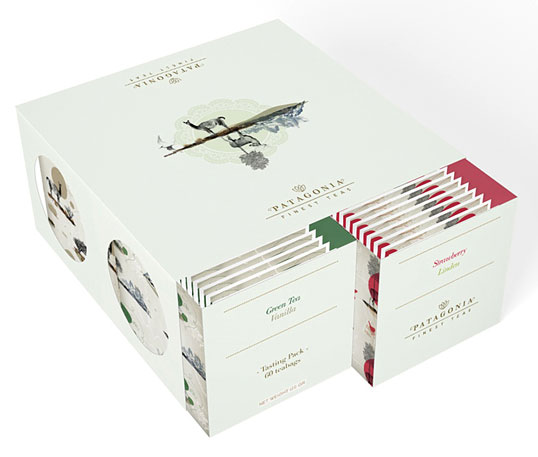 Designed by Valeria Moreiro | Country: Argentina
"The whole idea was to conceive a metaphor of the Argentine Patagonia, so that took me to propose four different collections representing our landscape: Mountains, Woodlands, Steppe and Shore. Each collection is also catalogued according to the blends: Montaña (mountain) includes the traditional teas from camellia sinensis, Bosque (woodland) contains the tisane infusions from dehydrated flowers and fruits; Estepa (steppe) is the collection for the flavored teas, and Costa (Shore) contains tisane infusions, but from traditional aromatic herbs.
The project also proposed additional packages to the actual brand behavior: individual envelopes for restaurants and spas, single blend packages, tasting packs, wooden chests, and point of purchase displays. The whole project also went beyond packaging including tea menus and advertising which can be seen in my online portfolio."
October 18, 2010 | No Comments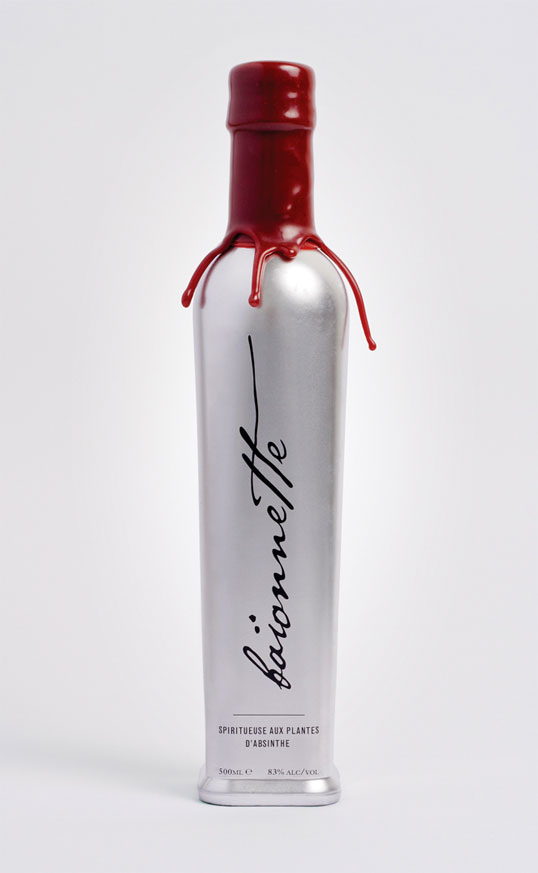 Designed by Kjetil Olstad | Country: Australia
"This is an absinthe bottle I designed for a alcohol packaging assignment. I took inspiration for the name "baïonnette" and design of the bottle from the earliest big consumers of absinthe; the french soldiers in the Algerian war. They used this spirit as a way to get courage, as well as for therapeutic purposes to treat the soldiers and colonists against typhoid and malaria. I like the cold, clean, brutal and sharp look of a bayonet, and think it suits such a strong spirit such as absinthe."
October 18, 2010 | 1 Comment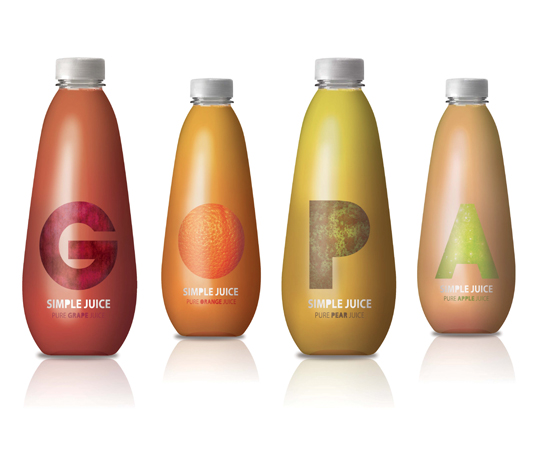 Designed by Clara Cabral de Sousa | Country: Spain
"The Simple Juice derives from the main idea of a pure pressed natural juice. In this particular project we developed the industrial and graphic design of the product. The softness and friendly form of the bottle versus the simplicity of the graphic aesthetics live in perfect harmony, leading the customer to a unique experience. You can differentiate each juice by the color of the fruits and the texture applied to the first letter of the fruit. This product line can be expanded and once you have enough packages (and therefore letters) you can create words with the bottles."