October 27, 2010 | No Comments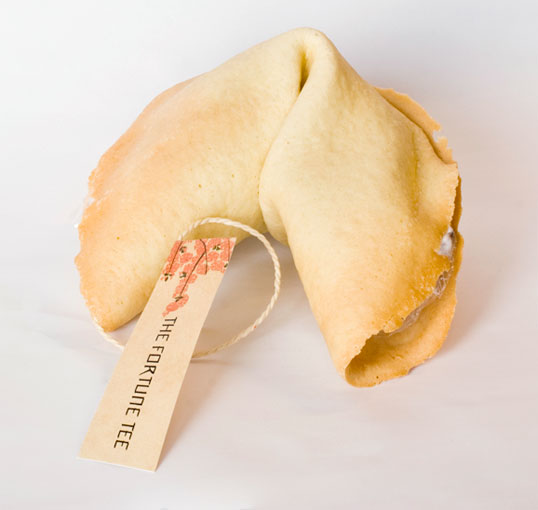 Designed by Fredrik Staurland | Country: Australia
"A limited-edition packaging design for a t-shirt, packaged in a giant fortune cookie, with the fortune on the t-shirt inside."
October 24, 2010 | 1 Comment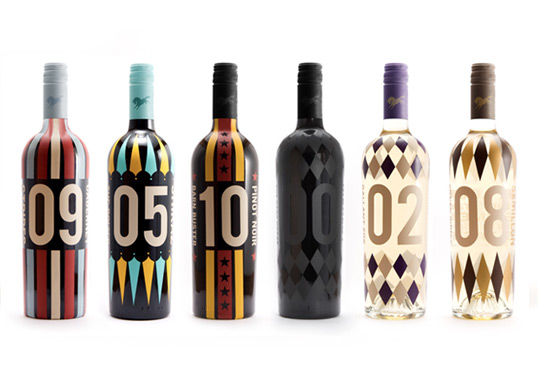 Designed by Victoria Abrami | Country: United States
"The redesign of Yarraman Estate's Barn Buster wines. Each individual bottle represents a unique flavor and embodies a race horse like quality."
October 22, 2010 | No Comments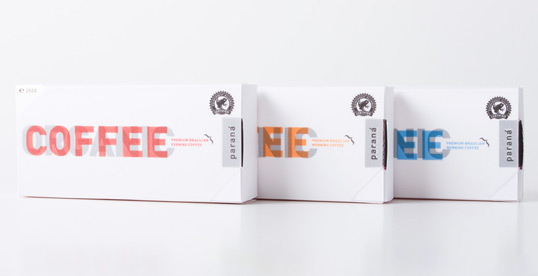 Designed by Kristian Skramstad | Country: Norway
"Coffee package design. The package design has no glue and is only folded together. From a distance you will read Organic and when you get closer you read Coffee."
October 20, 2010 | 4 Comments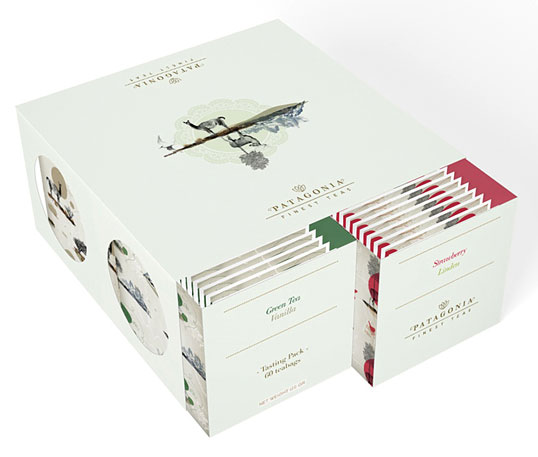 Designed by Valeria Moreiro | Country: Argentina
"The whole idea was to conceive a metaphor of the Argentine Patagonia, so that took me to propose four different collections representing our landscape: Mountains, Woodlands, Steppe and Shore. Each collection is also catalogued according to the blends: Montaña (mountain) includes the traditional teas from camellia sinensis, Bosque (woodland) contains the tisane infusions from dehydrated flowers and fruits; Estepa (steppe) is the collection for the flavored teas, and Costa (Shore) contains tisane infusions, but from traditional aromatic herbs.
The project also proposed additional packages to the actual brand behavior: individual envelopes for restaurants and spas, single blend packages, tasting packs, wooden chests, and point of purchase displays. The whole project also went beyond packaging including tea menus and advertising which can be seen in my online portfolio."
October 18, 2010 | No Comments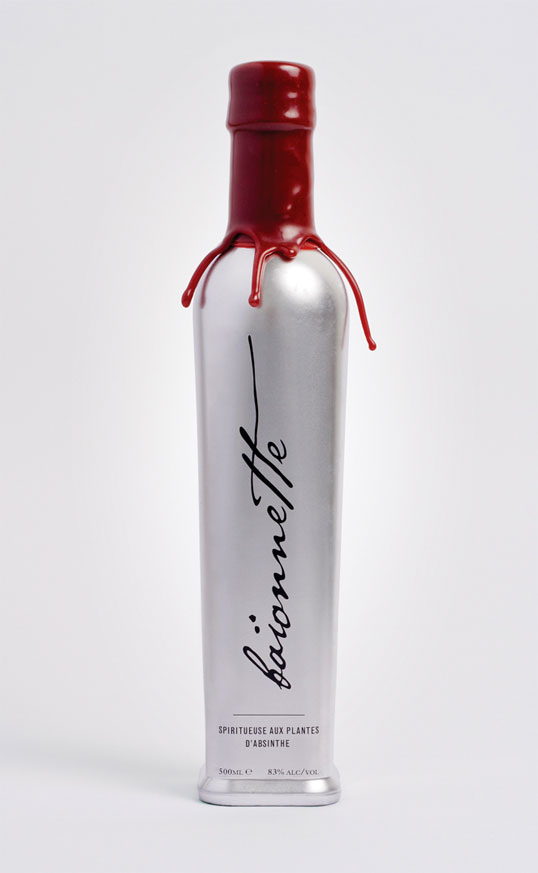 Designed by Kjetil Olstad | Country: Australia
"This is an absinthe bottle I designed for a alcohol packaging assignment. I took inspiration for the name "baïonnette" and design of the bottle from the earliest big consumers of absinthe; the french soldiers in the Algerian war. They used this spirit as a way to get courage, as well as for therapeutic purposes to treat the soldiers and colonists against typhoid and malaria. I like the cold, clean, brutal and sharp look of a bayonet, and think it suits such a strong spirit such as absinthe."
October 18, 2010 | 1 Comment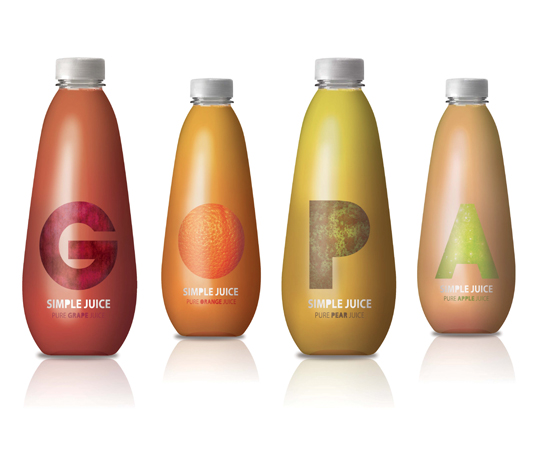 Designed by Clara Cabral de Sousa | Country: Spain
"The Simple Juice derives from the main idea of a pure pressed natural juice. In this particular project we developed the industrial and graphic design of the product. The softness and friendly form of the bottle versus the simplicity of the graphic aesthetics live in perfect harmony, leading the customer to a unique experience. You can differentiate each juice by the color of the fruits and the texture applied to the first letter of the fruit. This product line can be expanded and once you have enough packages (and therefore letters) you can create words with the bottles."
October 13, 2010 | 1 Comment
Designed by Nicole Berman, Cristina Rotundo, Maya Ostrader, Juancarlos Henriquez & Woorim Choi | Fonts: Verlag, MT Script
"Objective: Kmart needs to connect with its demographic on a psychological and emotional level to communicate quality and sophistication through strong product design and establish a deep brand loyalty throughout its many locations. Kmart also needs to focus on their customers needs as apposed to just their wants. The objective of this project was to redesign Kmart's packaging by developing a revitalized and refocused branding system. This was a collaborative project with four other students to create a house of brands for a new Kmart that will bring it above and beyond its competition, Target.
Continue…
October 8, 2010 | No Comments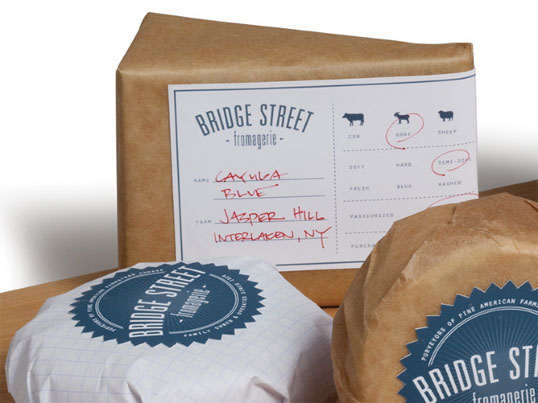 Designed by Abby Brewster | Country: United States | Font: Univers
"Bridge Street Fromagerie is a family-owned cheese shop located in historic Lambertville, New Jersey. A series of dual-purpose adhesive labels were designed to secure the cheese's paper wrapping and to act as informational guides for the customers. Identifying individual characteristics of the cheese as well as suggested alcohol pairings, the labels provide Bridge Street's cheesemongers with an additional means to share their knowledge with the shop's customers."
October 7, 2010 | 2 Comments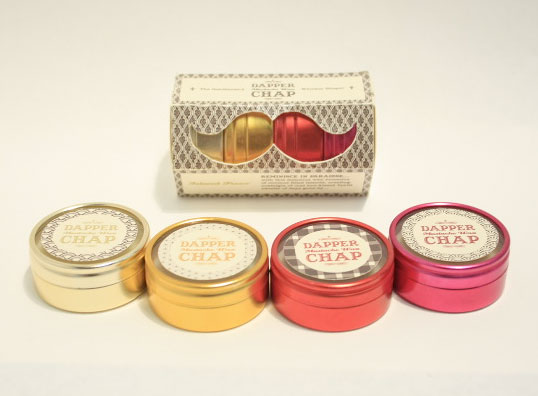 Designed by Chelsea Hendrickson | Country: United States
"I designed the identity and packaging for Dapper Chap Mustache Wax, the Gentleman's Whisker Shaper. This collection of fine waxes comes complete with 4 enticing aromas."
October 5, 2010 | No Comments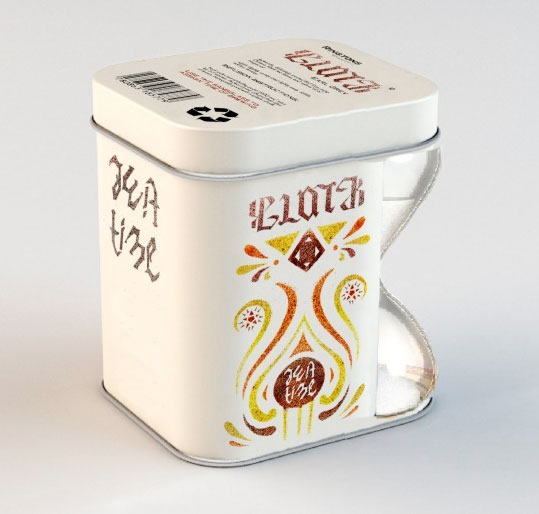 Designed by Darya Aksyuta | Country: Russia
This is the packaging design for Rington's tea range called Tea Time. I used Sand glasses to assign time of brewing for each special sort of tea. In order to make the name of the range and the sort of the tea readable upside down, I worked out special typographical compositions, ambigrams.