May 21, 2010 | 3 Comments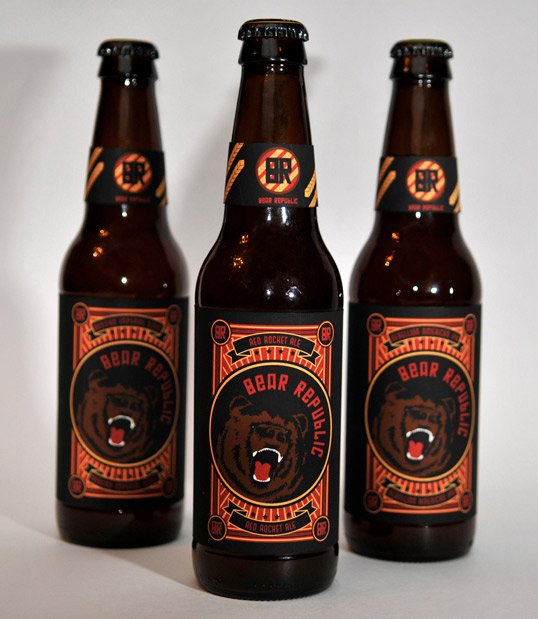 Designed by Katie Riffle | Country: United States
"Bear Republic has developed award winning, hand-crafted lagers and ales. Located in historic Healdsburg, California, where hop kilns from another era are still visible, their products are brewed and aged using the traditional "art" of the masters. Bear Republic's family business is unique, from the mother who greets you at the door, to the son who brews the ales, the father who pulls tap and the daughter-in-law who keeps the books.
The solution was to use the name as inspiration to create a Constructivist styled logo and packaging. The beer carton is modeled after Rodchenko's famous soviet poster. The label and carton inform each other and easily pop in a sea of tame labels: the bear, dictating you to drink and enjoy!"
May 20, 2010 | 3 Comments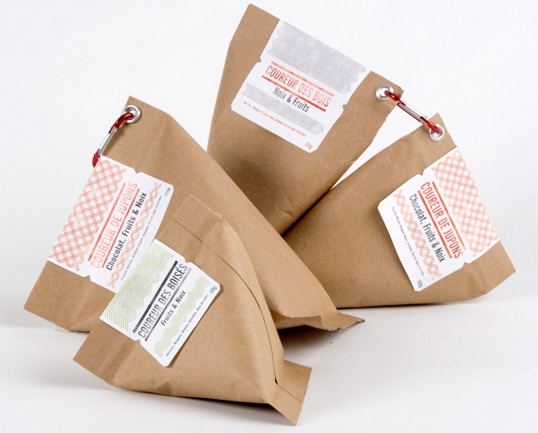 Designed by Mariève Dorman | Country: Canada
"Here is a nice packaging for fruits and nuts in three formats for the wood walker, the small wood walker and even the women runner. The recycled paper packaging has no printing and is equipped with a detachable single label and a hanger for hooking usefully to small, medium and large walkers of the world."
via UQAM
May 19, 2010 | 3 Comments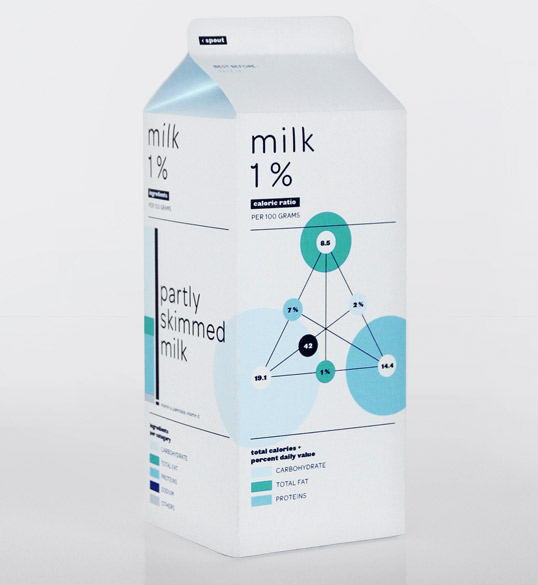 Designed by Audrée Lapierre | Country: Canada
"Our concept was to design a packaging using nutritional facts about the food product. For the milk carton, we used the four sides to inform about the caloric ratio, nutrient balance, ingredients and amount per serving. The diagrams and data visualizations give important and useful information. For example, they quickly show if a food product has a higher proportion of fat.
The data visualizations say more than a regular nutritional facts label. For example, ingredients are visually linked to their corresponding components (carbohydrate, total fat, proteins, sodium, others). In the case of a bag of chips, you would immediately see that it contains lots of ingredients without nutritive value.
Nutritional information becomes the main goal of the packaging, while still carrying a powerful branding by combining an expressive form with useful information."
May 18, 2010 | 12 Comments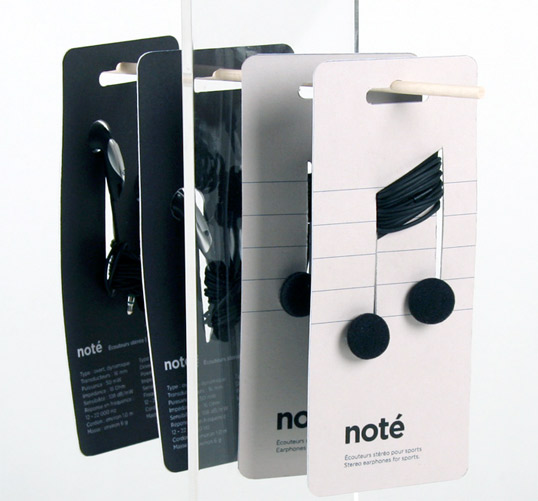 Designed by Corrine Pant | Country: Canada
"Choosing plastic wrap for non-perishable items is often a choice that is unjustifiable for the real needs of the product. To address this problem, Corinne Pant looked at the real needs of electronic parts packaging. In a poetic and very functional gesture, it shows us once again that "less is more"."
via UQAM
May 15, 2010 | 6 Comments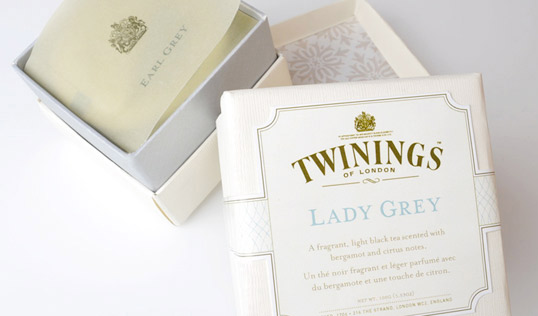 Designed by Dennis de Leon | Country: Canada
Freshly graduated from the Advanced Graphic Design program at Red River College in Winnipeg, Canada, Dennis de Leon has created this conceptual work for Twinings loose tea.
"The concept was to keep a light fresh, refined and royal look. Offering tea drinkers a beverage endorsed by Buckingham Palace and served for over 300 years worldwide."
May 14, 2010 | 10 Comments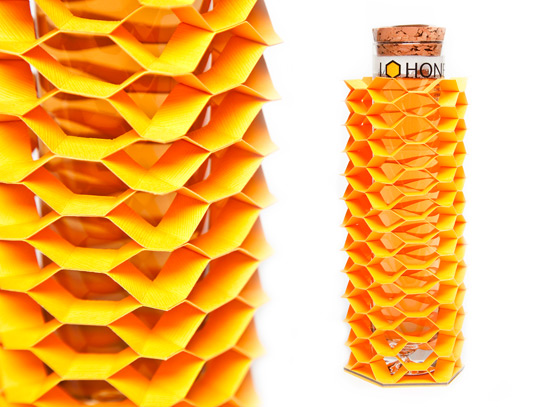 Designed by Tatiana Matsoulevitch | Country: United States
"The assignment was to design a package for any chosen product. This packaging concept for I 'love' honey was inspired by the honeycomb. The bottle can be reused as a long glass and the package as a decoration."
May 14, 2010 | 6 Comments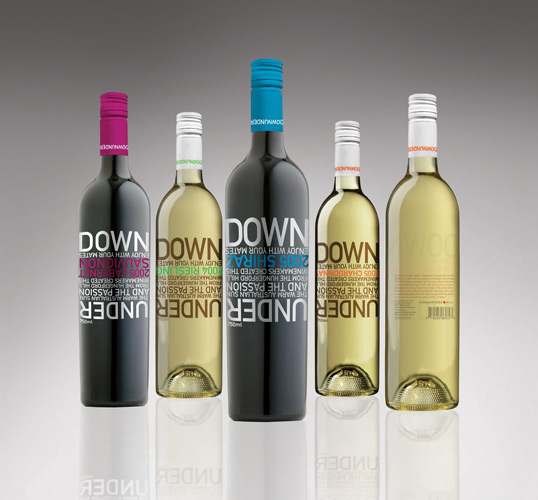 Designed by Serhat Ferat | Country: Australia
"For a range made to be sold mostly overseas, a playful, yet clean typographic approach was taken on the Australian cheekiness and playfulness. A range of four varieties and a carry bag was created, all in the same style.
This brief was presented by AGDA (Australian Graphic Design Association) to selected students from New South Wales with the intention to see how one brief would be differently interpreted and executed by different designers."
May 10, 2010 | 2 Comments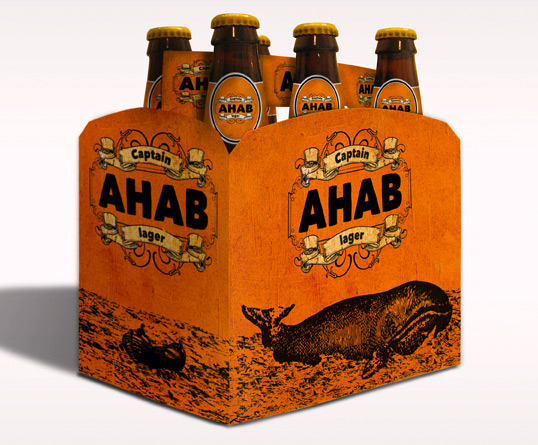 Designed by Andrew Herwig | Country: United States
"Captain Ahab Lager is based on the American classic Moby Dick, and its ruthless tormented character Captain Ahab. Rough illustrations and muted colors allow the consumer to dive into the world Herman Melville created while incorporating a unique beverage experience. Depicting visuals of Ahab and the whale invoke a strong resurgence of the classic novel bringing it to life."
May 5, 2010 | 7 Comments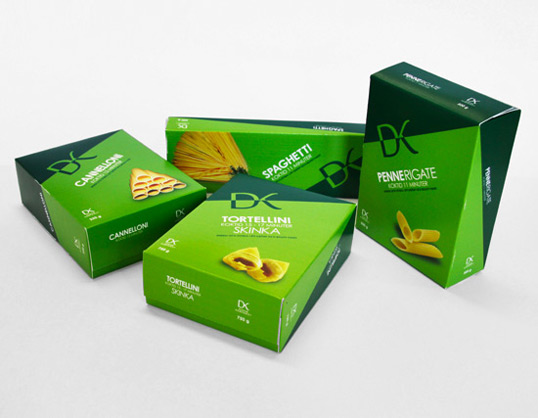 Designed by Niklas Hessman | Country: Sweden
"The assignment was to design five pasta packaging. Also to come up with a brand and the packaging and graphic design should indicate LOW PRICE. There would be possible for more products to enter Durum Company (Durumkompaniet)."
April 30, 2010 | 1 Comment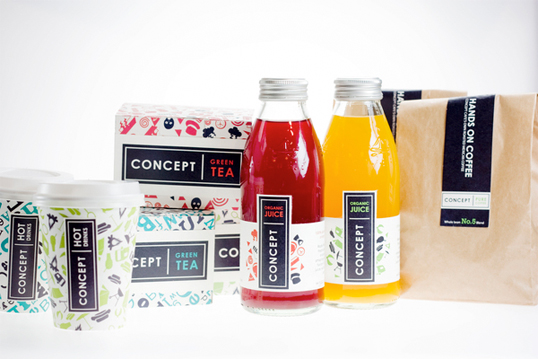 Designed by Sofie Platou | Country: Norway
Type and icons decorate tea boxes and coffee cups in this conceptual branding project.