March 14, 2010 | 1 Comment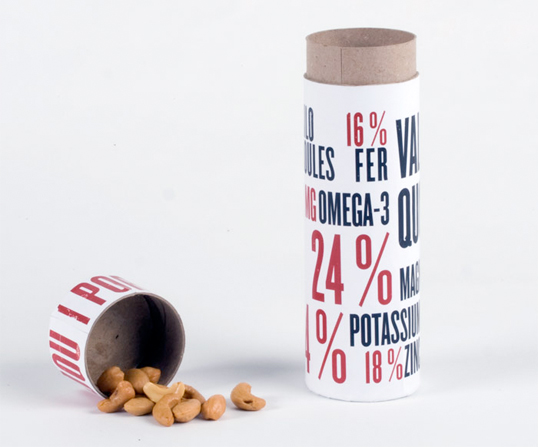 Designed by Jolin Masson-St-Onge | Country: Canada
A packaging concept for cashew nuts where the portion size is measured by the lid and the nutritional information of the product is presented in a large, typographic format.
March 12, 2010 | 4 Comments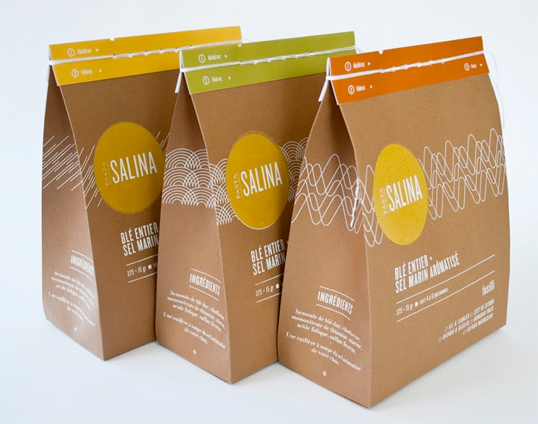 Designed by Emanuel Cohen | Country: Canada
Lovely student work with a clever opening system, which you can see in action here.
March 11, 2010 | 7 Comments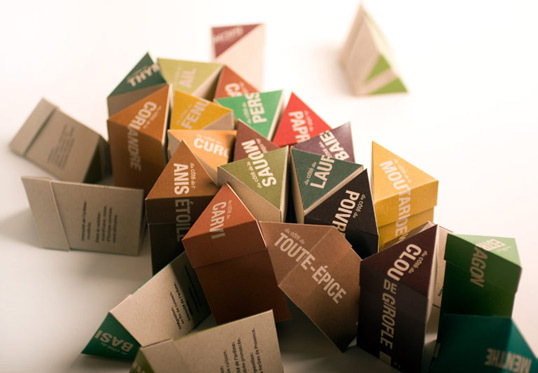 Designed by Geneviève Côté | Country: Canada
"If it is indirectly the quest of spices that led to the discovery of the Americas by Europeans, the passion has definitely not had much influence on American cuisine and, in fact, except salt, pepper marginal and some spices, we are collectively ignorant regarding all these subtleties that distinguish the food of men from that of animals.
March 7, 2010 | 2 Comments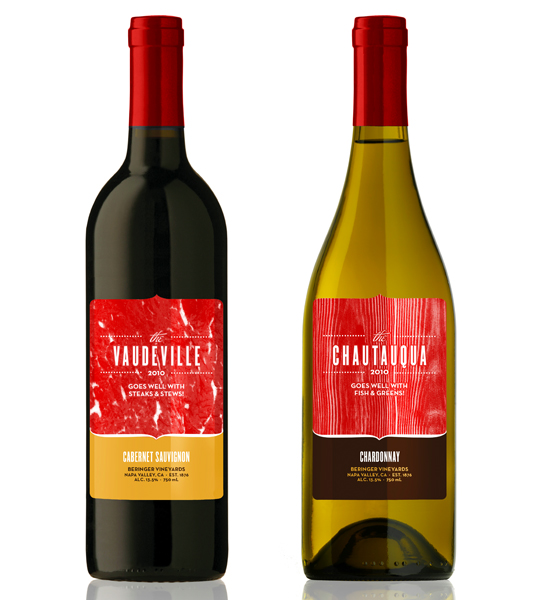 Designed by Drew Hamlet | Country: United States
"Beringer Vineyards – line of wines targeting 21-30 year olds. Used humor to show easy food pairings, sparking interest in the possibilities of dinner options."
March 4, 2010 | 1 Comment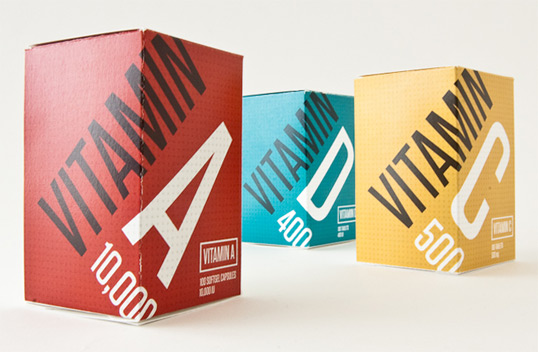 Designed by Colin Dunn | Country: United States
"A concept series for vitamin packaging. My emphasis was on the typography and the objective was to encourage the viewer to interact with the object. When sitting on a store shelf only a piece of the larger image is visible to the viewer — a move that is intended to pique the viewer's curiosity enough to handle the package."
March 2, 2010 | 7 Comments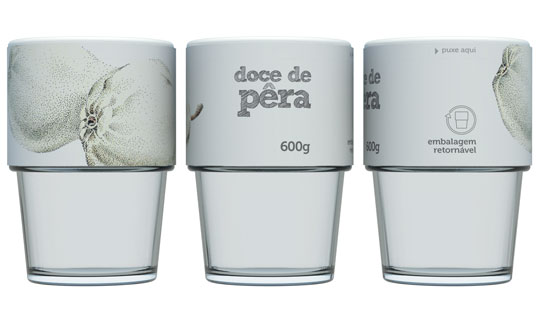 Designed by Roberta Zanette | Country: Brazil | Font: Sketch Block
"In 2009, I graduated in Industrial Design at UniRitter (Porto Alegre, Brazil). In order to do my final project, I decided to draw packaging for jam and jellies, because these products are pretty popular not only in the south of Brazil, but also in many other places. I had two main goals with my project: to affect the environment as little as possible and to develop a product with easy access to a great number of people.
Concerning the environment goal, I decided to project a returnable packaging system. After being used, the packaging should go back to their factory, where they would be washed and potted again. In this system, it is not necessary neither to discard packaging nor to manufacture new ones. I chose glass as the packaging material because it is very resistant and it can be recycled without losing any of its physical and chemical characteristics.
February 24, 2010 | 10 Comments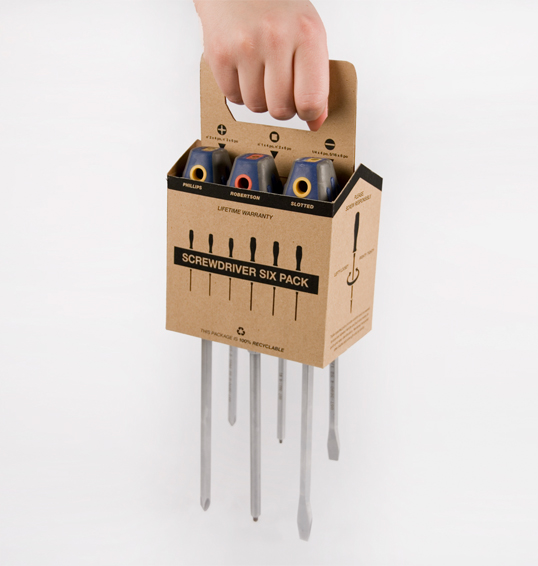 Designed by Cory Ingwersen | Country: Canada
"This class project was an investigation of how to create a more user friendly package for a set of six screwdrivers. The screwdrivers are easily accessible from the 'open' slots that indicate the tools name, shape, and size (for quick and clear identification). Reinforced craft paper was used with a one color (100% black) print job to give the overall design a raw and industrial feel, and also cut production costs."
February 20, 2010 | 5 Comments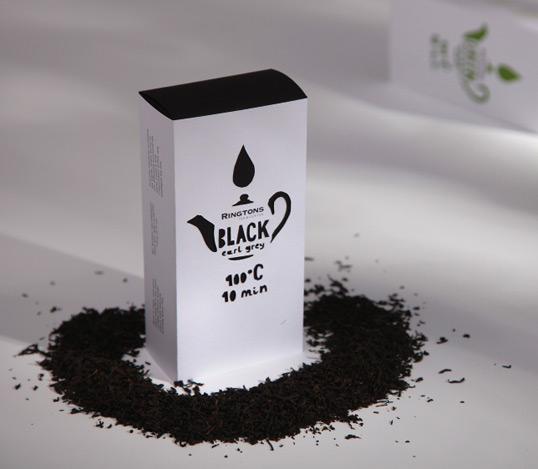 Designed by Dimitri Moruz | Country: Russia
"Brief is to design the packaging for a new line of organic loose teas (not a live project, tea company is Ringtons tea). Things to consider were: to have packaging eco friendly, to communicate the feel of it being exclusive, limited loose tea; try to appeal to young professionals. Solution is incorporating die-cut technique, which brings both: exclusiveness and it is saving on ink, while paper used for the outer layer is made of recycling materials."
February 14, 2010 | 8 Comments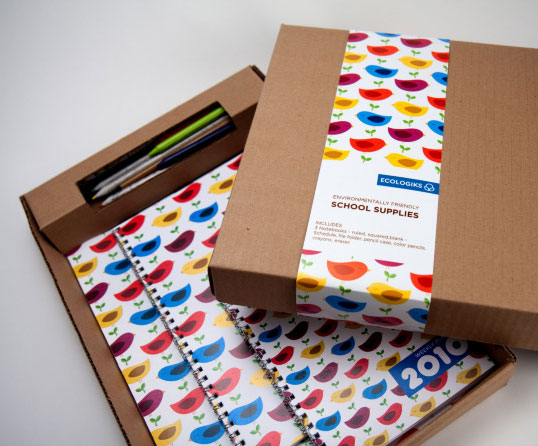 Designed by Marisa Torres | Country: Canada
"Ecologiks is a line of eco-friendly school supplies. Made with recycled and post-consumer materials, Ecologiks presents an alternative to unsustainable, generic or brand name, or otherwise dull school supplies. The brand is inspired and manufactured for children. The package offers a full range of products—mainly school supplies. We intend to offer variety packages that include notebooks, pencil cases, calendars, and other stationery."
February 11, 2010 | 12 Comments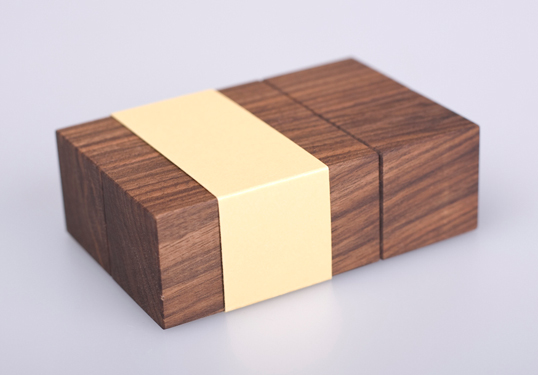 Designed by Gerlinde Gruber | Country: Austria
Thanks to Gerlinde for sending in her very lovely conceptual design for jewelry packaging. We're loving the approach. The paper sleeve offers excellent opportunities for branding and labeling, and the size of the box creates a larger, more substantial product out of a small piece of jewelry.
"This packaging is made of six identical wooden cub
es made of oiled nutwood. A leather hinge provides the opening function, a paper loop is used as closure. KLOTZ is not only for protecting the jewelry, but also for presenting it! The whole packaging is made out of natural materials and is 100% biodegradable."