September 26, 2012 | 4 Comments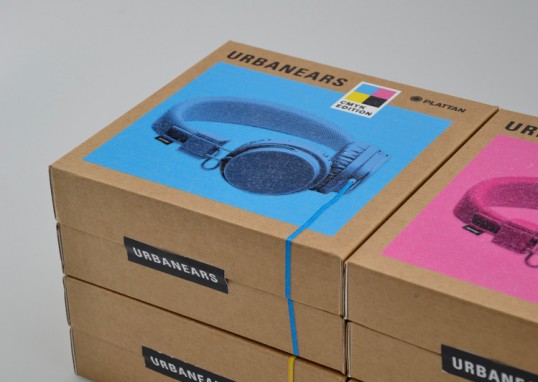 Designed by Erik Johansson | Country: Sweden
"Concept and packaging for a new series of headphones from Urbanears. Printed on brown corrugated board. Comes in four colors: cyan, magenta, yellow and black."
September 20, 2012 | No Comments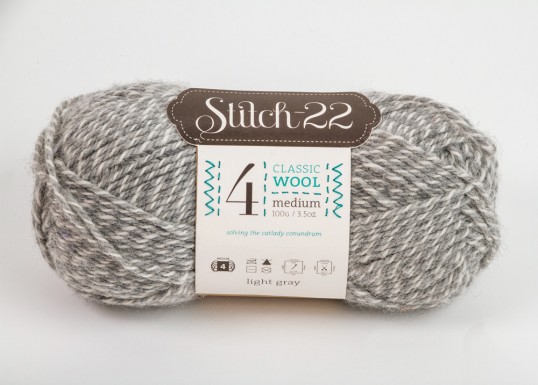 Designed by Parvaneh Toghiani | Country : United States
"Stitch-22 is a brand geared towards younger women who are interested in needle work, but these women have found it hard to begin such a hobby due to the misguided connotations of the needle arts with 65 year old catladies. The brand aims to provide a clean alternative to this Catch-22 and solve their cat-lady conundrum. I embraced Stitch-22's hand crafted roots by hand lettering the logo, using substrates with different tactile qualities for the packaging, and hand-stitching the rules in-between the text. The line includes the essentials for both beginner or intermediate crotcheters and cross-stitchers."
September 5, 2012 | 6 Comments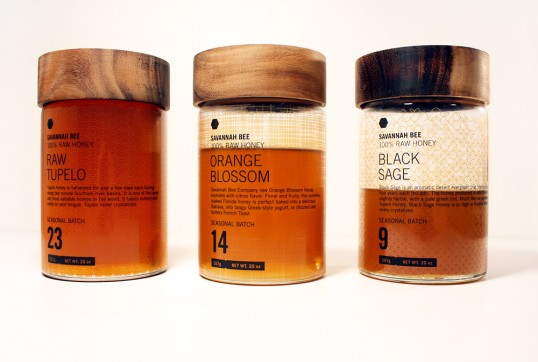 Designed by Collin Cummings | Country: United States
"I fell in love with the idea of repackaging honey because of the timelessness of honey production. The process employed by honey bees hasn't changed. To reference this highly industrial procedure, I chose a typographic direction that felt sterile. To counterbalance the type, I designed a few complicated and emergent patterns that hide behind the color of the honey when the bottle is full. As you use the product, the elegant patterns are revealed in a second layer as a homage to the beauty and timelessness of such a refined and perfected practice such as honey production."
August 23, 2012 | 9 Comments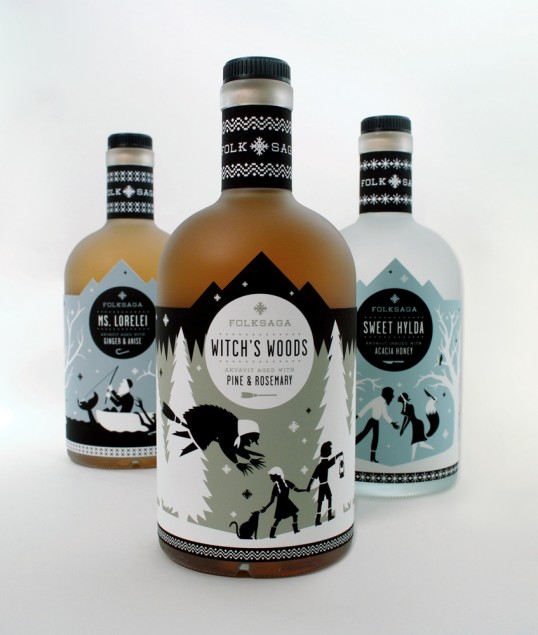 Designed by Caleb Heisey | Country: United States
"Folksaga is a Swedish dis­tillery of akvavit, a tra­di­tional scan­di­na­vian liquor fla­vored with ingre­di­ents such as car­away, anise, or gin­ger. The con­cept behind the project was to broaden akvavit's appeal to an American mar­ket while main­tain­ing its rich, nordic roots. Each bot­tle fea­tures a pop­u­lar folk tale from Sweden. Ranging from murky mer­maids to ter­ri­ble trolls, these mytho­log­i­cal char­ac­ters are always up to no good — prey­ing upon trav­el­ers lost in the wild. The project was art directed by Paul Kepple of Headcase Design."
August 16, 2012 | 5 Comments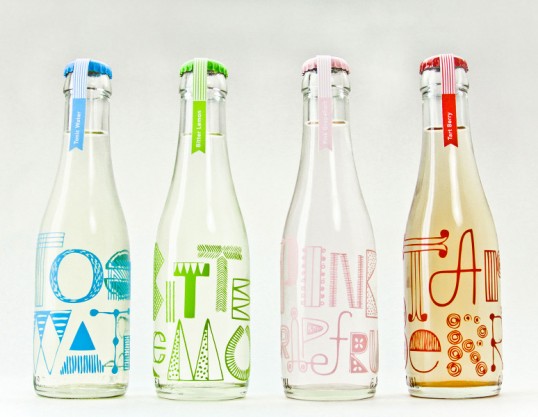 Designed by Miriam Altamira | Country: United States
August 10, 2012 | 3 Comments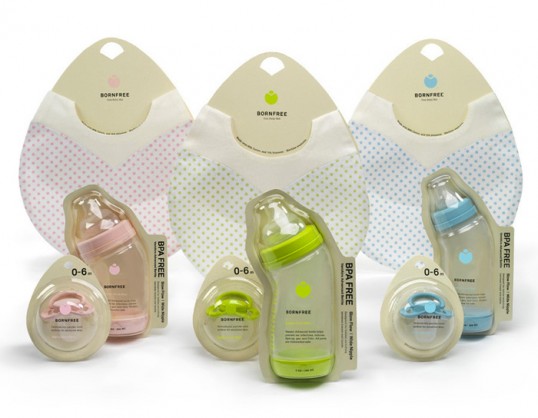 Designed by Lily Hu | Country: United States
"BornFree is the world-leading brand in baby feeding products. They stand out from their competitors by using BPA Free material that is safe for babies and also good for the environment. However, their packaging and branding didn't communicate these key features.
The new packaging has a clear front that allows consumers to see and choose their product. The front part is blow-molded with PETG while the back part is molded with paper pulp, both of which are environmentally friendly, cost-efficient, and recyclable. The front and back are Pressure Fit together instead of using binding material, which renders them non-recyclable."
August 9, 2012 | 3 Comments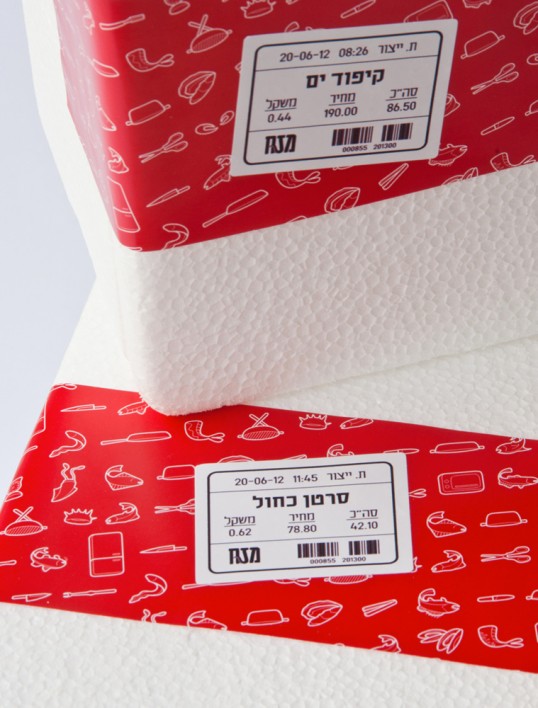 Designed by Ron Keren | Country: Israel
"A concept store specialising in the selling of sea food and guiding the customer through the step by step process; choosing a product from the broad range of exotic raw materials, appropriate handling and storage, through to ideal preparation techniques.
The packaging of the products has been custom designed to ensure that quality and freshness are maintained. Each package is accompanied with a general culinary explanation specific to the product it contains. Visual language techniques were employed throughout the project in the format of sea-food icons. The clean and clear lines provide the customer with an easy and informative pathway to connect with the culinary world under the sea."
August 6, 2012 | 4 Comments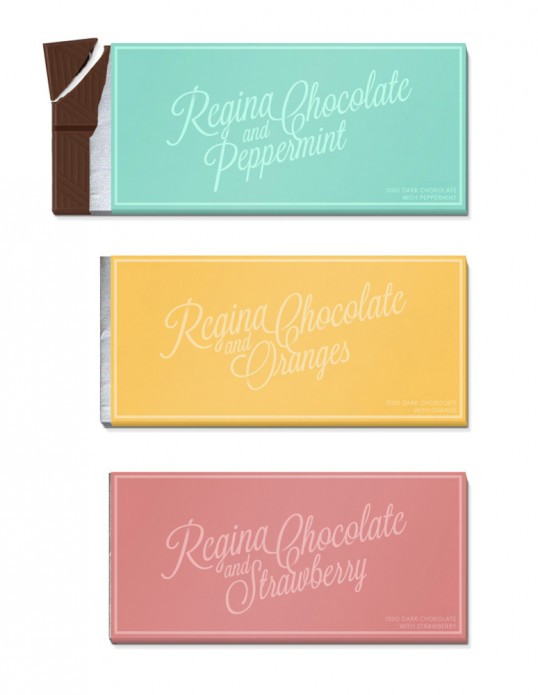 Designed by Jonathan Faust | Country: Denmark
"Regina is a Portuguese chocolate brand founded in 1928. Their products are delicious but their identity really needs some love. 
I have focused on the logo and packaging.The logo is combined with the flavour. As you see every flavour has it's own unique logo. Combined with the colours you get a new product which stands out. Logo and flavour-text is hand drawn. The rounded corners and swashes is a reference to their history and what it's all about – chocolate."
August 3, 2012 | 2 Comments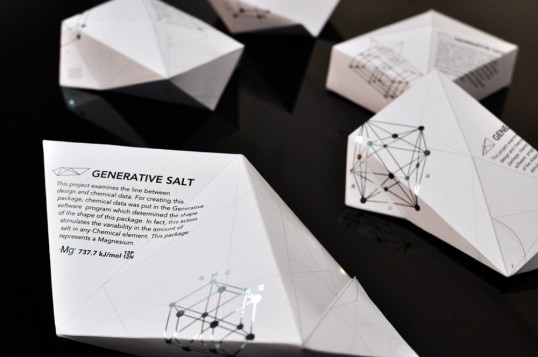 Designed by Dan Moukatel | Country: Israel
"This project tests the boundaries between designing and chemical data. During my research on salt, I discovered that the salt that we all are familiar with and use for cooking purposes, actually plays a much bigger and important role in our lives. It turns out that salt is found in almost any chemical element around us in different amounts and dosages.
During the production procedure of table salt in Dead Sea Works, four other chemical elements are being refined: potassium, aluminum, bromine and magnesium, from which we produce all sorts of materials that are of use to us in daily living. In my project, I decided to focus on the four chemical elements and to visualize the changing of the salt in each one of them."
August 2, 2012 | 25 Comments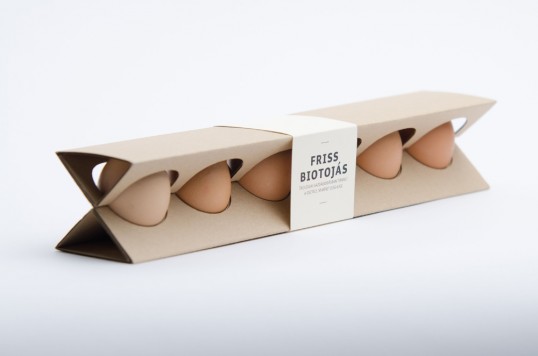 Designed by Otília Erdélyi | Country: Hungary
"My goal was to design an innovative package using a small amount of material. It's made of natural microwaved carton and consists of one piece. The eggs are placed into ellipse-shaped cuts. The eggs are removed by turning the topside."