March 6, 2012 | 2 Comments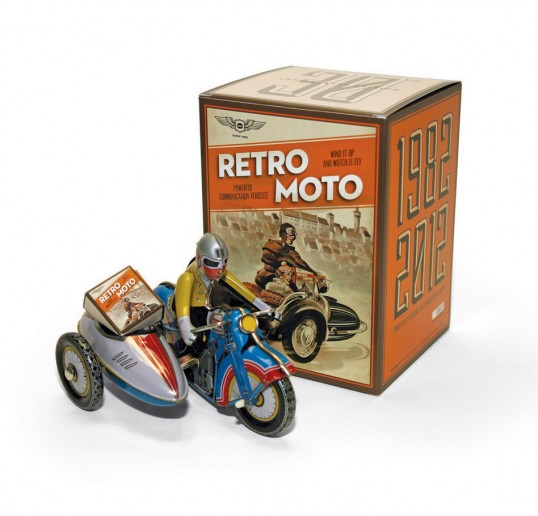 Designed by Webster | Country: United States
"Retro Moto was the 2011/2012 holiday mailer from Webster. Each year a fun creative piece is designed to say thanks to our clients and colleagues. This is the 30th consecutive year of a holiday promotion from Webster, an interdisciplinary design firm."
November 28, 2011 | 9 Comments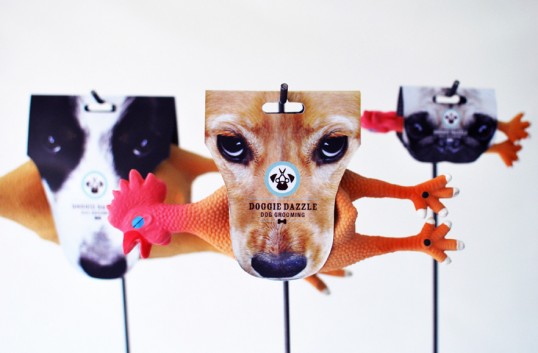 Designed by Mathilde Solanet | Country: Belgium
"This is my Final Major Project. Each students had to choose their subject and I chose a dog grooming. I did the whole identity of the brand. The logo is a dog with a pair of scissors instead of the eyes and the doggie bow in its hair. The pattern and the colors I used helps to provide a consistent and an unified look in the Doggie Dazzle brand."
October 20, 2011 | 6 Comments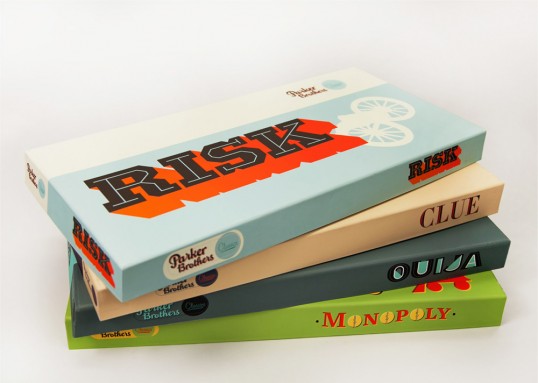 Designed by Sam Kittinger | Country: United States
"These re-designs of classic Parker Brothers board games stemmed from a desire to de-construct the overdone packaging board games nowadays are so known for. Drawing inspiration from vintage, modernist game box designs, these re-inventions focus on simplistic imagery, experimental typography, and limited color schemes."
October 18, 2011 | 7 Comments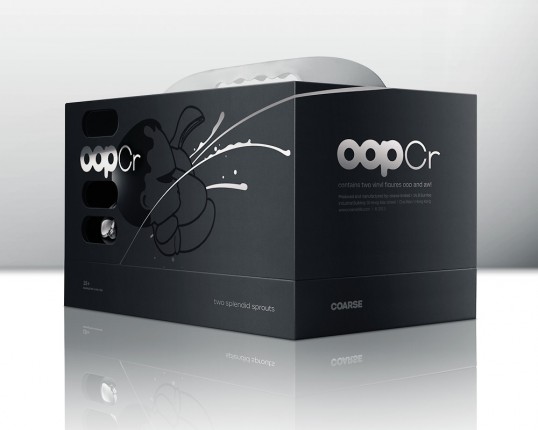 Designed by coarse | Country: Hong Kong
"This coarse release presents the two seedlings in their most attention-catching interpretation. The exceptional set includes two 7" [18cm] shimmering chrome plated vinyl figures.
Each streamlined seedling is finished in a mirror like gloss coat. They are tucked in snug black sponge and packaged in a deluxe hand crafted paper enclosure, stamped with silver foil and completed with ventilation ducts and a clear transit handle. Welcome these extraordinary embryos into your life and begin a glistening future together."
September 28, 2011 | 5 Comments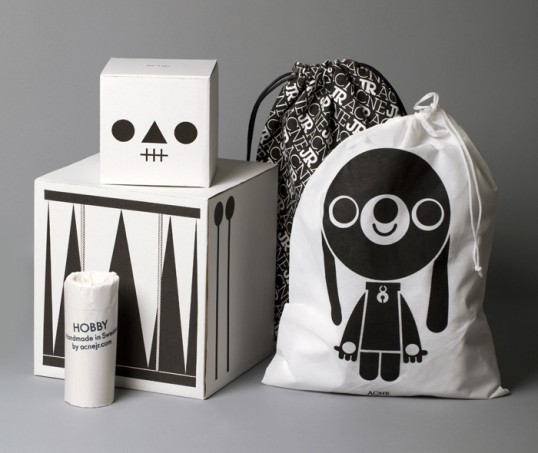 Designed by Acne JR | Country: Sweden
"The Swedish toy company Acne JR launches a line of five new products. A soft toy puppy, apple, tin drum, wooden skull, and a denim version of their classic teddy bear 'Chester'. Traditional, toys in a modern design. At the same time Acne JR has also opened a webshop."
July 20, 2011 | 5 Comments
Designed by Adam Deleeuw, Laura Davis, Phoebe Mak & Harshyla Singh | Country: United States | Fonts: Gotham, Tungsten, Garamond Premier, Clarendon, URW Wood Type, FIdo
"We are students at the Academy of Art University, San Francisco. The following group project was done for Michael Osborne's Package Design 4 class.
The assignment was to rebrand Costco, keeping in mind a brand matrix, that consists of a "House of brands" and "Branded house." Kirkland being the dominant private brand for Costco was considered the "Branded house" and a line of hypothetical private labels were designed for the "House of brands."
Within Kirkland, we categorized the brand into six lines:  bath, cleaning, paper goods, apparel, home and food products. Within the hypothetical private labels, we created the following : Ollie's Baking Co. which is Costco's bakery and cafe, Counter 74, a premium line of chef quality kitchen equipment, and Noc Noc which is an eco-friendly kid's line. The entire project consisted of almost 80 – 100 fully comped items."
June 28, 2011 | 7 Comments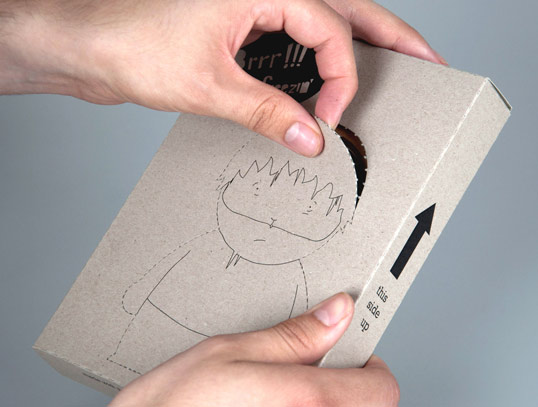 Designed by Markus Ölhafen | Country: Austria
"This is a personal project I realised for my girlfriends birthday. It is a magnetic dress-up puppet, made out of printable magnetic foil and cardboard. For the packaging I tried to use materials with a natural feeling to create a handmade-touch. As an inspiration I thought back to primary school when we made small cardboard puppets that could be dressed with paper clothes."
May 25, 2011 | 2 Comments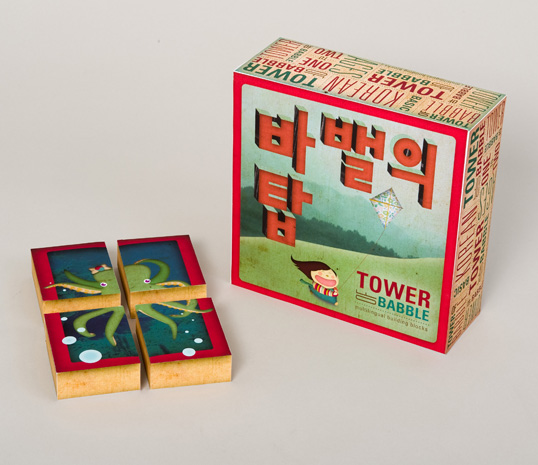 Designed by Monica O | Country: United States
"This assignment was to create a game called Tower of Babble which is a building block game for a language of our choice. I decided to choose Basic Korean for children ages 1-2 that requires them to put these blocks together to form an image. Once it is done, you flip the game pieces to find the corresponding word in Korean and the English translation. I chose to illustrate kid-friendly illustrations and chose a color palette that references the Korean flag."
April 24, 2011 | 1 Comment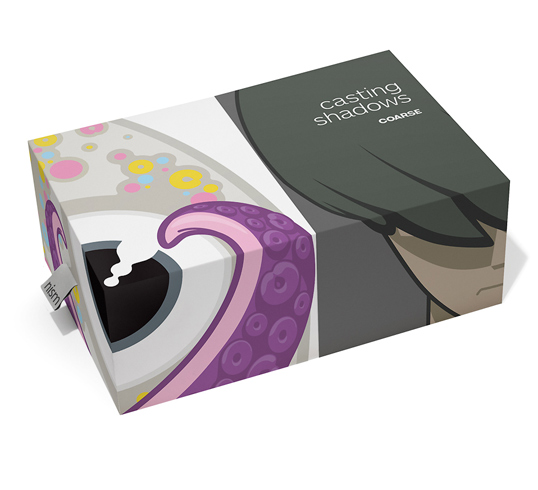 Designed by coarse | Country: Hong Kong
Slide open the heavy hand crafted cardboard box by pulling at the woven 'noop' and 'nism' tags. Uncover the box contents — two vinyl figures.
Be sure to check out some of their previous packaging.
March 15, 2011 | 3 Comments
Designed by coarse | Country: Hong Kong
Check out coarse's latest vinyl statue. As always the attention to detail is amazing. Be sure to check out some of their previous packaging.