November 14, 2009 | No Comments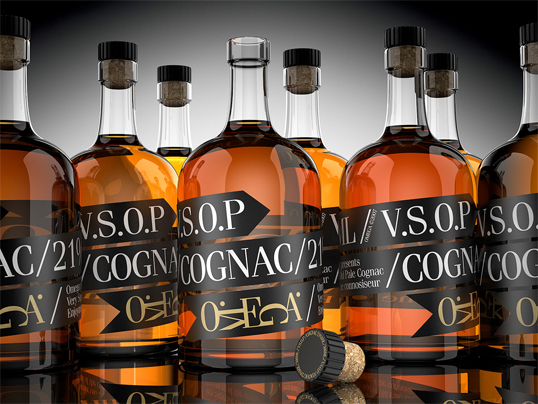 Designed by FIRMA | Country: Russia
Hot on the tail of our feature of Firma earlier this week comes this beautiful cognac packaging. Designed by the studio's special division, Packman Experiments, this is only a concept for now, although it would be lovely to see it brought to fruition in the future.
June 17, 2009 | 4 Comments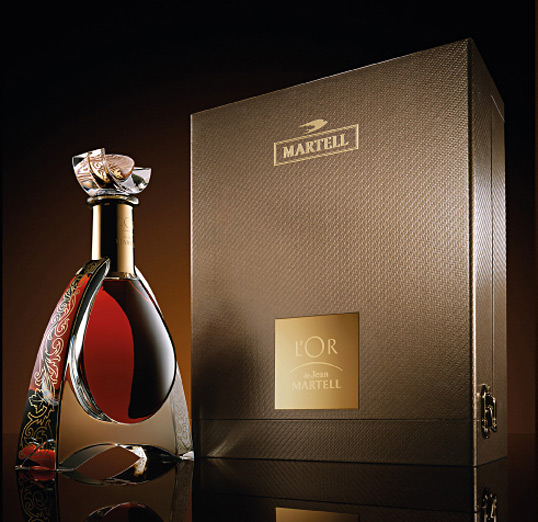 Designed by Dragon Rouge | Country: France
"Already one of the world's leading brands of cognac and enjoying growing success in Asia, Martell is actively pursuing its strategy of expanding its presence in the world of luxury goods. For this reason, the company has decided to launch an ultra-premium product designed to embody the very essence of Martell cognacs and express the spirit of the brand among a target of exclusive connoisseurs. L'Or de Martell will be competing against the most luxurious cognacs to become Martell's sublime 'more than perfect' product.
May 1, 2009 | 2 Comments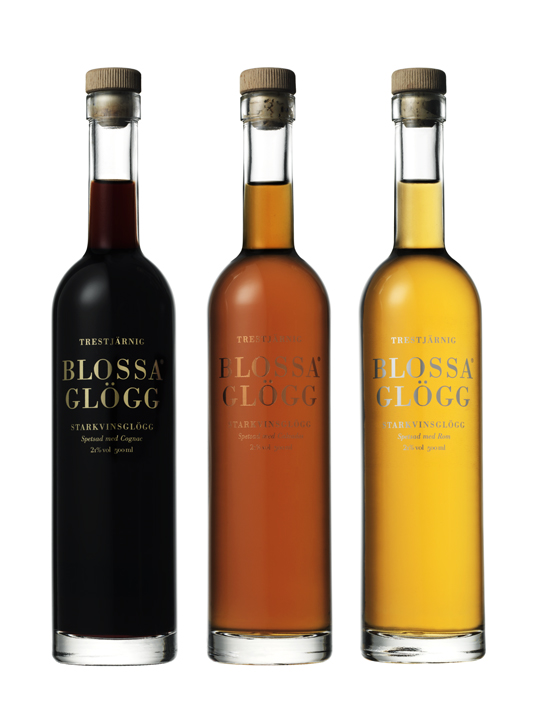 Designed by BVD (Blidholm Vagnemark Design) | Country: Sweden | Font: Bodoni
"With the launch of Blossa Trestjärnig Calvados the Trestjärnig series of Trestjärnig Cognac and Trestjärnig Rom is complete. This premium series is the finest and highest alcohol content of all the Blossa Glögg products.
A series of three products in the Blossa family represents the premium range of Blossa products. A tall, thin, clear glass bottle was custom designed for this product series and communicates the sophisticated elegance of the nature of the series. Gold, Silver and Copper colours within the typography form a complementary suite and represent the content of each product, cognac, rum and calvados. The colour of the liquid itself is custom blended to visually communicate the flavour and provide a clear color coding between the three products. The typography is consistently Bodoni, as is the logo, keeping the graphic language simple and unified."
August 29, 2012 | No Comments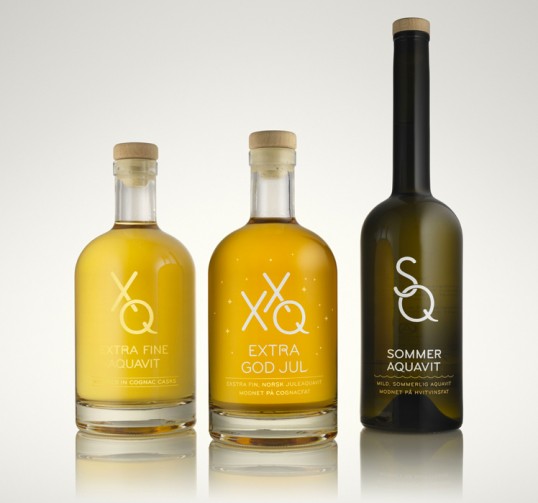 Designed by Permafrost | Country: Norway
"Our latest design for AQ Norwegian Aquavit is called SQ Sommeraquavit. The product itself is a smooth and mellow aquavit matured in white wine casks, and the bottle is inspired by the equally peaceful and bright Scandinavian summer nights.
Our ongoing relationship with the manufacturer has included designing the entire brand identity for AQ New Norwegian Aquavit, as well as developing the branding strategy and bottle designs for their entire range of spirits."
XQ aquavit, matured on cognac casks.
XXQ xmas aquavit, matured on cognac casks
SQ summer aquavit, matured on white wine casks
April 28, 2011 | 5 Comments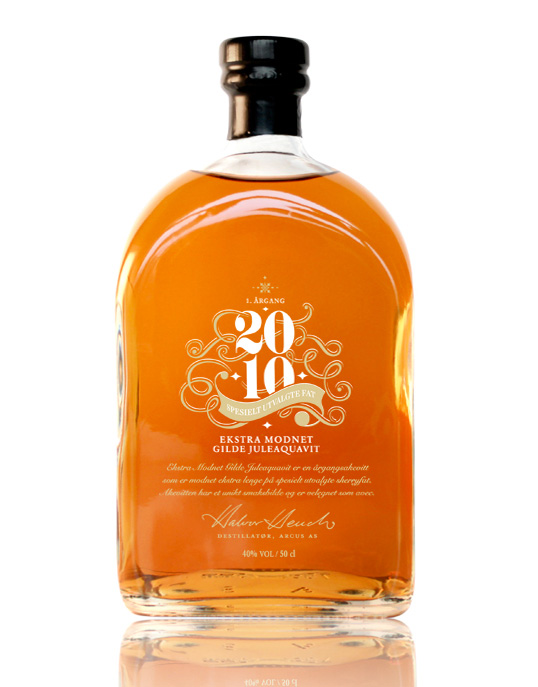 Designed by Brandlab | Country: Norway
"Arcus and Brandlab worked closely on a concept of finding new areas of use for aquavit. By building on the traditional and well known Gilde Juleaquavit series we created a new vintage series. It was developed as an option for after-the-meal situations around Christmas time when Cognac and liqueur traditionally dominate.
This is the first version of Ekstra Modnet Gilde Juleaquavit, a vintage aquavit that has been allowed to stray extra long in sherry casks. This gives the aquavit a unique taste and makes it a perfect ending to any Christmas meal.
To distinguish Ekstra Modnet from the traditional Gilde Juleaquavit and to give it a premium feel, we created a unique bottle and gift box. The year is still the main focus to keep it in line with the Gilde Juleaquavit series."
April 20, 2011 | 2 Comments
Designed by Motto | Country: Ukraine
"The general idea was to present new product for Ukrainian market — brandy. As people mostly used to drink cognac, there would be no cliché behind brandy. We used Jules Verne's stories for general theme and concept of adventure. This particular label was hand-drawn to show hand-made aesthetics. And slightly old-print style with artificially made bleeding and press gain. The shape of bottle was made considering the fact, that people buy drink during travel; and this bottle fits well any suitcase or back pack."
March 5, 2011 | 3 Comments
Designed by StudioIN | Country: Russia
"Femininity is characterized in the name and elegance of the lines and shape of the bottle. Type running vertically around the bottle describes the origin of the Fleur de Lis symbol. The use of an uncharacteristic cognac cap is not only convenient but practical."
October 10, 2010 | No Comments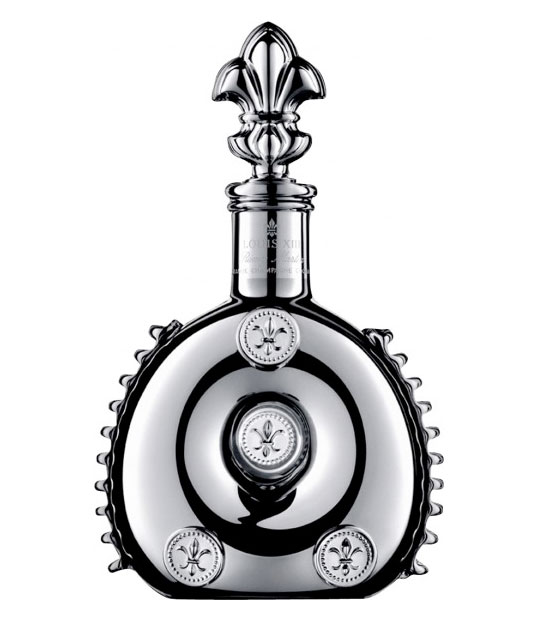 Designed by Baccarat | Country: France
Louis XIII Black Pearl is a limited edition cognac from Rémy Martin, packaged in individually numbered dark crystal decanters. There were only 786 made, and they run for about $15,000 a bottle.