February 11, 2014 | 2 Comments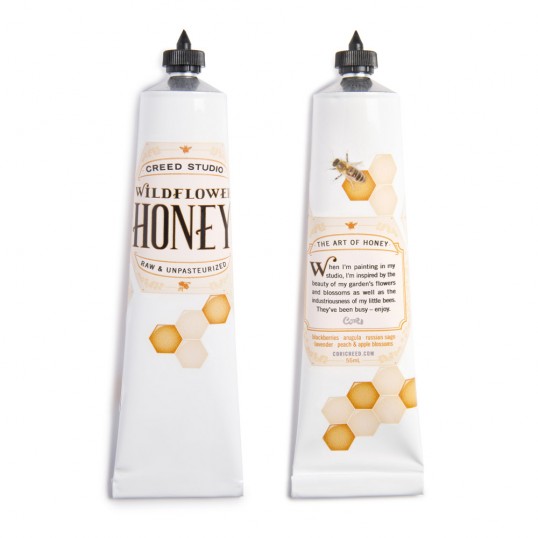 Designed by Saint Bernadine Mission Communications Inc. | Country: Canada
"Two passions collided to create Cori Creed's Wildflower Honey. Acclaimed West Coast landscape artist Cori Creed embraced a family tradition when she introduced bees to her flower garden – which can be admired from her studio window. To celebrate her first harvest, Cori wanted to create a limited edition package that she could share with friends, family, and supporters.
Designed by St. Bernadine, the packaging drew inspiration from Cori's first passion – painting. Using paint tubes, St. Bernadine created a unique and simple package that was perfect for the artist. Custom lettering was created to emphasize this personalized, one-of-a-kind honey, while subtle flourishes and intricate details reflected Cori's dedication to both her art and her garden. A die-cut label was wrapped around each tube, noting the individual flowers that helped to create the honey, along with a personal message from Cori."
November 13, 2013 | 32 Comments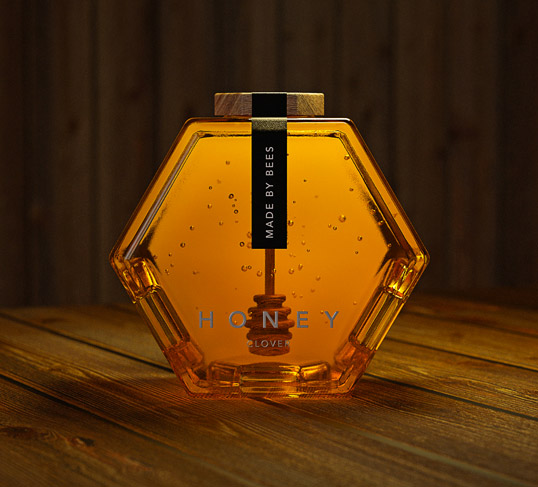 Designed by Maks Arbuzov | Country: Russia
Concept work for honey packaging.
"Natural forms are the best way to show the naturalness of product. You need only to recognize the form in order to understand what's inside of the package. The design is simple and uncluttered to show off the clean and clear product."
October 21, 2013 | 4 Comments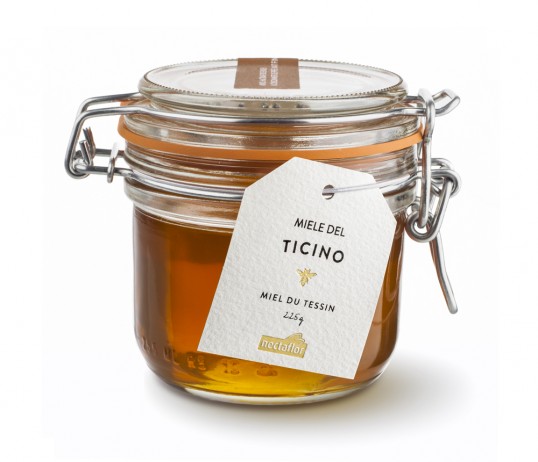 Designed by allink | Country: Switzerland
"The Swiss honey producer nectaflor launched three special exquisite products in Summer 2013 – Honey from three different regions in Switzerland: Ticino, Ostschweizer and Jura Suisse. Due to the regional limitation the delicious honey sorts are only available in small quantities, which leads to a high exclusivity.
allink created a packaging that focuses on the honey per se in order to fulfil the valuable content. The characteristic flip-top jars ensure a clear distinction on the shelf and are complemented with a small but a lovingly created paper label. This packaging solution appears honest and authentic and highlights the values naturalness and personality."
February 4, 2013 | No Comments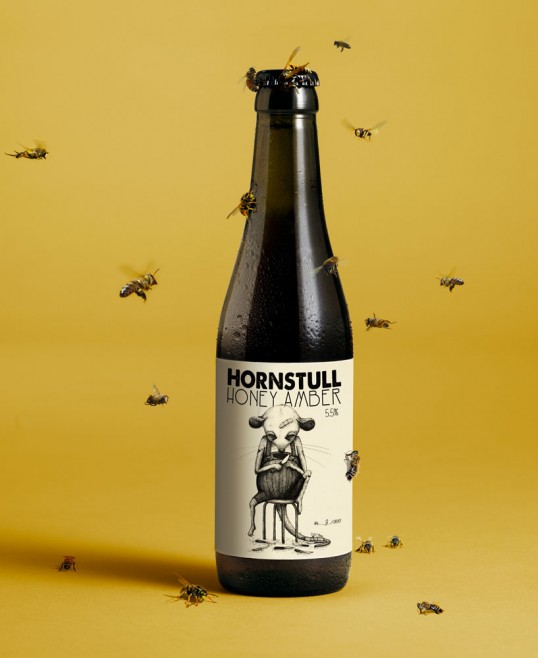 Designed by Abby Norm | Country: Sweden
"Hornstull Brewing Society is a dedicated group of people with small egos and big dreams. Together, they are united by their love of beer and Hornstull.
Hornstull Honey Amber is their bottled tribute to Hornstull, a neighbourhood in southern Stockholm, Sweden. The beer has a special character, unique blend and unpolished qualities. Just like the area itself.
It's an amber ale with honey from a local beehive, brewed by Pangpang Brewery exclusively for Hornstull Brewing Society."
December 6, 2012 | 1 Comment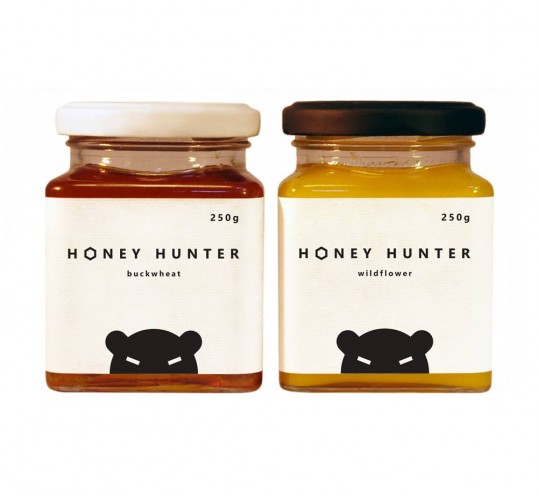 Designed by Fresh Chicken | Country: Russia
"Honey hunters are people who gather honey from wild bee colonies. Designers of Fresh chicken agency treated this expression word for word. Honey and a bear is a classic combination, and the decision was to design a "bad" bear who would do anything to steal his favorite honey. People are fed up with positive characters, happy families and sweet animals in commercials, they're waiting for something fresh. Our bear is not nice, he lies in wait for the right moment. Keep an eye on your honey!"
October 26, 2012 | 7 Comments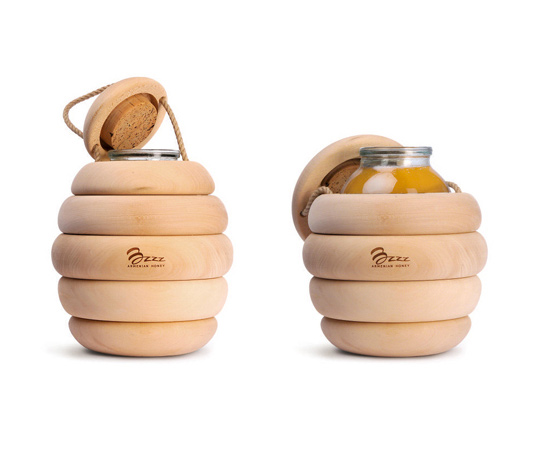 Designed by Backbone Studio | Country: Armenia
"The most tasty honey is in the beehive. But it is impossible to buy it in a market –  it was impossible. Designers of Backbone Studio have made it out of wood and hid the can with honey into the improvised beehive.  Simple but simultaneously original wooden wrapper is the message to the nature, ecology and pure taste. You immediately want to open and taste it. And there are no bees!"
February 8, 2012 | 3 Comments
Designed by Cubic | Country: United Kingdom
"Our appetite for branding wholesome and interesting products and companies was the motivation behind this lovely work for Trevor's Honey. Beekeeper Trevor was looking to launch a brand with real personality and stand-out on deli shelves. Cubic answered the brief by creating the whole brand story, including packaging and website… and had a great deal of fun along the way. The project certainly got us all buzzing. Visit trevorshoney.com to find out more about Trevor and his bees."
June 5, 2011 | 9 Comments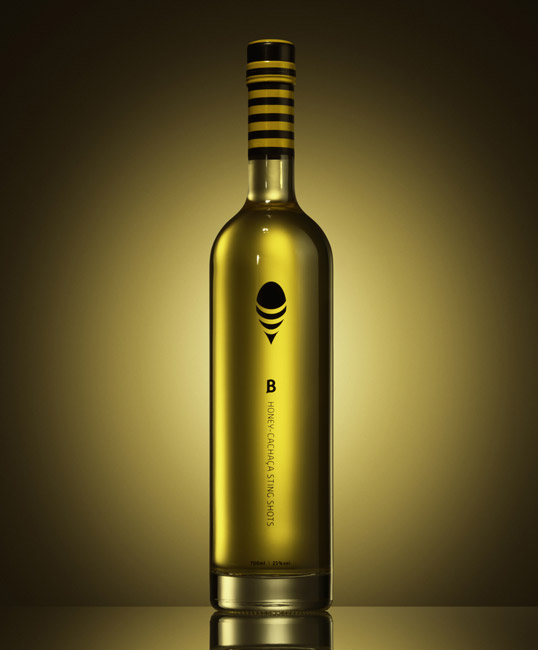 Designed by Pereira & O'Dell | Country: United States
"B, The Honey Cachaça stinger, co-founded by Formula 1 driver Nelson Piquet Jr. and friends, hit the market this month in Brazil. The visual identity and branding of the rum was created by the U.S. office Pereira & O'Dell and Rio 6D agency was responsible for web and print part of the brand.
"B" is made ​​with sugar from the region of Brazil and refined to create a perfect blend of sweet and citrus, adding honey, lemon and generous doses of sophistication, from the recipe to the packaging. Thus, we transform a simple drink a remarkable 'sting shot'.
With a clear path to reach consumers in full in other countries, "B " will arrive later this year to the United States"
May 23, 2011 | 1 Comment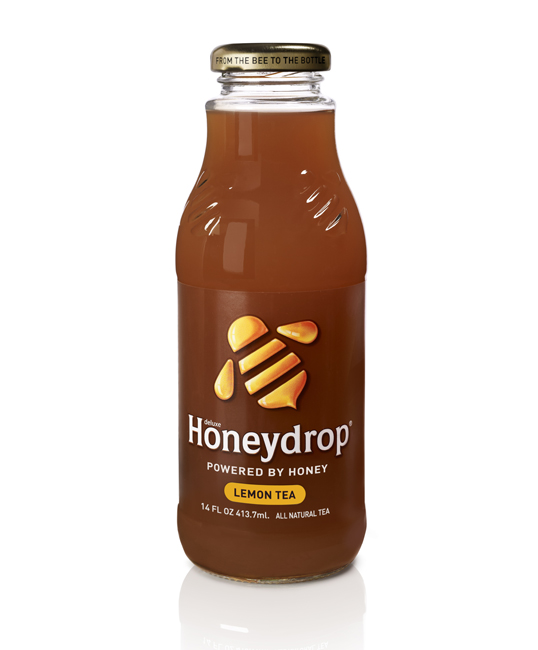 Designed by Monday Collective | Country: United States
"After two years on the market, Honeydrop realized it needed to simplify its messages. Its central brand concept – the only ready to drink brewed tea and juice sweetened solely with real honey – needed to be expressed in a way that connects with the natural beverage consumer, while differentiating within an overcrowded and fast growing natural beverage category. A new custom designed glass bottle gives Honeydrop a more natural and premium feel; a clear label allows for product transparency; a bee icon redesigned to have more character and look like real honey; a simple system for range differentiation; and new copy including "from the bee to the bottle". All of which sends a clear, unified message that Honeydrop is made with real honey."
April 4, 2011 | 9 Comments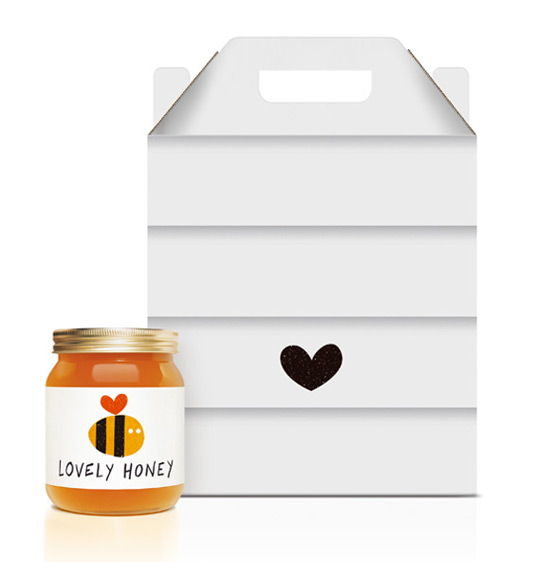 Designed by Jamie Nash | Country: United Kingdom
"Design and illustration for Lovely Honey. The identity uses a heart motif to reference both the name of the product and also the natural health benefits associated with honey. A limited colour palette and hand drawn style helps create a simple, natural feel. The heart motif continues throughout across items such as secondary packaging and illustrations."