April 26, 2012 | 8 Comments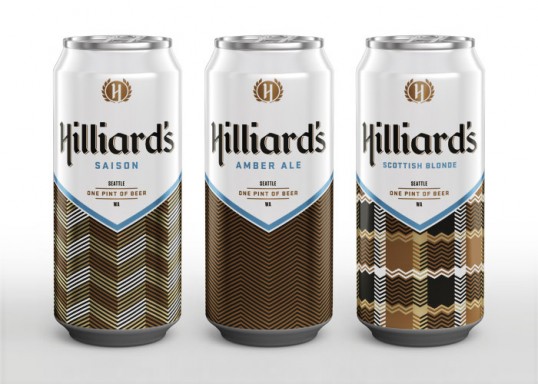 Designed by Mint Design | Country: United States
"A new artisanal brewery opening in the Seattle's Ballard neighborhood warranted a sleek contemporary twist on the vernacular of beer culture. A fresh application of a crisp herringbone pattern balances cleanly executed typography, channeling traditional European blackletter in a contemporary way."
April 24, 2012 | 7 Comments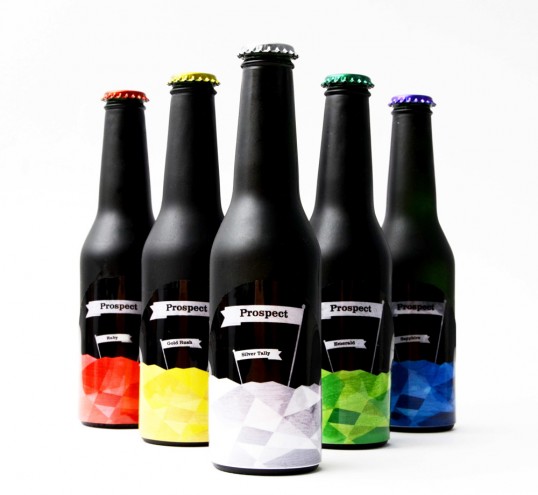 Designed by Matthew Melling | Country: United Kingdom
"In the 1840's thousands of people flocked to America in search of gold. My rebrand is based on the idea of discovering rare and valuable minerals, hence "Prospect Brewery". The box appears to be a wooden crate full of rocks or coal. 6 small holes give the viewer a glimpse of the product inside. The bottles are painted in matte black to represent the rocks in which the minerals would have been found. The labels have a glossy finish and the design represents the crystal form of rare raw materials. The customer will discover 6 new beers for the first time with a sense of curiosity, and the award winning beer inside will not disappoint."
April 18, 2012 | No Comments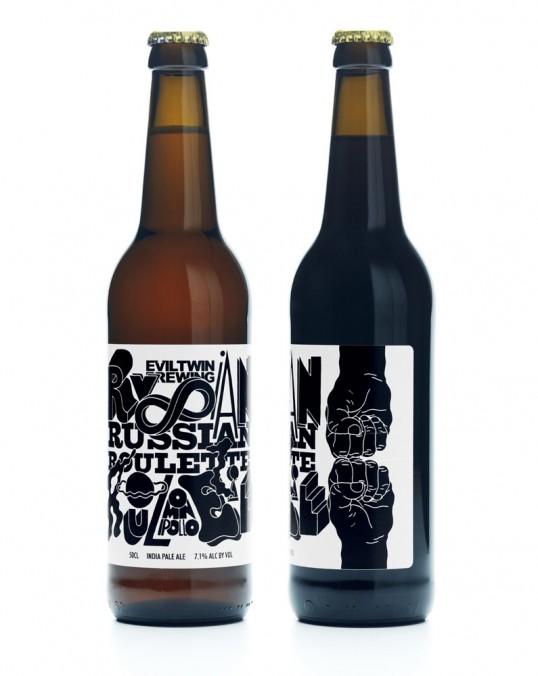 Designed by Karl Grandin & Martin Justesen | Country: Sweden/Denmark
"Evil Twin/Omnipollo Russian Roulette is a collaborative effort between Swedish brewery Omnipollo and Danish brewery Evil Twin. Instead of doing a collaboration beer which is quite common these days, we choose to brew a beer each – a dark and a light one – and seal them in identical packages. For this project, Karl Grandin and Martin Justesen managed to merge the two company identities avoiding a collision and creating an expression with is forceful yet respectful. Bust a cap and face your destiny."
April 12, 2012 | 4 Comments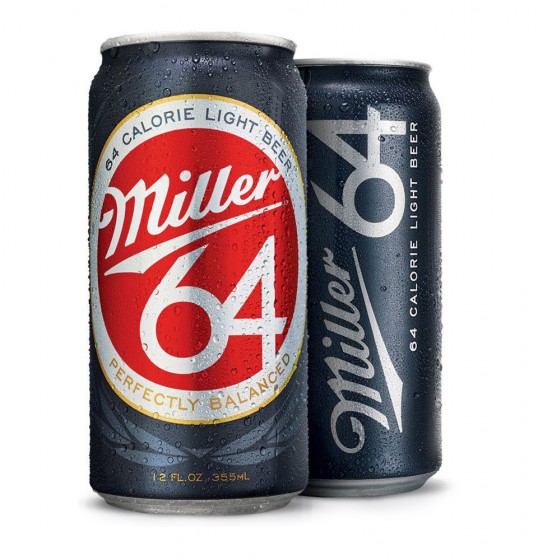 Designed by Soulsight | Country: United States
"MillerCoors, the company that popularized the light and super- light beer categories, is bringing a new look, name and personality to beer drinkers this spring.
The national re-launch of Miller64 – designed by Chicago based agency Soulsight – will be supported with new television, radio, digital and out-of-home advertising.  Soulsight's handsome new identity, branding and package design demonstrates how Miller64 complements a balanced lifestyle for legal-drinking-age consumers who are committed to making good choices with their daily responsibilities and in their social lives. Miller64 will be available in cans and clear bottles featuring the brand's bold new logo and its eye-catching smoky silver and red labels."
April 6, 2012 | 2 Comments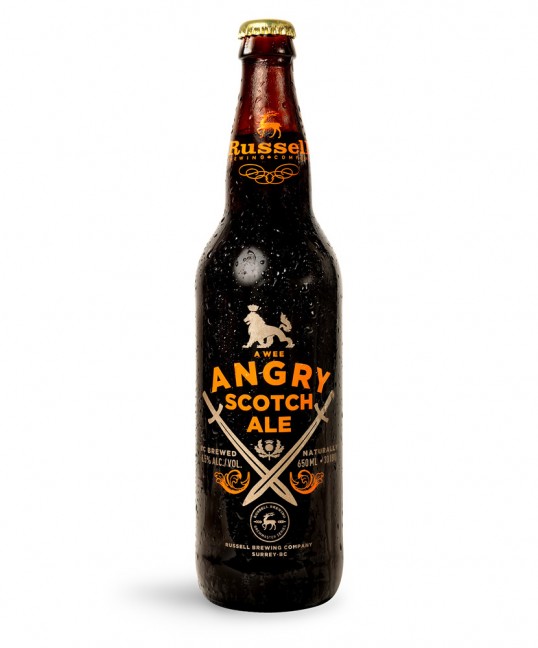 Designed by Atmosphere Design | Country: Canada
"We branded a series of 650ml bottles for Russell Brewing for their Brewmaster Series. All these beers are strong in character and we want that reflected in the label designs in a bold, catchy way. With the ACL painted bottle print process we like to keep designs simple so one can pick up the entire message and feel of the product on a single glance and to cut through clutter on the store shelves."
February 27, 2012 | 1 Comment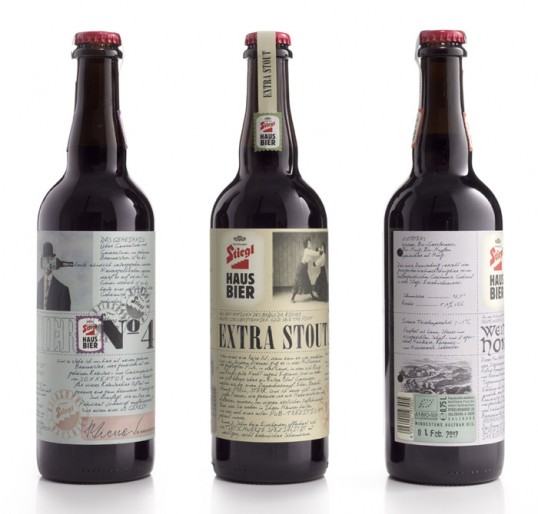 Designed by Demner, Merlicek & Bergmann | Country: Austria
Beautifully detailed labels for Stiegl Haus Beir. Check out the short stories for each brew at the end of the post.
February 23, 2012 | 5 Comments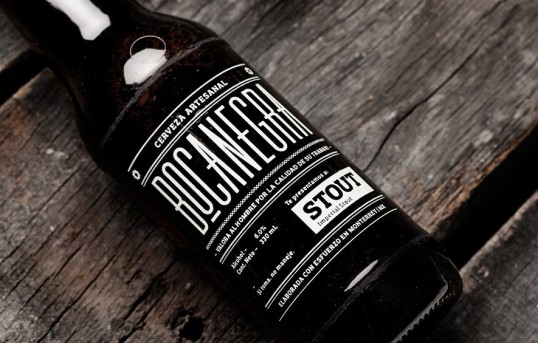 Designed by Manifiesto Futura | Country: Mexico
"Bocanegra craft beer made in Monterrey. It is a tribute to of all working people."
January 16, 2012 | 7 Comments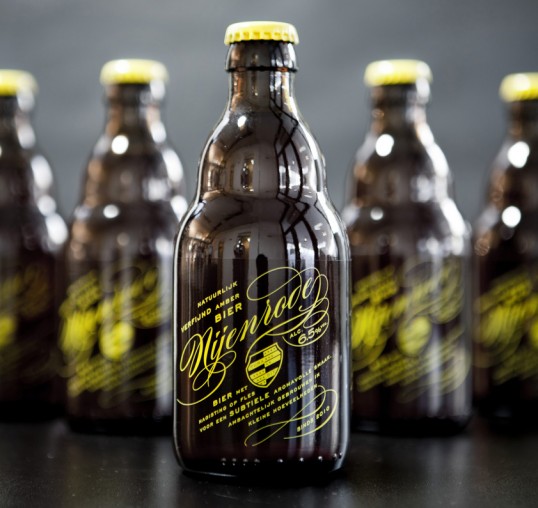 Designed by Redthumb | Country: The Netherlands
"A hand-crafted beer brewed in small batches in The Netherlands, Nijenrode is a much loved local secret amongst graduates from the Nijenrode University. Redthumb was asked to create a powerful brand identity and label that reflected the elite status of Nijenrode (without taking itself too seriously), yet was down-to-earth, and simple to produce. The label is single colour, making it straightforward and pure, and also providing the brand it's own identity colour."
January 10, 2012 | 1 Comment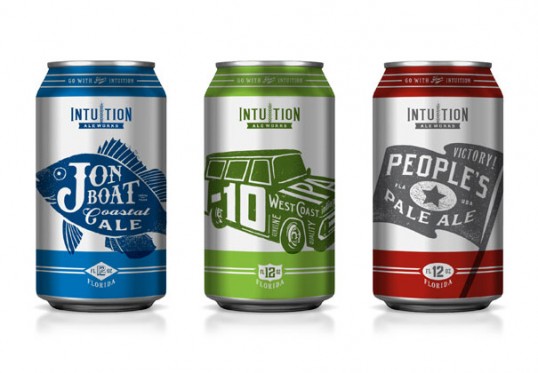 Designed by DeRouen & Co. | Country: United States
"Intuition Ale Works of Jacksonville was just ending a very successful first year (during which its customers could only buy its beer on tap), when owner and head brewer, Ben Davis approached Texas-based DeRouen & Co. with his vision of being the first Florida craft brewery to package beer in cans. Long associated with college kids and bad beer, canning beer actually provides better taste quality and is better for the environment. DeRouen worked closely with Davis to develop packaging that extends the brand and evokes their handmade and sophisticated personality. I-10 West Coast, represented by a cross-country interstate, speaks to Davis's connection with the beach lifestyle on the East and West coasts; Jon Boat Coastal conveys the joy of fishing (with a fresh, cold beer in hand) in the coastal waters around Jacksonville; and The People's Pale Ale label represents the demand for a great American-style pale ale."
January 9, 2012 | 2 Comments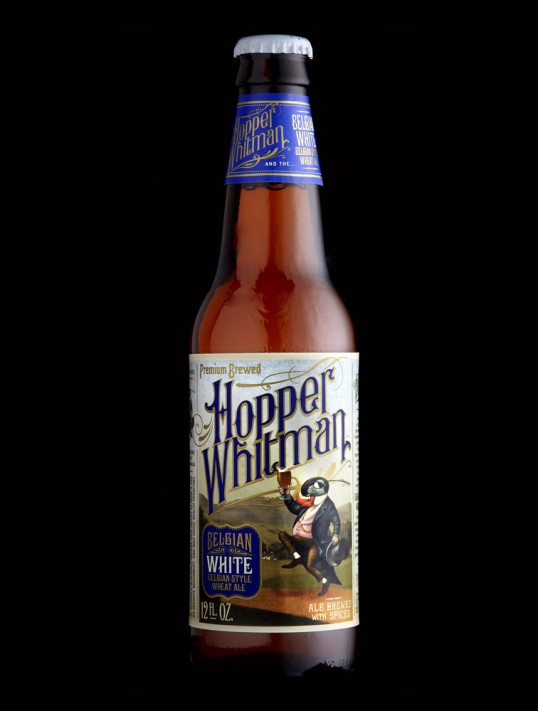 Designed by Stranger & Stranger | Country: United Kingdom
"Hopper Whitman is a beer swilling cricket whose dubious dress sense changes with the seasonal ales. Winter beer is just out where he's tooled up in thermals."