February 7, 2011 | 1 Comment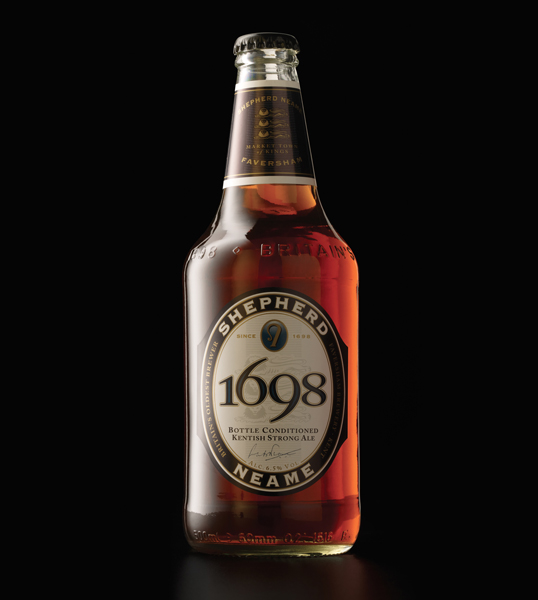 Designed by SAA Design | Country: United Kingdom
"Officially founded in 1698, Britain's oldest brewer, Shepherd Neame, has recently relaunched it's premium flagship ale, by SAA Design. Thrice-hopped and bottle conditioned, 1698 is the connoisseur's choice, and with an ABV of 6.5%, a beer to be savoured.
Originally brewed to celebrate the tercentenary of Britain's oldest brewer, 1698 is a characteristically hoppy Kentish ale, and has Protected Geographical Indication, the same unique regional protection afforded to Champagne and Parma Ham.
The ale matures naturally in the bottle and can be enjoyed fresh or allowed to settle for a few months to mellow. The natural effervescence produced by bottle-conditioning – the interaction of yeast and brewing sugars – gives 1698 fine, champagne-like bubbles that further enhance the fragrance, flavour and overall drinking experience.
The 500ml bottle label features bold black and white graphics with the three lions watermark; the symbol of Faversham, home of Shepherd Neame and known as the market town of Kings because of it's Royal connections, adds layers and texture to the new design, endorsed by fifth generation Chairman Jonathan Neame's signature at the base of the label.
A silver medal winner in the Taste of Britain Awards, 1698 has been included in the International Beer Challenge's World's Top 50 Beers.
January 20, 2011 | 2 Comments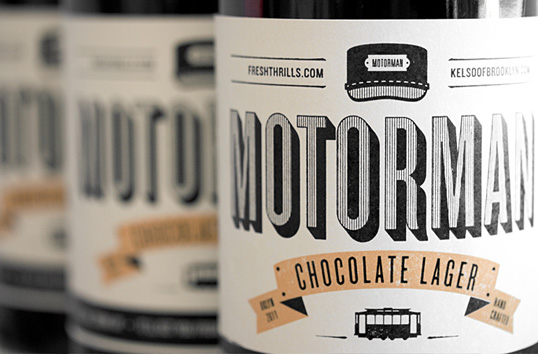 Designed by Freshthrills | Country: United States
"Freshthrills had a productive, successful and exciting 2010. Anyone familiar with Freshthrills, knows that we can be a little fanatical over craft beer. In fact, it's been our obsession of 2010. In keeping with our long running tradition of food-centric gifts, it was clear early in the year that we would share this passion for craft beer with our clients. We collaborated with local brew master Kelly Taylor of Kelso Of Brooklyn to bottle and package their Chocolate Lager, specially for our clients.
We aimed to develop naming, branding, packaging and other print collateral using Kelso Chocolate Lager. The package also includes four letterpress coasters, along with a note thanking our clients for a great year.
January 17, 2011 | 4 Comments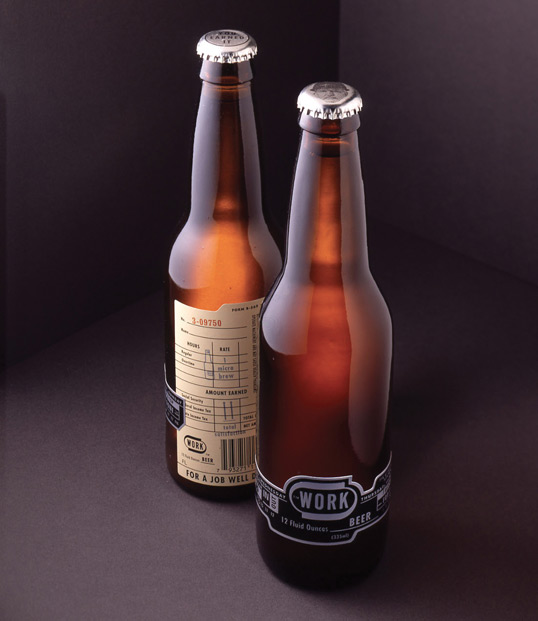 Designed by WORK Labs | Country: United States
"WORK Beer started with a art director that dreamed of having his own beer(seriously, who doesn't dream about having their own beer?). That dream led to beer for the American worker, WORK Beer—For A Job Well Done. It became the brewers best selling beer, going from local to available in all the surrounding states within a matter of months. No detail was overlooked, from the non-conventional label, to the box, to the coasters, to the pint glasses to the ads and TV spots. The WORK Beer tap handle stands out in a line-up pretty well, too, it's a hammer. As far as we know here at WORK, we're one of the only agencies in America to ever have our own brand of beer."
January 16, 2011 | 5 Comments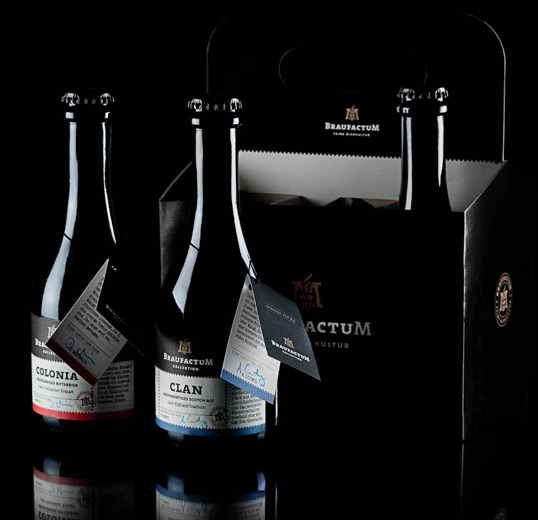 Designed by Flächenbrand | Country: Germany
"The best of imported beers and high class self-made creations – that is what Braufactum is all about. The new gourmet label of the Oetker group introduces a unique collection that will establish a new style of brewing culture. Everything presented under the sign of Braufactum includes selected flavours, celebrates different perceptions of savour and turns every beer lunatic into a gourmet. The appearance of Braufactum has been developed by Flächenbrand and represents its unique concept in every detail. Quite obviously, as the young Wiesbaden-based team has accompanied and built this brand right from the start.
January 7, 2011 | 1 Comment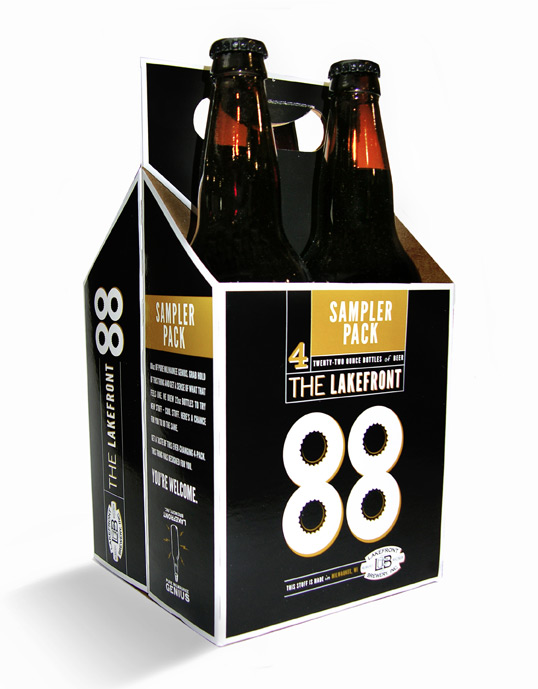 Designed by Boelter + Lincoln | Country: United States
"Lakefront wanted a way to showcase their ever changing 22oz "Brewers Series" beers that they continually keep developing, which are normally sold one bottle at a time. With the Lakefront 88 (88oz of total beer) customers are able to try 4 different beers for a cheaper price than buying them each separately.
The logo for the "88″ came from an overhead view of the 4 bottles in the package. The design in general is meant to be fairly simple and bold to create attention on the shelf and then let the beer speak for itself. Overall the design, the size and the weight of The Lakefront 88 gives it a pretty impactful presence among the other products in the beer cooler."
January 5, 2011 | 1 Comment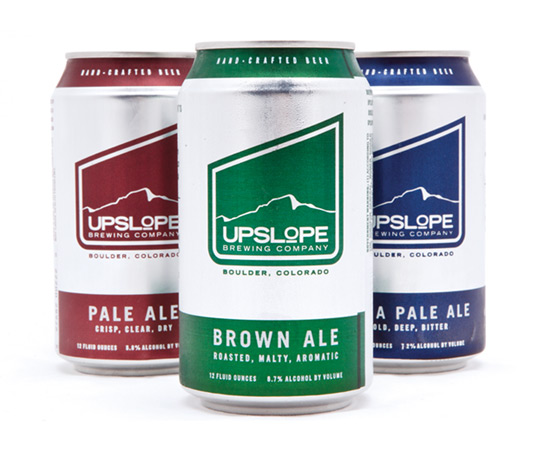 Designed by Anthem Branding | Country: United States
"Our strategy for the Upslope Brewing Company cans was simple: create a compelling design that would immediately differentiate the brand from national labels as well as the glut of local craft beer. Each variety is numbered, and features a signature color against the can's natural silver. The current varieties include a Pale Ale, IPA and Brown Ale."
December 29, 2010 | No Comments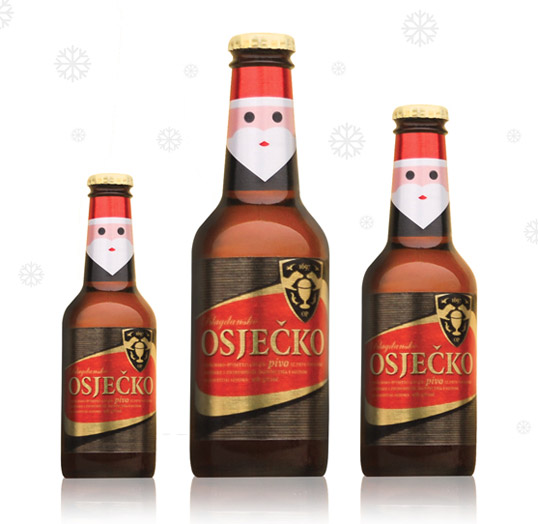 Designed by Manasteriotti and Maric | Country: Croatia
"Osječko pivo (Osječko beer) asked us to design a winter holiday edition of their beer, packaged in small, 0.25l bottles.
We used a simple neck label design to make the bottle resemble a Santa Claus. The usual bottle label was printed in red color. This small intervention retained their identity while adding winter flair.
Osječko pivo is the first beer brewery in Croatia, founded in 1697."
December 26, 2010 | No Comments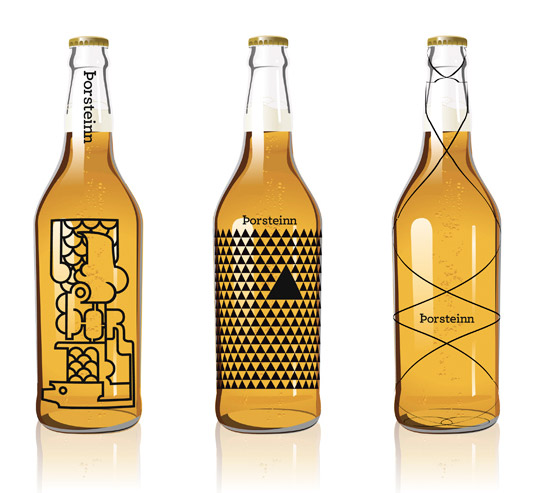 Designed by Thorleifur Gunnar Gíslason | Country: Iceland
"This beer brand concept was born on a sunday night at school where we were supposed to make a brand for a micro-brewery. The name is traditional Icelandic name that could be loosely translated into "thirsty one".
The concept is a simple one. One beer, 10 different bottle designs by 10 different designers. The design would be changed annually. The design could be put on beer glasses as well. The design is limited to black graphics on a 33cl glass bottle.
This was the result from collaboration between three graphic design students at the Iceland Academy of the Arts, Thorleifur Gunnar Gíslason, Geir Olafsson and Hlynur Ingolfsson."
December 22, 2010 | No Comments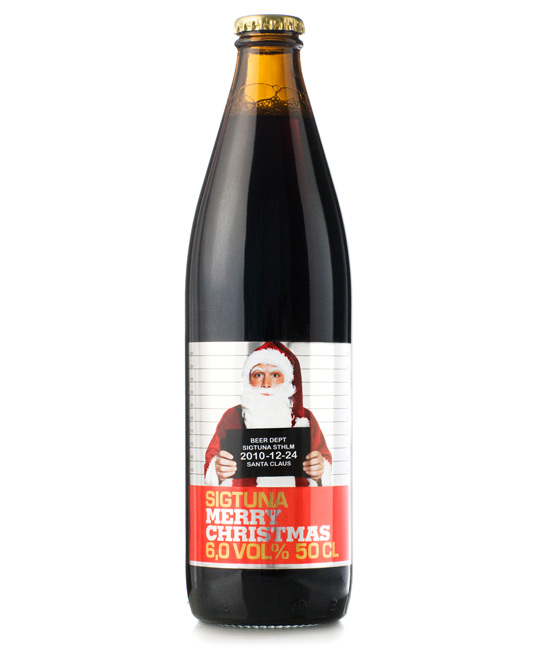 Designed by Morkman Reklambyrå | Country: Sweden
"Sigtuna is an up and coming micro brewery just outside of Stockholm, Sweden. They have recently received numberous awards for their beers and continue to reap success within the beer communities. This years christmas lager needed a design that highlighted the premium characteristics of the beverage, while adding a new twist to the symbolism of the holidays."
November 22, 2010 | No Comments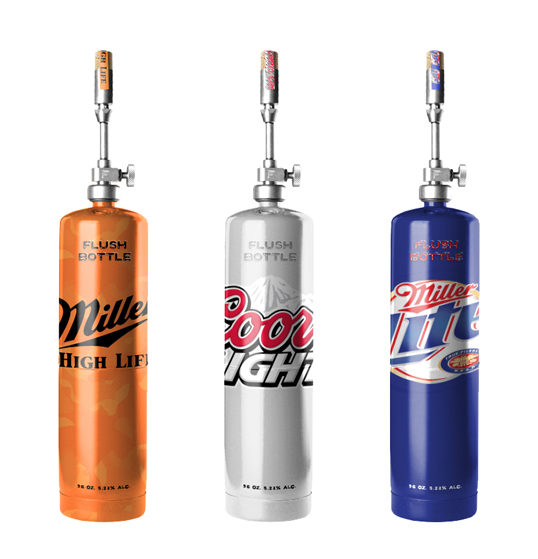 Designed by Kyle Fletcher | Country: United States
"Packaging concept for Miller Coors. 96 oz. of pressurized beer for the Nascar crowd. Drink it, spray it on your friends or wife, or light it on fire."