August 27, 2012 | 1 Comment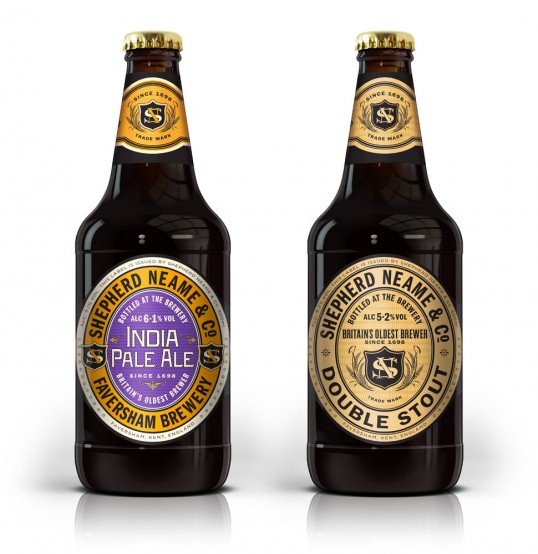 Designed by SAA Design | Country: United Kingdom
"SAA were tasked with creating a distinctive packaging solution for the Shepherd & Neame ale classic collection. A collection based on 18th century IPAs which relied on generous hopping to protect exports during arduous journeys, this modern incarnation retains the strength, body and strong hop character which is synonymous with this beer's provenance.
Harking back to 18th century label design we created typographic executions that also reflected the individual taste and flavour of each ale."
August 24, 2012 | 2 Comments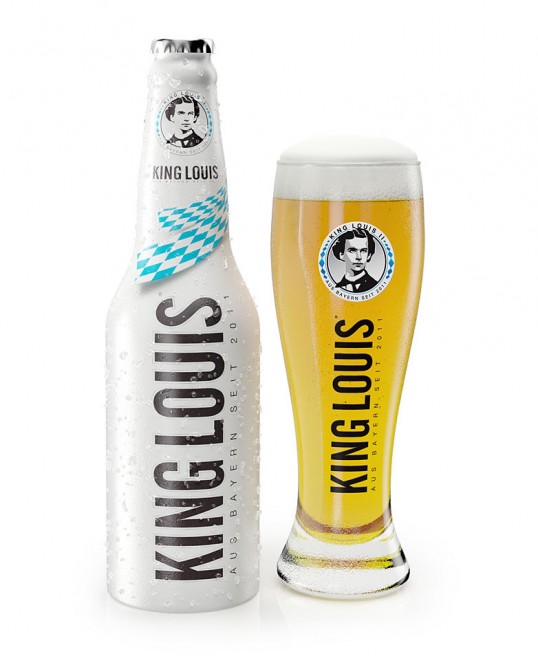 Designed by Insight Design Studio | Country: Serbia
"King Louis Bier is a young German (Bavarian) beer for young people. Bavaria is one of Germany's very unique states with strong traditions ("Lederhosen", "Oktoberfest", the Alpes mountains, etc.). The historical person of King Louis ("Koenig Ludwig II von Bayern" / King Louis II of Bavaria – last century's famous Bavarian king) represents this tradition."
August 6, 2012 | 5 Comments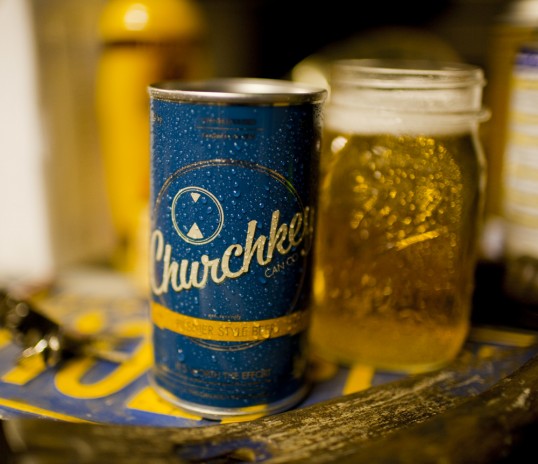 Designed by Justin Hawkins | Country: United States | Fonts: BistroScript, Futura
"Justin Hawkins is the co-founder and creative director of Churchkey Can Co. Churchkey Can Co. began as the desire to experience a great beer in a simple can as the generations before had. Quickly realizing the flat top can – introduced in 1935 and a standard in the beer industry until the pull-tab came to market in the mid-1960s – was all but a memory, Hawkins and co-founder Adrian Grenier set the wheels in motion to found Churchkey Can Co. We strive to bring you the most original beer can experience you have ever had by making a quality craft beer in the original flat top beer can. Justin designed the graphics for the flat top can and logo, as well as the six-pack packaging. Additional company info attached."
August 3, 2012 | No Comments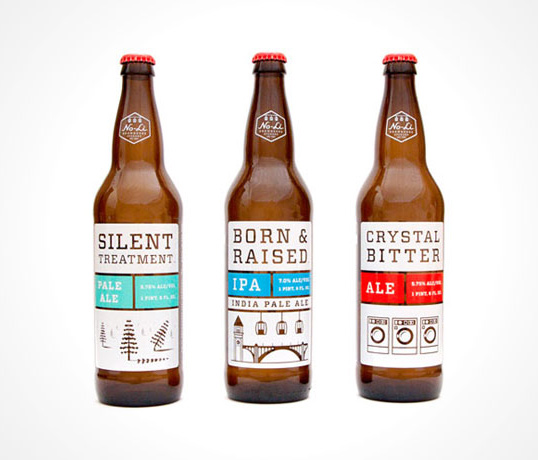 Designed by Riley Cran | Country: United States
"Founded in Spokane Washington in 1993 by Mark Irvin, No-Li Brewhouse is a craft brewery which expanded to bottling in early 2012.
Originally named Northern Lights, I was contacted in Winter 2012 by former Fat Tire strategist Greg Owlsley and former Deschutes Brewery (and craft beer guru) John Bryant, about re-naming the brewery 'No-Li', rebranding the company completely, and creating its first bottled brews.
This main company mark references the Spokane Gondola, a series of Tram cars installed for the 1974 World's Fair, an event of lasting esteem in the city, and something we took much inspiration from."
July 17, 2012 | 2 Comments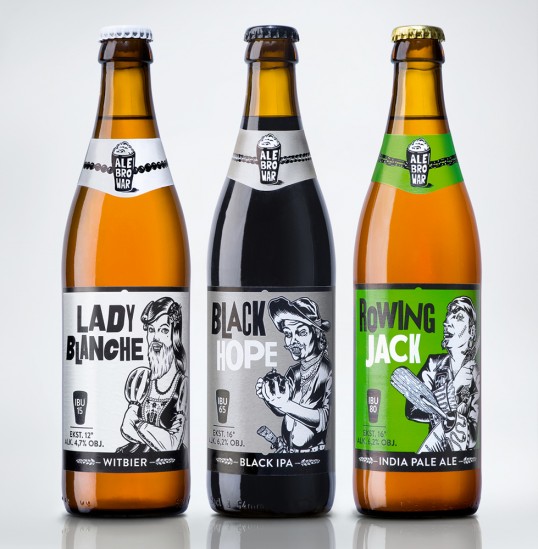 Designed by Ostecx Créative | Country: Poland
"Lady Blanche, Rowing Jack and Black Hope are first three beers brewed by AleBrowar, a new contract initiative from Poland. Brand has made its debut in may 2012 and from the beginning it bet on widening of horizons of Polish consumers. Which applies to both, brewed beer styles and graphic design of the project. That's the reason why we can see characters of bearded woman, oar-handed pirate and crazy prospector of new flavors on the labels of Witbier, India Pale Ale and Black India Pale Ale.
Names, packages and all materials that promote new brand was created by Ostecx Créative, advertising agency, which share beer passion of its clients. An inspiration for creating illustrations and designing of labels was history, origin and ingredients of first three beers. Agency also cared about expressing the character of AleBrowar project, which tries to foment a beer revolution on polish brewery market, started by craft and contracted breweries from the USA."
July 13, 2012 | 3 Comments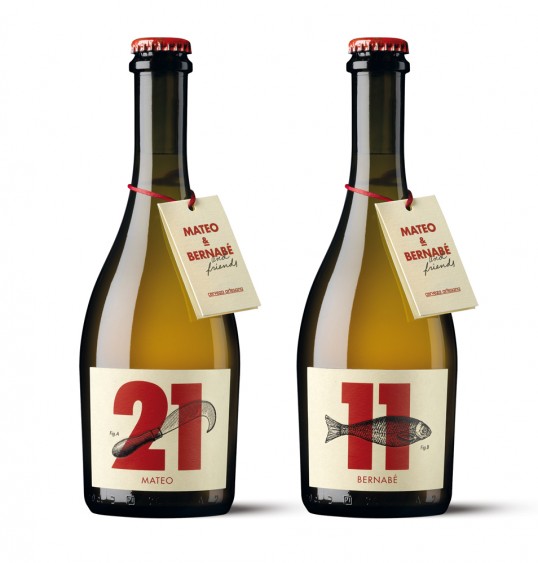 Designed by TSMGO | Country: Spain
"The task provided by the Project Management Team (TSMGO) to the Design Team (Estudio Moruba) was to create a visual poem that would give personality to each of the creations of Mateo & Bernabé with a graphical design both recognisable and full of meaning.
Each of the varieties of beer would have the personality of a saint (without the liturgy or religious components) to make them more personable. The characteristics of each variety would be seen more clearly and would tell the story of each Saint associated with the place of which he is patron, to invite the commemoration of the saint's day."
July 12, 2012 | 2 Comments
Designed by Bedow | Country: Sweden
"A collaboration with Danish brewery Mikkeller. This Summer Pilsner is the second in a series of four seasonal beers released during 2012. The label is printed with a heat sensitive color—when the label gets warm the bud turns into a flower. Limited to 3,500 bottles."
July 11, 2012 | 12 Comments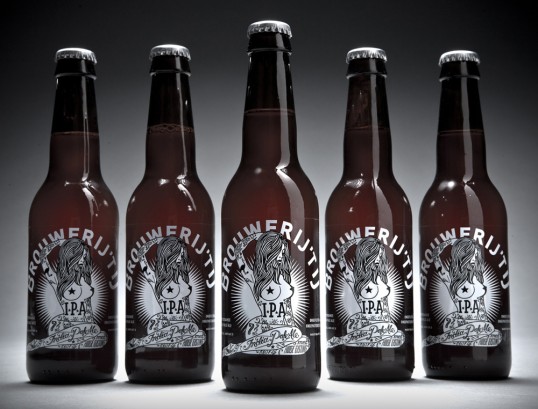 Designed by Redthumb | Country: The Netherlands
"Inspired by a tour of US microbreweries, Amsterdam's Brouwerij het IJ decided to create their own US-punk-style IPA. Branding studio Redthumb was given it's shortest ever brief (simply "Tits, tattoos, and skulls") and created a design with enough punch to match the full flavoured brew. The design picks up on the the brewery's rebellious nature and is a homage to east coast streetart and artists such as Rebel 8. Hand drawn in-house at Redthumb, the label reflects Brouwerij het IJ's reputation for producing beers full of character and tongue-in-cheek attitude."
July 9, 2012 | 3 Comments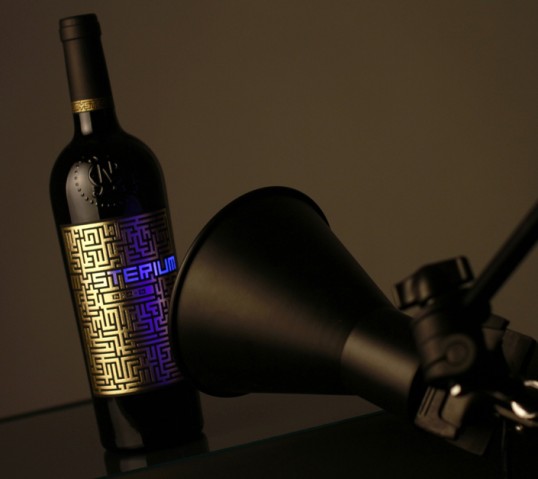 Designed by Spotlight | Country: Romania
"Jidvei's owner, one of the most competitive wine producers in Romania, decided to develop a new limited wine series designed to address a market segment well known for its general distrust towards the wine products: the night clubs/lounge bars arena. Our client needed a packaging concept that will standout among the much shinier presence of beer, liqueurs and other spirits.
The concept of the MYSTERIUM wines has originated in the secret of their making. Blended from up to three hand-picked grape varieties, the making of each MYSTERIUM bottle is a well kept oenological secret so that the final product shall be a mystery in itself, ready to be tasted and discovered."
July 7, 2012 | 1 Comment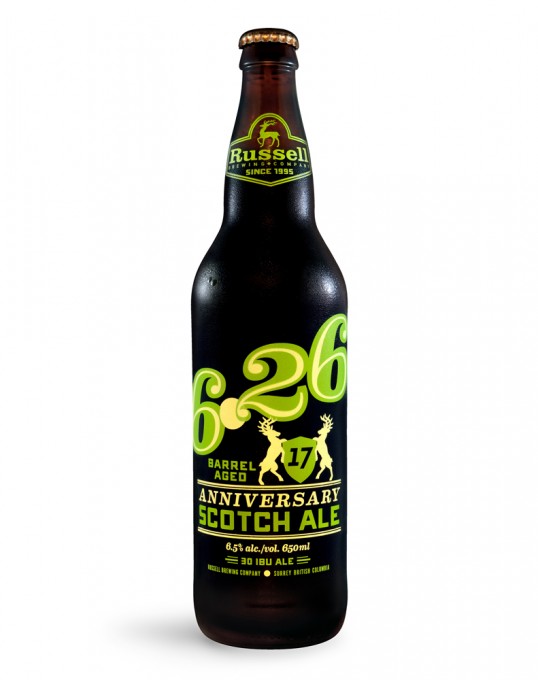 Designed by Atmosphere Design | Country: Canada
"We branded a series of 650ml bottles for Russell Brewing for their Brewmaster Series. All these beers are strong in character and we want that reflected in the label designs in a bold, catchy way. With the ACL painted bottle print process we like to keep designs simple so one can pick up the entire message and feel of the product on a single glance and to cut through clutter on the store shelves.