December 11, 2012 | 2 Comments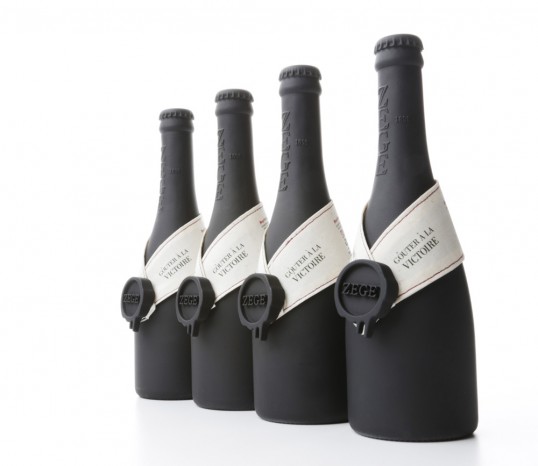 Designed by Aveline Gunawan | Country: Australia
"Bottle and 4 pack design for a premium Belgian beer. The aim was to differentiate the brand and packaging from other Belgian beers.
ZEGE is Dutch for victory. This premium Belgian beer was made to reminisce King Leopold's triumph. The labels were designed to resemble a medal and the black bottle adds a strong and elegant look to the brand.
The labels were printed in cotton and sewn together. The wax seals were 3d printed using resin as the material.
The four pack design reflects the king's chair with the quote laser printed on the wood: "Goûter à La Victoire" which means 'Taste the victory'."
December 10, 2012 | No Comments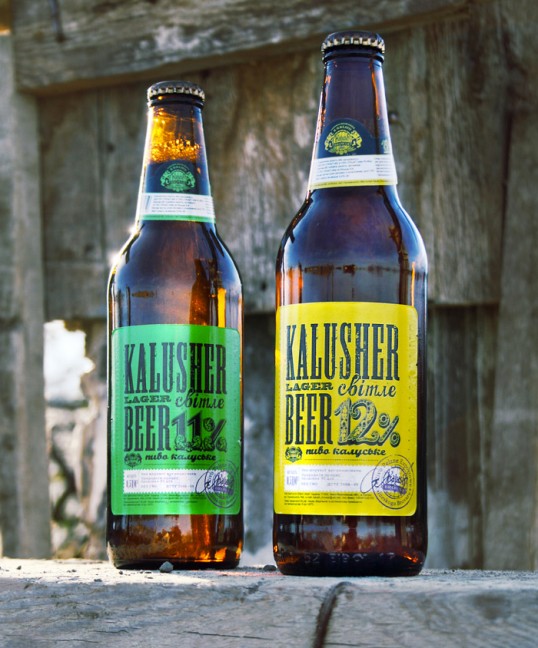 Designed by Umbra Design Studio | Country: Ukraine
"A new beer brand from Kalush Brewery (1565) designed by Umbra Design Studio. Our first project with the brewery was the design for Kaluskie Exportowe which has a very traditional, and vintage design. This new line of beer needed to be more contemporary, and appeal to younger beer drinkers."
December 9, 2012 | 2 Comments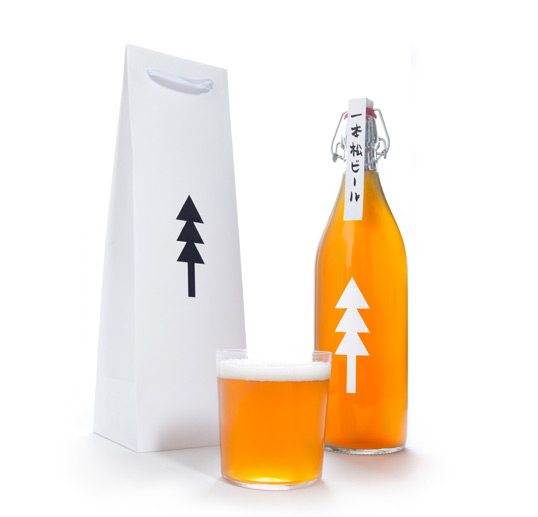 Designed by Kota Kobayashi | Country: Japan
"In the city of Rikuzentakata, a single pine tree stands as a testament to survival after the tsunami of 2011. This beer's name means 'One Pine Tree' and its design is a symbol of charity and hope for Japan's brighter future. A scroll-like, handwritten label seals the top with its story written on the inside. The label is a solitary pine made of three triangles facing up, symbolizing the wish for progress in the reconstruction efforts."
December 7, 2012 | No Comments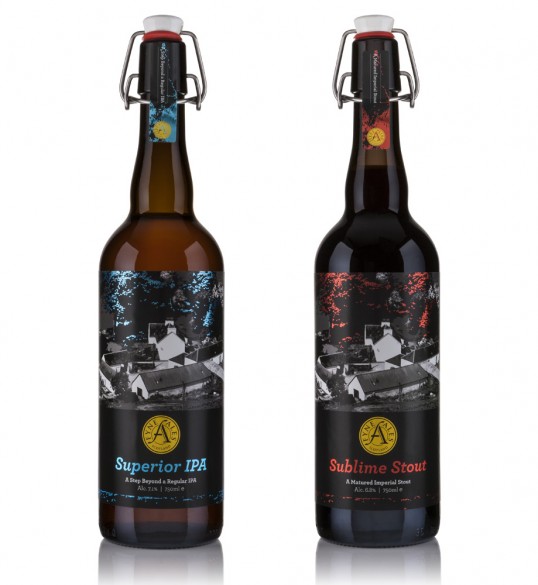 Designed by Matt Burns | Country: Australia
"The brief was to produce 2 pieces of packaging for a Limited Edition 750mL bottle range for Scottish craft brewery Fyne Ales.
The beers themselves were designed to be enjoyed at the end of an evening and shared with good company. I wanted to capture these emotions within the design and allow the bottles to become apart of the drinking experience. By creating a sense of the night I thought this immediately set the tone for the product,  but yet excitement and energy was critical to reflect the occasion accurately, as well as the modern, innovative beer itself. This was achieved by applying streaks of electric colour in the texture, as well as the use of a metallic stock that elegantly captures an warm amber light in an ambient room.
The 2 products, Sublime Stout and Superior IPA, are available at the brewery and through specialist  beer stores within the UK."
November 29, 2012 | No Comments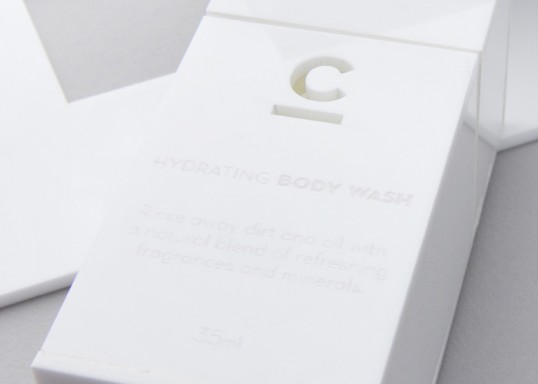 Designed by Daniel Diaz | Country: Australia
"The Prince Hotel is one of Australia's leading boutique hotels situated in St Kilda, Melbourne. The hotel's interior is a collaboration of art, sculpture and designer furniture. C bathroom amenities combines elements of the hotel's modern interior design, giving the clientele a exclusive bathroom amenities range perfectly considered to compliment the interior decor and style."
November 11, 2012 | No Comments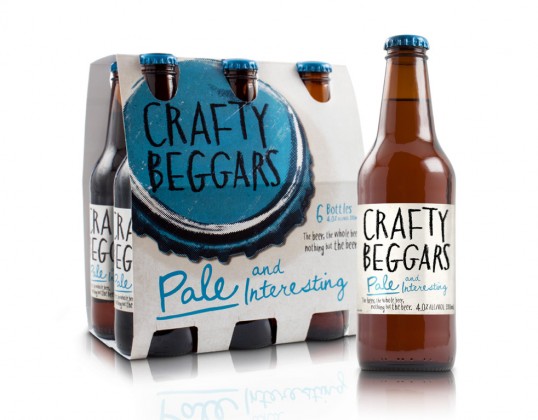 Designed by Curious Design | Country: New Zealand
"When a rogue crew of 9 brewers came together and created the finest beers known to man, they turned to Curious to bring their vision to life.
Thus Crafty Beggars was born.
The understated packaging design reflects all of the values of this 'rogue council of brewers'-honesty, a sense of humour and a desire to make a craft beer that you can actually drink! But don't just take our word for that, crack open a Wheat As, Good as Gold or a Pale & Interesting-and do your tastebuds a favour.
They're crafty, but not too crafty."
October 31, 2012 | No Comments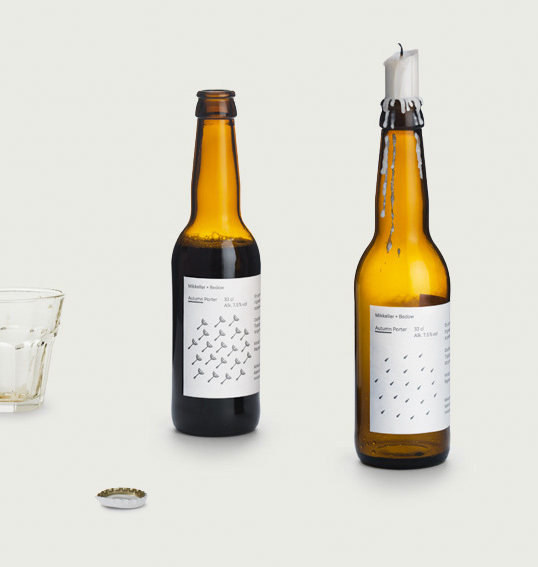 Designed by Bedow | Country: Sweden
"The autumn has come and with it our third beer in the series of four seasonal beers that we do together with the danish brewery Mikkeller. This time it's an Autumn Porter. By experimenting with heat sensitive color we visualize the transition from summer to autumn by a symbol that morphs from dandelion seeds (when the bottle is cold) to rain (when the bottle is warm)."
October 30, 2012 | 1 Comment
Designed by Neumeister | Country: Sweden
"Pistonhead is a brand from Brutal Brewing that has previously launched a number of conceptual beer variants – all inspired by Kustom Kulture aesthetics. Neumeister was assigned to create an expression in line with the current identity, yet allowing a growth of future brand extensions. There was also a need to stretch the brand for a different kind of alcoholic beverage.
Pistonhead Crude Oil is a chili based liquorice shot. Its iconic Calavera skull is the main sender and works as an integrated sub-brand to the Pistonhead name. Printing technique, typography and handling of details are more essential than for any prior line extension. The Kustom Kulture aesthetics simply had to be enhanced even further, preparing the brand to enter a wider spectrum of product categories – without losing its recognition."
October 23, 2012 | 1 Comment
Designed by Clara Tan | Country: Australia
"Zenne is a new, premium brand of organic lambic made in Pajottenland, Belgium. It is named after the Zenne river valley where the yeasts that grow there help ferment the beer through a process called spontaneous fermentation. Elements that hint of a small, handcrafted boutique brewery are added in the design to tell the story of the brand/product."
October 19, 2012 | 20 Comments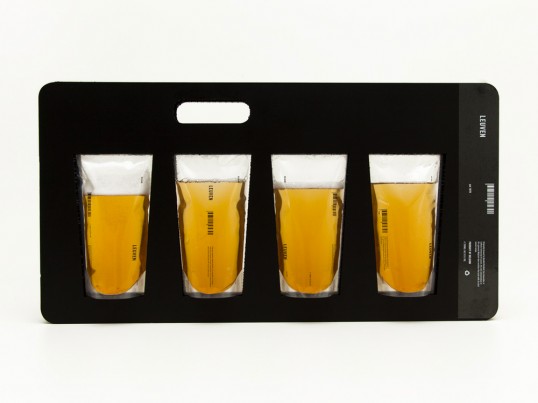 Designed by Wonchan Lee | Country: Australia
"Belgium. Premium. Beer. Those are the three words I had to keep in mind while designing the range.
The aim was to differentiate the brand and packaging from other market competitors as well as clearly communicate and maintain its identity; Premium Belgian beer. 
With the understated colour palette throughout the design the colour of beer creates great contrast and stands out.
Not only the material used in the package is lighter, but also more economical than widely used glass, therefore has advantage to both cost and shipping."