March 11, 2013 | 1 Comment
Designed by Blend-it | Country: Israel
"Og is a sub-brand of Golan Brewerry specializes in limited edition seasonal local premium beer."
March 7, 2013 | 1 Comment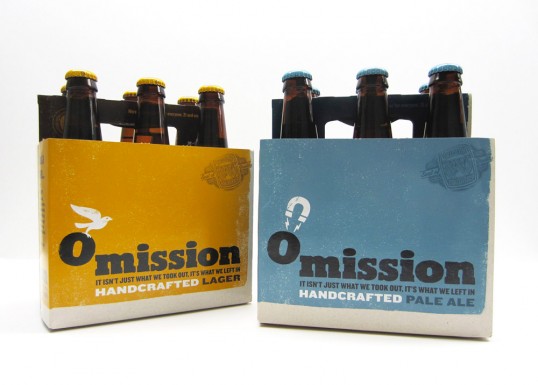 Designed by Hornall Anderson | Country: United States
"With Celiac disease affecting at least 1 in 100 Americans, many beer drinkers are forced to pass up their favorite beverage due to dietary restrictions. To address this problem, Craft Brew Alliance approached brand design firm Hornall Anderson to help them launch Omission—the first craft beer brand in the U.S. focused exclusively on brewing great tasting beer with traditional beer ingredients—including malted barley—specially crafted to remove gluten.
Playing off of Omission's messaging, the Hornall Anderson creative team developed the tagline, "it isn't just what we took out; it's what we left in." They then designed tongue-in-cheek illustrations that reflect the "removal of gluten" (or in the case of the on-pack design, removing the "O" to reveal the word "mission") without omitting great taste. This is whimsically demonstrated by enlisting a variety of vehicles such as a UFO, bird, helicopter, hot airballoon, magnet, and magic wand."
February 4, 2013 | No Comments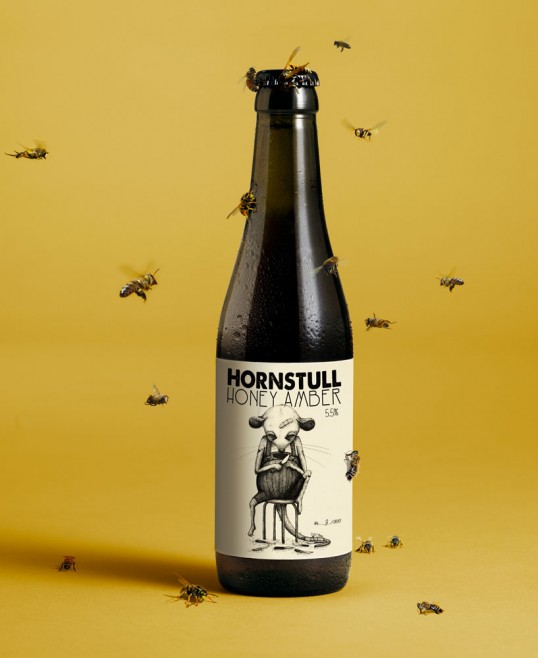 Designed by Abby Norm | Country: Sweden
"Hornstull Brewing Society is a dedicated group of people with small egos and big dreams. Together, they are united by their love of beer and Hornstull.
Hornstull Honey Amber is their bottled tribute to Hornstull, a neighbourhood in southern Stockholm, Sweden. The beer has a special character, unique blend and unpolished qualities. Just like the area itself.
It's an amber ale with honey from a local beehive, brewed by Pangpang Brewery exclusively for Hornstull Brewing Society."
January 19, 2013 | 9 Comments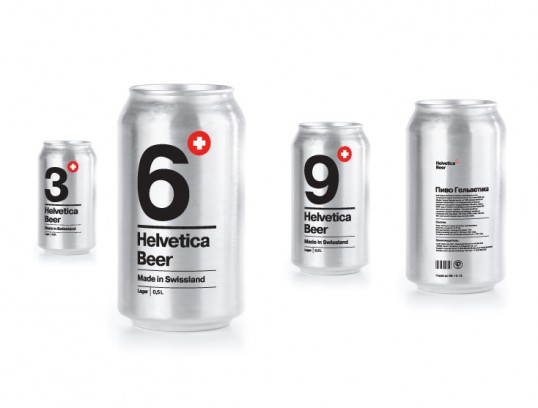 Designed by Alexander Kischenko | Country: Russia
"The task was to create a package design using only typography. I decided to create a packaging for a Swiss beer from Helvetica province brewery. So the font choice was pretty obvious.
The large numeral identifies the alcohol percentage in the beer, and the can color tells about a beer type – lager or stout."
January 7, 2013 | 4 Comments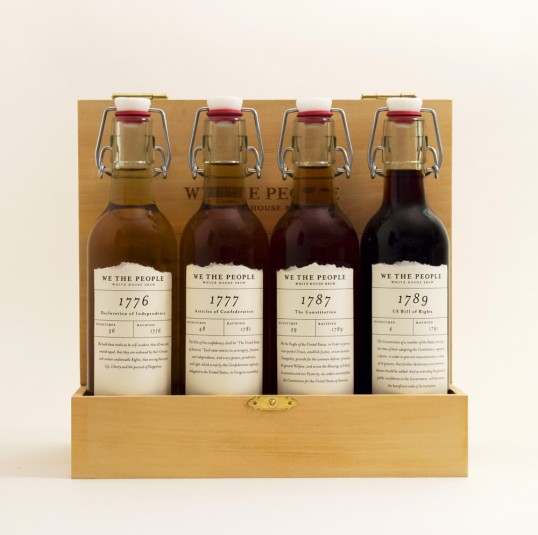 Designed by Michelle Wang | Country: United States
"This is a branding and packaging project for beer being brewed in the White House. Instead of being sold in stores, honorary guests receive this as a limited edition four-pack sampler from the President.  This fictional brand is named We the People, drawing inspiration from the historic documents on which our nation is founded on. The labels on each bottle pay tribute to a different document. Similar to how these documents are displayed in the National Archives in Washington DC, the packaging is meant to be utilized as a display case."
December 19, 2012 | 1 Comment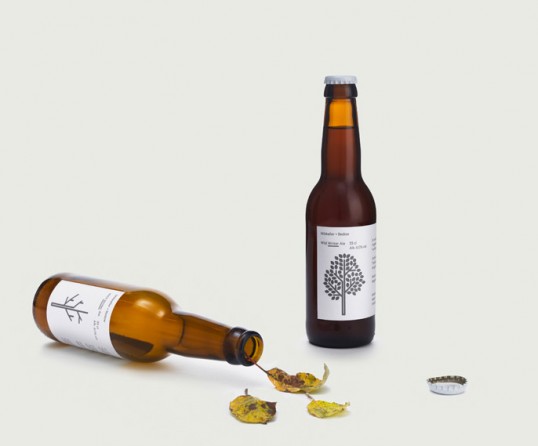 Designed by Bedow | Country: Sweden
"A collaboration with Danish brewery Mikkeller. This Wild Winter Ale is the fourth in a series of four seasonal beers released during 2012. The label is printed with a heat sensitive color — when the label gets warm the apple tree loses its leaves. Limited to 3,500 bottles."
December 18, 2012 | No Comments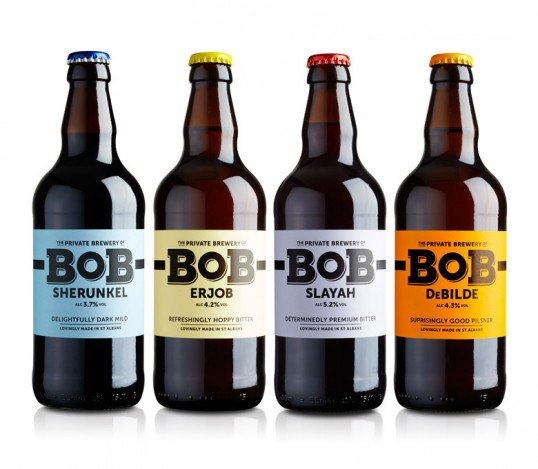 Designed by Distil Studio | Country: United Kingdom
"What do you get when you combine words and phrases with good honest beer?… BoB.
Short for 'Best of British', this St Albans based microbrewery uses quirky wordplay to set them apart.
We've worked with BoB to develop a modern and distinctive brand identity, with a touch of tradition for good measure, and a label system that can adapt to an ever increasing range of amazing beers, bitters and ales. With such inspired beer names as 'BoB Shurunkel', 'BoB Erjob' and 'BoB Bidazzler', we've let the beers do the talking.
The visual hierarchy ensures that the 'BoB' identity works hand-in-hand with each beer name whilst an unconventional colour palette marks this friendly brewery as a true one-off – now fully prepared for an ever increasing demand from local restaurants and pubs."
December 15, 2012 | 1 Comment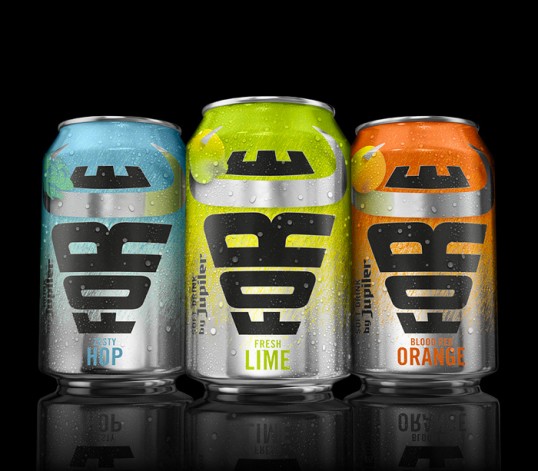 Designed by Mountain | Country: The Netherlands
"Jupiler has become the iconic beer brand for 'real men' in the Benelux. But sometimes, even 'real men' want to enjoy a refreshing drink without the sweetness and without the alcohol.
Jupiler Force is a real innovation in the soft drink category. A naturally brewed soft drink with a familiar taste that only Jupiler drinkers know and love.
Mountain attacked the challenge by asking 'how can the bull step into the world of soft drinks without loosing its identity as a real man's beer?'
The answer, the bull and the typography became one entity where the horns of the bull form the 'C' in Force in a playful and powerful way. Combining the 'typographic bull' with a fresh and lively colour palette created a forceful design that literally steps of the shelves."
December 15, 2012 | 1 Comment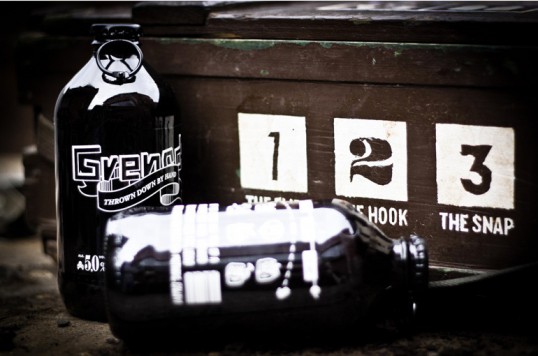 Designed by Audun Stien | Country: Norway
"The story began in San Antonio, Texas 1948 when the children of Mac Frankie started hanging out at the brewery. There wasn't too much to do at the brewery for the young potential alcoholics, so they started playing games with the old corks laying around on the ground. Numerous games were invented at the brewery, and these games have been played all around the world without knowing the names of them. In your hand you have the toughest game of all the one we invented. "The Grenade". Except for being one hell of a tough game we have brewed out most dangerous beer yet, using Frankie's unique centuries old methods. Enjoy!"
December 14, 2012 | 1 Comment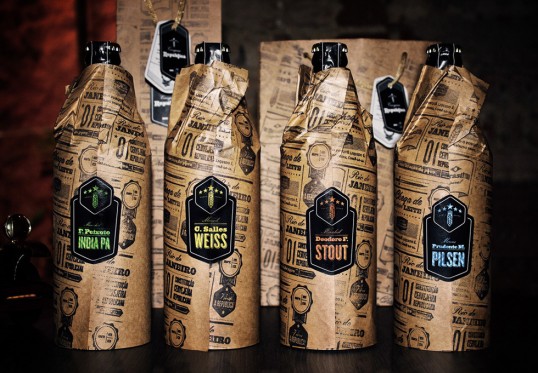 Designed by Gustavo Bife Fernandes | Country: Brazil
"Over the course of six months I defined the brand positioning, and developed the visual identity system for a fictitious beer brand based on the current scenario of the Brazil's beer market. It's the dawning of the "Cervejaria República".
This project defines various aspects that concern those elements of communication, through its naming, voice and visual communication throughout. Within this are the brand's signature (symbols, logo, typography), institutional colors, palettes and patterns, labels, and packaging among others.
It's inspired by three main elements that, combined, serves the brand's guidelines:
- The Wheat, representing beer.
- The Republic, representing Brazil's old republic period.
- Brazilian Style, representing the needs of defining and discussing the dawn of a legitimate brazilian brewing school."