December 13, 2014 | No Comments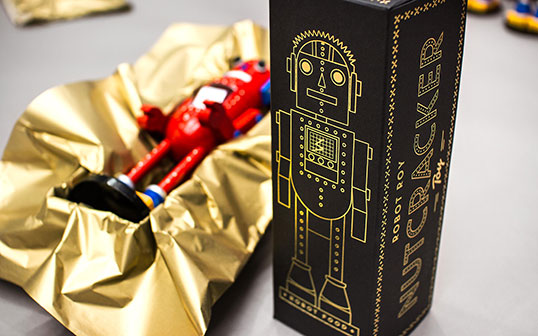 Designed by Robot Food | Country: United Kingdom
"We all love Christmas. But when you're a design agency, the pressure's on. To celebrate the season and their distinctive creative approach, Robot Food gave clients, family and friends something fun, festive and worth making room for on the mantelpiece.   
The specialist branding and packaging agency decided on a traditional wooden nutcracker. With an on-brand robotic twist. First seen in Germany, these ornamental figures have been around since the 15th century. They're usually a wooden solder, knight or king, and are said to possess guardian-like properties because of their imposing presence. One of the inspirations behind The Nutcracker ballet, they're enjoyed the world over for their festive decorative qualities."
October 10, 2014 | 3 Comments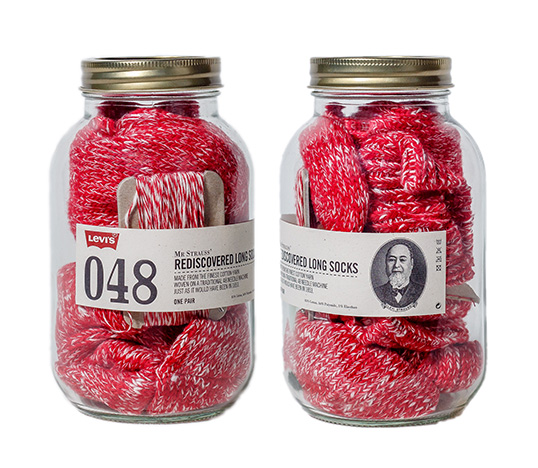 Designed by Mad Projects | Country: Unites States
"To launch Levi's Basics, the brand's new line of men's socks, t-shirts and underwear, Mad Projects (the licensee behind the brand) knew they had to think outside of the traditional 3-pack of briefs. With a product that stands out for its traditional denim elements, they wanted a package that was both aesthetically pleasing and functional. Each package of the 3 Series line is designed to be a keepsake, a memento and used for more than just holding boxers on store shelves.
The 200 series box is designed as a working match strike.
The 300 series is a resealable Tyvek bag, perfect for keeping coffee grounds fresh.
And the 400 series is made of authentic wood paneling."
September 14, 2014 | 8 Comments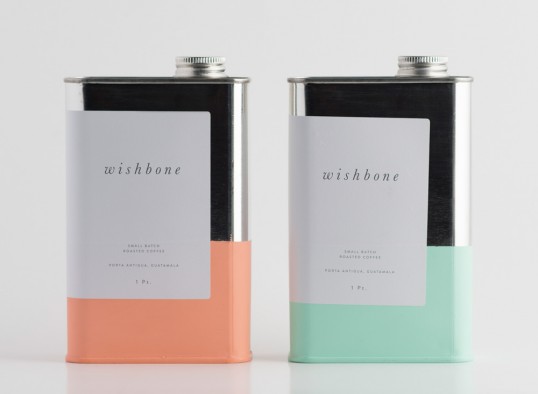 Designed by Also Known As | Country: Canada
"The client and project overview: Earlier this year we gave ourselves a challenge: to re-imagine the traditional approach to packaging coffee and create something that we could share with our clients and friends – and so, Wishbone Brew was born. Conceptualized and created by the team at AKA and assembled together by hand, it's been a long time in the making — but worth the wait in order to share & enjoy it with some of our favourite people.
The design and creative solution: Our main objective was to re-think traditional packaging methodology. Used as a tool to showcase our ability to think & work beyond convention, we determined from the out-set that drawing inspiration from uncommon sources was essential to the success of the project. Cue the Turpentine: An attractive shape, an airtight seal, something unexpected. This container delivered on all counts, but how to break from the unfriendly, industrial, and for all intensive purposes toxic associations we as consumers have made with that form?
A bright yet soft colour palette combined with elegant and approachable serif type helps soften the brand against the harshness of material. A quick sanding, prime, and dip in paint helps add some individuality among the products and re-enforces the handmade nature of the product, No two wishbones being exactly the same."
August 20, 2014 | 2 Comments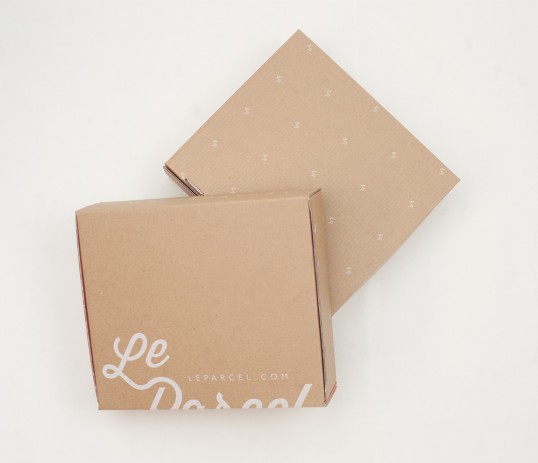 Designed by Seven Fifty Five | Country: United States
"The 2015 Le Parcel packaging system is the 3rd round of packaging systems Seven Fifty Five has created for Le Parcel. Each iteration serving a new purpose; a response to challenges faced by the company's subscription business model.
The challenges to address with this edition of Le Parcel's packaging was first, weight. To accommodate this need the framework of the box had to be completely redesigned, including the use of a lighter-weight cardboard box. Graphics, including the bold pink interior, are silk screened rather than printed on a paper label – a typical graphic application."
May 27, 2014 | No Comments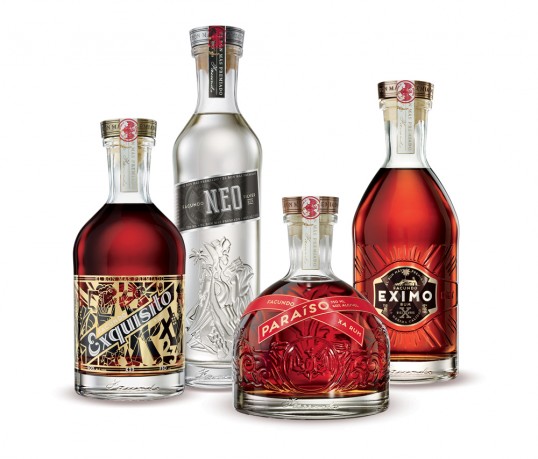 Designed by Duffy & Partners | Country: United States
"The Facundo Rum Collection is the first-ever collection of four aged sipping rums from Bacardi, each with its unique personality and craftsmanship. The Facundo Rum Collection is a tribute to Bacardi founder Don Facundo Bacardi Masso and his relentless pursuit of producing rums of unsurpassed quality and refinement. Now, with The Facundo Rum Collection, connoisseurs everywhere can share in this revered tradition as rum is elevated to an art form.
Duffy & Partners, the internationally recognized branding and design firm, designed decanter-like bottles, inspired by Cuba's Golden age of art deco. Each is custom designed as a celebration of each unique experience for the rum drinker."
May 23, 2014 | 1 Comment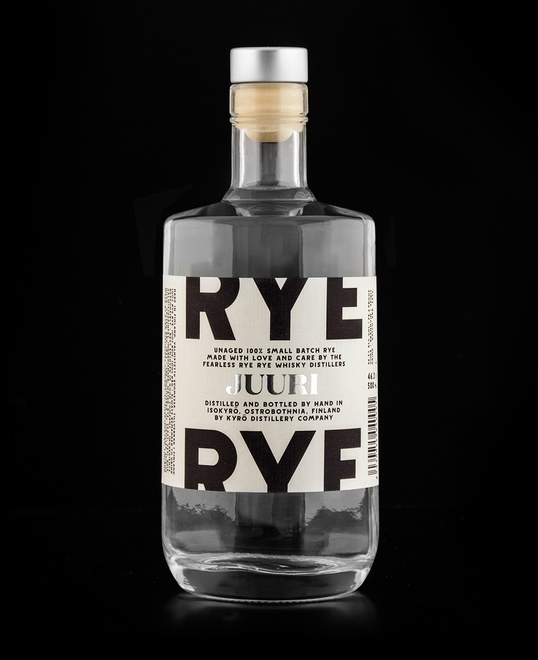 Designed by Werklig | Country: Finland
"The distillery is based in the heartlands of Finnish Ostrobothnia. The first batch of the whisky won't be available until 2017, but an initial product called Juuri (Root) is already in production to be used in cocktails. More products will be developed and made in small batch style as the production evolves. The company also has clear-cut plans for entry into the international market, aiming boldly at global metropolises such as London, Berlin, Hong Kong and Tokyo.
This sort of brand evolution meant that the identity needed stand the test of time and changes: it had to be clean, fresh and easy to use still after a couple of years when the first whiskys are matured."
April 21, 2014 | No Comments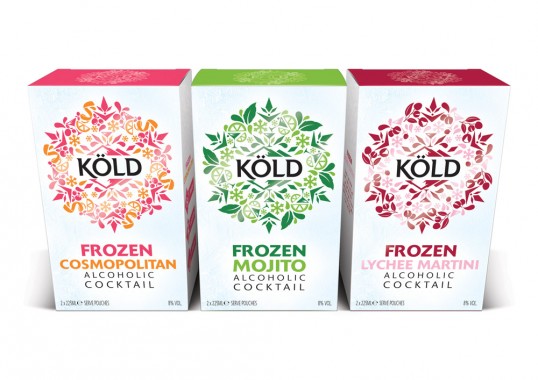 Designed by Slice Design | Country: United Kingdom
"Nick came to us with his idea of creating authentic high-quality RTD frozen cocktails and challenged us with the task of identifying a positioning, naming and packaging design for the brand.
The current competitors in the market did not emulate the flavour and quality of hand mixed cocktails. We identified a brand positioning for Köld, which focussed on the idea of sophisticated urban cool and tapped into the trend for all things Scandinavian. This allowed the brand to be clearly differentiated from the competitors who mostly focussed on fun with fruity sweet cocktails. Köld targets those who enjoy authentic cocktails and want to be able to recreate this taste experience at home. Köld cocktails are sealed into individual serve pouches which are placed in the freezer and then squeezed into your glass and served KÖLD, a perfect cocktail guaranteed every time.
As it is a frozen cocktail, we wanted something clear, pure and unique. The snowflake gave us the opportunity to create something bold and iconic for impact at fixture, whilst allowing the flexibility for individual flavour communication."
October 20, 2013 | 1 Comment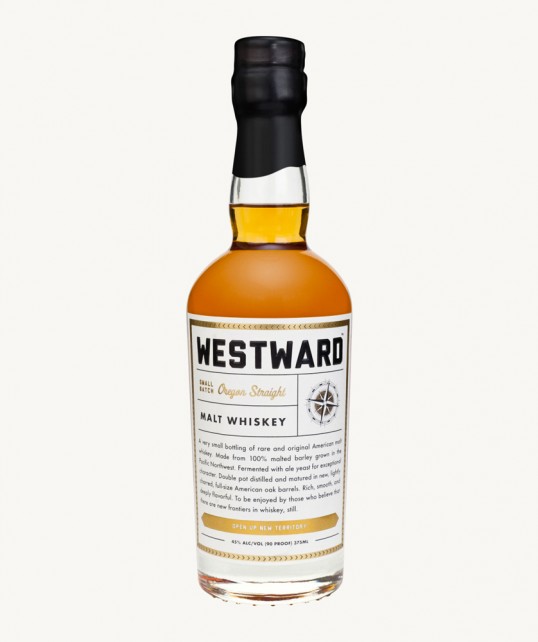 Designed by Namesake | Country: United States
"Westward Whiskey is a very small bottling of rare and original American malt whiskey, distilled and bottled by House Spirits Distillery in Portland, Oregon. Made from 100% malted barley grown in the Pacific Northwest, Westward is fermented with ale yeast for exceptional character, and double pot distilled and matured in two-char American oak barrels.
The visual language was designed to reflect Westward's original take on a traditional and well-respected spirit, and to further establish Westward as a premier offering. Each element of the label was developed with this focus in mind. The branding salutes Westward's exploratory approach to making whiskey while the smaller sized bottle emphasizes the specialty of the spirit in hand. Details like beveled embossing, black and gold foil, and a wax seal closure were used to encourage the tactile experience of enjoying whiskey."
September 8, 2013 | No Comments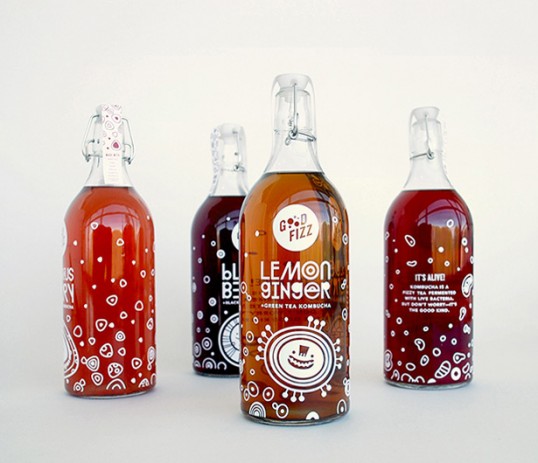 Designed by Lydia Nichols | Country: United States
"Good Fizz is an MFA project conceived to explore both branding and packaging for an invented kombucha company. Embracing the fact that kombucha is comprised of tiny living organisms, each bottle features happy illustrations of floating bacteria as well as custom type that wraps the entire bottle. The paper seal on top lists ingredients along with the warning, "Don't Shake! It's Fizzy Enough Already." 
September 1, 2013 | No Comments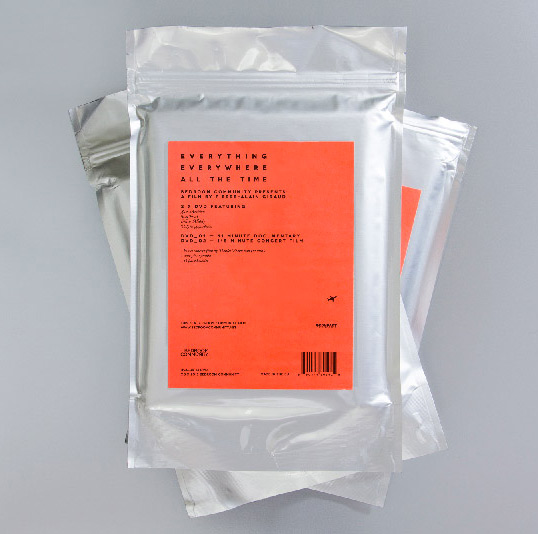 Designed by The Bakery | Country: Russia
"The Bedroom Community commissioned us to design DVD packaging for the film about the label, directed by Pierre-Alain Giraud. The camera catches Sam Amidon, Valgeir Sigurdsson, Nico Muhly, Ben Frost & their collaborators on their Whale Watching Tour, that takes place during the volcano eruption a couple of years back. It also features some insight into artist's work at Greenhouse Studios, their ethos, tour life, etc. The design is based on the idea of perpetual movement & traveling. While the vacuum-sealed package is a nod to snacks you have on the run, the typographic solution inside evolves around the idea of a compass. Set in different directions, text demands reading at various angles as though it's a map one has to navigate through."