April 21, 2014 | No Comments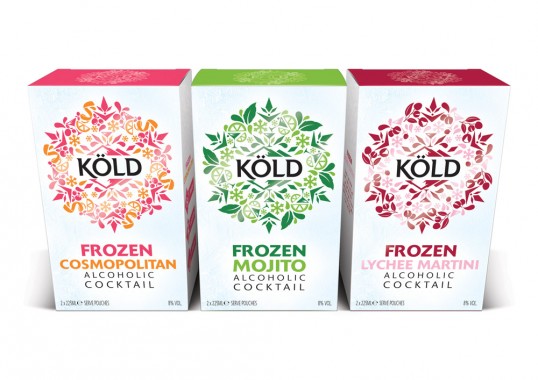 Designed by Slice Design | Country: United Kingdom
"Nick came to us with his idea of creating authentic high-quality RTD frozen cocktails and challenged us with the task of identifying a positioning, naming and packaging design for the brand.
The current competitors in the market did not emulate the flavour and quality of hand mixed cocktails. We identified a brand positioning for Köld, which focussed on the idea of sophisticated urban cool and tapped into the trend for all things Scandinavian. This allowed the brand to be clearly differentiated from the competitors who mostly focussed on fun with fruity sweet cocktails. Köld targets those who enjoy authentic cocktails and want to be able to recreate this taste experience at home. Köld cocktails are sealed into individual serve pouches which are placed in the freezer and then squeezed into your glass and served KÖLD, a perfect cocktail guaranteed every time.
As it is a frozen cocktail, we wanted something clear, pure and unique. The snowflake gave us the opportunity to create something bold and iconic for impact at fixture, whilst allowing the flexibility for individual flavour communication."
October 20, 2013 | 1 Comment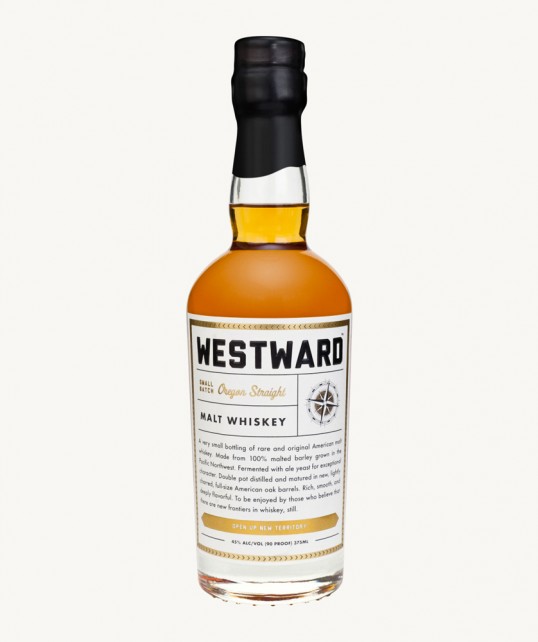 Designed by Namesake | Country: United States
"Westward Whiskey is a very small bottling of rare and original American malt whiskey, distilled and bottled by House Spirits Distillery in Portland, Oregon. Made from 100% malted barley grown in the Pacific Northwest, Westward is fermented with ale yeast for exceptional character, and double pot distilled and matured in two-char American oak barrels.
The visual language was designed to reflect Westward's original take on a traditional and well-respected spirit, and to further establish Westward as a premier offering. Each element of the label was developed with this focus in mind. The branding salutes Westward's exploratory approach to making whiskey while the smaller sized bottle emphasizes the specialty of the spirit in hand. Details like beveled embossing, black and gold foil, and a wax seal closure were used to encourage the tactile experience of enjoying whiskey."
September 8, 2013 | No Comments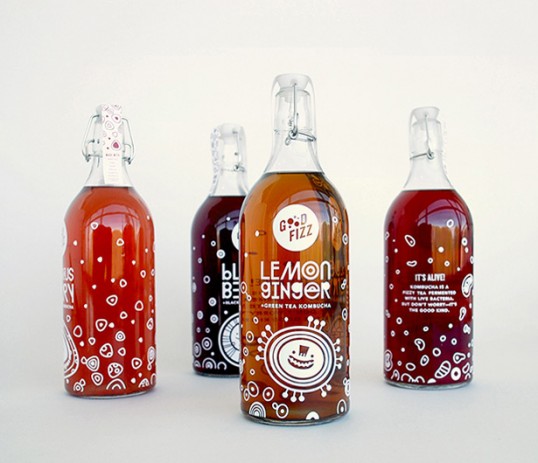 Designed by Lydia Nichols | Country: United States
"Good Fizz is an MFA project conceived to explore both branding and packaging for an invented kombucha company. Embracing the fact that kombucha is comprised of tiny living organisms, each bottle features happy illustrations of floating bacteria as well as custom type that wraps the entire bottle. The paper seal on top lists ingredients along with the warning, "Don't Shake! It's Fizzy Enough Already." 
September 1, 2013 | No Comments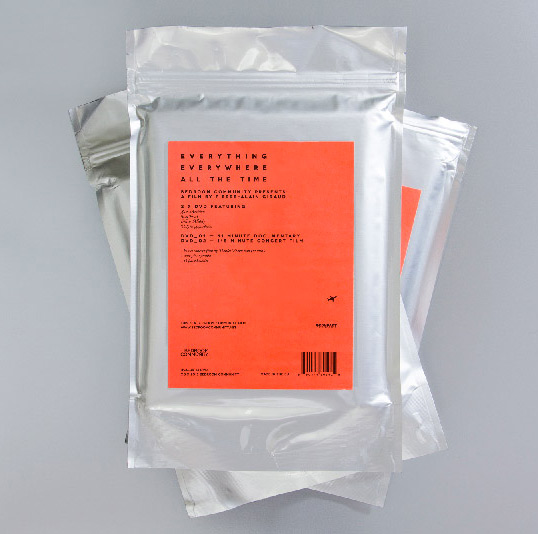 Designed by The Bakery | Country: Russia
"The Bedroom Community commissioned us to design DVD packaging for the film about the label, directed by Pierre-Alain Giraud. The camera catches Sam Amidon, Valgeir Sigurdsson, Nico Muhly, Ben Frost & their collaborators on their Whale Watching Tour, that takes place during the volcano eruption a couple of years back. It also features some insight into artist's work at Greenhouse Studios, their ethos, tour life, etc. The design is based on the idea of perpetual movement & traveling. While the vacuum-sealed package is a nod to snacks you have on the run, the typographic solution inside evolves around the idea of a compass. Set in different directions, text demands reading at various angles as though it's a map one has to navigate through."
July 3, 2013 | 5 Comments
Designed by B&B studio | Country: united Kingdom
"B&B studio has rebranded Jealous Sweets, a UK entrepreneur looking to bring credibility to candy with its range of delicious and high quality sweets for grown-ups. Jealous specialises in gummy and jelly treats that are made without gelatine, artificial colours or flavours, so they're 100% vegetarian, gluten-free and full of natural fruit juices."
"The existing Jealous packaging wasn't working hard enough to communicate the brand's premium positioning and the purity of its products," explains B&B studio Creative Partner Shaun Bowen. "And the Jealous name had no real link back to the sweets themselves. We set about linking the two through the idea of 'covetable candy' – a concept that we visualised using a precious jewel icon and a characterful Magpie with an eye for something special."
June 22, 2013 | 1 Comment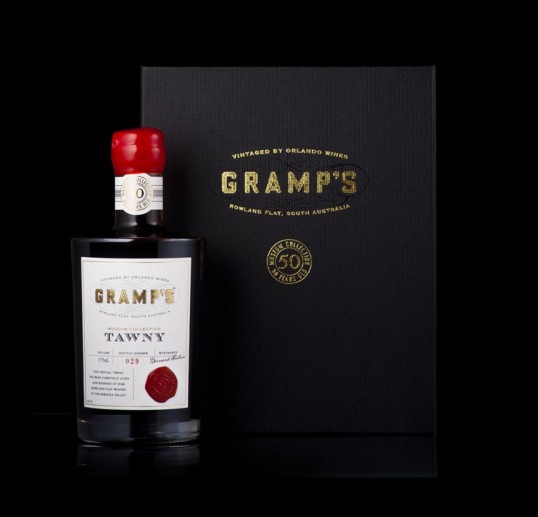 Designed by _Co Partnership | Country: Australia
"Following our refresh of the Gramp's range of premium wines, _Co were briefed to design the 50 year old Museum Tawny, the jewel in the Gramp's family crown. Great things come in small packages and in threes; the limited release of 300 x 375ml bottles, retails at AU$300 per bottle. Showcased in a luxury customised box, this rare and prestigious parcel of wine was a delight to hand craft. We chose a premium Saver Glass bottle and designed a wax seal which was hand applied to every label."
May 22, 2013 | 1 Comment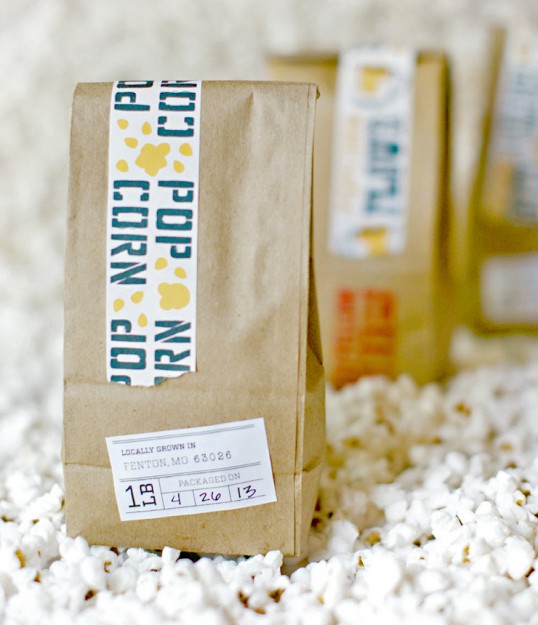 Designed by David Rygiol | Country: United States
"Yellowtree farm is a specialty organic farm producing rare and amazing foods out of St. Louis, MO. This packaging for their popcorn, popcorn grits, and popcorn flour begins with a 100% recycled and compostable bag. The bag is stamped with a wood ring pattern and logo, then sealed with the product tape and labeled with production details. The wood ring pattern visualizes both the farm's name and the topography of the land. Each Package is produced by hand by the farmer, ensuring that every product carries his special touch – from farm to market. Trust your food!"
April 22, 2013 | 3 Comments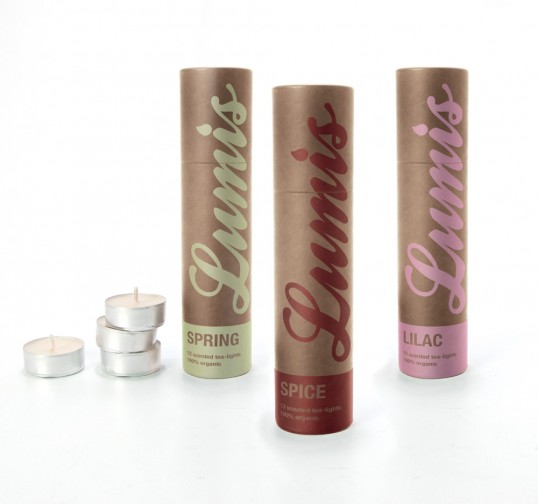 Designed by Megan Sarah | Country: Canada
"Lumis is an environmentally conscious candle company. I designed packaging for their tea-lights to honour this commitment to sustainability. A recycled cardboard container with a lid will protect the candles better during transport and also be re-sealable after opening. Once the candles are gone the consumer can re-purpose this container to store something else, or easily recycle it. Allowing the natural cardboard to show, and using simple graphics and a single colour makes it instantly apparent that the minimum amount of materials and resources were used for the package. The tactile qualities of the cardboard and natural inks convey quality while also providing effective and attractive storage."
February 20, 2013 | No Comments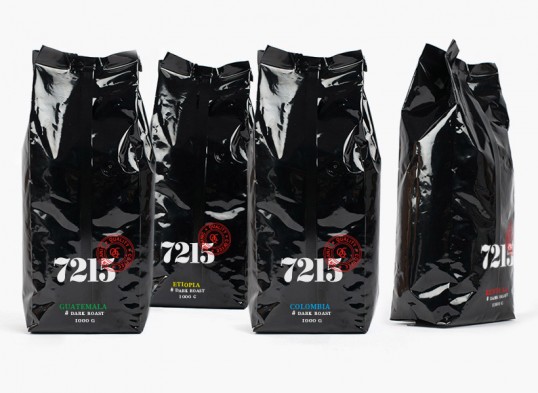 Designed by Blanc | Country: Sweden
"7215 is an all organic brand that specializes in coffee and chocolates with their own trademark – Organic Quality Coffee. 7215 wanted a modern and exclusive look for their products. The key words being Quality, Robust, Exclusive and Trendy. The aim is to get fashionable and wealthy city people, with a desire to choose organic products, to buy their high quality products and visit their coffee shops. The logo was created to capture the robust nature of coffee with the blackness of the font, together with the sense of exclusive quality in the stamped red seal."
February 15, 2013 | No Comments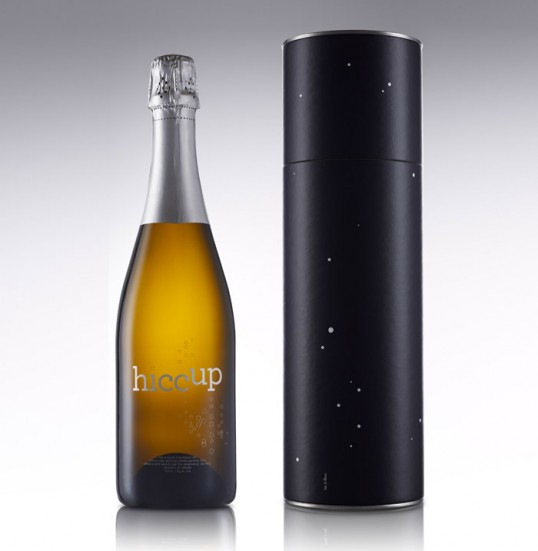 Designed by Up Inc | Country: Canada
"For its 2012 holiday gift, branding firm Up Inc sent clients a handcrafted bottle of traditional-method sparkling wine. And, since printing on glass was a novel experiment, two custom packages were created—each featuring a playful name, festive holiday messaging and light-hearted design.
Bottles were silk-screened with silver-metallic ink (requiring six full days to dry), and protected in paper-wrapped shipping tubes—also designed to accent the contents within. All tubes were sealed with personalized labels, adding a friendly finishing touch."