February 10, 2013 | 5 Comments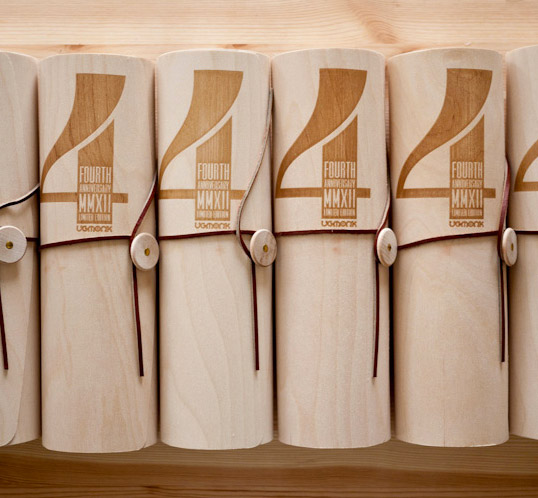 Designed by Jeff Sheldon | Country: United States
"To celebrate 4 years of Ugmonk we created a special Limited Edition 4th Anniversary Set featuring a custom designed number 4. There are only 200 of these sets ever made. The 4th Anniversary Tee features a soft water-based print on black 100% ringspun cotton tee and is carefully packaged in a custom flexible birch wood cylinder that is laser-engraved with the 4th anniversary seal.
When you fold back the flexible closure on this unique packaging, you'll find the shirt accompanied by a numbered, solid wood letterpress block featuring the Ugmonk Anniversary "4." These blocks were custom cut from Ginkgo wood that was reclaimed from a local estate. You can read the whole story about the wood here.
The final piece of the set is a collector's card that I personally signed and hand-stamped with one of the letterpress blocks."
January 28, 2013 | 5 Comments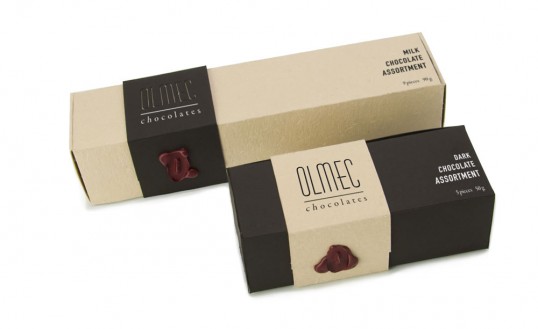 Designed by Lia McMillan | Country: Canada
"The project was to create an environmentally sensitive package for a box of chocolates.
Olmec Chocolates differentiate themselves by showcasing their raw, organic aesthetic. The box itself is made of 100% recyclable material. The chocolates are stacked on top one another and separated by a single strip of wax paper, eliminating the usual plastic mould and individual wax paper cups. The name of each chocolate is printed on the inside the box and coincides with the chocolate itself, as apposed to a more traditional legend that is typically printed on a separate piece of paper. The belly band is also made of recyclable material, and is held together by a wax seal."
January 22, 2013 | 4 Comments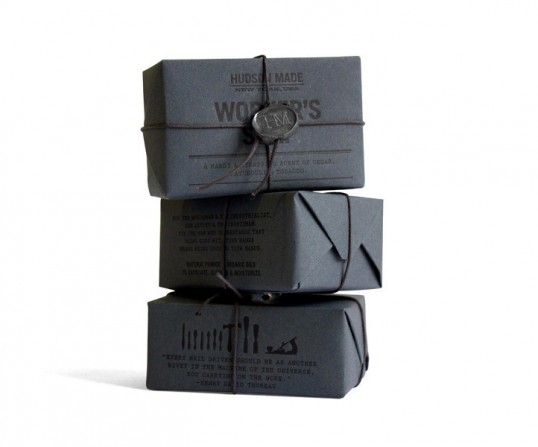 Designed by Hovard Design | Country: United States
"Introducing the Hudson Made Worker's Soap. This small batch artisanal product is for the man (or woman) who understands that being good with your hands means being good to your hands.
Hudson Made packaging references a time in history when every item was individually boxed and packed by hand upon production. Hand wrapped and string tied with a lead seal, each soap is securely protected and unique. The incorporation of traditional printing and letterpress typography on sustainable paper creates a valued product presentation.
All of Hudson Made's packaging is manufactured locally and meticulously selected for a truly regional product. The typography itself is balanced between contemporary simplicity and the heritage implied by nineteenth-century design."
December 26, 2012 | 5 Comments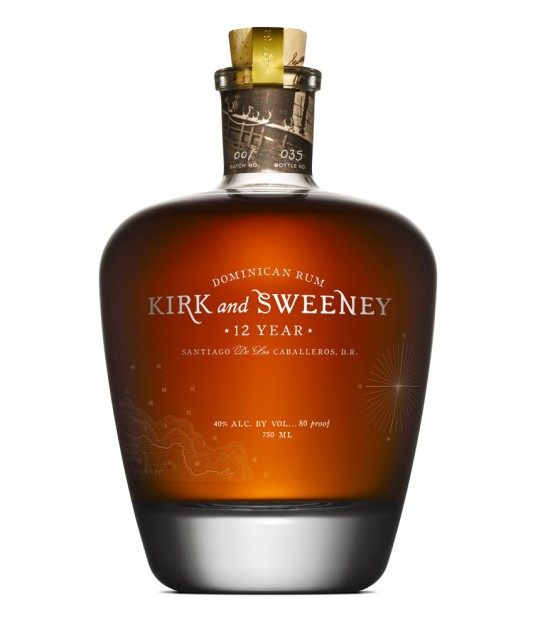 Designed by Studio 32 North | Country: United States
"Kirk and Sweeney was a wooden schooner, best known for smuggling rum from the Caribbean to the Northeast during the early years of Prohibition. The bottle and the raised cork were inspired by the elegantly squat 18th-century onion bottles, which typically contained rum. Playing off the concept of global navigation, an antique nautical map of the main rum smuggling route is silkscreened around the circumference of the bottle. The neck features custom hand-numbering, which speaks to the rare and precious nature of the cargo. Along with the ornate logo, the photo of the ship and the safety seal printed to look like nautical brass, the design serves as a reminder of the risk so many were willing to take for a taste of quality Carribean rum during the 1920′s."
December 11, 2012 | 2 Comments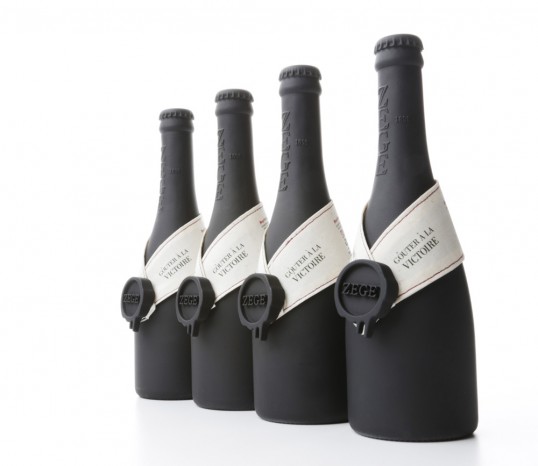 Designed by Aveline Gunawan | Country: Australia
"Bottle and 4 pack design for a premium Belgian beer. The aim was to differentiate the brand and packaging from other Belgian beers.
ZEGE is Dutch for victory. This premium Belgian beer was made to reminisce King Leopold's triumph. The labels were designed to resemble a medal and the black bottle adds a strong and elegant look to the brand.
The labels were printed in cotton and sewn together. The wax seals were 3d printed using resin as the material.
The four pack design reflects the king's chair with the quote laser printed on the wood: "Goûter à La Victoire" which means 'Taste the victory'."
December 10, 2012 | No Comments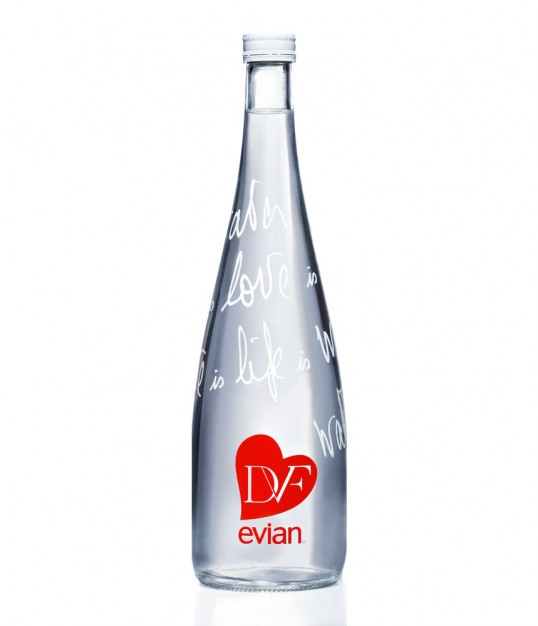 Designed by Diane Von Furstenberg | Country: United States
"Diane Von Furstenberg & Evian® have partnered to design the latest limited edition bottle, which reflects a playful celebration of life.
For the collaboration, DVF drew inspiration from her personal relationship with evian water and her own love of life: "I am so excited about this collaboration because I have always loved evian and I think drinking water is one of the most important things we can do to love ourselves and love is life! To me it is all about living life to the fullest and I am so proud to work with evian to spread such an important message," said Diane Von Furstenberg.
Diane von Furstenberg is the first American and female designer to join the renowned group of designers who have previously collaborated with the brand including Issey Miyake, Paul Smith, Jean Paul Gaultier, Christian Lacroix and Courrèges. Since launching in 2008, more than 10 million limited edition bottles have been sold in over 150 countries.
The bottle, composed of 100% recyclable packaging, is sealed with evian's new screw cap design. The bottle also features a nod to DVF's iconic mantras with "Water is Life is Love is Life is Water is.." which graces the bottle with her own distinct handwriting along with the ubiquitous heart DVF logo in a special hue of red, created exclusively for the Evian® collaboration." 
December 9, 2012 | 2 Comments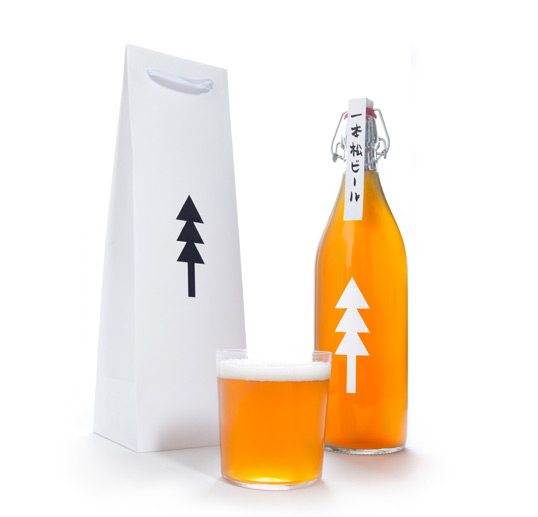 Designed by Kota Kobayashi | Country: Japan
"In the city of Rikuzentakata, a single pine tree stands as a testament to survival after the tsunami of 2011. This beer's name means 'One Pine Tree' and its design is a symbol of charity and hope for Japan's brighter future. A scroll-like, handwritten label seals the top with its story written on the inside. The label is a solitary pine made of three triangles facing up, symbolizing the wish for progress in the reconstruction efforts."
September 17, 2012 | No Comments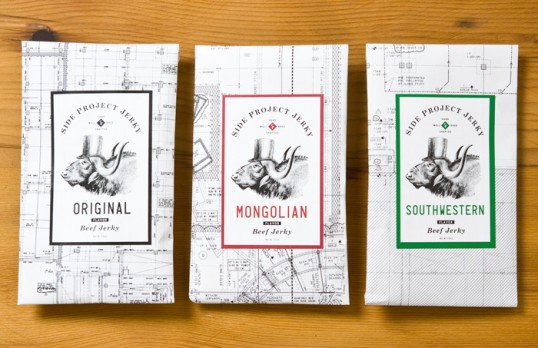 Designed by A Well Respected Man | Country: United States
"Side Project Jerky is the result of countless hours spent testing marinades and drying times for perfectly flavored and textured jerky. Born in the kitchens of work colleagues Marcos Espinoza and Mark Novasack and ultimately conceptualized over a few pints with the help of brand strategist Daniel Olsovsky, Side Project offers its customers a pause from the demanding life of a gentleman. Each flavor is first vacuum sealed and individually hand wrapped in its own (unique) re-purposed mechanical drawing that would otherwise be tossed in the trashcan (we hate wasting paper) The packaging also references Marcos's primary occupation as a construction manager."
August 27, 2012 | 4 Comments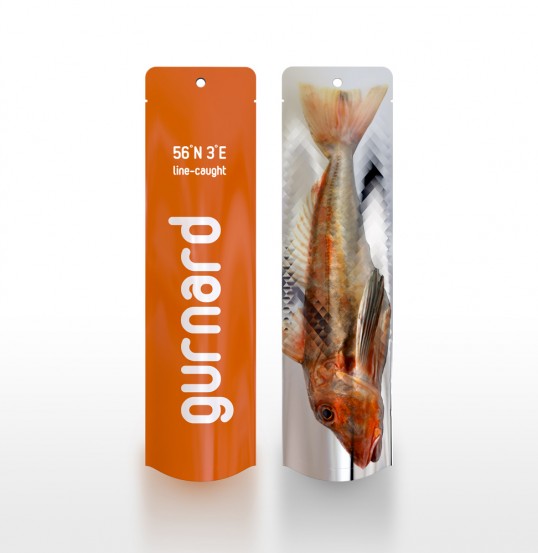 Designed by PostlerFerguson | Country: United Kingdom
"Supermarkets are expanding their fresh fish offerings to include more sustainable species like gurnard, mackerel and skate. These fish are cheaper and just as tasty, but customers often shy away from them because they are unfamiliar and occasionally just plain ugly.
This fish packaging proposal helps put these fish back on equal standing with their more recognized brethren by placing them in an attractive and highly recognizable packaging solution. The packages are intended for use at fresh fish counters. Constructed from a double layered polyethylene, they are airtight, resealable and can be filled with ice for transport to keep your fish fresh until it hits the pan!" 
August 20, 2012 | 1 Comment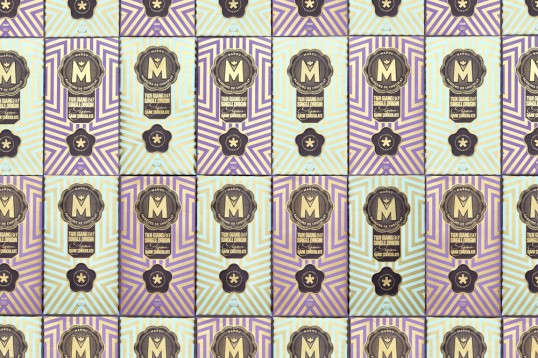 Designed by Rice Creative | Country: Vietnam
"When Wallpaper* Magazine discovered Marou Chocolate, our client, they felt that this singular dark chocolate, hand-crafted in Saigon using purely local ingredients was a perfect match for their third annual Handmade issue (an issue with a focus on unique products combining luxury, craft and inspiration). Marou offered to create a special edition Wallpaper* chocolate bar in time for exhibiting at the 2012 Salone de Mobile in Milan. The packaging we designed for this occasion would stay true to the inspiration behind the standard Marou chocolate bars and press further the attention given to lovingly hand printed details. We strayed some from the traditional motifs of the standard bars to embrace a more modernist approach while incorporating the well known Wallpaper* asterisk mark. It began by creating a new background pattern, which moved away from the traditional lattice and organic elements, replacing them by geometric elements forming an extension of the Wallpaper* asterisk.
The same hand mixed inks and screen-printing methods used on the standard Marou packs were employed, but a new palette of hues would be used, derived from the Wallpaper* handmade seal. The seal even informed a limited edition version of Marou's Monogram for this occasion. The final touch of hand embossing some of the pack's design elements set the stage for a fully considered hand crafted piece."