July 28, 2011 | 3 Comments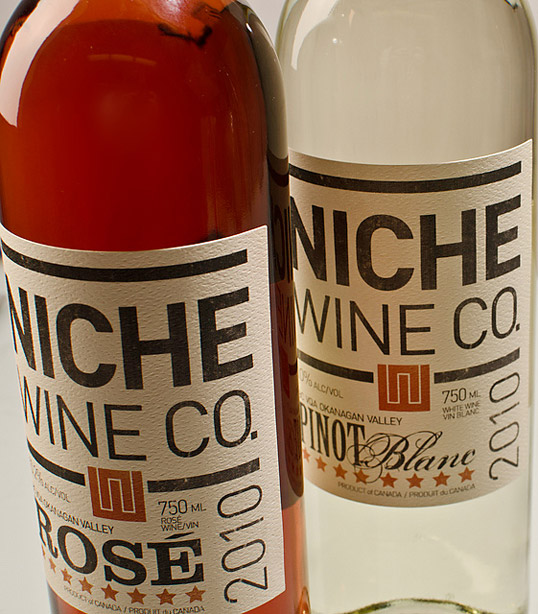 Designed by Topshelf Creative & Geoff Vreeken | Country: Canada
"The idea was to bring a craft beer feel to the wine category. A masculine, old letterpress approach used to demonstrate the fact that the winery is essentially a four-person, hands-on operation … much like craft brewing."
July 27, 2011 | 7 Comments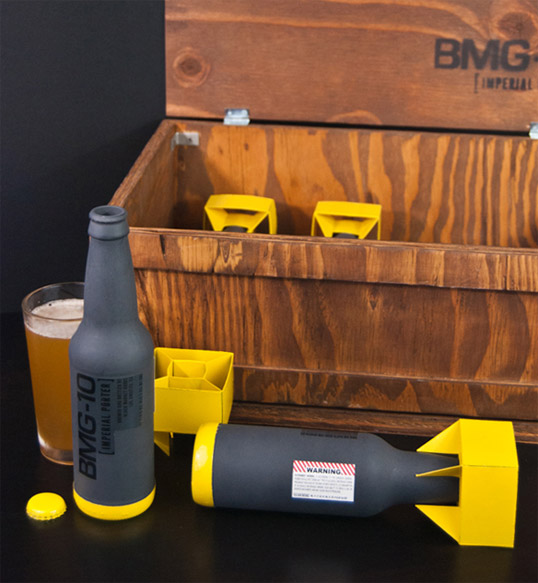 Designed by Marco Manansala | Country: United States
Conceptual packaging from Los Angeles based designed Marco Manansala.
"The project was to create a promotional beer packaging piece for a fictitious brewing company called, Black Market Goods. Because of the company name, the bottles were created to resemble illegal weapons sold in the black market. Each bottle took about 10 hrs to create due to the long drying times of the primer paint used for the body. Shiny yellow engine enamel was used on the removable fins, cap and on the base of the bottle to offset the matte color of the primer. Finally, a wooden box with a bracing system was designed and constructed to hold the bottles in place during transportation."
July 22, 2011 | 2 Comments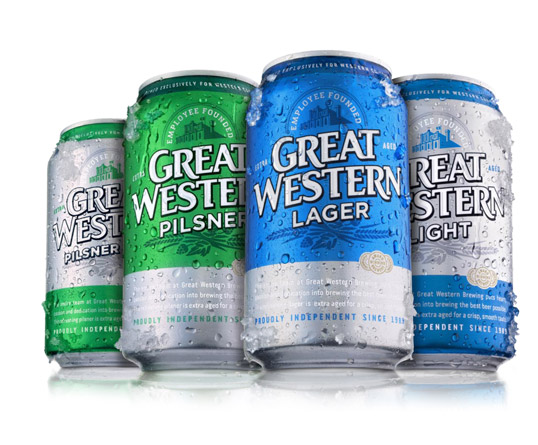 Designed by St. Bernadine Mission Communication Inc. | Country: Canada
"Saskatoon, Canada's Great Western Brewing Co's eponymous family of beers has been a regional favourite for over 20 years. In advance of moving into new markets, Saint Bernadine Mission Communications was asked to update the brand to better reflect the mainstream flavour profile and positioning and increase shelf presence.
Key messaging included refreshment, heritage, tradition, and dedication to quality, shown by research to be important to core consumers.
The existing logo was reworked to retain key characteristics and improve readability and shelf presence. A die cut label and award seal represent quality, the employee founded statement celebrates heritage, the brewery graphic acknowledges tradition, and the "extra aged" text highlights a true point of difference in their brewing process that results in much smoother beers. As well, a section was provided to enable someone to "dedicate" a case of beer to by way of thanks. The design system needed to accommodate four (and potentially more) flavours.
July 15, 2011 | 8 Comments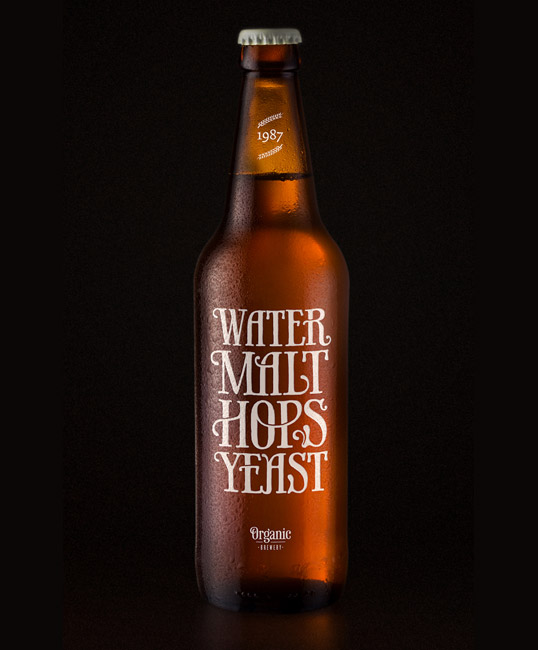 Designed by Simon Ålander | Country: Sweden
"This was an assignment for school where I was asked to design some sort of packaging — so I decided to make a fictional beer label. The reason that I wanted to make a beer label was because I like the format of the bottle and I wanted to experiment with that. Water, malt hops & yeast is an organic lager made for design-conscious people who also think about the environment.
The label on the front is a customized hand-drawn version of the beautiful typeface Phaeton with lots of soft curves to enhance the ecological feeling of the label."
July 2, 2011 | 11 Comments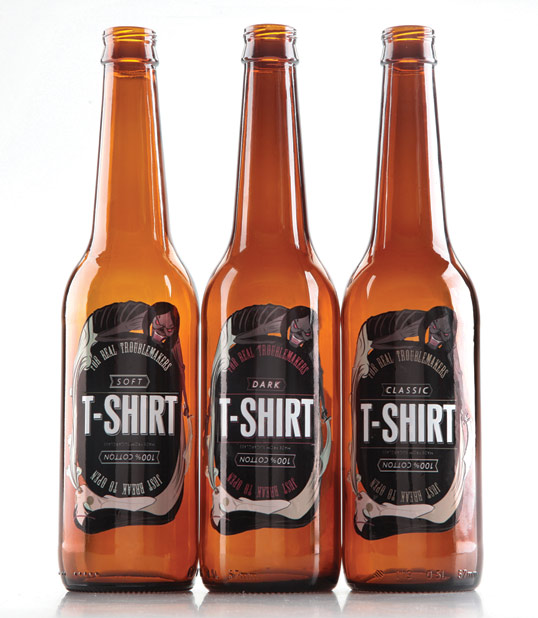 Designed Anna Leushina | Country: Russia
"T-shirts are packaged into recycled beer bottles, the most popular drink in underground culture. The bottles are smashed to get the t-shirt out –according to an underground practice of fighting with bottles and using them like a self-defence device.
Like different beer types and music styles, shirts are divided into three types – soft, classic and dark. The illustration can be turned both up and down to look properly and symbolize an eternal circle."
June 20, 2011 | 11 Comments
Designed by Oliver Lan | Country: United States
"Broken Bottle asked us to develop a brand that packages their beer with a lot of bite. We centered the brand around their name and as 'a strong hitting beer.' The brand harkens to a time where beer is centered around craftsmanship. However, the packaging reflects the broken name and the beer's hard-hitting flavor. The various elements of the package are cut into different sections and applied over stripped and worn cardboard. The typography is a mess. The bottles are bandaged. The handle is taped together. It's a broken beer with broken packaging."
June 4, 2011 | 4 Comments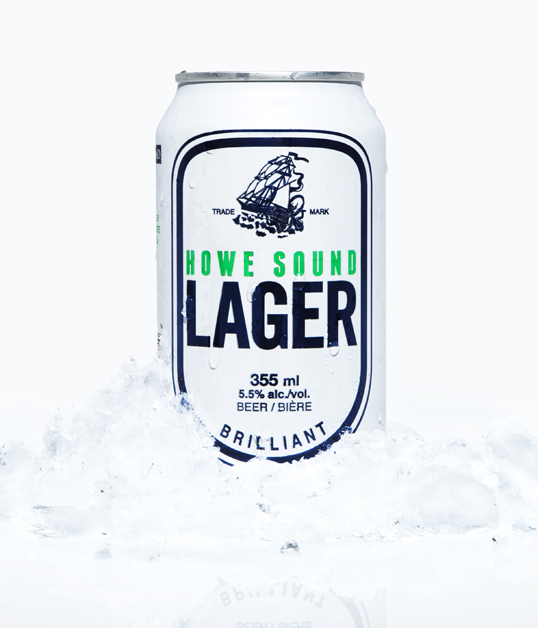 Designed by The Antidote Inc. | Country: Canada
"The packaging was inspired by the geography of the Howe Sound region of coastal British Columbia and the European explorers that first charted these waters.
Being the southernmost fjord in North America, Howe Sound has verdant green mountains with snow-capped peaks rising out of deep blue glacial waters. This is represented in the colour scheme. The design itself honours maritime history, particularly old cartography which knew little of these mysterious waters perched on the edge of the earth and therefore filled them with sea monsters. The goal was to create a simple, bold and timeless looking can that respects and continues over a century of classic North American beer can design.
Artwork and design assistance came from Also Known As in Vancouver, BC and Stacey Rozich in Seattle, WA. The 100% recyclable 6-pack topper was created by PakTech in Eugene, OR to our colour Pantone specifications."
May 28, 2011 | 2 Comments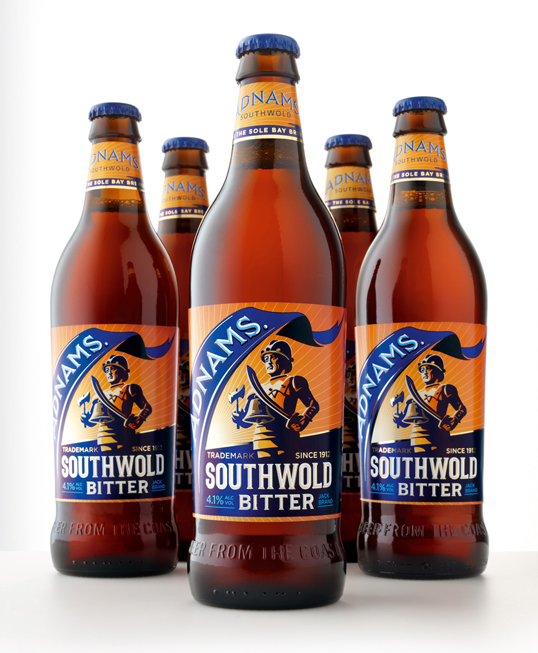 Designed by CookChick Design | Country: United Kingdom
"CookChick Design has re-designed Adnams no.1 real ale brand. The re-design covers pump clips and take home packaging along with other launch & POS items.
Following the succesful re-design of Adnams Broadside last year and as part of an on going programme, CookChick has been tasked with enhancing the unique character and stories behind each of the brands in the Adnams beer portfolio.
The 'Southwold Jack' has been evolved as the brand icon for Southwold Bitter. It is an icon that has been associated with Adnams for almost 100 years. A statue synonymous with the town since 1400 can still be found today in the heart of the town 'protecting' the brewery."
May 23, 2011 | 2 Comments
May 23, 2011 | 1 Comment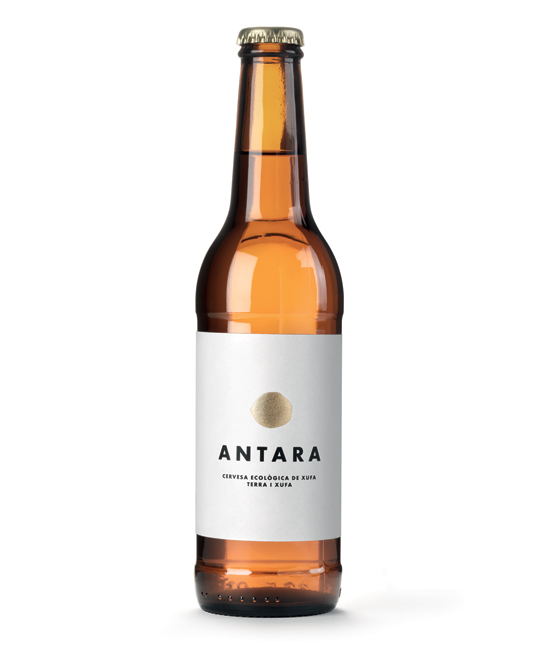 Designed by Dídac Ballester | Country: Spain
Ecological tiger nuts beer label.