February 2, 2009 | No Comments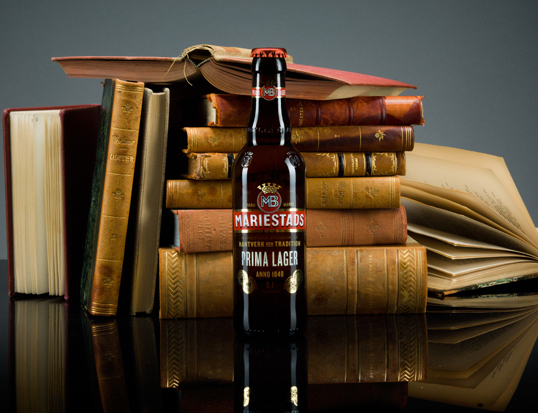 Designed by Neumeister | Country: Sweden | Fonts used: Knockout
"Input: Spendrups is in the process of repositioning one of its brands, Mariestads. Mariestads Prima Lager is a super-premium lager with a distinctly bitter taste based on 160 years of brewing traditions. Spendrups asked Neumeister to design the packaging so that it would not only reflect the company's long tradition of craftsmanship but also appeal to discerning beer drinkers.
Output: The packaging design for the bottle is a seamless fusion of traditional values and contemporary design elements. The retail packaging (4-pack and carton) is used to tell the story of the old brewery and the origins of the beer.
Outcome: Mariestads Prima Lager has been given an ovation by the beer connoisseurs within Swedish news media. Very soon we will know the opinion of the connoisseurs amongst beer consumers."
January 19, 2009 | 2 Comments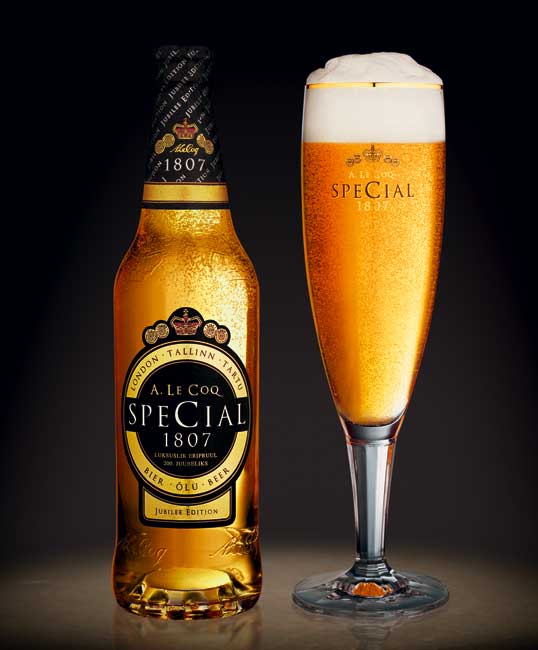 Designed by Taevas Ogilvy | Country: Estonia
Thanks to Estonia based Taevas Ogilvy for sending us this great Upscale beer packaging.
December 5, 2008 | No Comments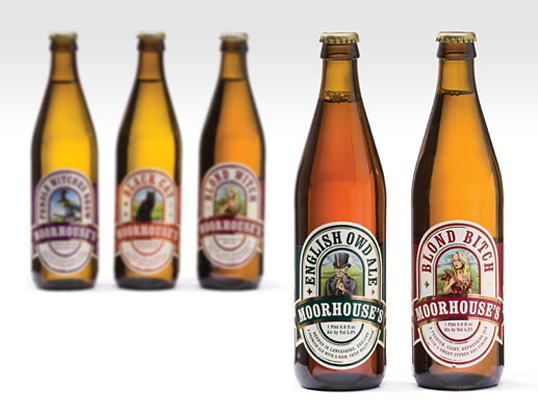 Designed by 999 Design | Country: United Kingdom | Fonts used: Clarendon Condensed
"Yes, you read it right! Blond Bitch. Moorhouse's, a brewery dating back to 1580, commissioned us to design a range of packaging for two new beers being launched into the US market.
These were Blond Bitch and Owd English Ale. Moorhouse's asked us to catch a flavour of the English real ale tradition with the designs being strong, English and rustic. The imagery was to be saucy and eye catching with appeal to an American audience. But without being in any way offensive.
December 4, 2008 | 2 Comments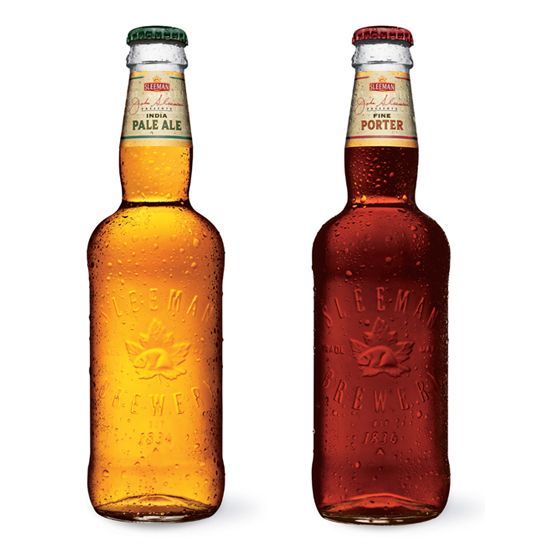 Designed by Dossier Creative | Country: Canada | Fonts used: Custom Script (Sunderland), Beaufort, Futura, Univers Ultra
"Sleeman Breweries is one of Canada's largest and oldest breweries; dating back to 1834 when John H. Sleeman established himself as a master brewer and a malter in Ontario. All natural ingredients and attention to quality have been the Sleeman hallmarks for five generations. Our challenge was to rebrand the John Sleeman Presents premier line of packaging – Fine Porter and Indian Pale Ale – to commemorate the founding father's achievements and to reflect the brands time tested values of craftsmanship and brewing excellence. Our unique bottle and package design – a blend of old world and new world cues – not only reflects the sophistication and tradition of Sleeman, but also seemlessly ties in with the entire brand family. The clean and fresh design invites you to sample a historic and proudly Canadian beer of yesterday."
December 2, 2008 | 3 Comments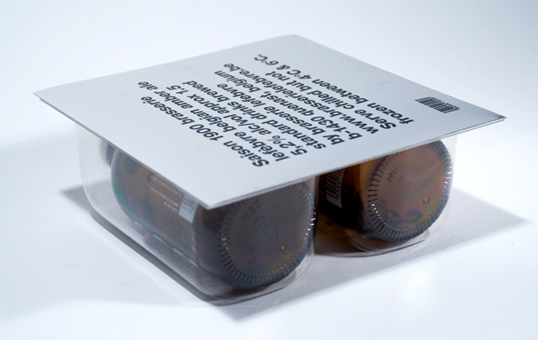 Designed by Zoran Konjarski | Country: Australia | Font used: Neue Helvetica Black
"My concept to the bottle graphics were to move away from traditional beer graphics, and make the bottle design differentiate in the market by taking on an extreme modern and minimalist design. This almost sterile approach followed through into the packaging of the 2-pack and -pack varieties by packaging the beer in blister packs like pharmaceuticals. The blister packs were custom molded for the beer bottles."
November 7, 2008 | 7 Comments
Designed by Feldmann+Schultchen Design Studios | Country: Germany

"'Beer needs a home' is the guiding principle of German beer advertising. That's why most producers emblazon their brands with regional icons, like a coat of arms, place names, etc. to show that their brand is premium and expensive.
The  brief was to create a brand+packaging design for a new low-priced beer placed on the German market. The impact needed to be strong, visible and evident, and the brand needed to compete without advertising support, only through point of purchase. We chose an unconventional but evident name: 5,0 Original. Focusing on the common pilsner beer alcohol of 5.0% and not copying and additional heritage, we intended to capitalize on what is real and where beer belongs."
October 30, 2008 | 2 Comments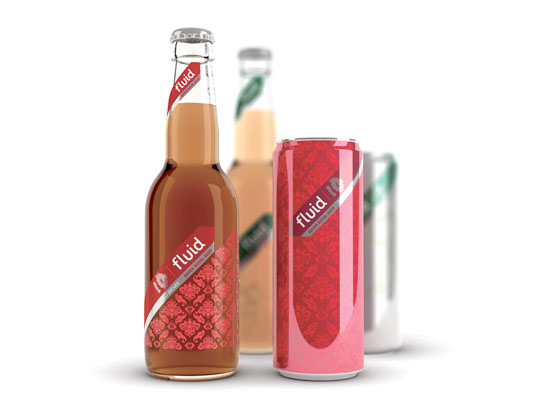 Designed by Tank | Country: Norway
"Develop a name and design of a modern beer concept to appeal to a target group who do not traditionally prefer beer."
October 25, 2008 | 1 Comment
Designed by VBAT | Country: The Netherlands
"The design of the primary and secondary packaging had to be distinctively different from the world famous 'racetrack' design of the regular Heineken premium beer, while still using the same recognizable brand identifiers. It was decided to combine the brand name and the red 'star' with an uncomplicated label containing white and silver details. This way the light version got a fresh, modern and uncluttered character."
October 23, 2008 | No Comments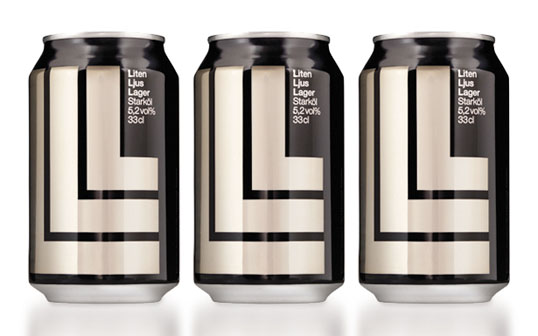 Designed by Amore | Country: Sweden

"Meant to appeal to the trendy urbanite, Amore chose a small 33cl beer can and created a modern architectural visual solution with traditional beer colors."
October 22, 2008 | No Comments
Designed by VBAT | Country: The Netherlands
"The bottle profile developed is elegant, tall and transparent. Slim, light and yet still beer like. The bottle shape is spear shaped. Thrusting upwards. The shoulder is pronounced and distinctive. The bottle 'in hand' is easy and light.