December 15, 2014 | No Comments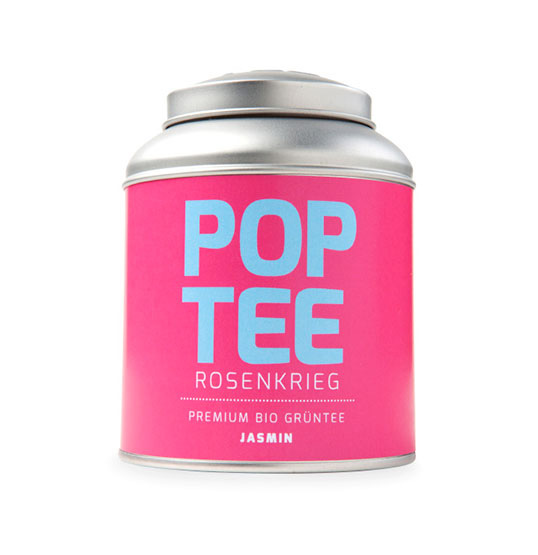 Designed by Clubcreativ | Country: Germany
"Do your thing! Be it in super markets, gourmet food or tea shops, nowadays nothing but conventional tea that lacks design and quality comes across your way.We decided to change that and break with all traditions of the tea establishment. The brand name "POP TEE" is derived from the Pop Art movement which shocked the art establishment in the mid-50s in a way we want to shake today's tea market. Our goal is to breathe new life into the industry by combining puristic design and vivid hues with organic teas of the highest quality. The idea of POP TEE is based on a clear-cut sustainability concept and social involvement which means that we environmentally friendly produce and ship our products and partner with Slum-Kinder Kunst, an organization that supports young children in Third World countries."
November 23, 2014 | No Comments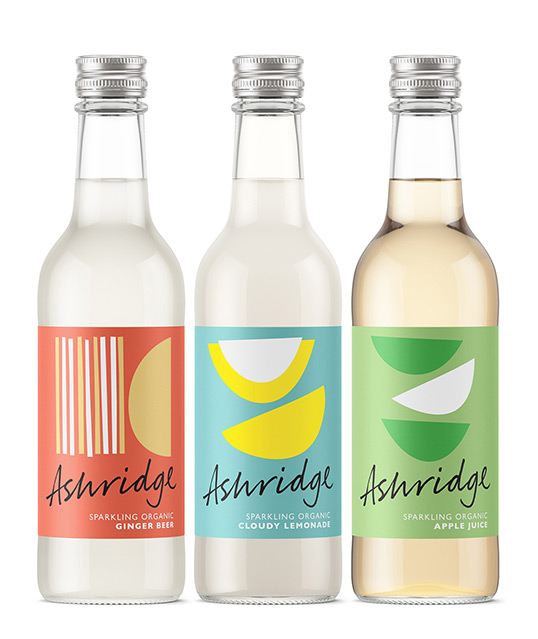 Designed by Buddy | Country: United Kingdom
"When Devon-based Ashridge Drinks asked us to create a new identity and language for their premium and organic ciders and soft drinks, we were determined to challenge the category. The depiction of fruit remained vital, but we were able to approach it in a more symbolic way, creating miniature works of modern art using abstract fruit shapes to differentiate flavour and variant.
Combined with our brand line The Art of Fine Drinks, and a foiled signature-style logotype, the identity highlights the exquisite craft on which Ashridge has built its reputation. Vibrant yet premium, the identity possesses the flexibility to work in harmony across the brand's entire portfolio, from sparkling champagne-style ciders, organic vintage ciders and non-alcoholic fruit drinks."
September 21, 2014 | 1 Comment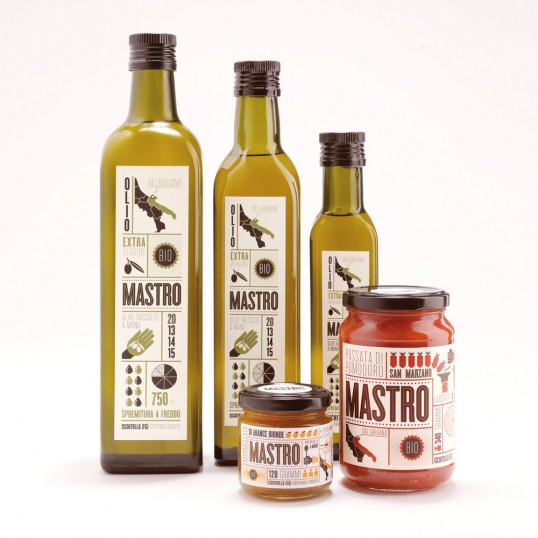 Designed by The 6th Creative Studio | Country: Italy
"We created a series of labels for Mastro (Azienda agricola). The labels illustrate with info graphics all the descriptions that are commonly contained on the back of the packaging.
All the ingredients are 100% italian and organic. All the products are homemade: olive oil, tomato sauce, and blonde orange marmalade."
September 7, 2014 | 2 Comments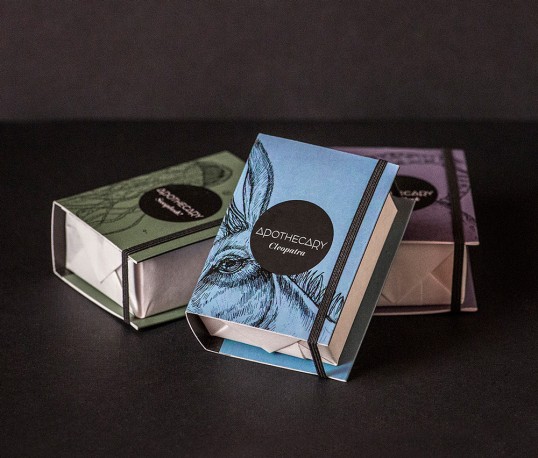 Designed by The6th Creative Studio | Country: Italy
"Apothecary is a brand of beauty products that are 100% organic. The main products are soaps which are all top quality and made only with Italian ingredients. We created a logo and sophisticated packaging for 12 soaps (split into 3 lines: women, men and top). The packaging has the shape of as a small book, with a hard cover and a string to lock it."
July 22, 2014 | 2 Comments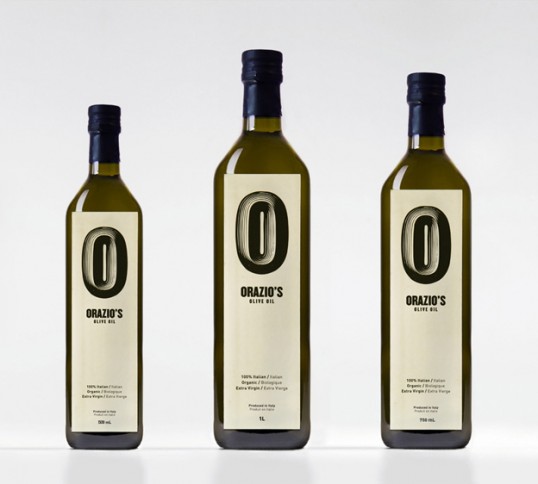 Designed by Brief | Country: Canada
"Rationale – Branding and packaging design for Orazios Olive Oil. Appearing in North America for the first time, Orazio's Olive Oil is 100% traceable from tree to table. Italian extra virgin cold pressed, organic, non GMO and produced on strict DOP standards. The branding and packaging for Orazios Olive Oil is a true reflection of its family roots and its brand essences: Humble, pure, simple and clean. These brand elements are reflected from the corporate identity itself to the one colour print job on all applications."
June 5, 2014 | 1 Comment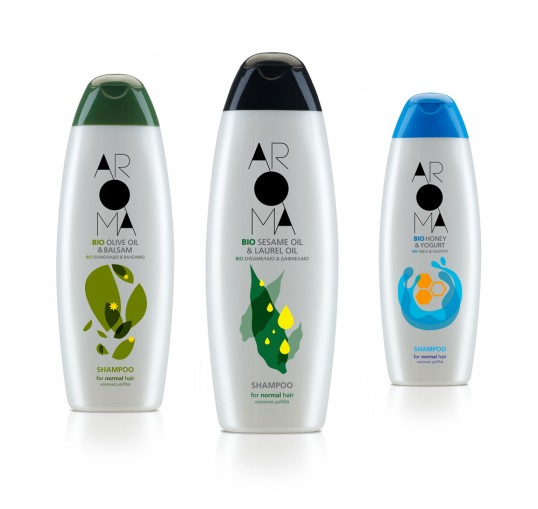 Designed by 2yolk | Country: Greece
"We created the AROMA brand for an extensive range of Greek personal care products available in supermarkets. The range takes its name from the natural scented essential oils and other select organic ingredients contained in the products. ('aroma' in Greek being the word for perfume, scent or fragrance).
Our main concern was to differentiate the range from the competition on long shelves displaying this class of product in supermarkets. This is the reason why we avoided realist illustrations of fruits or water splashes.
For each of the three AROMA lines, we chose stylized, abstract depictions of the two main ingredients: olive leaves dancing with balsam flowers, bay leaves and golden sesame oil, and milk and honey. The typography is sharp and black, an interesting counterpoint to the bright colour palette of the graphic design."
May 28, 2014 | No Comments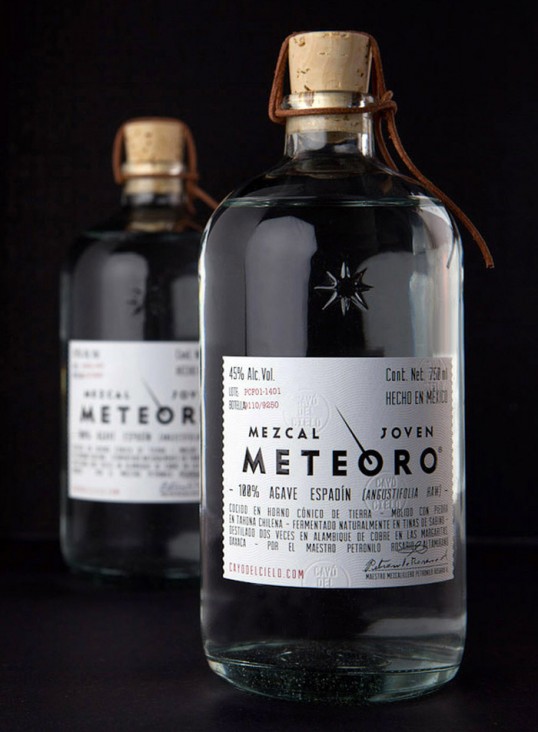 Designed by Francisco Rueda | Country: Mexico
"Local legend tells that a small incandescent rock fell near the town's mezcal maker's home, creating an ideal earthen pit oven, in which he roasted his agave hearts, and created the best mezcal in the region. "How did you do it?" They asked him. The old man simply replied: "It fell from the sky…"
May 27, 2014 | No Comments
Designed by mousegraphics | Country: Greece
"The briefing (in brief):  We produce a good organic wine that we want to place in a highly competitive market via a strong packaging design idea.
The target consumer: Design conscious consumers ready to try a cared-for product.
The design: One of the most creative and difficult areas of packaging design is probably this of wine. In the case of Sun wines, we focused on the wine color and the ways it corresponds to particular solar phases: the deep red of a setting sun, the gold white of its mid day radiance, the pinkish rose of the early rising star. We designed the abstract time sequence of these phases on each bottle, with a sign created specifically for each variety and placed near the rim of the bottle carrying this variety. The sun, solar light is one of the most elemental, eternal ingredients of wine alchemy. Its role cannot possibly be measured or even described, but its value can be commemorated and appreciated."
May 15, 2014 | No Comments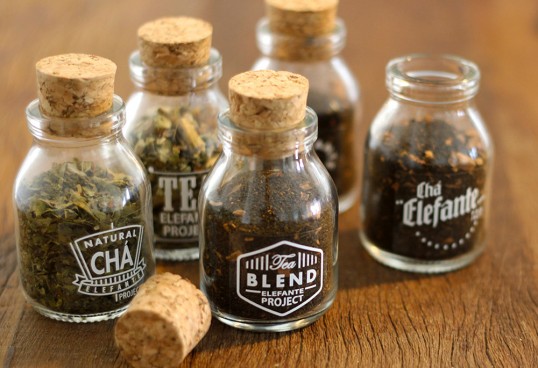 Designed by Elefante Project | Country: Brazil
"Exclusive gift of 100 limited edition pieces. The idea of offering a unique blend of tea came to stimulate a break moment and encourage the slowdown. We visited the Tea House Paratea, and after an afternoon tasting various ingredients we developed four special blends for the Elefante Project. Delivered in a charming glass and four different labels, carefully designed referring our special care with the organic tea."
April 29, 2014 | No Comments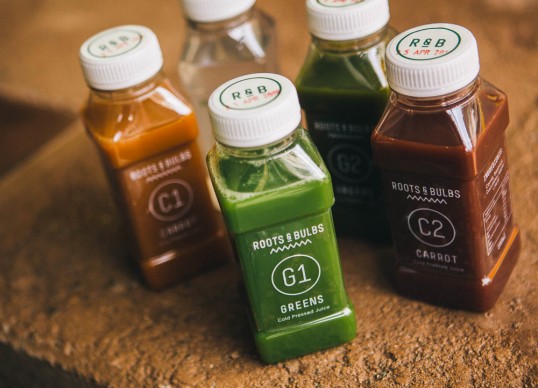 Designed by Robot Food | Country: United Kingdom
"Juicing has taken the UK by storm and new company, Roots & Bulbs, has responded with London's first cold pressed juice bar. Their first shop recently opened on Thayer Street (off Marylebone High Street) with branding and packaging by renowned branding agency, Robot Food.
Stories of celebrity juice diets and the health benefits of juicing are widespread, and with John Lewis reporting a 1000% increase in sales of juicers from 2012 to 2013, it seems juicing is here to stay."