November 2, 2012 | 3 Comments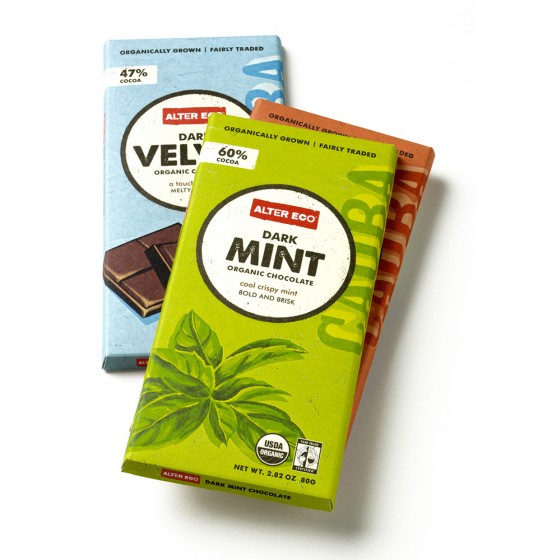 Designed by Tomorrow | Country: United States
"Alter Eco is a brand on a mission. Based in San Francisco with roots in France, this intrepid band of activists is wielding the food business as a weapon against poverty and inequality in developing nations: their offering of chocolate, rice, quinoa and sugar is certified Fair Trade, Organic and on its way to Carbon Zero.
An opportunity to expand their distribution also meant expanding the brand promise – adding a heaping spoonful of taste appeal to their values-driven enterprise. We worked with the Alter Eco team to create a shelf experience that transports mainstream foodies to an exotic, delicious and sustainable place."
October 24, 2012 | 4 Comments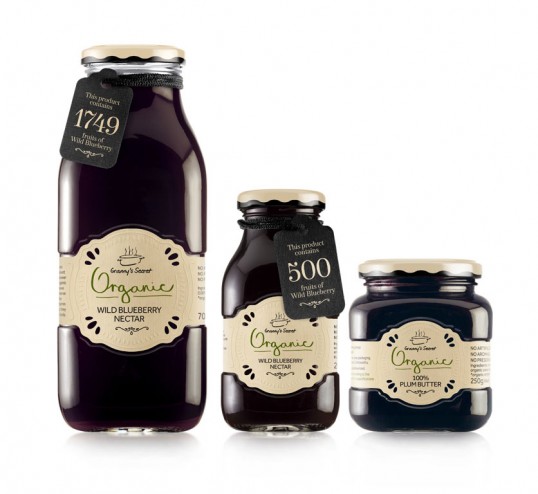 Designed by Peter Gregson | Country: Serbia
"Peter Gregson cooperation with Serbian home-style food brand Granny's Secret® continued with their line of organic products. We designed the label and cap and gave a fresh look to Granny's Secret® Organic."
October 23, 2012 | 1 Comment
Designed by Clara Tan | Country: Australia
"Zenne is a new, premium brand of organic lambic made in Pajottenland, Belgium. It is named after the Zenne river valley where the yeasts that grow there help ferment the beer through a process called spontaneous fermentation. Elements that hint of a small, handcrafted boutique brewery are added in the design to tell the story of the brand/product."
October 17, 2012 | 2 Comments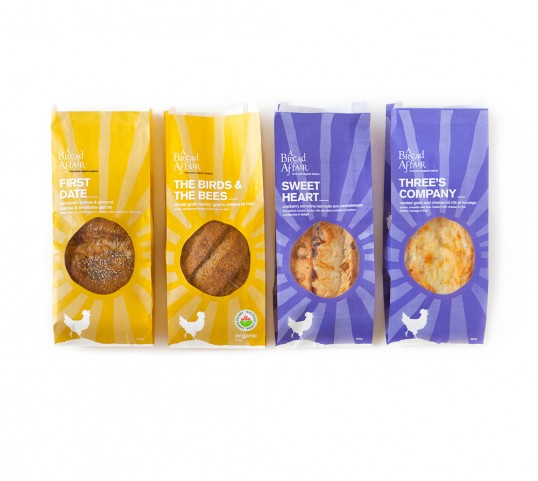 Designed by arithmetic creative | Country: Canada
"A Bread Affair approached arithmetic to redesign their packaging to more clearly reflect their sense of humour and to re-position their artisan loaves in the organic market place. Arithmetic engaged in consumer research, industry research, consumer testing and produced a positioning strategy that highlighted the distinguishing shopping habits of their consumers."
September 25, 2012 | 1 Comment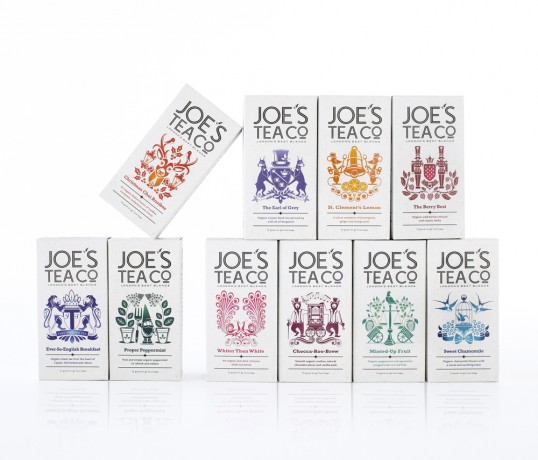 Designed by Echo Brand Design | Country: United Kingdom
"Joe's Tea Company is the brainchild of Joe Kinch, a former tea supply chain manager, who identified an opportunity to create a new product that combines high-quality leaf blends from Sri Lanka, with an interesting twist, to appeal to the newfound and more adventurous younger tea drinker: "Its niche is offering organic fine teas without fuss, or any of the bravado or pretentiousness normally associated with premium products."
September 3, 2012 | No Comments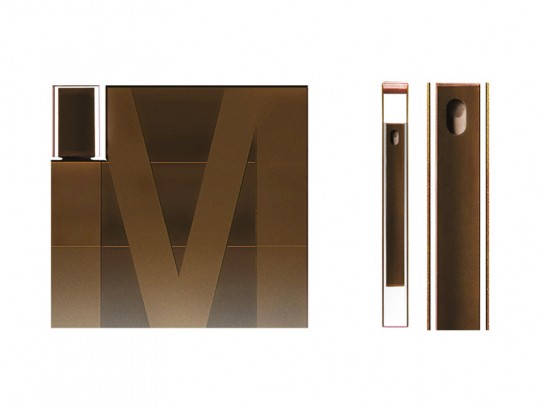 Designed by Dustin Edward Arnold | Country: United States
"Batzner is an independent laboratory+perfuming house in Amsterdam providing the highest level of formulations for the luxury fragrance industry. Founded in 2001 by Markos Haan the lab has produced formulas both commercially and privately for clients worldwide. In opposition to organic trends and in Dutch fashion, Batzner touts, even brags about their ability at 100% synthetic reproduction. Underscoring this craft by formulating high concept fragrances such as lucite, ceran wrap and plasti-sheen.
I was apprached to develop a packaging system for their private clients which reflected their ideology regarding fragrance. "The future of fragrance, the future of our world is synthetic. The scarcity of resources and collapse of the traditional artisan is inevitible. Rather than skirt the subject we embrace it, taking it upon ourselves to stretch the imagination and create new methods of production in the post-industrial age." -Markos Haan  In packaging this idea I eliminated all text, branding the 'M' in M-System as a simple graphic element and rendering packaging material in matte acrylic for a synthetic feel which also becomes an iconic POP display."
August 20, 2012 | 1 Comment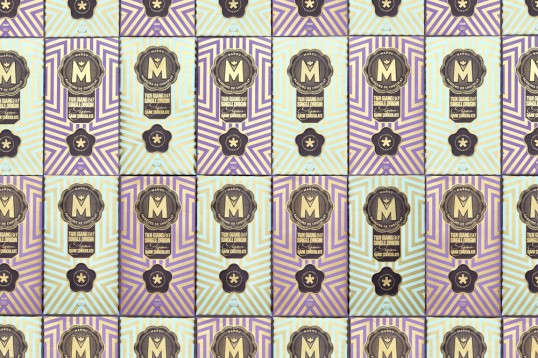 Designed by Rice Creative | Country: Vietnam
"When Wallpaper* Magazine discovered Marou Chocolate, our client, they felt that this singular dark chocolate, hand-crafted in Saigon using purely local ingredients was a perfect match for their third annual Handmade issue (an issue with a focus on unique products combining luxury, craft and inspiration). Marou offered to create a special edition Wallpaper* chocolate bar in time for exhibiting at the 2012 Salone de Mobile in Milan. The packaging we designed for this occasion would stay true to the inspiration behind the standard Marou chocolate bars and press further the attention given to lovingly hand printed details. We strayed some from the traditional motifs of the standard bars to embrace a more modernist approach while incorporating the well known Wallpaper* asterisk mark. It began by creating a new background pattern, which moved away from the traditional lattice and organic elements, replacing them by geometric elements forming an extension of the Wallpaper* asterisk.
The same hand mixed inks and screen-printing methods used on the standard Marou packs were employed, but a new palette of hues would be used, derived from the Wallpaper* handmade seal. The seal even informed a limited edition version of Marou's Monogram for this occasion. The final touch of hand embossing some of the pack's design elements set the stage for a fully considered hand crafted piece."
July 21, 2012 | 3 Comments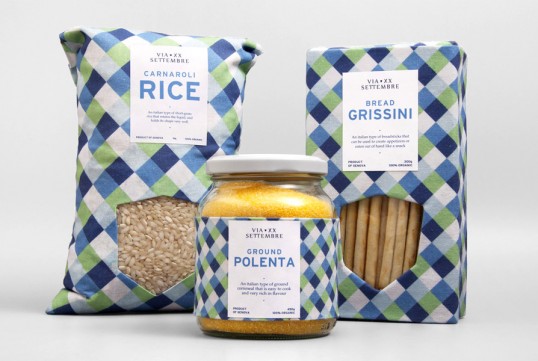 Designed by Studio Fusentast | Country: Norway
"A family run business from the harbour town of Genova, making and distributing organic food. A pattern with a distinct color scheme inspired by the sea is consistently used on all packaging, making it easy to recognise. The labels are kept simple, yet informative, and the typefaces chosen are inspired by Italian culture. The crest used in the logo and on the packaging is to emphasize the family aspect."
July 10, 2012 | 8 Comments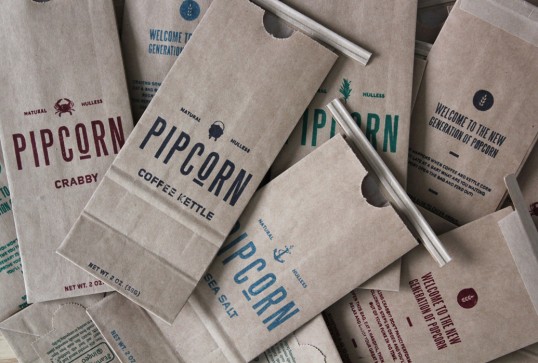 Designed by Freddy Taylor & Noah Collin | Country: Scotland
"Pipcorn is a young company, who focus on producing organic, hulless popcorn. Inspired by 1850′s wooden, hand painted signage and the American grocery bag, our aim was to reflect both the honest and natural nature of the brand. Each bag is also hand-stamped, emphasises the homemade feel that lies and the heart of Pipcorn."
July 3, 2012 | 2 Comments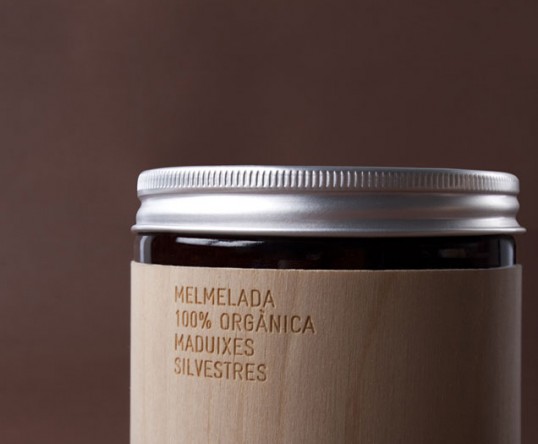 Designed by Marnich Associates | Country: Spain
"Packaging design for organic produce maker MamaBrown. The label is laser-engraved over thin wood."