February 7, 2014 | 1 Comment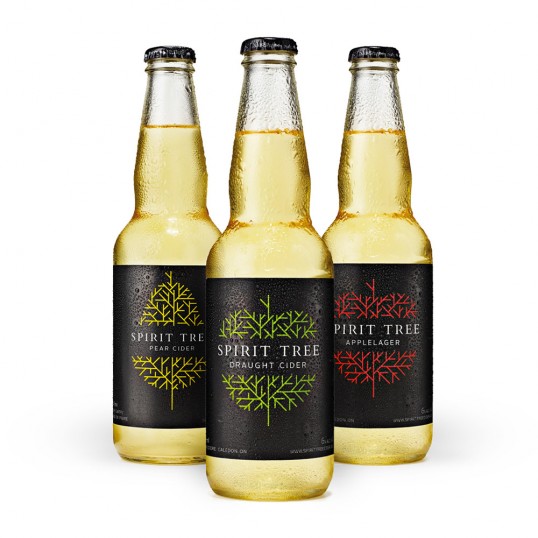 Designed by TAXI | Country: Canada
"Challenge: the challenge for this assignment was to take a small town Mom-and Pop cidery and transform it into a world-class contender within a wildly competitive beverage landscape.
Approach: due to the large volume of products Spirit Tree sells, we knew that a simple, yet bold design system was needed to differentiate each of the products. Spirit Tree has always been known as an apple cidery. With this in mind, we created a logo and visual language using modern-looking apple tree branches as the main design element. These branches were used as a pattern on everything from the packaging, corporate stationery, shopping bag and even as a design element within the store."
December 29, 2013 | 3 Comments
Designed by mousegraphics | Country: Greece
"Τhe briefing (in brief): We are one of the biggest players in the field of medical care. We have a thoroughly developed Cosmetic Dermatology Department in one of our clinics and high expertise in cosmetic treatment with medical precision and exclusive care. We want to launch a new skincare line. We need a name, a logotype, packaging and the visual identity, which will reflect our special positioning and high standards". 
Τhe target consumer: Women who are aware of the benefits of cosmeceuticals and can appreciate the results of thorough clinical research and high end care. Products address middle to upper class consumers in both, the Greek and foreign markets."
December 16, 2013 | 2 Comments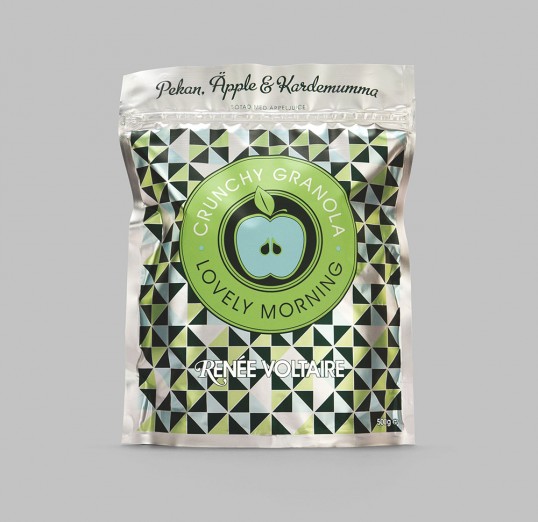 Designed by TBWA\ Stockholm | Country: Sweden
"TBWA continues to evolve the design for Renée Voltaire, this time in the breakfast product range. The body of work included conceptualization of the range as well as naming and design.
Renée Voltaire was one of the first players in the organic segment.  When the brand launched it was relatively unique in design.  Now, as more and more brands have taken organic positions and signal organic cues in their communication, it was time for Renée Voltaire's design to take the next step – to once again stand out on the shelves."
August 14, 2013 | 2 Comments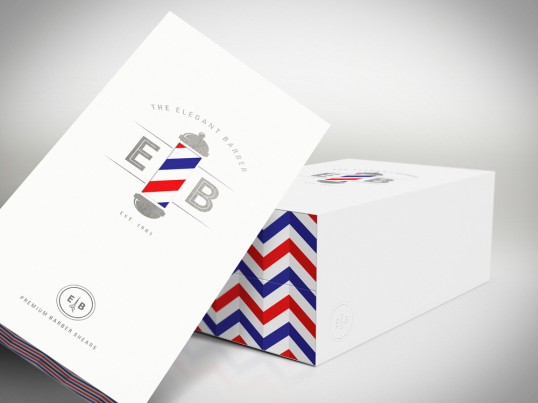 Designed by Adrian Gilling | Country: United States
"The Elegant Barber is an identity and packaging concept for a classic men's barber shop and line of products. Through the use of a simple die-cut and pattern, customers get to experience the movement of the barber pole with each purchase and/or trip to the shop."
August 9, 2013 | 4 Comments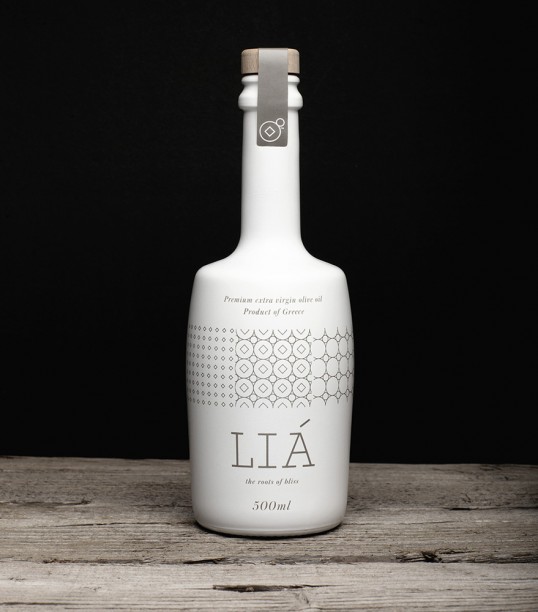 Designed by Bob Studio | Country: Greece
"Brand and packaging design for LIA extra virgin olive oil producing company.
The logo refers to the traditional way and means used to produce olive oil. Multiplying the logo creates a pattern, also used to decorate the packaging, that resembles ways used to decorate objects in older eras, bringing out the place's great cultural history."
July 3, 2013 | 5 Comments
Designed by B&B studio | Country: united Kingdom
"B&B studio has rebranded Jealous Sweets, a UK entrepreneur looking to bring credibility to candy with its range of delicious and high quality sweets for grown-ups. Jealous specialises in gummy and jelly treats that are made without gelatine, artificial colours or flavours, so they're 100% vegetarian, gluten-free and full of natural fruit juices."
"The existing Jealous packaging wasn't working hard enough to communicate the brand's premium positioning and the purity of its products," explains B&B studio Creative Partner Shaun Bowen. "And the Jealous name had no real link back to the sweets themselves. We set about linking the two through the idea of 'covetable candy' – a concept that we visualised using a precious jewel icon and a characterful Magpie with an eye for something special."
May 28, 2013 | 2 Comments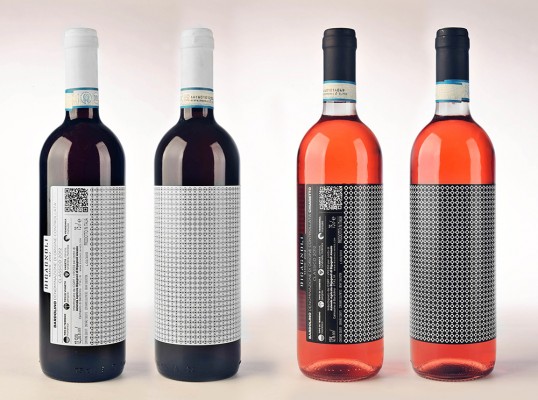 Designed by Onice Design | Country: Italy
"Bigagnoli Wines is a new wine producer in the Garda Lake area of Northern Italy. The other producers in the area often use classic labels on their bottles. Bigagnoli breaks out this habit and challenges the market norm by creating special edition wines dressed to look like perfume. A geometrical black and white pattern, different on each product enhances the luxury of the wine and embraces the bottle in a precious texture."
May 22, 2013 | 1 Comment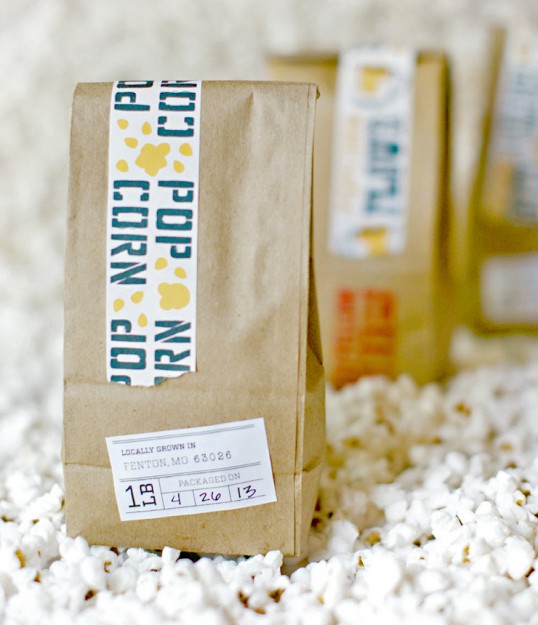 Designed by David Rygiol | Country: United States
"Yellowtree farm is a specialty organic farm producing rare and amazing foods out of St. Louis, MO. This packaging for their popcorn, popcorn grits, and popcorn flour begins with a 100% recycled and compostable bag. The bag is stamped with a wood ring pattern and logo, then sealed with the product tape and labeled with production details. The wood ring pattern visualizes both the farm's name and the topography of the land. Each Package is produced by hand by the farmer, ensuring that every product carries his special touch – from farm to market. Trust your food!"
March 5, 2013 | 1 Comment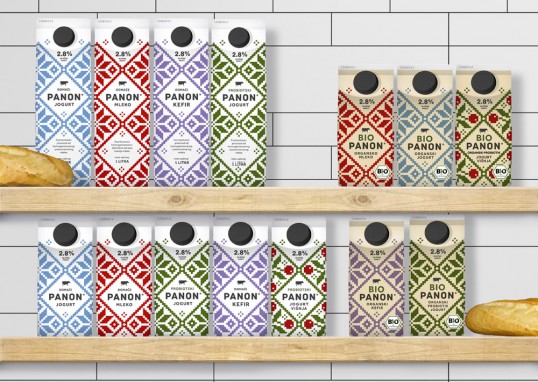 Designed by Peter Gregson | Country: Serbia
"Peter Gregson Studio designed the packaging and ID for new brands of organic and non-organic milk, yogurt and kefir called PANON® and BIOPANON®. They are produced in 0.5 and 1 liter packaging. We saw this task as an opportunity to go back to the "basics" both in design and tradition. So, we used the pattern of traditional embroidery and turned it into a simple graphic form."
February 25, 2013 | 2 Comments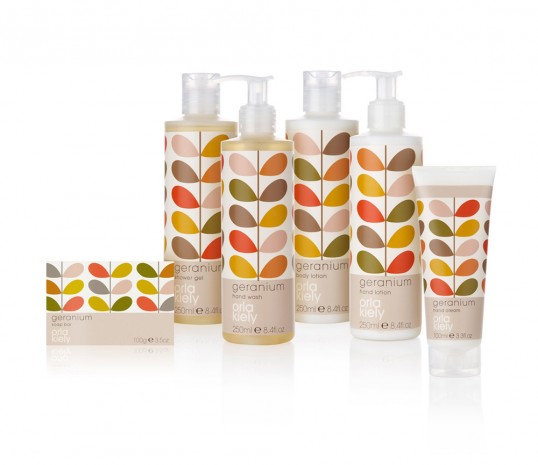 Designed by KMI Brands | Country: United Kingdom
"Following the success of the Orla Kiely fragrance and home fragrance collections, Orla Kiely launches a beautiful new bath and body care line. Renowned for her instinctive and creative use of colour, retro-inspired patterns and playful approach to design, Orla Kiely takes inspiration from her most famous 'stem print' to create a whole beautiful collection of toiletries.
The range uses a blend of essential oils including geranium, eucalyptus and clary sage and includes hand cream, hand lotion, hand wash, soap, shower gel and body lotion all of which are free from parabens, sulphates, petrochemicals and artificial colours."