August 20, 2012 | 1 Comment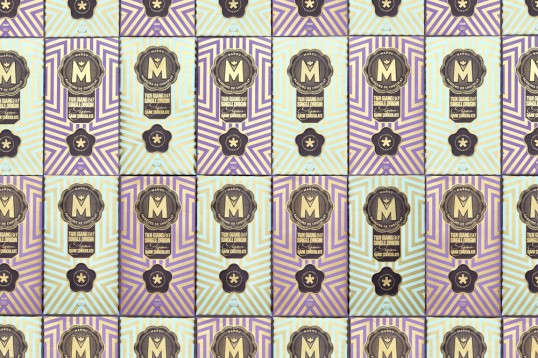 Designed by Rice Creative | Country: Vietnam
"When Wallpaper* Magazine discovered Marou Chocolate, our client, they felt that this singular dark chocolate, hand-crafted in Saigon using purely local ingredients was a perfect match for their third annual Handmade issue (an issue with a focus on unique products combining luxury, craft and inspiration). Marou offered to create a special edition Wallpaper* chocolate bar in time for exhibiting at the 2012 Salone de Mobile in Milan. The packaging we designed for this occasion would stay true to the inspiration behind the standard Marou chocolate bars and press further the attention given to lovingly hand printed details. We strayed some from the traditional motifs of the standard bars to embrace a more modernist approach while incorporating the well known Wallpaper* asterisk mark. It began by creating a new background pattern, which moved away from the traditional lattice and organic elements, replacing them by geometric elements forming an extension of the Wallpaper* asterisk.
The same hand mixed inks and screen-printing methods used on the standard Marou packs were employed, but a new palette of hues would be used, derived from the Wallpaper* handmade seal. The seal even informed a limited edition version of Marou's Monogram for this occasion. The final touch of hand embossing some of the pack's design elements set the stage for a fully considered hand crafted piece."
July 6, 2012 | No Comments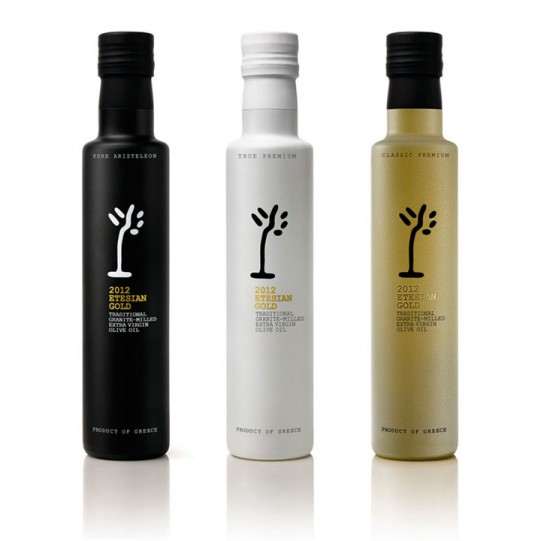 Designed by mousegraphics | Country: Greece
"Brief: we market our premium product abroad and mainly in the Far East, where it is considered a cosmetic, aside from being consumed as a precious food item.
Audience: consumers who appreciate pure ingredients and the rituals relating to their consumption.
Design: targeting a cultural milieu with very specific communication semiotics and particular habits, we opted for a design which, subliminally, speaks about archetypes, about the signs and symbols of the oldest civilizations. Product 
of an ancient land and a sacred plant, the 'etesian gold oil' is saved in an elegant bottle. It is sealed with the graphic symbol, used in linear b (an ancient greek pre-alphabet syllabic script) to mean 'olive'. Color tones and hues are kept to the minimum of an earthly palette."
June 23, 2012 | 3 Comments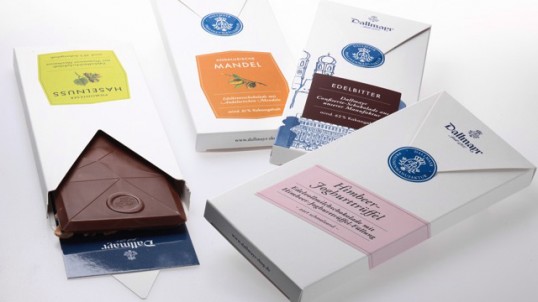 Designed by Factor Product München | Country: Germany
"The Munich delicatessen Dallmayr produces a range of high quality confectionery products in its own chocolate factory. The new Dallmayr chocolate range with refined recipes and only the best ingredients is the result of consistent further development and the company philosophy to strive for outstanding quality.
The objective for the designers from fpm was to express these high quality standards and manufacturing philosophy through suitable packaging design. At the same time the structure of the product range and different categories of chocolate quality should be easy for customers to understand."
April 18, 2012 | No Comments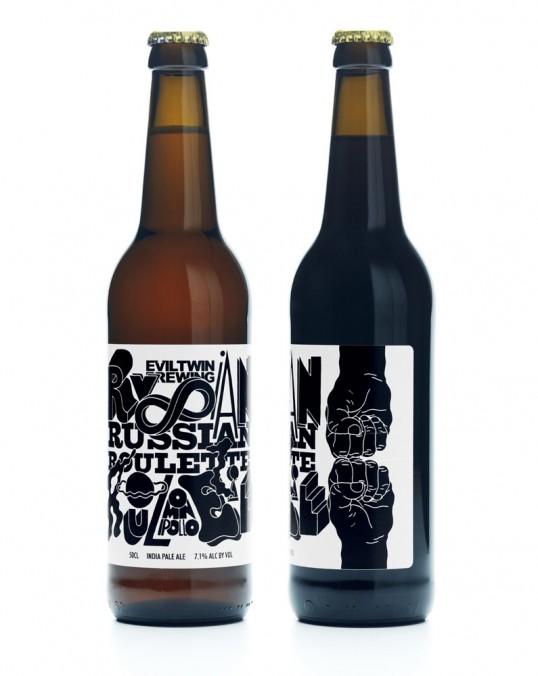 Designed by Karl Grandin & Martin Justesen | Country: Sweden/Denmark
"Evil Twin/Omnipollo Russian Roulette is a collaborative effort between Swedish brewery Omnipollo and Danish brewery Evil Twin. Instead of doing a collaboration beer which is quite common these days, we choose to brew a beer each – a dark and a light one – and seal them in identical packages. For this project, Karl Grandin and Martin Justesen managed to merge the two company identities avoiding a collision and creating an expression with is forceful yet respectful. Bust a cap and face your destiny."
April 17, 2012 | No Comments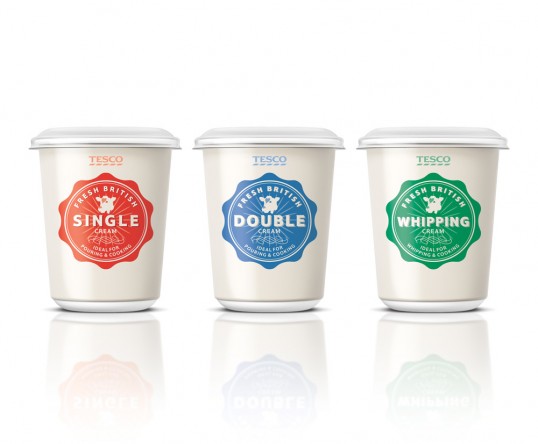 Designed by R Design | Country: United Kingdom
"The brief was to redesign Tesco's range of fresh cream that covered over 30 lines. The existing design focused on serving suggestions. Whilst inspirational, this made the range very difficult to shop the specific cream type. 
The idea behind the new design was to create a quality seal that takes cues from old fashioned dairy cream pots. Bold typography is used to highlight the cream type, this is supported by strong colour coding of the seal that follows sector language. This strong simple idea was able to adapt across the various pot sizes and lids. The design also worked well when applied across range extensions such as Soured Cream and Crème Fraiche. The new design achieves a consistent look across the range, a strong shelf presence and succeeds in making the range much easier to shop."
February 23, 2012 | 1 Comment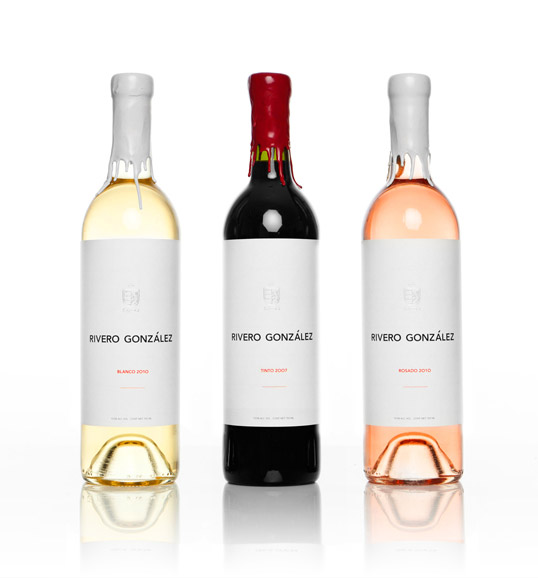 Designed by Anagrama | Country: Mexico
"According to archeological evidence, the human race has been drinking wine for over 8,000 years. However, never before has there been such diversity in origin denomination, quality and prices.
Throughout the years, there has been a tendency of taking products originally treated to remain longer such as cheese, cured meats and even salt, and take them to the same level of sophistication of a perfume or a high couture garment. For wine, this tendency is stronger than for any other beverage; We can find three dollar wines in a cardboard box, or a $160,000 bottle of  Château Laffite."
January 31, 2012 | 1 Comment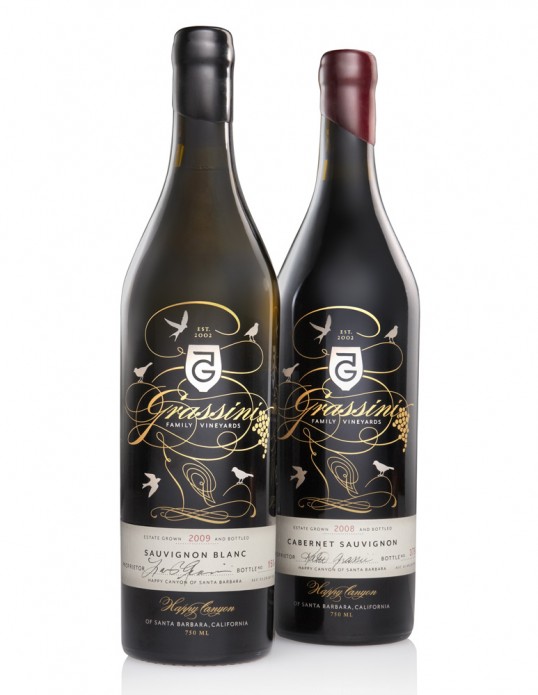 Designed by Duffy & Partners | Country: United States
"In 2002, the Grassini's established a family vineyard in the Happy Canyon of Santa Barbara, California. A simple crest with a ligature of the number 5 and the letter G was designed with inspiration from the five children. After several successful harvests, the family knew it was time to take the crest and build a more robust brand expression with Duffy & Partners—one that would more aptly reflect all that the vineyard and its harvests symbolized. Design components include metallic silk-screened bottles, individually signed and numbered labels and hand-dipped wax seals. The Grassini Family Vineyards striking new bottle design by Duffy & Partners is now on the market."
December 19, 2011 | 1 Comment
Designed by HUB | Country: United States
"HUB is pleased to share the 2011 Major League Baseball All Star Retailer invitation suite we designed and produced for Nike. This year's MLB invitations featured the same Southern Spanish flare as the retreat's location: the luxurious Montelucia resort and spa in Scottsdale, AZ. HUB teased Nike's top baseball retailers with a series of captivating invitations, each revealing more and more information about this year's retreat. First, recipients received a custom, hot stamped wood box containing a hardbound book. Then, we sent out a muslin bag containing a notebook with custom leather embossed cover. And, finally, we sent out an embroidered robe along with the official invitation sealed with a custom wax seal."
November 28, 2011 | 4 Comments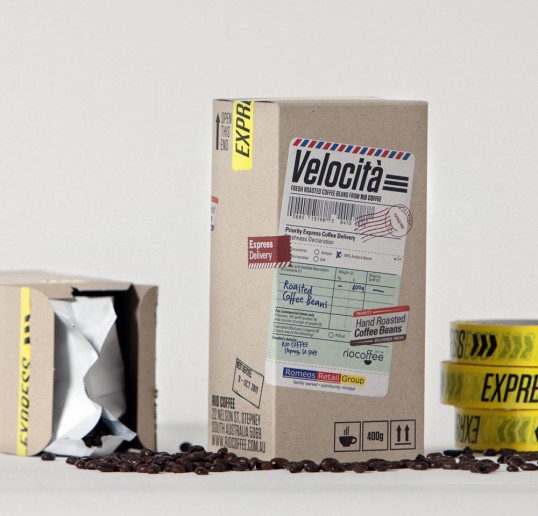 Designed by Voice | Country: Australia
"Velocità is all about fresh and locally roasted coffee that is delivered direct to the shelf. Velocità (Italian for 'speed') takes the form of an express courier parcel. To emphasise the freshness of the coffee, each pack is labeled with bespoke hand-applied stamps that display the date of roasting and best before dates, and sealed with a custom-made 'express' adhesive tape."
November 2, 2011 | 4 Comments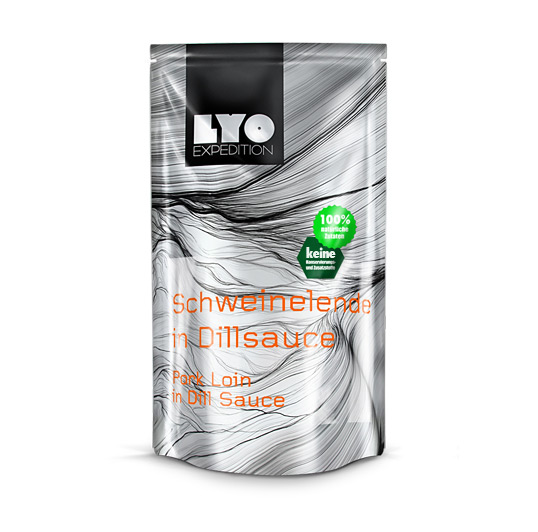 Designed by Independent Visual Consultancy | Country: Poland
"LYO Food Ltd. is a producer of LYO Expedition – freeze-dried meals intended for alpinist, sailors and outdoor enthusiasts.
LYO Expedition packaging needs to be small, lightweight and withstand most harsh conditions that are a norm in demanding environments like Himalaya, North Pole, Atlantic Ocean, Iceland glaciers etc. These are the reasons why all meals and fruits are packed in simple aluminium reinforced doypacks – each hermetically sealed.
We have dressed this spartan object in minimalistic fashion covering it entirely with black and white pattern(designed for LYO EXPEDITION identity system). Then we have added only big, orange name of the meal on the front and a green sticker referring to pure natural content of every LYO meal. On the back of packaging we have designed a waterproof informative etiquette.