February 23, 2012 | 1 Comment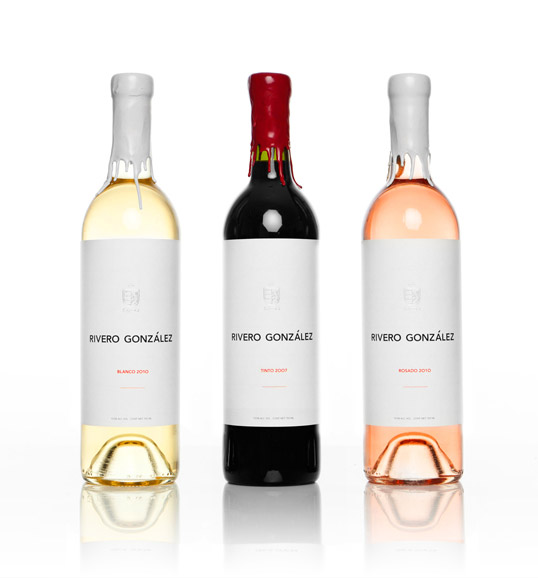 Designed by Anagrama | Country: Mexico
"According to archeological evidence, the human race has been drinking wine for over 8,000 years. However, never before has there been such diversity in origin denomination, quality and prices.
Throughout the years, there has been a tendency of taking products originally treated to remain longer such as cheese, cured meats and even salt, and take them to the same level of sophistication of a perfume or a high couture garment. For wine, this tendency is stronger than for any other beverage; We can find three dollar wines in a cardboard box, or a $160,000 bottle of  Château Laffite."
January 31, 2012 | 1 Comment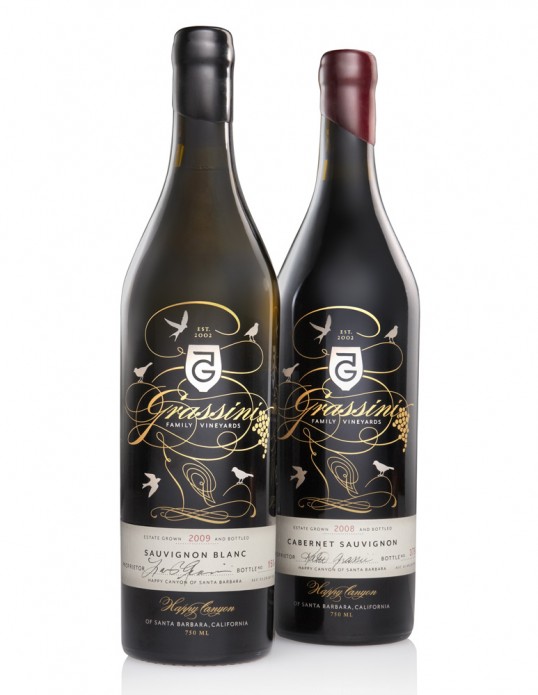 Designed by Duffy & Partners | Country: United States
"In 2002, the Grassini's established a family vineyard in the Happy Canyon of Santa Barbara, California. A simple crest with a ligature of the number 5 and the letter G was designed with inspiration from the five children. After several successful harvests, the family knew it was time to take the crest and build a more robust brand expression with Duffy & Partners—one that would more aptly reflect all that the vineyard and its harvests symbolized. Design components include metallic silk-screened bottles, individually signed and numbered labels and hand-dipped wax seals. The Grassini Family Vineyards striking new bottle design by Duffy & Partners is now on the market."
December 19, 2011 | 1 Comment
Designed by HUB | Country: United States
"HUB is pleased to share the 2011 Major League Baseball All Star Retailer invitation suite we designed and produced for Nike. This year's MLB invitations featured the same Southern Spanish flare as the retreat's location: the luxurious Montelucia resort and spa in Scottsdale, AZ. HUB teased Nike's top baseball retailers with a series of captivating invitations, each revealing more and more information about this year's retreat. First, recipients received a custom, hot stamped wood box containing a hardbound book. Then, we sent out a muslin bag containing a notebook with custom leather embossed cover. And, finally, we sent out an embroidered robe along with the official invitation sealed with a custom wax seal."
November 28, 2011 | 4 Comments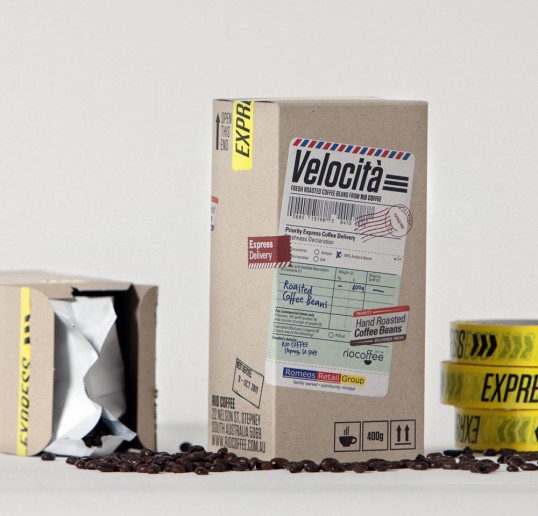 Designed by Voice | Country: Australia
"Velocità is all about fresh and locally roasted coffee that is delivered direct to the shelf. Velocità (Italian for 'speed') takes the form of an express courier parcel. To emphasise the freshness of the coffee, each pack is labeled with bespoke hand-applied stamps that display the date of roasting and best before dates, and sealed with a custom-made 'express' adhesive tape."
November 2, 2011 | 4 Comments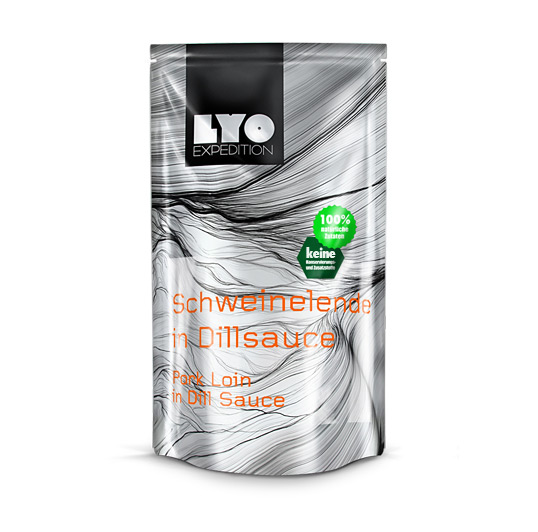 Designed by Independent Visual Consultancy | Country: Poland
"LYO Food Ltd. is a producer of LYO Expedition – freeze-dried meals intended for alpinist, sailors and outdoor enthusiasts.
LYO Expedition packaging needs to be small, lightweight and withstand most harsh conditions that are a norm in demanding environments like Himalaya, North Pole, Atlantic Ocean, Iceland glaciers etc. These are the reasons why all meals and fruits are packed in simple aluminium reinforced doypacks – each hermetically sealed.
We have dressed this spartan object in minimalistic fashion covering it entirely with black and white pattern(designed for LYO EXPEDITION identity system). Then we have added only big, orange name of the meal on the front and a green sticker referring to pure natural content of every LYO meal. On the back of packaging we have designed a waterproof informative etiquette.
November 1, 2011 | 5 Comments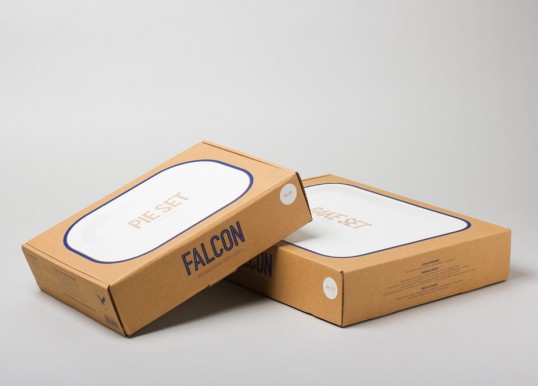 Designed by Morse Studio | Country: United Kingdom
"Falcon Enamelware has been an icon of British home life since the 1920s. The classic kitchenware brand has been revitalised with a new brand identity and updated ranges by Morse Studio & Kiwi & Pom.
We were commissioned to create a new brand identity including logotype, packaging, art direction and e-commerce website design. Our identity rigourously references Falcon's distinctive blue rim, from the creation of a bespoke, inline typeface to the overhead food photography. The packaging takes the same uncomplicated approach. Simple half-tone illustrations are screen-printed on sturdy corrugated cardboard referencing the utility and charm of hardware shop packaging. An updated 'falcon in flight' crest acts as a seal of authenticity on every product."
October 31, 2011 | 9 Comments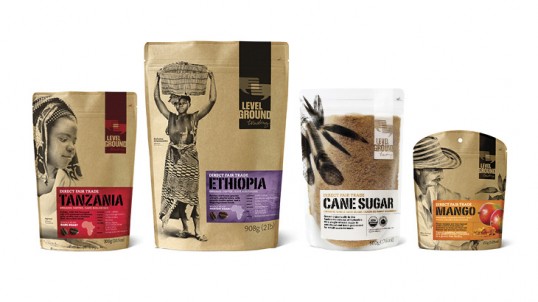 Design by Subplot Design | Country: Canada
Following up on the strong success of Level Ground Trading's 2010 Complete Brand Redesign and Coffee Packaging overhaul, Subplot Design Inc. has redesigned Level Ground's Organic Dried Fruit and Organic Cane Sugar Packaging, and has helped launch Level Ground's first MicroLot offering. All products are on shelf today.
"Subplot's 2010 packaging redesign has contributed amazingly to our success", says Level Ground President, Hugo Ciro. "Sales are up 20% over the previous year, and we have signed many new retailers. We are obviously thrilled.
"The packaging platform extends the system created in 2010, with innovative kraft paper, vapour-barrier bags with resealable zips for freshness. The Dried fruit build on the coffee platform with full-colour fruit imagery, to help play up the extraordinary taste and freshness of the product itself. Clear bags for Can Sugar allow the colour and texture of the sugar to shine through. And a new stamp graphic signifies the MicroLot system, with a revised design layout to help distinguish it from the line of regular coffees.
September 14, 2011 | 8 Comments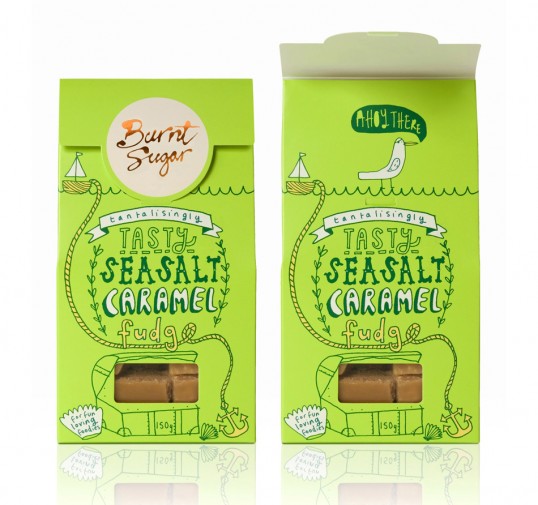 Designed by D. Studio | Country: United Kingdom
"Burnt Sugar is a boutique brand of fudge with humble beginnings. Started by Justine Cather, who nabbed her mum's recipe and took it to market (London's famous Borough Market to be precise), word soon got out about the delicious lumpy, bumpy pieces of sweetness and its popularity soared.
Having worked with Justine on her gift ranges, she asked us to create a new direction for the brand and redesign the packaging for the core range. Working closely with Justine, we developed the 'every one is different' concept, which not only celebrates the perfectly irregular pieces of taste bud-tingling randomness but also all the wonderful variety of foodie folk who like to indulge in her fudge.
September 2, 2011 | 2 Comments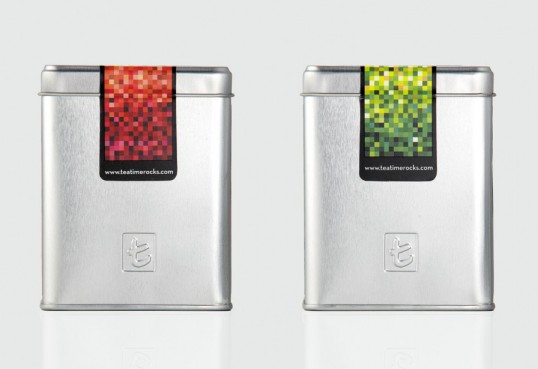 Designed by Manic Design | Country: Singapore
"We worked with long-time client Dilmah Tea to design a new look for the t-Series range of some 40-plus teas. Each label features its own unique brewed leaves infused on a block-colour background. The result is a vibrant collection of tins, all with their own matching sticker seals and unique tea quotes."
August 23, 2011 | No Comments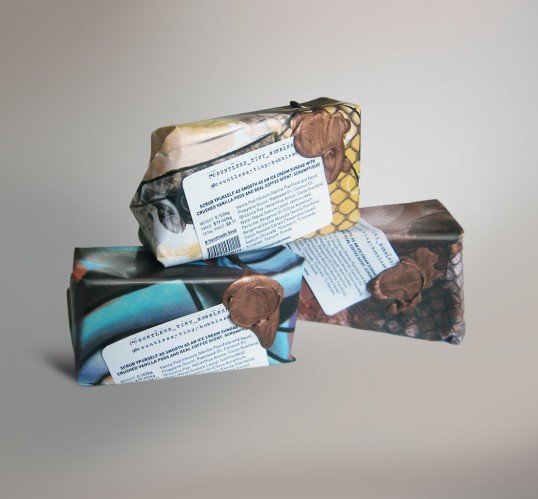 Designed by Natalia Gutsan | Country: Russia
"Self-initiated project. Countless Tiny Bubbles is a brand created for homemade soap. The concept for it's packaging is based on the mysteries during the products creation and use, whereby seemingly by magic the soap dissolves when in use by turning into countless tiny bubbles. This chemical process is sometimes a mystery to the everyday person, hence the pattern on the homemade soap packaging shows smooth stains in a haze which is reflects the overall chemical process associated with soap. The wax-seal motif adds another dimension of texture, making it stand out on the shelf and attractive for potential buyers."