August 19, 2015 | No Comments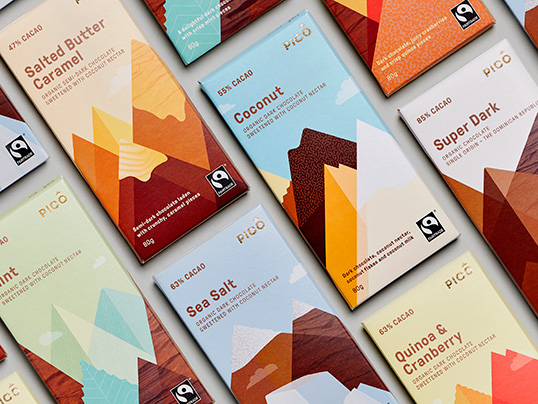 Designed by Swear Words | Country: Australia
"PICO is a premium gluten-free, vegan, fair trade certified, Swiss chocolate range conceived and designed in Melbourne.
A premium chocolate range launching in an already visually busy environment, Pico required impactful, contemporary branding and packaging whilst giving a nod to its Swiss chocolate-making heritage. Our solution is inspired by Swiss poster art and its bold geometric forms reinterpreted as flavour and texture cues in the context of an abstract mountain range designed to lend strong shelf impact."
April 27, 2015 | No Comments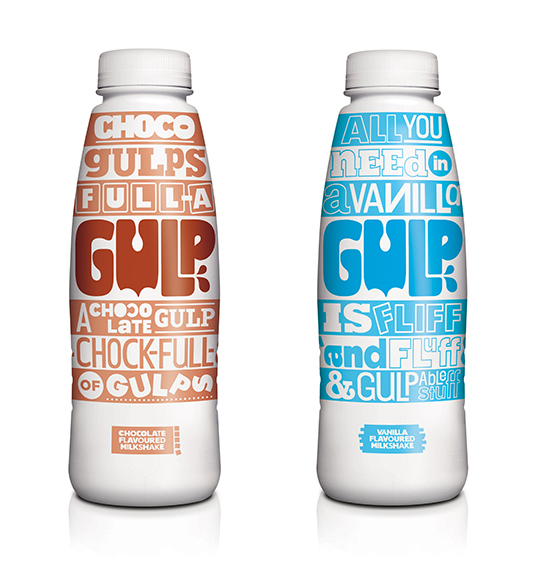 Designed by Wieden + Kennedy London | Country: United Kingdom
"Our role was to create the brand tone of voice and from that devise the package design for a new-to-market ready-to-drink milkshake, Gulp. We've made a bespoke wrapping for each of the vanilla, chocolate, strawberry and banana flavours.
Gulp isn't just a name; it's an attitude. It's a way of behaving. The design is born from the fact that milkshakes need be to shaken to be enjoyed to the max. The typography literally shakes things up expressing Gulp's cheery personality. The stripes running through the design bring to life the stages at which you should enjoy the drink to full effect – in big, bold gulps."
January 28, 2015 | No Comments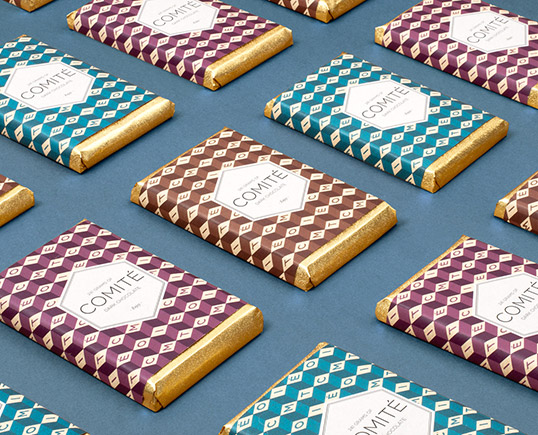 Designed by COMITÉ | Country: Spain
"We made a limited edition of chocolates to thank our customers and friends for their confidence in us. Our work began with the design of the chocolate and finished in its packaging.We wanted to make a design that conveys our philosophy and methodology, taking care of the details and the elegance to the end, playing with geometries, a range of colors, serigraphy and diferent suports. For the production of the chocolate bars we collaborated with La Campana."
August 18, 2014 | 3 Comments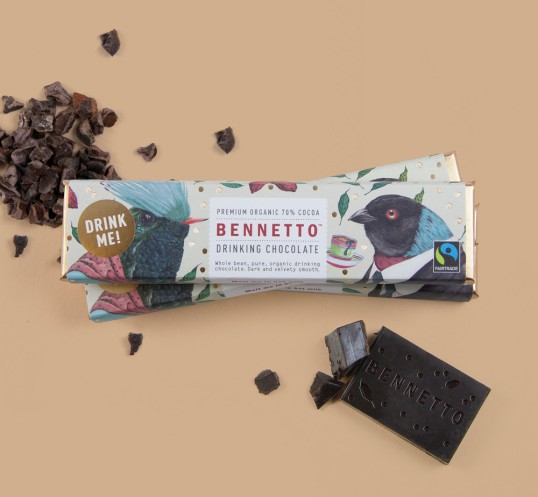 Designed by One Design | Country: New Zealand | Illustration: Henrietta Harris
"Overview: Bennetto Natural Foods Company launched its flagship product this year 'Bennetto Drinking Chocolate'. It is positioned within its market as a luxury confectionery brand, with cacao sourced from a certified Fairtrade cooperative in Peru. 
The two key demographics are business to business and direct to consumer. Within the business to business sector the primary categories targeted are large luxury hotels and international airlines. For our direct to consumer market (via local cafés) is skewed towards health conscious women who enjoy current health food trends and have an adventurous and sophisticated palate. 
In response the product needs to deliver packaging that looks intriguing, imaginative and luxurious while showing quirky, ethical and traditional characteristics."
April 21, 2014 | No Comments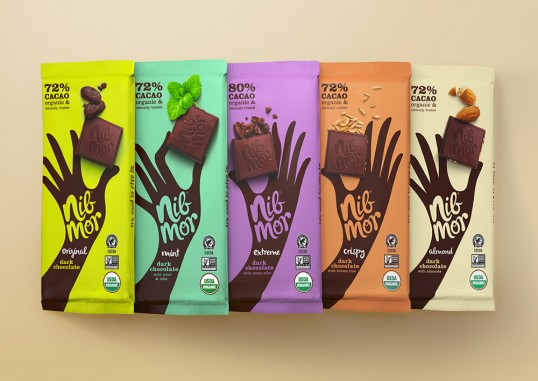 Designed by Pearlfisher | Country: United States
"Pearlfisher New York has created the new brand strategy, tone of voice, brand identity, and packaging for organic chocolate brand, NibMor.
A premium snack brand that does things differently, NibMor was founded by two nutritionists with a love for dark chocolate, eager to share the health benefits of chocolate as part of an active lifestyle. The challenge for NibMor was how to create a cohesive brand message that was enticing to consumers, expressing their healthy point of difference in a desirable way on the crowded confectionary shelf."
March 26, 2014 | 2 Comments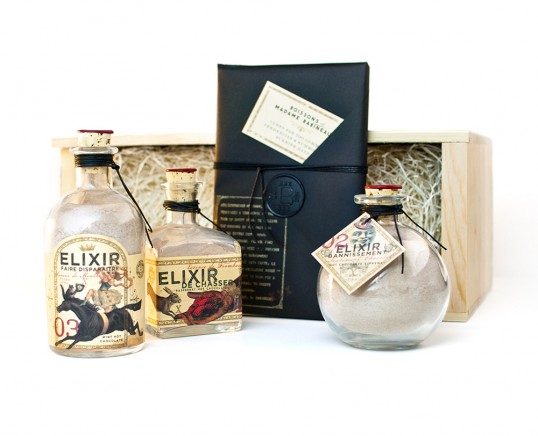 Designed by Ultra Creative | Country: United States
"A year-end pop culture cleansing dipped in the mystique of the French Quarter's darker corners. Relax with a mug of hot chocolate elixir, reflect on 12 scourges that were visited upon us in 2013, and personally conjure a message from beyond to reveal what 2014 holds in store for you."
February 25, 2014 | No Comments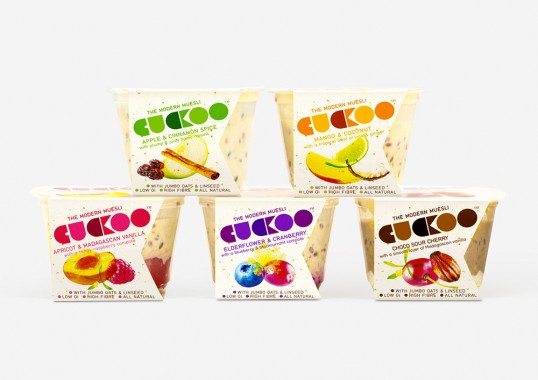 Designed by B&B studio | Country: United Kingdom
"B&B has created the name, identity and packaging for a new brand of bircher muesli. Sold in on-the-go pots, Cuckoo is a wholesome blend of jumbo oats, yoghurt and fruit inspired by the healthy Swiss lifestyle, but characterised by its range of innovative and adventurous flavours, including Mango & Coconut, Elderflower & Cranberry and Dark Chocolate & Sour Cherry."
February 13, 2014 | 1 Comment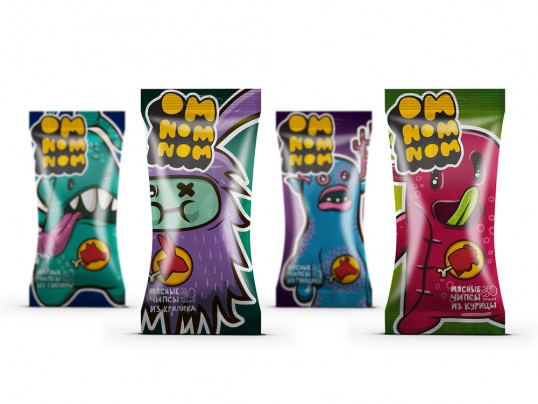 Designed by Anastasia Ovsyannikova | Country: Russia
"Packaging of meat chips for teens. The flavor lineup includes: pork, beef, chicken and rabbit. It's a fancy and healthy snack, an alternative to the ordinary chips, chocolate and other unhealthy snacks.
Small handy pack for usage while on the run. Each pack contains vinyl stickers in order to sticker bomb everything around. Visual idea is to combine street characters and stickers."
February 12, 2014 | No Comments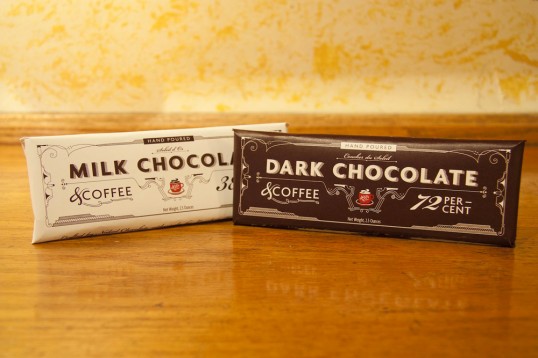 Designed by Physical Pixel | Country: United States
"Looking to expand their specialty offerings, I worked with Lambertville Trading Company to create a new product that incorporated two varieties of their delicious coffee with chocolate from Bucks County, Pennsylvania's Naked Chocolate. Influenced by the historical use of LTC's location as a pharmacy/soda fountain in the late 1800's, my goal was to make these chocolates feel special, considered, and unique, and in keeping, each bar is made by hand in small batches and individually wrapped.
The chocolate is available in two styles, a 38% milk with a light roasted coffee and a 72% dark with a dark roasted coffee, each lending their unique flavor characteristics to the bars."
July 3, 2013 | 5 Comments
Designed by B&B studio | Country: united Kingdom
"B&B studio has rebranded Jealous Sweets, a UK entrepreneur looking to bring credibility to candy with its range of delicious and high quality sweets for grown-ups. Jealous specialises in gummy and jelly treats that are made without gelatine, artificial colours or flavours, so they're 100% vegetarian, gluten-free and full of natural fruit juices."
"The existing Jealous packaging wasn't working hard enough to communicate the brand's premium positioning and the purity of its products," explains B&B studio Creative Partner Shaun Bowen. "And the Jealous name had no real link back to the sweets themselves. We set about linking the two through the idea of 'covetable candy' – a concept that we visualised using a precious jewel icon and a characterful Magpie with an eye for something special."