February 13, 2014 | 1 Comment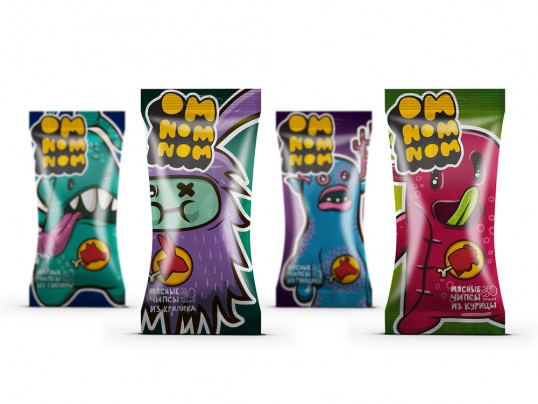 Designed by Anastasia Ovsyannikova | Country: Russia
"Packaging of meat chips for teens. The flavor lineup includes: pork, beef, chicken and rabbit. It's a fancy and healthy snack, an alternative to the ordinary chips, chocolate and other unhealthy snacks.
Small handy pack for usage while on the run. Each pack contains vinyl stickers in order to sticker bomb everything around. Visual idea is to combine street characters and stickers."
February 12, 2014 | No Comments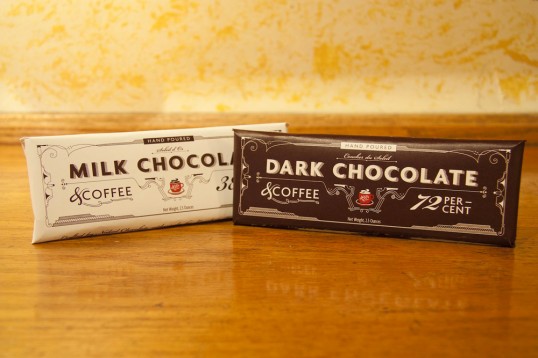 Designed by Physical Pixel | Country: United States
"Looking to expand their specialty offerings, I worked with Lambertville Trading Company to create a new product that incorporated two varieties of their delicious coffee with chocolate from Bucks County, Pennsylvania's Naked Chocolate. Influenced by the historical use of LTC's location as a pharmacy/soda fountain in the late 1800's, my goal was to make these chocolates feel special, considered, and unique, and in keeping, each bar is made by hand in small batches and individually wrapped.
The chocolate is available in two styles, a 38% milk with a light roasted coffee and a 72% dark with a dark roasted coffee, each lending their unique flavor characteristics to the bars."
July 3, 2013 | 5 Comments
Designed by B&B studio | Country: united Kingdom
"B&B studio has rebranded Jealous Sweets, a UK entrepreneur looking to bring credibility to candy with its range of delicious and high quality sweets for grown-ups. Jealous specialises in gummy and jelly treats that are made without gelatine, artificial colours or flavours, so they're 100% vegetarian, gluten-free and full of natural fruit juices."
"The existing Jealous packaging wasn't working hard enough to communicate the brand's premium positioning and the purity of its products," explains B&B studio Creative Partner Shaun Bowen. "And the Jealous name had no real link back to the sweets themselves. We set about linking the two through the idea of 'covetable candy' – a concept that we visualised using a precious jewel icon and a characterful Magpie with an eye for something special."
April 6, 2013 | 5 Comments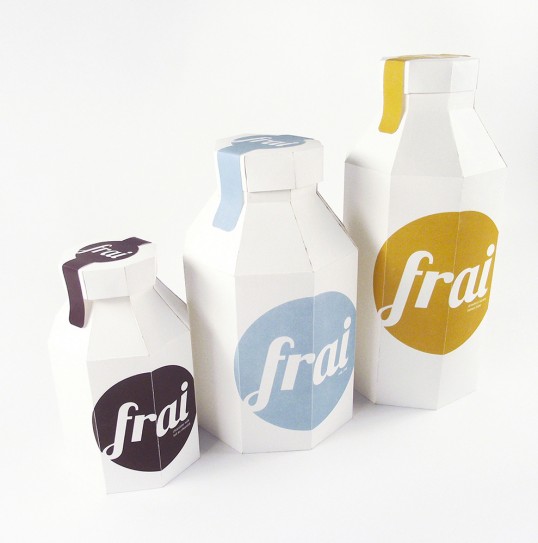 Designed by Cassandra Cappello | Country: Canada
"This is a student project for an invented brand and redesign of a line of milk and juice cartons. These packages are specifically for milk, chocolate milk, and strawberry banana juice. The shape is inspired by old metal milk containers and the minimalistic design allows this line of packages to stand out on shelves. The packages are also bilingual, written in both English and French."
February 20, 2013 | No Comments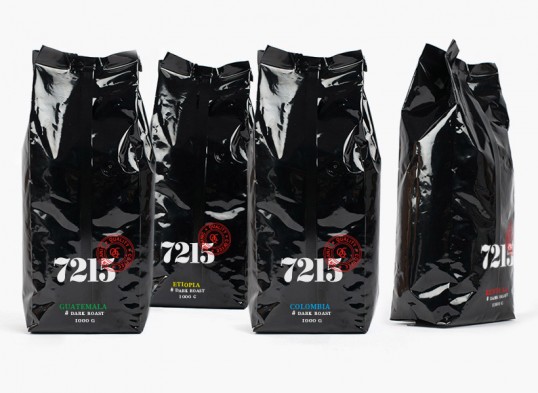 Designed by Blanc | Country: Sweden
"7215 is an all organic brand that specializes in coffee and chocolates with their own trademark – Organic Quality Coffee. 7215 wanted a modern and exclusive look for their products. The key words being Quality, Robust, Exclusive and Trendy. The aim is to get fashionable and wealthy city people, with a desire to choose organic products, to buy their high quality products and visit their coffee shops. The logo was created to capture the robust nature of coffee with the blackness of the font, together with the sense of exclusive quality in the stamped red seal."
February 19, 2013 | No Comments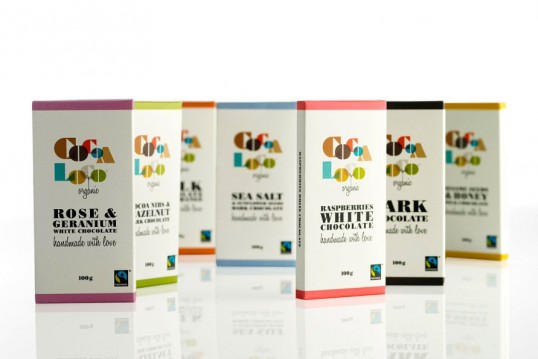 Designed by burst* design | Country: United Kingdom
"burst* created a new identity, packaging, website and promotional material for the hand made chocolatiers Cocoa Loco. The challenge within the design process was to communicate the premium quality of the chocolates while retaining the playful character at the heart of the brand.  Through the combination of a colourful logo, strong typography and a slight retro touch burst* created a strongly recognisable and elegant identity that made Cocoa Loco's passionate founders proud and even more creative than before."
January 28, 2013 | 5 Comments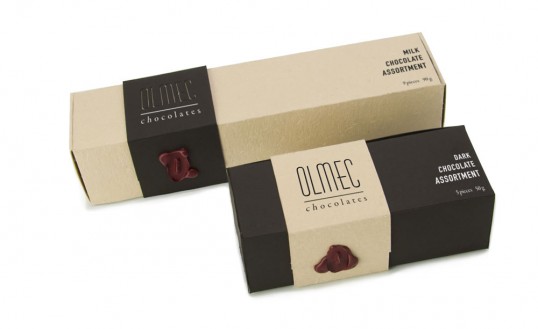 Designed by Lia McMillan | Country: Canada
"The project was to create an environmentally sensitive package for a box of chocolates.
Olmec Chocolates differentiate themselves by showcasing their raw, organic aesthetic. The box itself is made of 100% recyclable material. The chocolates are stacked on top one another and separated by a single strip of wax paper, eliminating the usual plastic mould and individual wax paper cups. The name of each chocolate is printed on the inside the box and coincides with the chocolate itself, as apposed to a more traditional legend that is typically printed on a separate piece of paper. The belly band is also made of recyclable material, and is held together by a wax seal."
November 2, 2012 | 3 Comments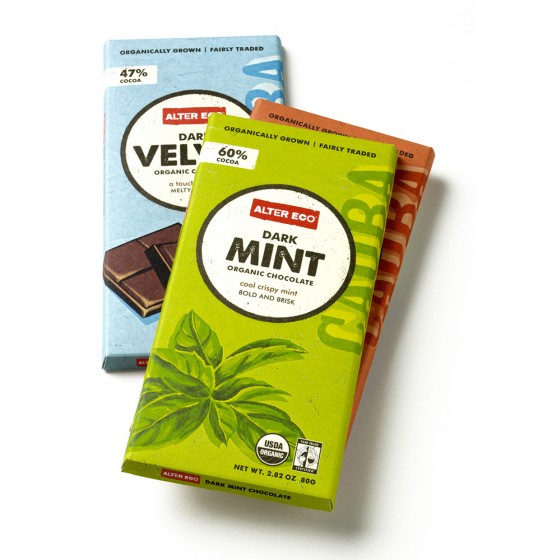 Designed by Tomorrow | Country: United States
"Alter Eco is a brand on a mission. Based in San Francisco with roots in France, this intrepid band of activists is wielding the food business as a weapon against poverty and inequality in developing nations: their offering of chocolate, rice, quinoa and sugar is certified Fair Trade, Organic and on its way to Carbon Zero.
An opportunity to expand their distribution also meant expanding the brand promise – adding a heaping spoonful of taste appeal to their values-driven enterprise. We worked with the Alter Eco team to create a shelf experience that transports mainstream foodies to an exotic, delicious and sustainable place."
September 25, 2012 | 2 Comments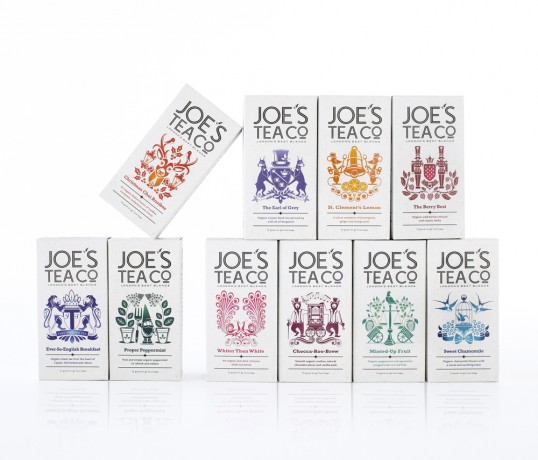 Designed by Echo Brand Design | Country: United Kingdom
"Joe's Tea Company is the brainchild of Joe Kinch, a former tea supply chain manager, who identified an opportunity to create a new product that combines high-quality leaf blends from Sri Lanka, with an interesting twist, to appeal to the newfound and more adventurous younger tea drinker: "Its niche is offering organic fine teas without fuss, or any of the bravado or pretentiousness normally associated with premium products."
August 20, 2012 | 1 Comment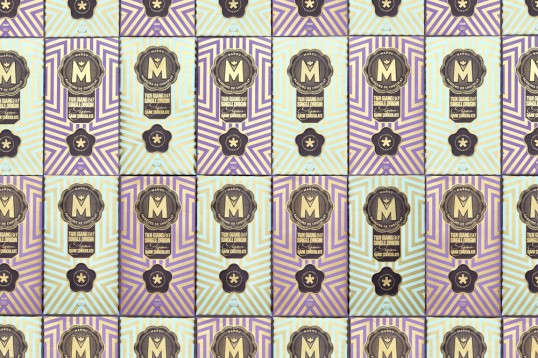 Designed by Rice Creative | Country: Vietnam
"When Wallpaper* Magazine discovered Marou Chocolate, our client, they felt that this singular dark chocolate, hand-crafted in Saigon using purely local ingredients was a perfect match for their third annual Handmade issue (an issue with a focus on unique products combining luxury, craft and inspiration). Marou offered to create a special edition Wallpaper* chocolate bar in time for exhibiting at the 2012 Salone de Mobile in Milan. The packaging we designed for this occasion would stay true to the inspiration behind the standard Marou chocolate bars and press further the attention given to lovingly hand printed details. We strayed some from the traditional motifs of the standard bars to embrace a more modernist approach while incorporating the well known Wallpaper* asterisk mark. It began by creating a new background pattern, which moved away from the traditional lattice and organic elements, replacing them by geometric elements forming an extension of the Wallpaper* asterisk.
The same hand mixed inks and screen-printing methods used on the standard Marou packs were employed, but a new palette of hues would be used, derived from the Wallpaper* handmade seal. The seal even informed a limited edition version of Marou's Monogram for this occasion. The final touch of hand embossing some of the pack's design elements set the stage for a fully considered hand crafted piece."