January 28, 2013 | 5 Comments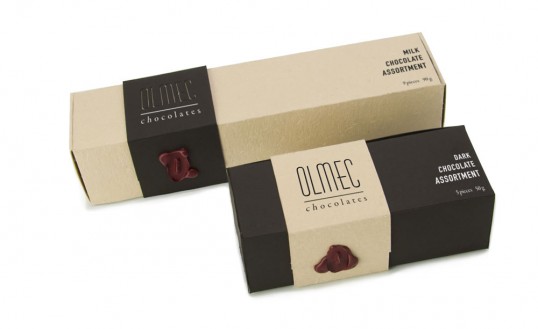 Designed by Lia McMillan | Country: Canada
"The project was to create an environmentally sensitive package for a box of chocolates.
Olmec Chocolates differentiate themselves by showcasing their raw, organic aesthetic. The box itself is made of 100% recyclable material. The chocolates are stacked on top one another and separated by a single strip of wax paper, eliminating the usual plastic mould and individual wax paper cups. The name of each chocolate is printed on the inside the box and coincides with the chocolate itself, as apposed to a more traditional legend that is typically printed on a separate piece of paper. The belly band is also made of recyclable material, and is held together by a wax seal."
November 2, 2012 | 3 Comments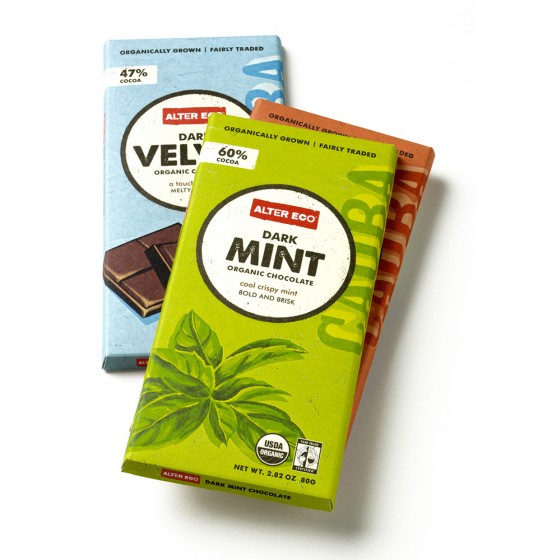 Designed by Tomorrow | Country: United States
"Alter Eco is a brand on a mission. Based in San Francisco with roots in France, this intrepid band of activists is wielding the food business as a weapon against poverty and inequality in developing nations: their offering of chocolate, rice, quinoa and sugar is certified Fair Trade, Organic and on its way to Carbon Zero.
An opportunity to expand their distribution also meant expanding the brand promise – adding a heaping spoonful of taste appeal to their values-driven enterprise. We worked with the Alter Eco team to create a shelf experience that transports mainstream foodies to an exotic, delicious and sustainable place."
September 25, 2012 | 2 Comments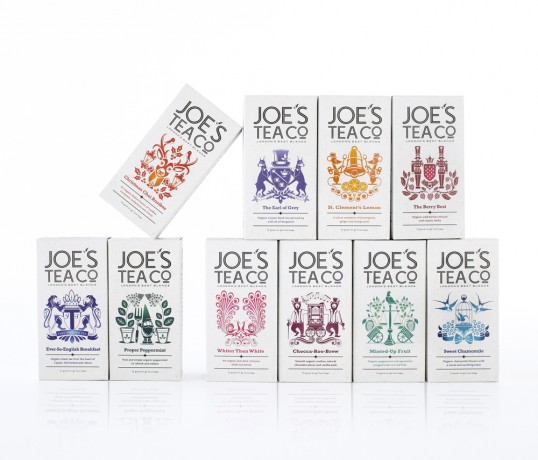 Designed by Echo Brand Design | Country: United Kingdom
"Joe's Tea Company is the brainchild of Joe Kinch, a former tea supply chain manager, who identified an opportunity to create a new product that combines high-quality leaf blends from Sri Lanka, with an interesting twist, to appeal to the newfound and more adventurous younger tea drinker: "Its niche is offering organic fine teas without fuss, or any of the bravado or pretentiousness normally associated with premium products."
August 20, 2012 | 1 Comment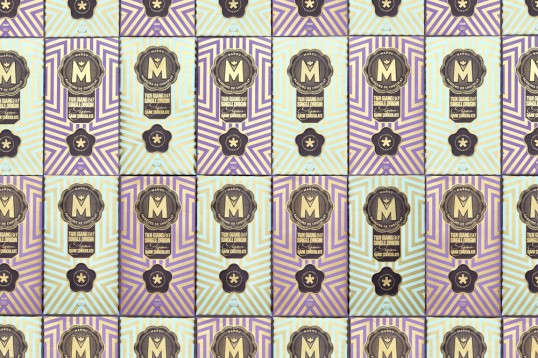 Designed by Rice Creative | Country: Vietnam
"When Wallpaper* Magazine discovered Marou Chocolate, our client, they felt that this singular dark chocolate, hand-crafted in Saigon using purely local ingredients was a perfect match for their third annual Handmade issue (an issue with a focus on unique products combining luxury, craft and inspiration). Marou offered to create a special edition Wallpaper* chocolate bar in time for exhibiting at the 2012 Salone de Mobile in Milan. The packaging we designed for this occasion would stay true to the inspiration behind the standard Marou chocolate bars and press further the attention given to lovingly hand printed details. We strayed some from the traditional motifs of the standard bars to embrace a more modernist approach while incorporating the well known Wallpaper* asterisk mark. It began by creating a new background pattern, which moved away from the traditional lattice and organic elements, replacing them by geometric elements forming an extension of the Wallpaper* asterisk.
The same hand mixed inks and screen-printing methods used on the standard Marou packs were employed, but a new palette of hues would be used, derived from the Wallpaper* handmade seal. The seal even informed a limited edition version of Marou's Monogram for this occasion. The final touch of hand embossing some of the pack's design elements set the stage for a fully considered hand crafted piece."
August 6, 2012 | 4 Comments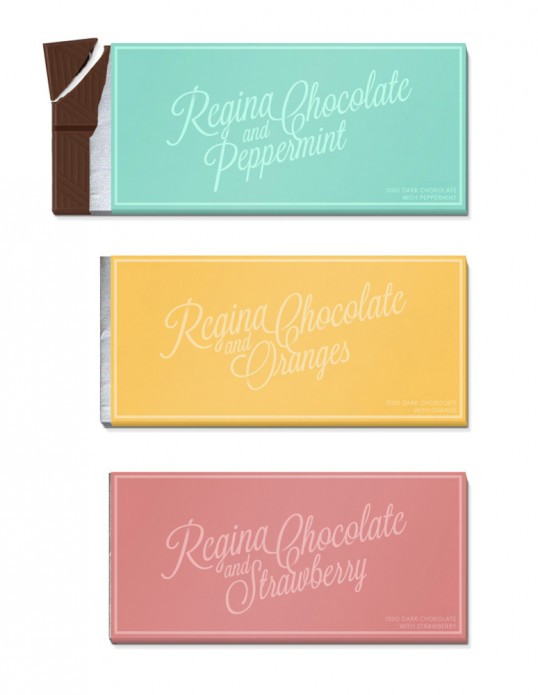 Designed by Jonathan Faust | Country: Denmark
"Regina is a Portuguese chocolate brand founded in 1928. Their products are delicious but their identity really needs some love. 
I have focused on the logo and packaging.The logo is combined with the flavour. As you see every flavour has it's own unique logo. Combined with the colours you get a new product which stands out. Logo and flavour-text is hand drawn. The rounded corners and swashes is a reference to their history and what it's all about – chocolate."
June 23, 2012 | 3 Comments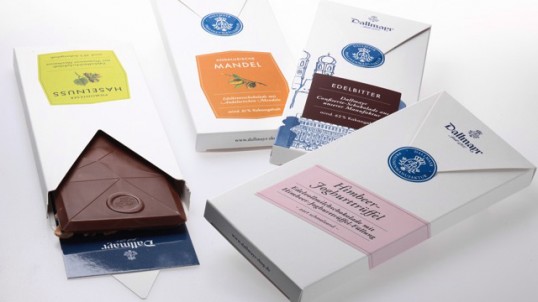 Designed by Factor Product München | Country: Germany
"The Munich delicatessen Dallmayr produces a range of high quality confectionery products in its own chocolate factory. The new Dallmayr chocolate range with refined recipes and only the best ingredients is the result of consistent further development and the company philosophy to strive for outstanding quality.
The objective for the designers from fpm was to express these high quality standards and manufacturing philosophy through suitable packaging design. At the same time the structure of the product range and different categories of chocolate quality should be easy for customers to understand."
June 5, 2012 | 4 Comments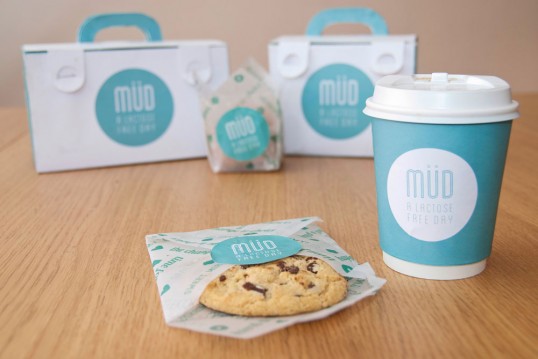 Designed by Mara Rodríguez & Beatrice Menis | Country: Spain
"The aim of this project was to design a packaging for take away. Nowadays there are infinite types of fast foods which offer take away, that's why we chose to narrow it down to a special sector of the market. We chose to focus on lactose intolerance, offering take away dairy-free breakfasts! At Müd we offer cupcakes, donuts, cookies and loaf cakes which you can combine with coffee, tea or hot chocolate and everything is without lactose!Feel free to add any type of dairy-free milk that you want such as almond, rice, oat, etc.We offer two different packagings, one for the combination of coffee and cookie/loaf cake and a bigger one of coffee and muffin/donut.Everything comes with two different kind of stickers, both applied on the sides of the packagings, ones with what there's inside of the packaging and the other ones with emotional sentences about your mood. Finally we wanted to create a brand specialized in dairy-free products but with a modern graphic style which could easily reach to a bigger target."
May 21, 2012 | 1 Comment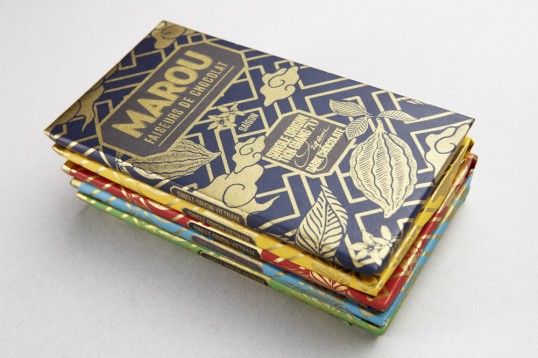 Designed by Rice Creative | Country: Vietnam
"Chocolate makers working directly at the source of the cacao farms are still very few and far between. Marou Faiseurs de Chocolat, based in Ho Chi Minh City (Saigon) is one such company who have created the first single origin gourmet bean-to-bar chocolate to come out of Vietnam. 
Marou was founded less than a year ago by two adventurous Frenchmen. They decided, to use the small amounts of cacao beans harvested, fermented and dried on small family farms throughout the Mekong Delta and southern highlands of Vietnam, to make an extraordinary chocolate.
Marou approached Rice Creative at the beginning of their adventure, with the mission to build the brand's visual identity and packaging."
February 27, 2012 | 1 Comment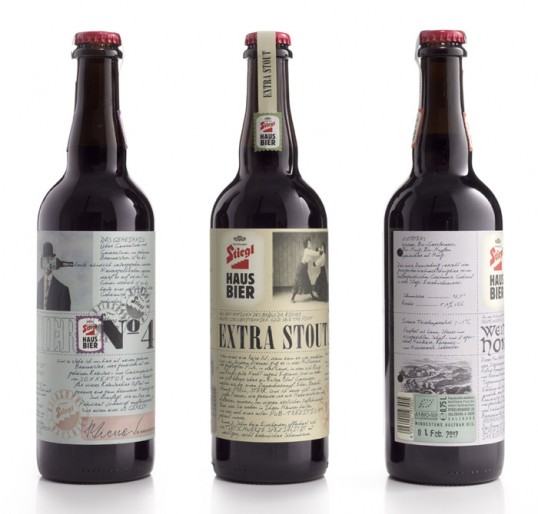 Designed by Demner, Merlicek & Bergmann | Country: Austria
Beautifully detailed labels for Stiegl Haus Beir. Check out the short stories for each brew at the end of the post.
December 23, 2011 | 1 Comment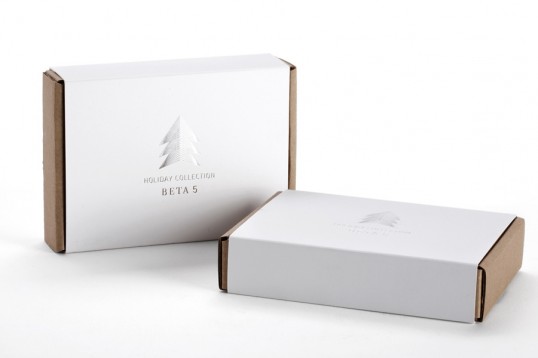 Designed by Glasfurd & Walker | Country: Canada
"BETA 5 chocolates are produced in small batches using ethically sourced estate chocolates and premium ingredients.
The name comes from the form-5 beta crystal structure which is the most stable form of cocoa butter crystallization, formed through the controlled melting, and subsequent cooling (tempering) of liquid chocolate.
As an addition to their core range this range of packaging was developed for their holiday products."