February 10, 2013 | 5 Comments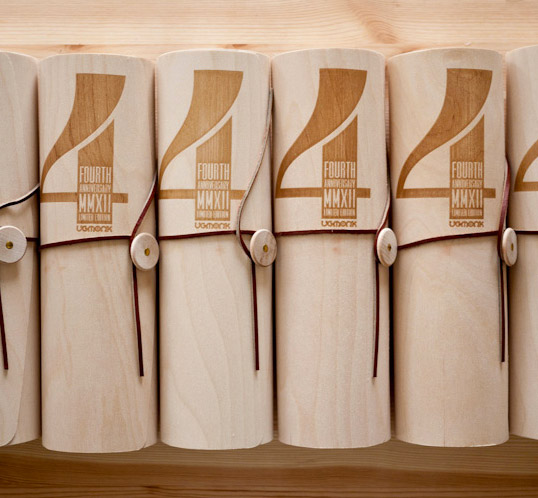 Designed by Jeff Sheldon | Country: United States
"To celebrate 4 years of Ugmonk we created a special Limited Edition 4th Anniversary Set featuring a custom designed number 4. There are only 200 of these sets ever made. The 4th Anniversary Tee features a soft water-based print on black 100% ringspun cotton tee and is carefully packaged in a custom flexible birch wood cylinder that is laser-engraved with the 4th anniversary seal.
When you fold back the flexible closure on this unique packaging, you'll find the shirt accompanied by a numbered, solid wood letterpress block featuring the Ugmonk Anniversary "4." These blocks were custom cut from Ginkgo wood that was reclaimed from a local estate. You can read the whole story about the wood here.
The final piece of the set is a collector's card that I personally signed and hand-stamped with one of the letterpress blocks."
February 9, 2013 | No Comments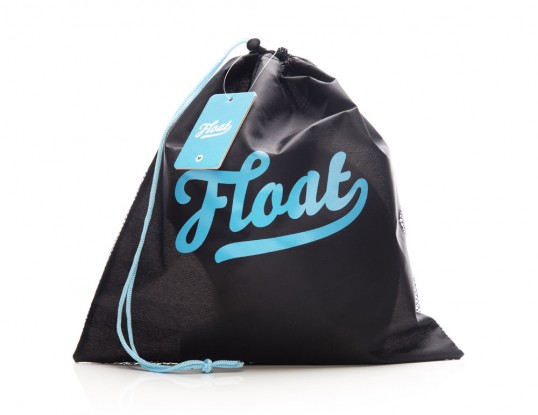 Designed by Leynivopnid | Country: Iceland
"Float is a water therapy product, focusing on a deep and relaxing water experience. The healing properties of water are well known to relieve stress and improve well-being. Float adds a new dimension to the water experience, one of relaxation and total bliss.
Enjoy a blissful silence. Muscle tension, blood pressure and heart rate drop as you start sinking into a deeply relaxed state. Floatation helps to reduce the effects of stress, aids detoxification, offers effective pain relief, speeds up injury recovery and helps alleviate the effects of insomnia, depression and anxiety. After a floating- session you regain a sense of clarity, focus and both physical and mental renewal."
December 10, 2012 | No Comments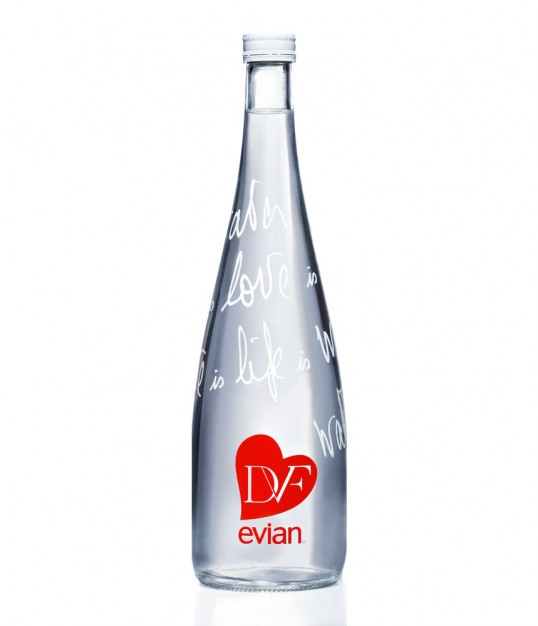 Designed by Diane Von Furstenberg | Country: United States
"Diane Von Furstenberg & Evian® have partnered to design the latest limited edition bottle, which reflects a playful celebration of life.
For the collaboration, DVF drew inspiration from her personal relationship with evian water and her own love of life: "I am so excited about this collaboration because I have always loved evian and I think drinking water is one of the most important things we can do to love ourselves and love is life! To me it is all about living life to the fullest and I am so proud to work with evian to spread such an important message," said Diane Von Furstenberg.
Diane von Furstenberg is the first American and female designer to join the renowned group of designers who have previously collaborated with the brand including Issey Miyake, Paul Smith, Jean Paul Gaultier, Christian Lacroix and Courrèges. Since launching in 2008, more than 10 million limited edition bottles have been sold in over 150 countries.
The bottle, composed of 100% recyclable packaging, is sealed with evian's new screw cap design. The bottle also features a nod to DVF's iconic mantras with "Water is Life is Love is Life is Water is.." which graces the bottle with her own distinct handwriting along with the ubiquitous heart DVF logo in a special hue of red, created exclusively for the Evian® collaboration." 
December 4, 2012 | 3 Comments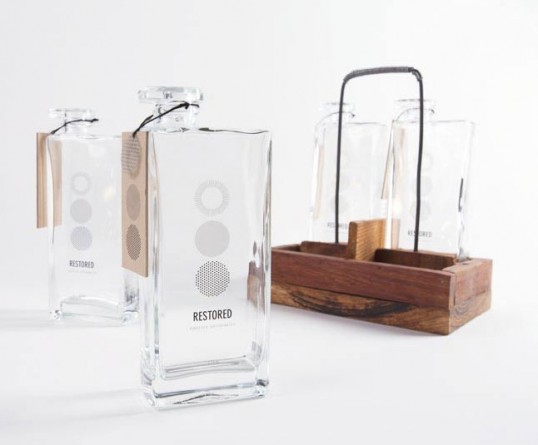 Designed by Morgan Sterns | Country: United States
"The Restored water identity and packaging concept was strongly influenced by the process of taking highly treated wastewater that would have previously been discharged into the Pacific Ocean and purifying it using a three-step advanced treatment process. My main objective was to create a brand that would be a blueprint for water agencies throughout the world in order to help solve local water supply issues.
The logo and identity concept was inspired by patterns found in groundwater filtration systems while the packaging concept inspiration came from mixing clean lines with stainless steel, glass, and recycled wood materials. The final system resulted in the creation of a line of reusable water canteens that convey a modern and minimalistic approach to design while still functioning as a piece of art in the household."
November 27, 2012 | No Comments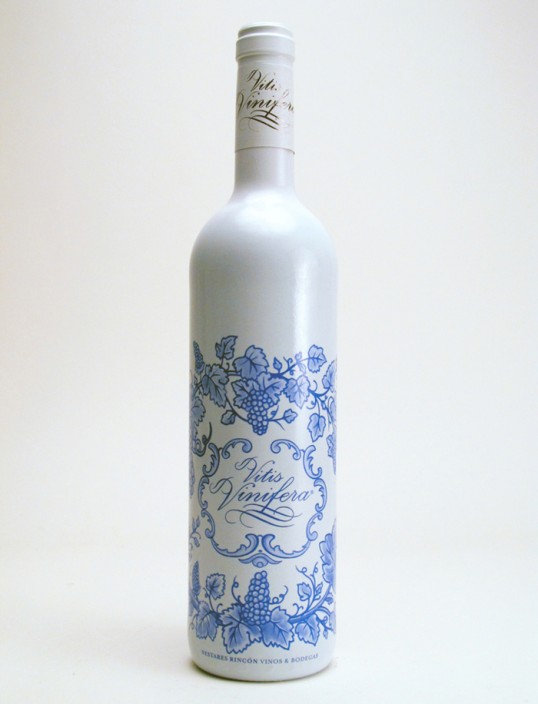 Designed by BrandSession | Country: Spain
"Vitis Vinifera is the Latin name of the common vine. This wine is produced in a winery in Granada (Spain) owned by a long line of pharmacists in the region.
For the packaging of this product, we wanted to recover the spirit of the old pharmacy. To achieve this, we decided on a bottle covered in a sleeve reminiscent of the traditional ceramic pharmacy jars with a vintage design and an unconventional image and colour for the wine industry. The illustration used as a label is a watercolour."
November 26, 2012 | 1 Comment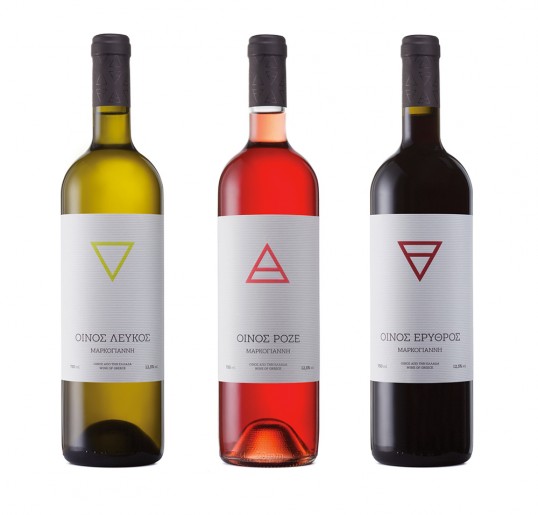 Designed by Chris Trivizas | Country: Greece
"The Markogianni winery is located in Skilountia of ancient Olympia, in Peloponnese. As the project referred to the creation of labels for four products of the winery (white, rose and red wine and aged 'tsipouro'), our goal was to create a tetralogy with a common visual identity, a clear vision and strong differentiation from the competition.
Inspiration for the labels came from the four elements of nature (water, earth, air and fire), also inextricably linked with the creation of these spirits. The color of the wines led to the choice of the corresponding symbols, while the high concentration of alcohol in the 'tsipouro', led to the assignment of the symbol of fire."
November 9, 2012 | 2 Comments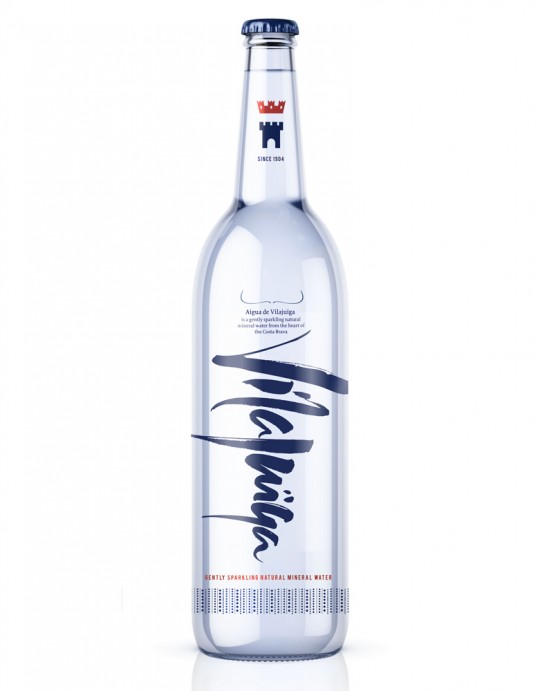 Designed by Studio h | Country: United Kingdom
"Studio h has created award-winning brand and packaging design for Aigua de Vilajuïga, naturally sparkling mineral water from the heart of Catalonia's de Creus Natural Park since 1904, and famed for being Salvador Dali's favourite water. Tasked with reviving this historic Catalan water brand by re-positioning it as a limited edition water for the global market, the Dali connection was taken as the inspiration for the unique brand personality."
November 5, 2012 | 1 Comment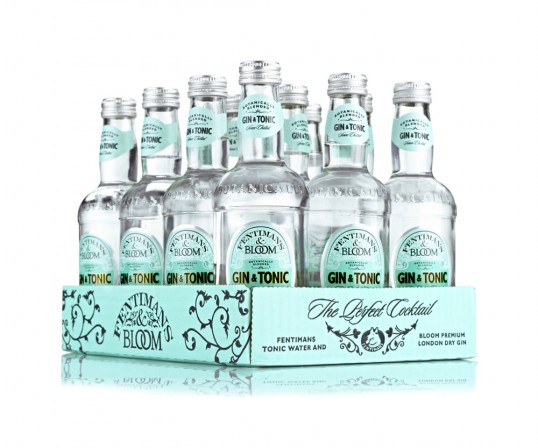 Designed by Keen and Able | Country: United Kingdom
"Keen and Able originally approached G&J Greenall's about an opportunity they had identified in the 'G&T' market for a bespoke tonic water to accompany their Premium London Dry Gin 'Bloom'.
Fortunately, G&J Greenall's was already talking to Fentimans about such an opportunity as both brands were perfectly matched through their Botanical distilling and brewing processes."
October 29, 2012 | No Comments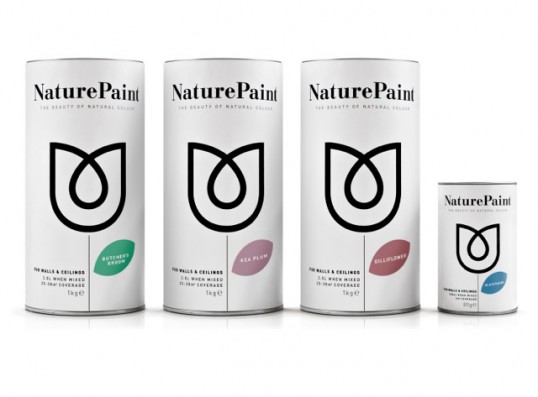 Designed by B&B studio | Country: United Kingdom
"From its base in rural Cornwall, Naturepaint makes the UK's only paint certified with zero VOCs – volatile compounds that contribute to pollution and are hazardous to health. Made only from natural ingredients, including local clays and pigments, Naturepaint is so safe it's the only paint that can be sold via post, and is completely biodegradable."
October 26, 2012 | 1 Comment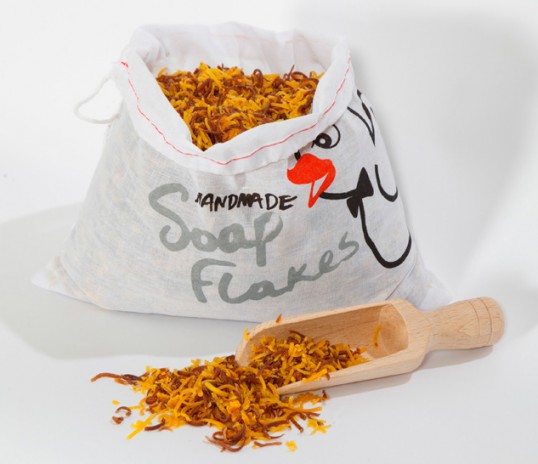 Designed by Marios Karystios | Country: Greece
"Your favorite handmade snob duck soap comes now in ducky soap feathers with the same snob attitude. Just a few flakes are enough to do the job… Why waste so much water making liquid soap?
Hand packaged in small cloth sacks which you can reuse afterwards."