September 19, 2013 | 1 Comment
Designed by QNY Creative | Country: United States
"Victoria's Kitchen is a young californian start up, first launched their Almond Water in 2012. Inspired by a traditional and artisanal recipe from grandmother's kitchen, Almond Water is the perfect combination of delicate yet tasty flavors. Infused with natural extracts, flavors and a hint of sweetness, Almond Water is a refreshing alternative to lemonade or iced tea."
June 12, 2013 | 1 Comment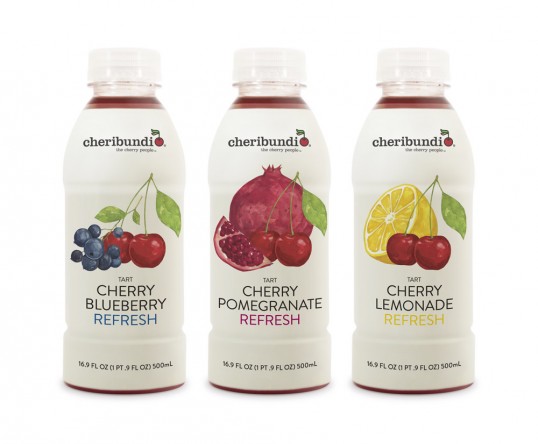 Designed by TDA | Country: United States
"We recently rebranded Cheribundi, an all-natural tart cherry juice drink. Cheribundi is not the artificial flavor-filled red sugar water labeled as "cherry juice" that you drank as a kid. Cheribundi is made from orchard-fresh, tart cherries which are full of phytonutrients and anthocyanins.
The design was inspired by Eric Carle's The Very Hungry Caterpillar. We brought this concept up-to-date by pairing textural watercolor illustrations with clean type and a modern wordmark. All of these elements work together, distinguishing Cheribundi as a sophisticated beverage offering.
This is the first line in a series of rebranding efforts for Cheribundi. In the coming months we will be releasing the Functional line of Cheribundi as well as a Tea Refresh line."
April 26, 2013 | 1 Comment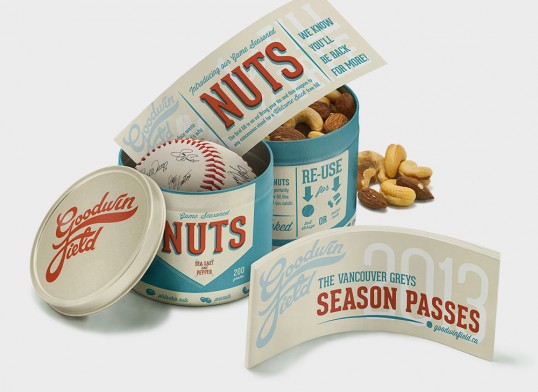 Designed by Allison Chambers | Country: Canada
"In addition to brand development, this project called for creating a strategy to reduce packaging waste at baseball games. Nostalgic script from by-gone days inspired the logo. Fans can re-use their 'Game Seasoned Nuts' tin game after game, or even store a prized baseball. Season ticket holders get the branded tin holding their tickets, a coupon for nuts, and a baseball signed by the players. The goal of the project is to increase loyalty and fan base, while developing a sustainable, environmental solution."
April 4, 2013 | 3 Comments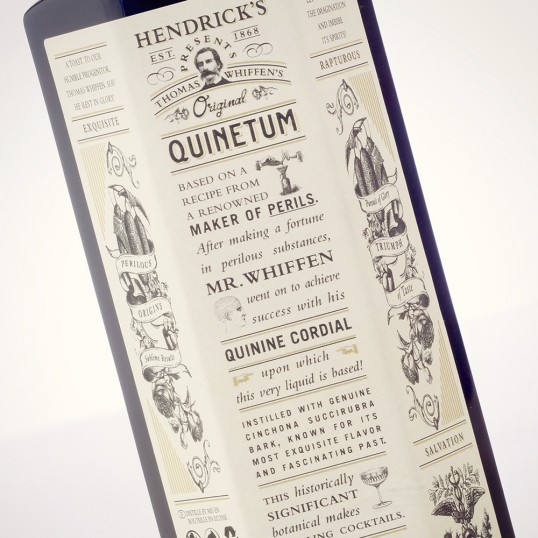 Designed by Quaker City Mercantile | Country: United States
"After much intensive research and development, Philadelphia-based Quaker City Mercantile is thrilled to present Quinetum, a highly exclusive quinine cordial from Steven Grasse, creator of the iconic Hendrick's Gin.
Quinetum is a unique and complex blend comprised of Cinchona Succirubra Bark, from which Quinine is derived, and a range of botanicals (4% ABV ethanol). It is designed to be a bartender's tinkering tool when used as a cocktail ingredient or can be lengthened with soda water and combined with Hendrick's in place of tonic.
Grasse decided to bring the curious history of quinine to life channeling the ethos of Thomas Whiffen, a renowned maker of poisons who established The Quinine Works of Battersea, London and whose likeness graces the Quinetum bottle. He was the first person to synthesize quinine in the 1800's, which at the time was a lifesaving drug against malaria."
March 28, 2013 | 1 Comment
Designed by Shout Design | Country: New Zealand
"George Weston Foods were looking to refresh the packaging of their artisan bread range "two Hands". The task was to inject more craft and evoke the feel of locally baked bread.
The Solution was inspired by the blackboard of small New Zealand deli's and bakeries. The typography was hand crafted by Jo Tronc of watermark illustration as both the client an Shout felt to live up to the brand name and values hand typography was the only answers."
March 8, 2013 | 1 Comment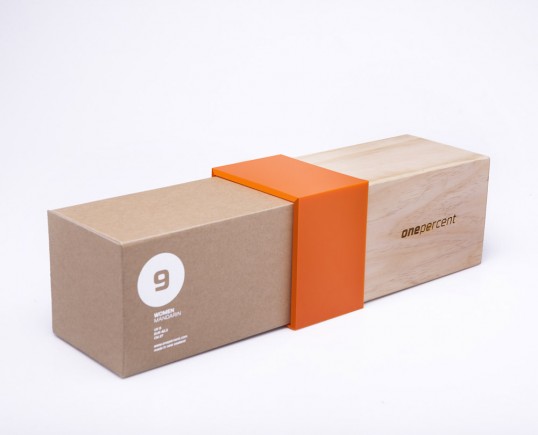 Designed by Ryan Romanes | Country: New Zealand
"Collectively 8 people were involved in the production of these boxes. Main contributors included a carpenter, digital printers, a wood routing specialist, engravers and myself. All of the contributors were supplied with concise instructions and illustrations, with a focus on their area of the process. It was important that certain stages of the construction were done prior to assemblage, for instance; the branding cut out and engraving on the bottom end of the box had to be completed before the panels were put together, otherwise the box wouldn't fit into the engraving bed. Likewise the sanding of the boxes happened before engraving so the marks were not stripped. 
The similar tones of the corrugated card and pine complement each other while the high gloss of the acrylic band emphasizes the elegance of the brands expensive nature. The logos symbol is a stylization of the upper leg in profile, starting from knee joint and finishing at the Gluteus Maximus. The name 'one percent' references two topics, the first meaning; when exercising our body perspiration is made up of 99% water and 1% solute. Secondly 'once percent' represents exclusivity, targeting the brands high end audience. RBNo3.1 was the selected typeface. Its highly geometric form grounds the logo while movement is created when italic."
February 11, 2013 | 2 Comments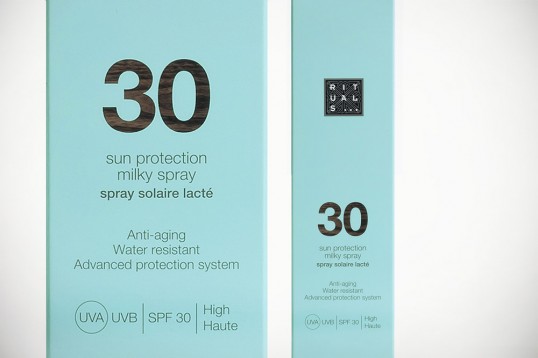 Designed by Matte | Country: The Netherlands
"Rituals is a Dutch mid-priced body and home care brand with products inspired by eastern rituals. Rituals approached Matte to help them create packaging for their professional and effective sun care range. The inspiration behind the range is the tropical clear water beaches and charming wooden huts. The final design we created is clear, attractive and communicative while suggesting the joy of a Balinese vacation."
February 10, 2013 | 5 Comments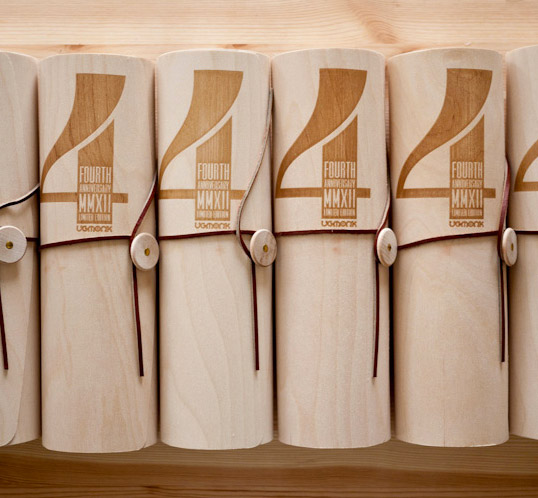 Designed by Jeff Sheldon | Country: United States
"To celebrate 4 years of Ugmonk we created a special Limited Edition 4th Anniversary Set featuring a custom designed number 4. There are only 200 of these sets ever made. The 4th Anniversary Tee features a soft water-based print on black 100% ringspun cotton tee and is carefully packaged in a custom flexible birch wood cylinder that is laser-engraved with the 4th anniversary seal.
When you fold back the flexible closure on this unique packaging, you'll find the shirt accompanied by a numbered, solid wood letterpress block featuring the Ugmonk Anniversary "4." These blocks were custom cut from Ginkgo wood that was reclaimed from a local estate. You can read the whole story about the wood here.
The final piece of the set is a collector's card that I personally signed and hand-stamped with one of the letterpress blocks."
February 9, 2013 | No Comments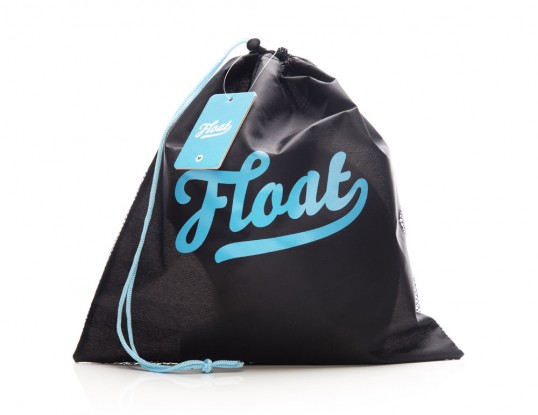 Designed by Leynivopnid | Country: Iceland
"Float is a water therapy product, focusing on a deep and relaxing water experience. The healing properties of water are well known to relieve stress and improve well-being. Float adds a new dimension to the water experience, one of relaxation and total bliss.
Enjoy a blissful silence. Muscle tension, blood pressure and heart rate drop as you start sinking into a deeply relaxed state. Floatation helps to reduce the effects of stress, aids detoxification, offers effective pain relief, speeds up injury recovery and helps alleviate the effects of insomnia, depression and anxiety. After a floating- session you regain a sense of clarity, focus and both physical and mental renewal."
December 10, 2012 | No Comments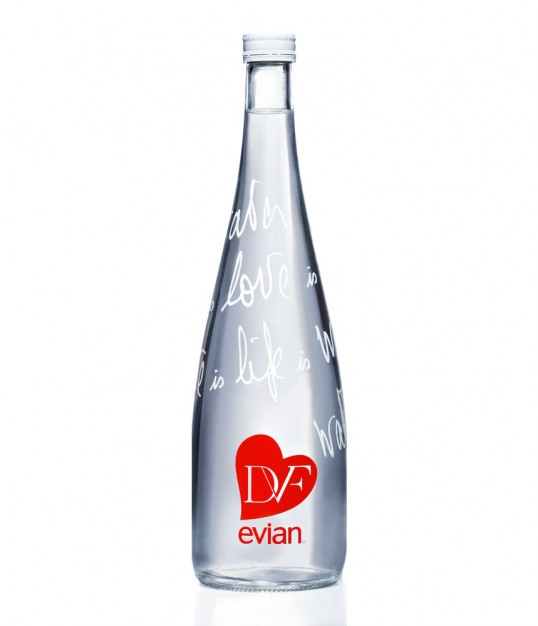 Designed by Diane Von Furstenberg | Country: United States
"Diane Von Furstenberg & Evian® have partnered to design the latest limited edition bottle, which reflects a playful celebration of life.
For the collaboration, DVF drew inspiration from her personal relationship with evian water and her own love of life: "I am so excited about this collaboration because I have always loved evian and I think drinking water is one of the most important things we can do to love ourselves and love is life! To me it is all about living life to the fullest and I am so proud to work with evian to spread such an important message," said Diane Von Furstenberg.
Diane von Furstenberg is the first American and female designer to join the renowned group of designers who have previously collaborated with the brand including Issey Miyake, Paul Smith, Jean Paul Gaultier, Christian Lacroix and Courrèges. Since launching in 2008, more than 10 million limited edition bottles have been sold in over 150 countries.
The bottle, composed of 100% recyclable packaging, is sealed with evian's new screw cap design. The bottle also features a nod to DVF's iconic mantras with "Water is Life is Love is Life is Water is.." which graces the bottle with her own distinct handwriting along with the ubiquitous heart DVF logo in a special hue of red, created exclusively for the Evian® collaboration."