November 18, 2009 | 1 Comment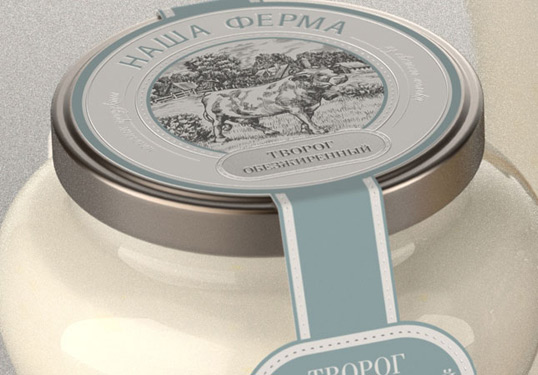 Designed by Nadie Parshina | Country: Russia
"This small factory makes dairy production of the highest quality – without additives and preservatives, from non-polluting milk, very small parties and under the order."
November 4, 2009 | 4 Comments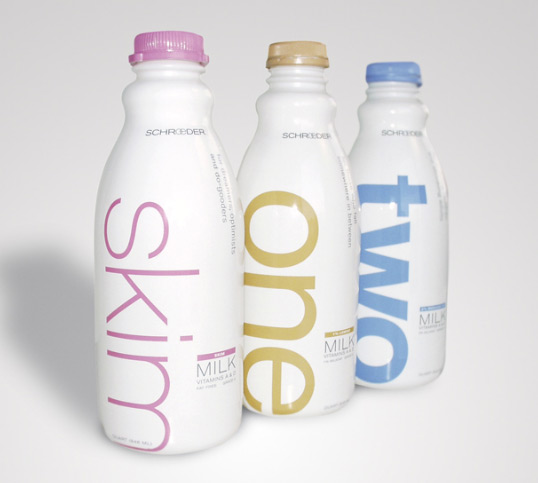 Designed by Capsule | Country: United States
"We designed a completely new look for Schroeder, one that communicated on three levels. The first level is a clean, white opaque package that communicated a European sophistication. The next level is the use of the words One, Two, Whole, and Skim each scaled reflect the fat level of the milk, The last is the use of rotating, esoteric phrases that spoke to consumers in an anti-marketing language. Phrases like for dreamers and optimists and for those who fall somewhere in between. The early results speak for themselves. Schroeder saw a sustained 15% increase in distribution due to their new packaging and 22% increase in sales of milk during a recessionary economy."
October 23, 2009 | 4 Comments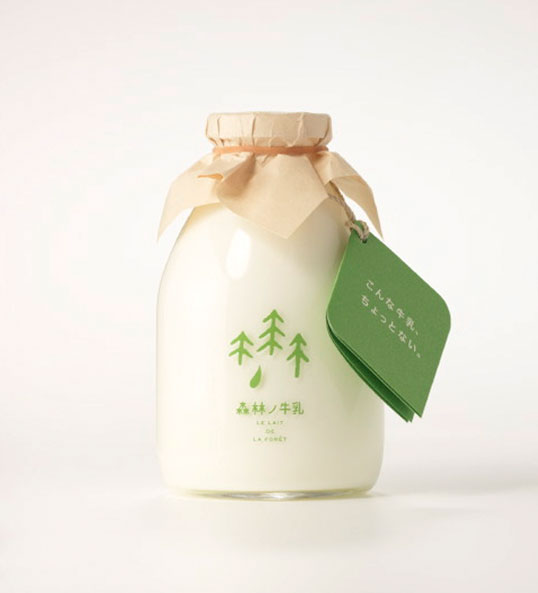 Designed by Rise Design Office | Country: Japan
The cows which produce this milk are free to roam an unused forest all year round. The milk is supposed to taste better, the theory being that happy cows produce better milk. We like the way the tree graphic reflects the typography as well as the simple yet charming addition of tissue paper covering the bottle cap. Nominated for a Japanese 2009 Good Design Award.
Via Spoon & Tamago
October 18, 2009 | 7 Comments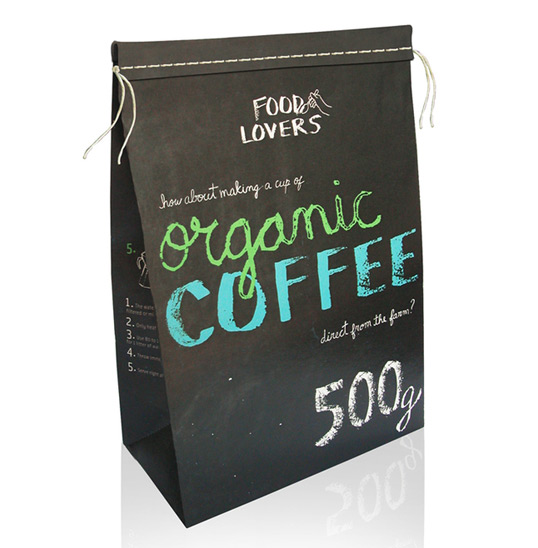 Designed by Isabela Serta | Country: Brazil
"The idea of this project is to promote a more healthy food consumption and, concurrently, to also promote sustainable local agriculture, which involves methods that do not harm the environment, respect workers and animals, provide fair wages to farmers and support farming communities.
October 11, 2009 | 8 Comments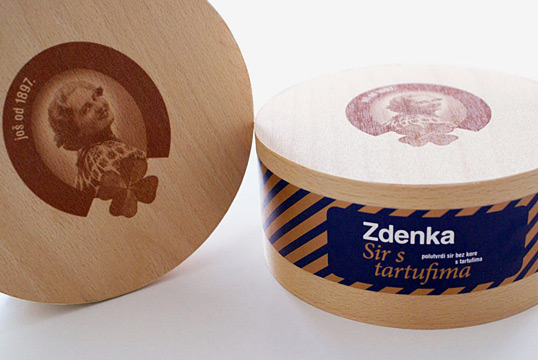 Designed by Tridvajedan | Country: Croatia
"With its long tradition, Zdenka is recognized as high quality cheese with unique flavor. It is a cheese for pleasure since it is natural, made of the finest domestic milk, and good for health. The task was to design packaging for Zdenka cheese with truffles, premium line of Zdenka cheese. Packaging should define this cheese as premium, high quality and traditional but at the same time for the modern market.
September 8, 2009 | 2 Comments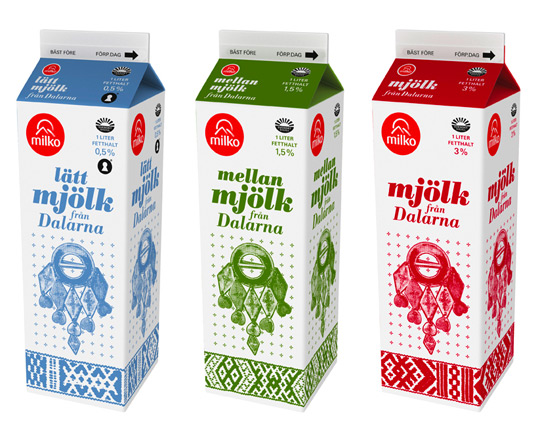 Designed by United Power | Country: Sweden
Interesting work from Swedish studio United Power for Milko, one of Sweden´s largest dairy companies producing milk products.
August 23, 2009 | 3 Comments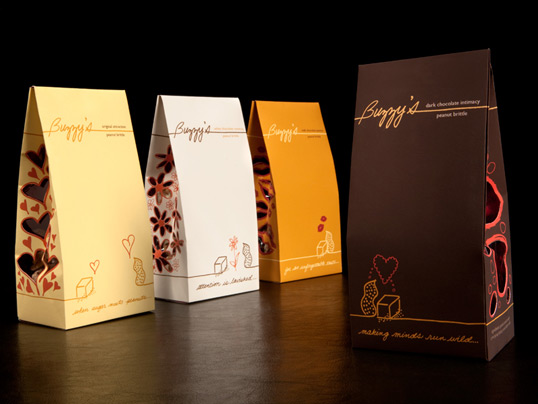 Designed by Aileen Barrameda | Country: United States
"The packaging is for Buzzy's, a boutique gourmet candy shop that targets women. They wanted a feminine approach in selling their best selling line of peanut brittle, which includes original, white chocolate dipped, milk chocolate dipped, and dark chocolate dipped.  Buzzy's uses 7 ingredients to make their original peanut brittle recipe.
I approached the design with the idea of "simple ingredients made with love," using romance to woo women. The line of packaging tells a story of peanut meeting sugar and how their relationship develops into the 4 stages of love: attraction (original), romance (white chocolate), passion (milk chocolate), and intimacy (dark chocolate). Since the packaging is about a story unfolding, the packaging has a preforrated tab to reveal the bright red lining–a color associated with love, passion, and romance. The die cuts give a glimps of the product and are associated with the line graphics per assortment."
June 23, 2009 | 9 Comments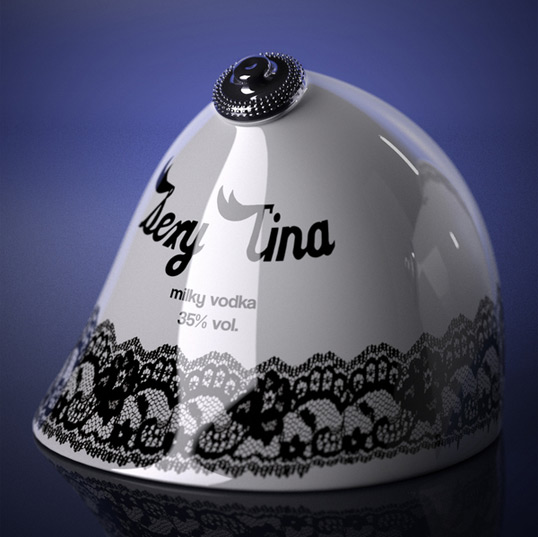 Designed by Pavel Gubin | Country: Russia
I love this concept! I can just see people drinking straight from the bottle with this package.
"Sexy Tina. 35 % vol. Milky strong liquor (irish cream). Also it is recommended for fans to drink from a throat."
June 17, 2009 | No Comments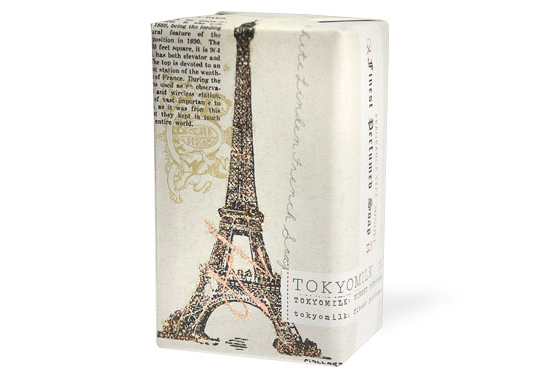 Designed by Margot Elena Wells | Country: United States
"A new line of deliciously scented, French-milled soaps by the Denver-based soap impresario and designer Margot Elena Wells. TokyoMilk soaps come in four scents (Rosewood, White Linden — my favorite, Exotic Woods and White Vetiver), and are wrapped in charmingly illustrated linen paper. Wells, a self-taught illustrator, designs all of the finely detailed packaging. In addition to soap, she also has a line of clever, hand-drawn note cards. Attach a card to one of the soaps, and you have an inexpensive but appealing host or house-warming gift."
May 21, 2009 | No Comments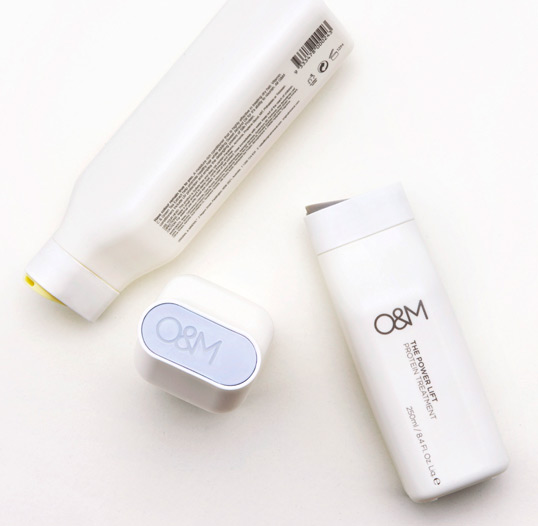 Designed by Container | Country: China/Australia
"O&M are pioneers of ammonia free colour technology. To help the brand come front of house Container were commisioned to produce a new identity and deliver packaging that reflected their offer of salon professional results without harsh chemicals. The forms developed for the wet range are reminiscent of milk bottles giving a visual cue to the formulations within – that they are clean, natural & nourishing. The styling products make a bold statement that helps to create visual tension when merchandised with O&M's other products on shelf."