September 8, 2009 | 2 Comments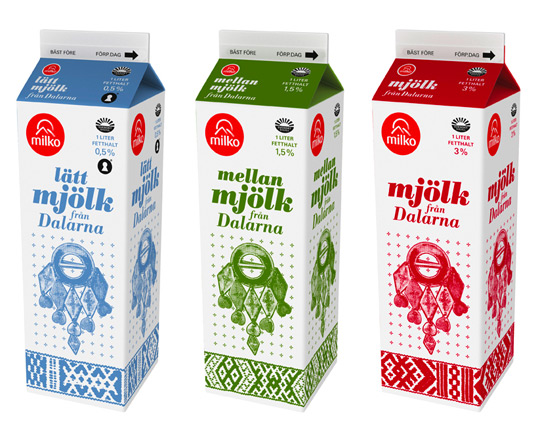 Designed by United Power | Country: Sweden
Interesting work from Swedish studio United Power for Milko, one of Sweden´s largest dairy companies producing milk products.
August 23, 2009 | 3 Comments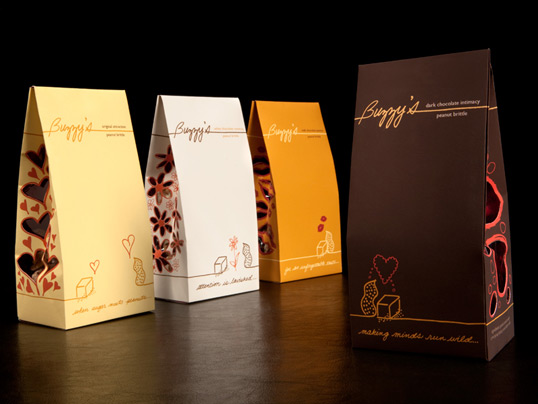 Designed by Aileen Barrameda | Country: United States
"The packaging is for Buzzy's, a boutique gourmet candy shop that targets women. They wanted a feminine approach in selling their best selling line of peanut brittle, which includes original, white chocolate dipped, milk chocolate dipped, and dark chocolate dipped.  Buzzy's uses 7 ingredients to make their original peanut brittle recipe.
I approached the design with the idea of "simple ingredients made with love," using romance to woo women. The line of packaging tells a story of peanut meeting sugar and how their relationship develops into the 4 stages of love: attraction (original), romance (white chocolate), passion (milk chocolate), and intimacy (dark chocolate). Since the packaging is about a story unfolding, the packaging has a preforrated tab to reveal the bright red lining–a color associated with love, passion, and romance. The die cuts give a glimps of the product and are associated with the line graphics per assortment."
June 23, 2009 | 9 Comments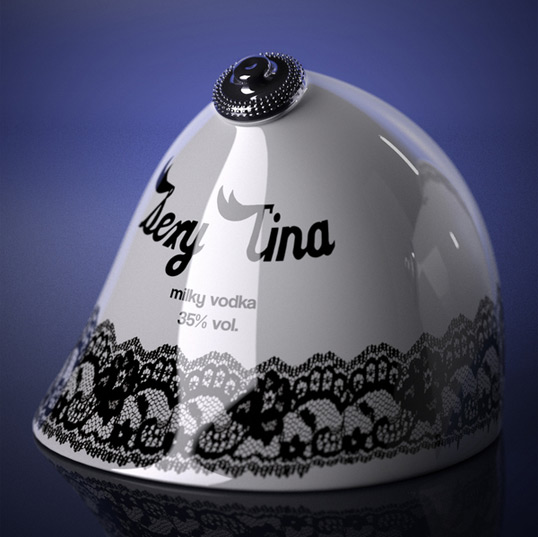 Designed by Pavel Gubin | Country: Russia
I love this concept! I can just see people drinking straight from the bottle with this package.
"Sexy Tina. 35 % vol. Milky strong liquor (irish cream). Also it is recommended for fans to drink from a throat."
June 17, 2009 | No Comments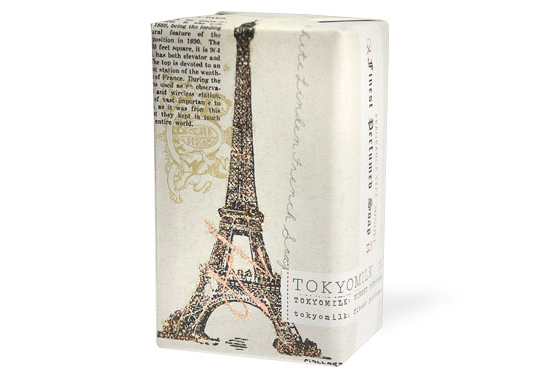 Designed by Margot Elena Wells | Country: United States
"A new line of deliciously scented, French-milled soaps by the Denver-based soap impresario and designer Margot Elena Wells. TokyoMilk soaps come in four scents (Rosewood, White Linden — my favorite, Exotic Woods and White Vetiver), and are wrapped in charmingly illustrated linen paper. Wells, a self-taught illustrator, designs all of the finely detailed packaging. In addition to soap, she also has a line of clever, hand-drawn note cards. Attach a card to one of the soaps, and you have an inexpensive but appealing host or house-warming gift."
May 21, 2009 | No Comments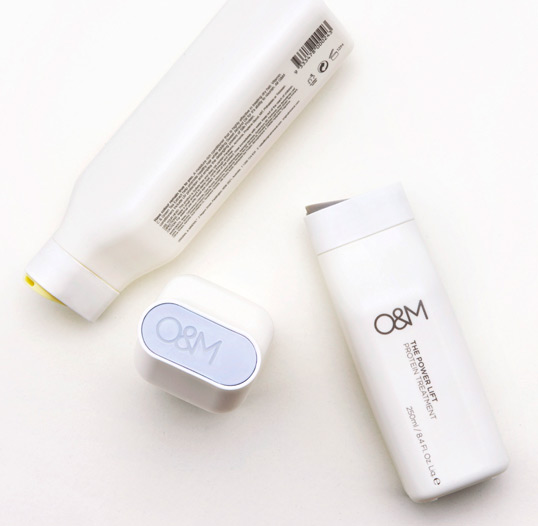 Designed by Container | Country: China/Australia
"O&M are pioneers of ammonia free colour technology. To help the brand come front of house Container were commisioned to produce a new identity and deliver packaging that reflected their offer of salon professional results without harsh chemicals. The forms developed for the wet range are reminiscent of milk bottles giving a visual cue to the formulations within – that they are clean, natural & nourishing. The styling products make a bold statement that helps to create visual tension when merchandised with O&M's other products on shelf."
April 14, 2009 | 10 Comments
Country: Japan | Font: ITC Avant Garde Gothic
100% Chocolate Cafe, located in Kyobashi  is a cafe dedicated to chocolate. Chocolate is used in all of the food and drinks in the menu.
They offer 56 different types of solid, square chocolate. Numbers 1-22 are single-bean chocolate. Each chocolate is made of cacao from one country. Numbers 23 & 24 are bitter chocolate with small pieces of cacao beans. Numbers 24 to 28 are variations of sweetener – one uses brown sugar, another one uses honey, etc. Numbers 26 to 36 are the variations of milk. Numbers 37 to 51 are the variations of flavors including fruits and herbs, and Numbers 52 to 54 are the healthy choices. Numbers 55 and 56 are the early blends of Japan's longseller chocolate.
March 18, 2009 | 2 Comments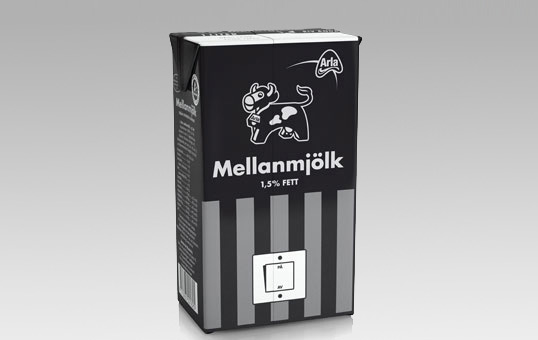 Designed by Milk | Country: Sweden | Fonts used: Futura
"Swedish advertising agency Milk has turned the classic white Arla milk carton black.
It is a campaign for WWF's Earth Hour. A worldwide event encouraging people to raise environmental awareness by turning off the lights for one hour."
March 17, 2009 | No Comments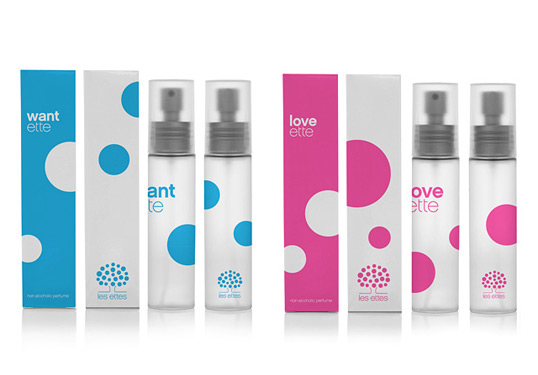 Designed by Emil Kozak | Country: Spain | Fonts used: Chalet
Gorgeous work from Emil Kozak for French/Austrian perfume company, Les Ettes. For those of you familiar with Emil's work you'll immediately recognize his style in these designs. For those not familiar, be sure to to check out his site.
March 17, 2009 | 20 Comments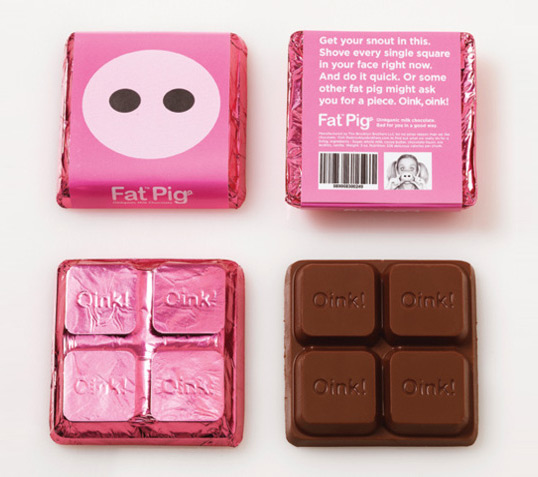 Designed by The Brooklyn Brothers | Country: United States | Fonts used: Arial Rounded
"Fat Pig is a totally organic milk chocolate bar and is currently available in one flavor: delicious. It has none of the bitter aftertaste of regular milk chocolate nor is it cloyingly sweet: it's just pure, creamy excess.
It's already the favorite chocolate of Contagious Magazine.
The Chocolate Nerd said "Nice chocolate! It's super creamy, quality milk chocolate and organic too. The bars are more substantial then I thought – a weighty 3. oz each."
And Divine Caroline added "I honestly don't think I've ever enjoyed a piece (okay a whole bar) of chocolate as much when I pigged out on Fat Pig. It's delicious!"
March 14, 2009 | 23 Comments
Designed by David Fung | Country: United States | Fonts used: Archer
"This was a personal experiment in form, function, and fun. The goal of this redesign was to use a standard milk carton as the canvas to create a clean, modern, and functional design yet still approachable for the average consumer."