August 12, 2010 | 5 Comments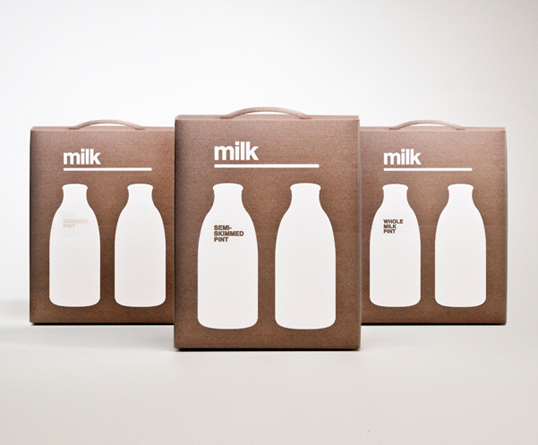 Designed by Darren Custance | Country: United Kingdom
"I have designed cardboard milk packaging for glass milk bottles. The idea was to use a minimalist approach, keeping the packaging uncluttered and to make a bold statement as to what the product was.
The different types of milk were in different colours to make them easily distinguishable, with the number of bottles on the front indicating the number of milk bottles inside the package."
August 4, 2010 | 10 Comments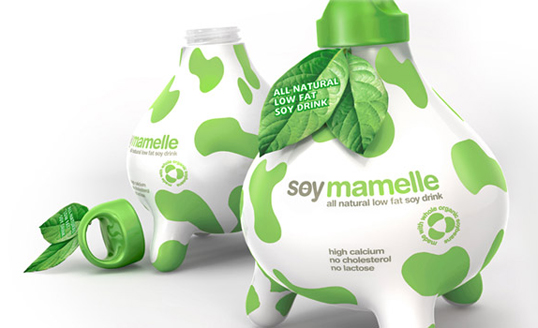 Designed by KIAN | Country: Russia
"The KIAN brand agency took on the process of naming, formulating a creative brand concept, and creating the package shape. Soy milk "Soy mamelle" is a 100% vegetative product. It is a source of high grade fiber and calcium, containing no cholesterol and a proven ability to actually lower cholesterol levels in the human body.
July 23, 2010 | 13 Comments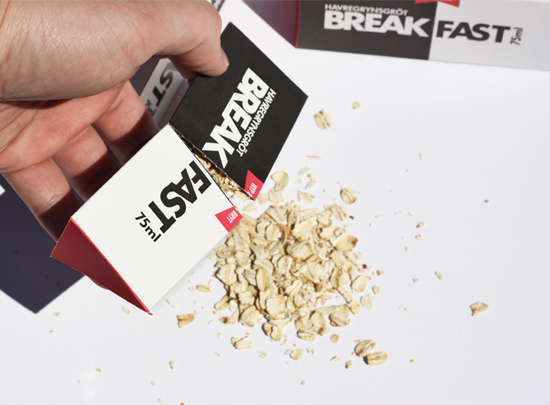 Designed by Niklas Hessman | Country: Sweden
"A kind of taste pack for oatmeal. This package contains the right amount of oatmeal with added sugar and salt. You break your BREAK FAST pack over a bowl, add water and cook in the microwave. Then you can tentatively serve with cold milk. The idea is to target a new audience that otherwise would not eat oatmeal, but also to those who are usually in a hurry in the morning and tend to skip today's most important meal, breakfast. Break it fast and have a BREAK FAST!"
June 30, 2010 | 4 Comments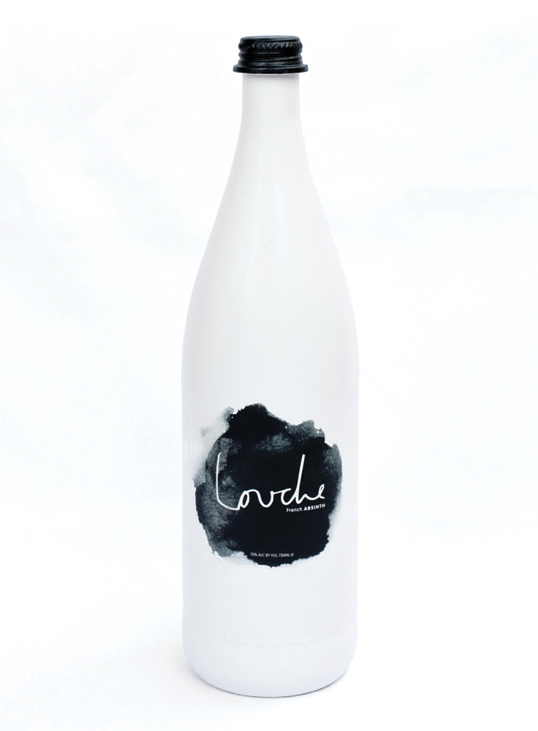 Designed by Holly Canham | Country: Australia
Louche Absinth is a fictional absinth product, created to appeal to premium spirit buyers. The packaging design was influenced by the bohemian culture during the 19th Century in Paris. The watercolour spot is a link to the writers and artists who were famously known to drink absinth during this time. The bottle is coloured a milky/beige as a reflection of the name 'Louche' (being the milky essence that forms in the drinking ritual) as well as giving a 'secretive' feel.
June 27, 2010 | 6 Comments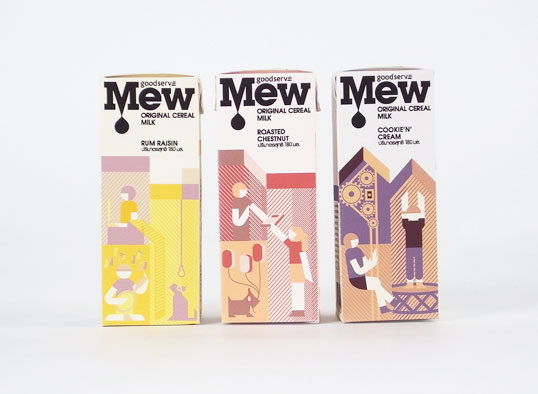 Designed by Default | Country: Thailand
"A new cereal soy milk product to market to young, urban people who enjoy a fun lifestyle. The packaging shows a fun activity for each flavor."
May 26, 2010 | 1 Comment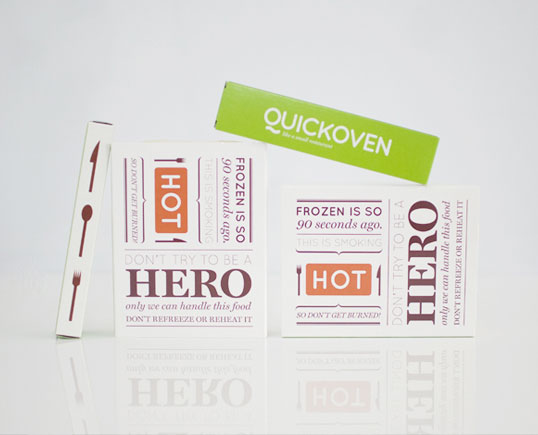 Designed by Milk | Country: Sweden
"Quickoven is a vending machine company that serves hot food in less than 90 seconds, around the clock. Since there is no human encounter involved, we decided to personalize the experience of ordering and receiving your meal. We did so by giving the machine and packaging a voice of it's own, adding a bit of charm and humour to the process."
May 19, 2010 | 3 Comments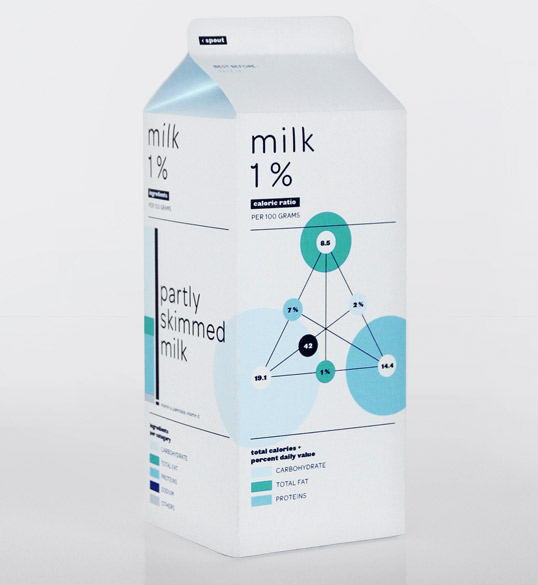 Designed by Audrée Lapierre | Country: Canada
"Our concept was to design a packaging using nutritional facts about the food product. For the milk carton, we used the four sides to inform about the caloric ratio, nutrient balance, ingredients and amount per serving. The diagrams and data visualizations give important and useful information. For example, they quickly show if a food product has a higher proportion of fat.
The data visualizations say more than a regular nutritional facts label. For example, ingredients are visually linked to their corresponding components (carbohydrate, total fat, proteins, sodium, others). In the case of a bag of chips, you would immediately see that it contains lots of ingredients without nutritive value.
Nutritional information becomes the main goal of the packaging, while still carrying a powerful branding by combining an expressive form with useful information."
April 4, 2010 | 4 Comments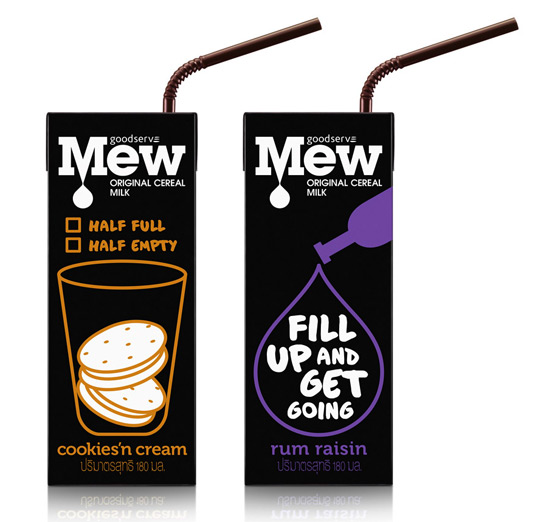 Designed by Subconscious Co. Ltd. | Country: Thailand
"Mew is the cereal milk with original flavors, cookies'n cream and rum raisin. It targets at young jobbers and college students who are out-going, intellectual, and ambitious. The packaging does not only communicate the flavours, but also reflect our target's attitude."
March 30, 2010 | 3 Comments
Designed by Arantxa Rues | Country: Spain
"Milk packaging design based on the Swiss International Style."
March 11, 2010 | 5 Comments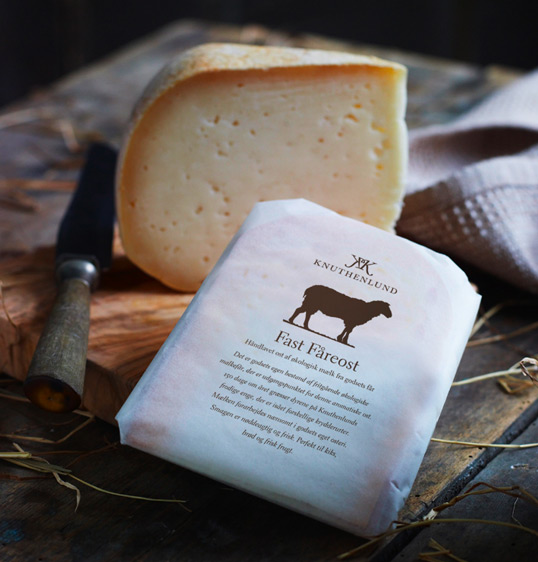 Designed by envision:design | Country: Denmark
"Knuthenlund Estate in Lolland has operated an organic farm since 2007, striving to offer high quality organic foods and at the same time taking care of the unique nature, that is characteristic for the Danish island of Lolland. In the Easter of 2009, Knuthenlund opened a whole new dairy farm in one of the former barns on the estate. The dairy farm is based on milk from the estate's own organic milking sheep and goats. The fresh milk is handled very carefully to preserve its taste and structure.