November 14, 2014 | 1 Comment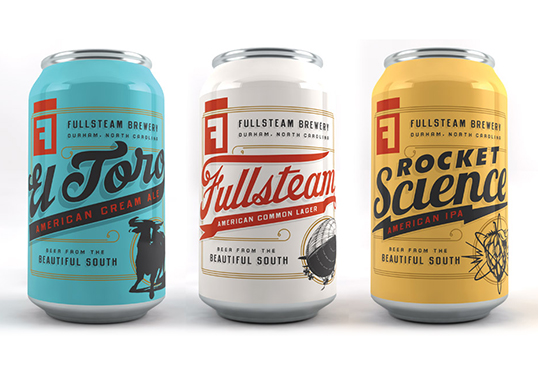 Designed by Helms Workshop | Country: United States
"We began work with Fullsteam founder Sean Wilson in 2008, helping to articulate his vision for a brewery built around the contrast between industry and agriculture. Those two worlds, along with a grain silo worth of passion and creativity, are reflected in parallel beer lines. American Progress reflects a more traditional, industrial approach to classic beer styles while the brewery's Plow-to-Pint offerings incorporate North Carolina agricultural staples like persimmons, grits and sweet potatoes.
Sweden's Kurt Lightner worked with us to craft intricate, textural illustrations that provide a striking contrast to the iconic typography. 
Currently on tap across the state and available in growlers, Fullsteam plans to launch retail packaging in 2014. Visit fullsteam.ag to learn more about the brewery, and for a chance to be immortalized on their famed "Wall of Awesome."
October 22, 2014 | No Comments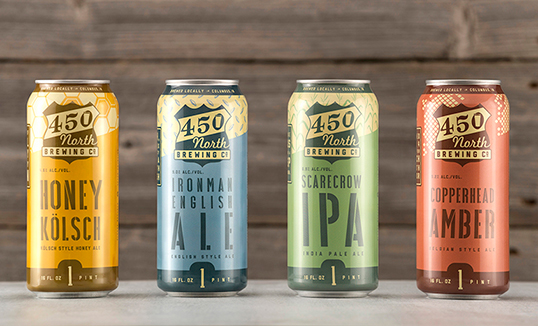 Designed by CODO Design | Country: United States
"We first met Dave and his sons back in 2012 when we helped to brand 450 North Brewing Co. That first project was foundational, ending with a visual identity system.
Earlier this year, we were excited when Dave called to have us design packaging for their 4 house beers; Scarecrow IPA, Copperhead Amber, Ironman English Ale, and Honey Kölsch. We got to dig back into the same Indiana farm aesthetics we explored initially and developed a fun package design system that they can grow into as they continue adding seasonals and specialty beers."
October 19, 2014 | 1 Comment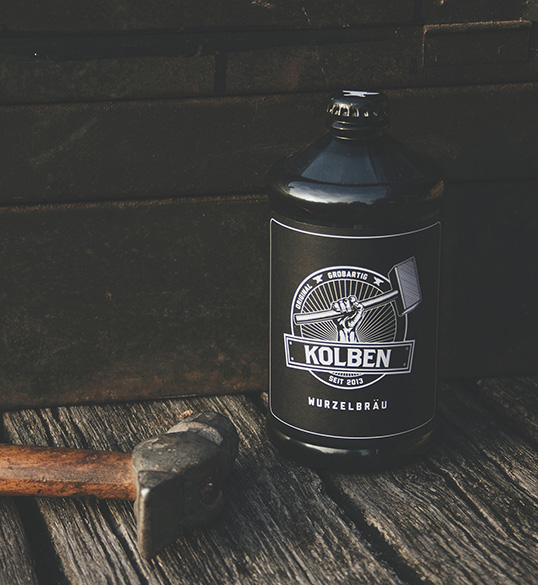 Designed by Marcel Messner | Country: Germany
"Honest, authentic, strong – that's KOLBEN, a real beer for real men. It's the perfect refreshment after you spent a whole day in the forest chopping wood for your fireplace.
In this student project of the masters-program Packaging, Design & Marketing at Stuttgart Media University in Germany the task was to create a unique beverage brand including marketing, packaging and graphic design. From the earliest concepts to the production of the bottles and secondary packaging, we produced everything in-house at the University."
October 10, 2014 | No Comments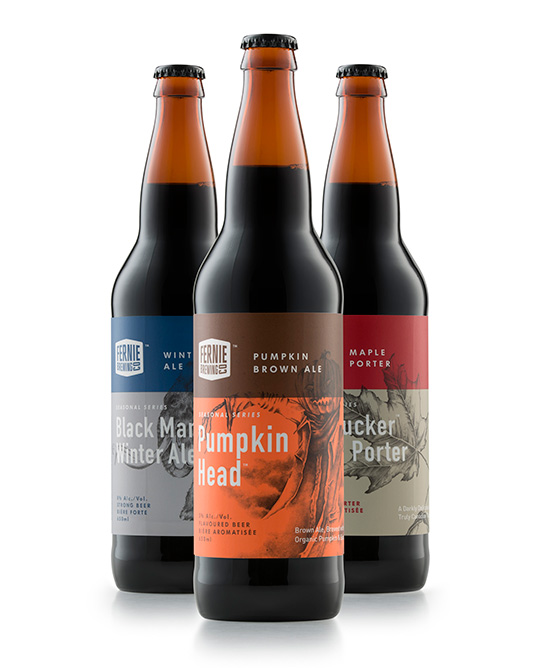 Designed by Also Known As | Country: Canada
"The client and project overview: Fernie Brewing Co. is an award winning craft brewery located in the heart of the Kootenays. If you have every been to Fernie, you know the place is awe inspiring – and so is the team at Fernie and the great craft beer they make. They came to us with a big challenge: Re-invent our full line up of craft beer packaging but still keep the essence of the brand in tact. So, AKA made the trek up to Fernie to kick things off with our new client, drink some delicious beer and get down to work."
October 5, 2014 | No Comments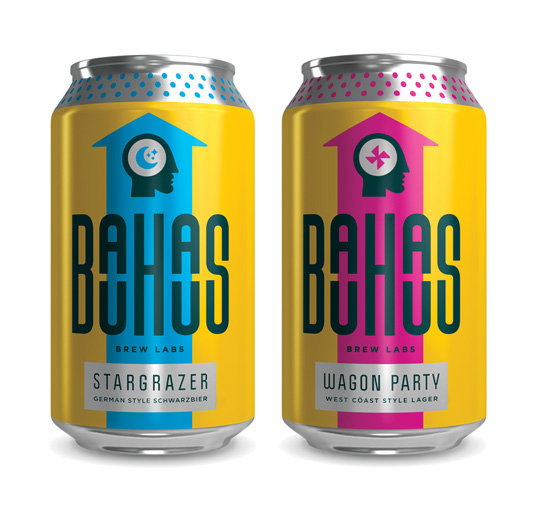 Designed by Helms Workshop | Country: United States
"Bauhaus Brew Labs channels its namesake's spirit of creativity, experimentation and playfulness in crafting a flavorful, imaginative and unique craft beer experience for its customers. Our approach was to follow their example in creating the brewery's identity, with an eye on differentiating the brand in the marketplace and creating a disruptive presence on the retail shelf. The bright, primary brand palette is unconventional for the craft beverage shelf, and the quirky beer names were created by translating more traditional naming into German, and then back to English."
August 27, 2014 | No Comments
Designed by Ostecx | Country: Poland
"Deep Løve is a collaboration of Alebrowar and Norwegian brewery Nøgne Ø. Our tasks were naming and packaging design of this unique beer. As a result, the Collaborative West Coast Belgian Rye Ipa hits the market in the bottle without traditional labels, but with a single-color prints directly on the glass"
August 21, 2014 | 1 Comment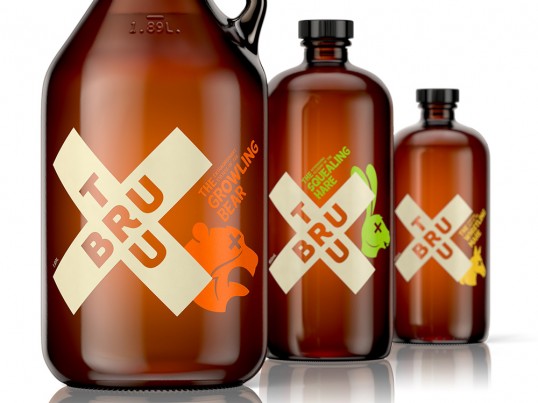 Designed by Epic | Country: Australia
"Tru Bru, meaning 'true flavour, brewery fresh', is a high-tech system of take-home craft beer. With the bottles the primary vehicle and a great opportunity for customer interaction, a clear and engaging brand was developed around the uniquely branded glassware.
Three characters were developed for the three bottle sizes: Boris the bear (the 'growler'), Fitzherbert Sinclair (the 'squealer') and Coco Voltaire (the 'whistler'). Fables were written to profile each character and personality, whilst driving engagement to a wider audience. Naming, identity, store fit-out, collateral, apparel and proprietary drinking glasses completed the project."
August 6, 2014 | 3 Comments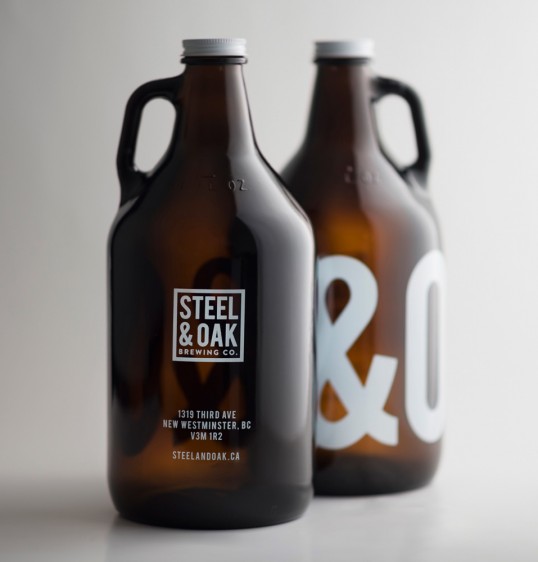 Designed by Also Known As | Country: Canada
"Project overview: Steel and Oak Brewing Co symbolizes the modernness of today while paying homage to the craftsmanship of years long past. A bright young voice in New Westminster's storied past, Steel and Oak is bringing a refreshed perspective and vibrant energy to the craft beer scene.
Supportive, open minded and encouraging clients like this remind us why we opened our doors in the first place. Champions of the process, Steel & Oak embraced the opportunity to get involved and realize their visions through our creative lens. The perspective and insights we gained through working closely and personably with the client helped us create design solutions that resonated early and easily."
June 13, 2014 | No Comments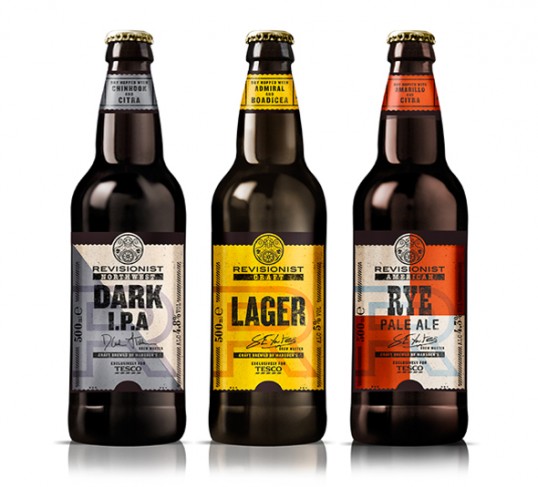 Designed by R Design | Country: United Kingdom
"Building on the ever growing trend for craft beers, Tesco have joined forces with Marston's Brewers to launch their 'Revisionist' range exclusively in Tesco stores.
The range of bottled beers includes Hefeweizen Wheat Beer, Belgian Saison Beer, California Steam Beer, Dark India Pale Ale, American Hop Rye Pale Ale, Craft Lager and Pacific Hop Red Ale. Revisionist craft beers are the result of master brewer's having free reign to 'revise' their favourite brewing recipes using contemporary techniques and ingredients to create truly unique and distinctive beers."
June 11, 2014 | No Comments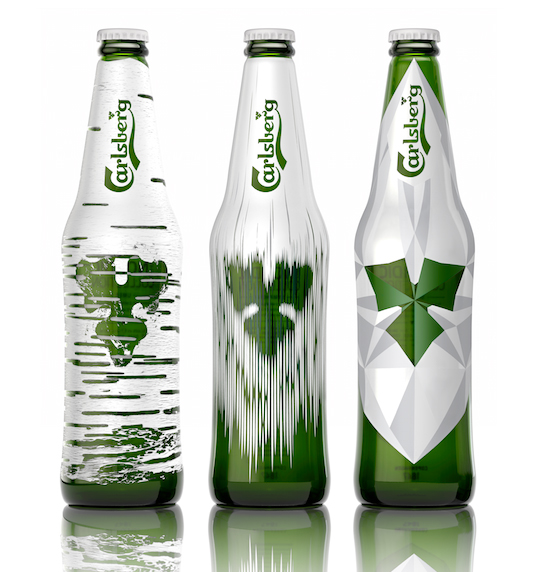 Designed by Safari Sundays | Country: United States
"Safari Sundays was challenged to design a range of bottles that celebrates the trademark Carlsberg hop leaf as well as the beer's Danish heritage. Safari Sundays looked to Nordic landscapes and industrial design as their inspiration and translated these scenes onto the classic green Carlsberg bottles. The end result is a sleek and modern styling that plays with both transparent versus opaque spaces as well as matte versus high gloss contrasts."