March 27, 2009 | 2 Comments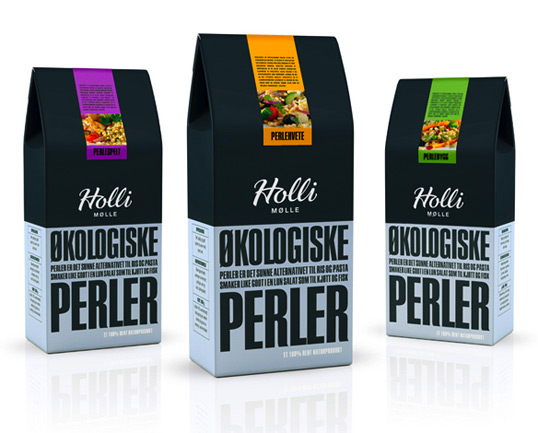 Designed by Strømme Throndsen Design | Country: Norway | Font: Helvetica Ultra Compressed
"Holli Mølle is a small organic mill in Eastern Norway, specializing in flour production with the use of ancient and nutritious grain types. The target audience is modern women who value health and nutrition and are willing to pay extra for the safety and taste of organic flour, thereby providing them with an extra feeling of love and care for their family.
In creating the name, visual language and packaging for Holli Mølle, the following criteria were highlighted:
– The identity should be based on traditional and authentic values.
– The packaging should be environmental friendly, functional, flexible and efficient in production.
– The identity should challenge the existing visual language in the flour category.
The result is a simple and unique graphical design, with fresh colours on the labels as the only differentiator between the 6 variants. The design communicates well with the target group, giving them a feeling that the flour really is "ground with love", as stated on the packaging in the personal message from the owner, Trygve Nesje."
March 27, 2009 | 1 Comment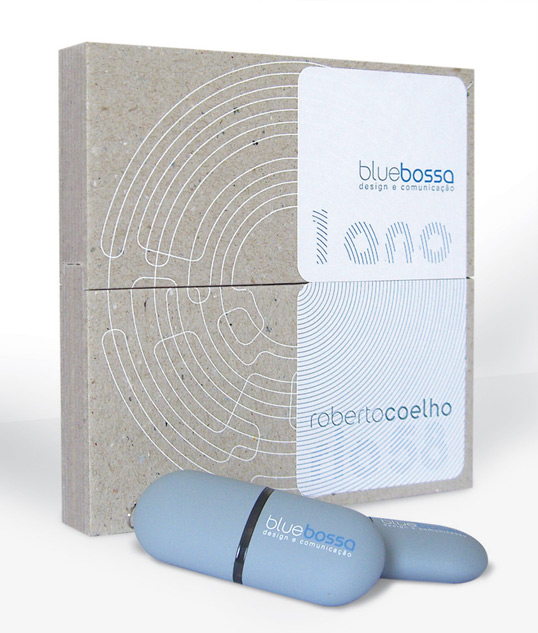 Designed by BlueBossa | Country: Brazil
"Commemorative toast made celebrating the first year of BlueBossa. Pen-drive containing songs of the artist Roberto Coelho, packed in a container made with several layers of paper, which refers to the format of a CD."
March 26, 2009 | 3 Comments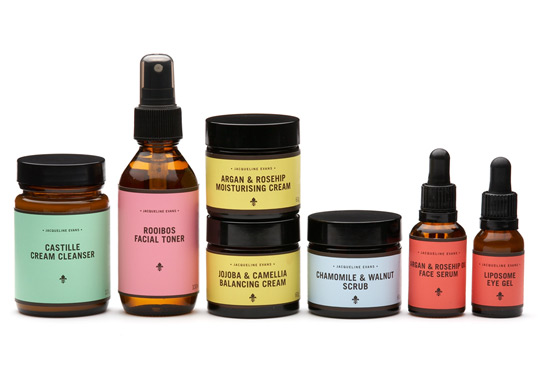 Designed by Swear Words | Country: Australia | Buy it
"The Jacqueline Evans story began in 1999 when Jacqueline first created customised skin care for a select group of clients when she worked as a naturopath in the United Kingdom. Since then, years of meticulous research have gone into product formulations. Products are based on the function of the ingredients and only the purest and highest grade natural and organic ingredients are used, including cold pressed oils, the best essential oils and beneficial levels of vitamins, minerals and herbals resulting in some of the most effective products in the world.
Simple typography and bold colour differentiation communicate the honesty of this product. They just happen to look great all together on your bathroom shelf too!"
March 26, 2009 | No Comments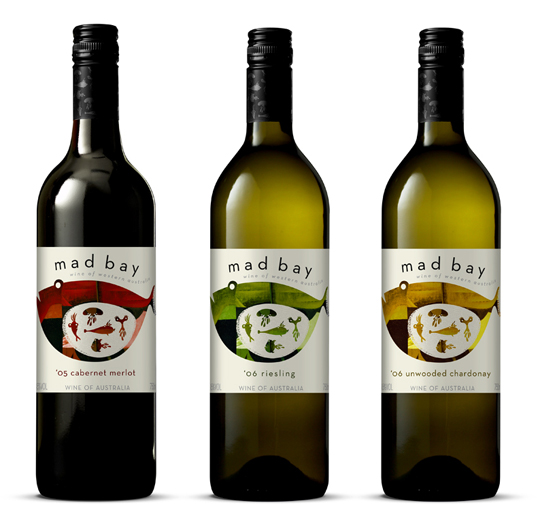 Designed by Public Creative | Country: Australia | Fonts used: Neutraface
"An unpretentious wine brand for a niche in the UK market for contemporary, fresh, new world wines. MadBay was subsequently released in Australia due to its popularity in the UK."
March 26, 2009 | 3 Comments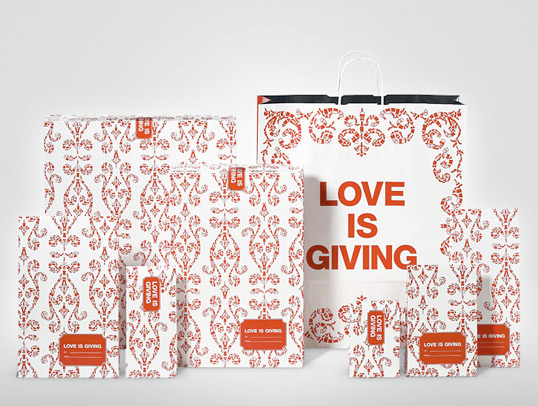 Designed by Silver | Country: Sweden
"H&M wanted to create a festive atmosphere in a new way. The concept was used worldide: in shops, on clothes and on bags. Even tattoos. The design contibuted to strong Christmas sales and won Silver a gold in the European competition EPICA.
March 26, 2009 | 1 Comment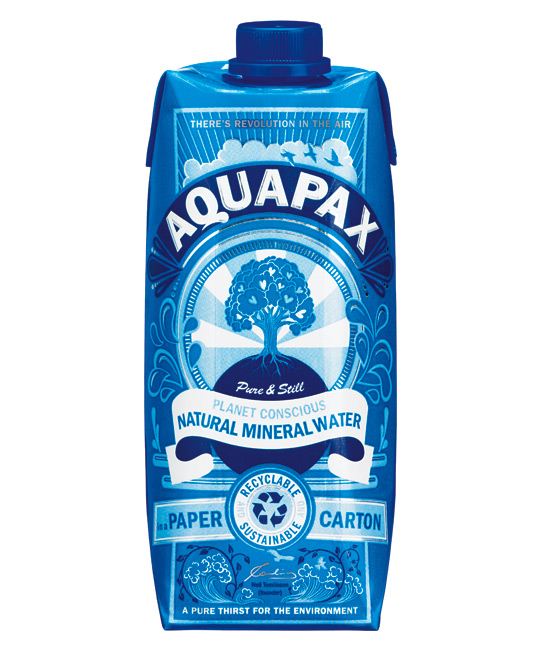 Designed by SunHouse Creative | Country: United Kingdom
"This is the only water in the UK served in a 'environmentally conscious' carton rather than glass or PET. Rather than try and compensate for this with lots of intrinsic visual water cues the demonstrative graphic style represents a break from category norms and has been crafted to tell the story with a unique, optimistic and premium feel, as well as conveying strong environmental cues."
March 25, 2009 | 2 Comments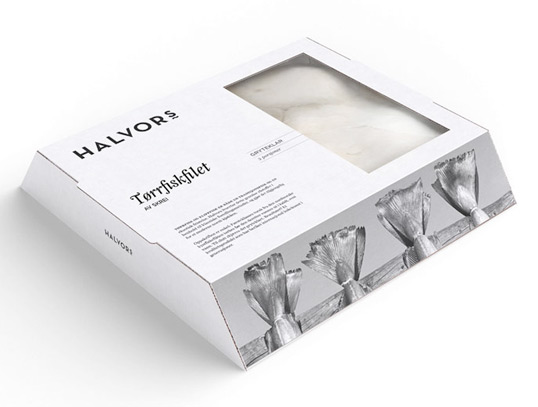 Designed by Tank Design | Country: Norway | Fonts: Neutraface, Farnham
The brief: packaging for Halvors Tradisjonsfisk, an exclusive brand of fish products.
Solution: a design inspired by old traditions and which supports the quality of the product by differentiating it from the competitors.
Result: the project has already been an award winner and it is sold through Norwegian retail stores.
March 25, 2009 | No Comments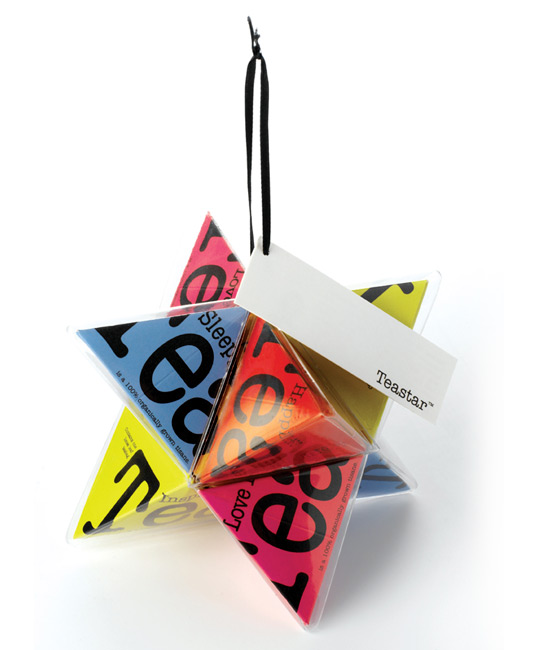 Country: United Kingdom | Font: ITC American Typewriter
"There are shooting stars, rock stars, film stars, star fish, star wars, mega stars, and now there's Teastar™.
We've taken 10 organic loose leaf teabags, wrapped each in our philosophy and packed them in a clever star shaped box. Once opened, the box is like an old fashioned paper yap yap toy. Peer inside and choose your favourite brew."
March 25, 2009 | No Comments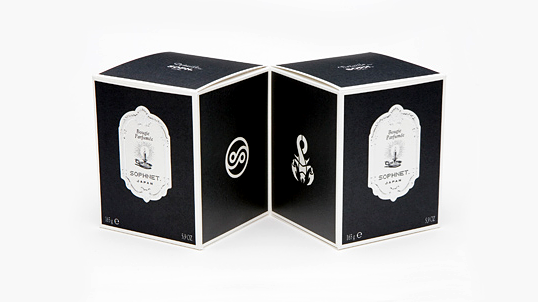 Country: France/Japan
Packaging for special edition scented candles for Sophnet, from classic French parfumier Detaille.
March 24, 2009 | 3 Comments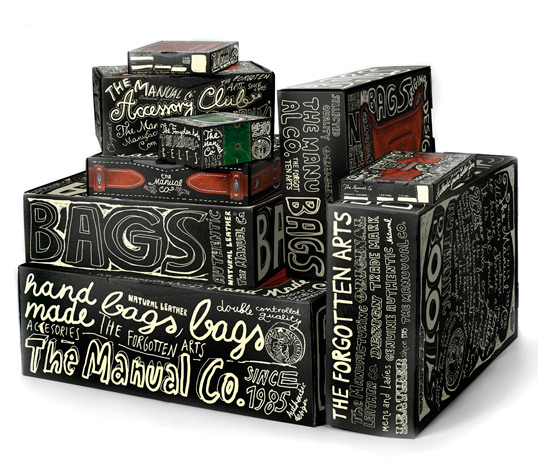 Designed by Peter Gregson | Country: Serbia | Fonts: hand lettering (see handmade fonts)
"Cardboard packaging design for boots, bags and accessories for The Manual Company , a modern franchise based on high quality luxury leather, handmade accessories and bags."