March 24, 2009 | 1 Comment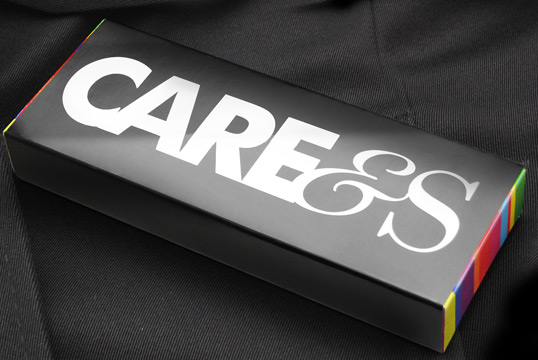 Designed by Love for Art & Business | Country: Sweden | Font: Futura
"A brave new detergent aimed for people who loves clothes and care for the environment. It is neatly packaged in pill-form to avoid the biggest problem laundring today, the overdosing that simply destroys your fine garment.
Apart form other detergent Care&s does not have tensides and bleach as their active ingredient, but an organic enzyme,  which it's why it is very kind to mother nature and it's inhabitants. Care&s is available in selected fashion stores across Europe."
March 23, 2009 | 1 Comment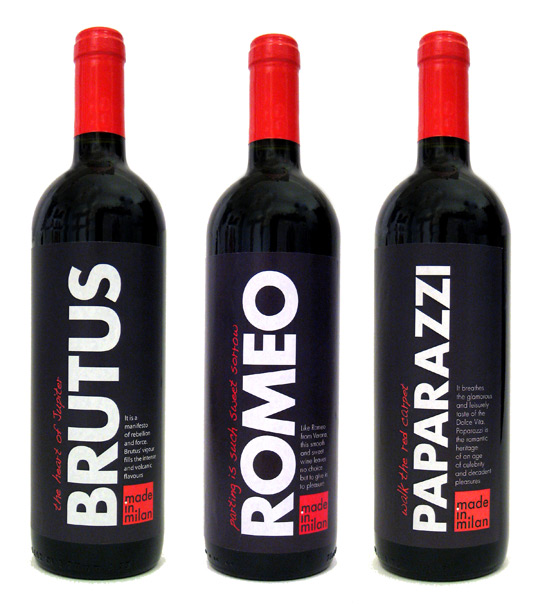 Designed by Fabio Bressan | Country: Italy | Fonts: Futura, low-grade script (alt: quality handwriting fonts)
"Madeinmilan is a unique wine label committed to selecting excellent wines from northeast Italy.
Products: The heritage of Madeinmilan Wines is one of the oldest traditions in the Italian wine industry, with roots going back to the Roman Empire. This strictly Italian collection is composed exclusively of native grape varieties: a masculine Sangiovese (named Brutus), a smooth and sweet Cagnina (Romeo), and a reddish, fizzy, mischievous Lambrusco (Paparazzi).
March 23, 2009 | No Comments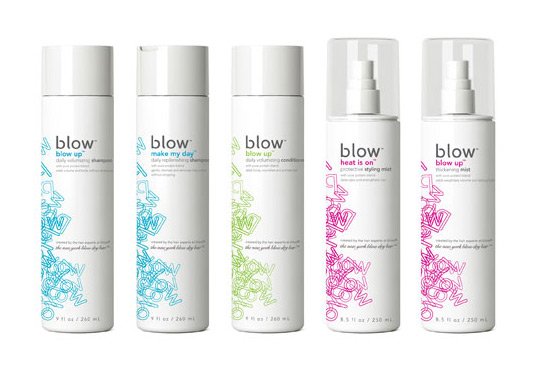 Designed by ESTABLISHED | Country: United States
Lovely packaging for Blow haircare products. The type all blown to one side is a nice play on the product name.
March 23, 2009 | 3 Comments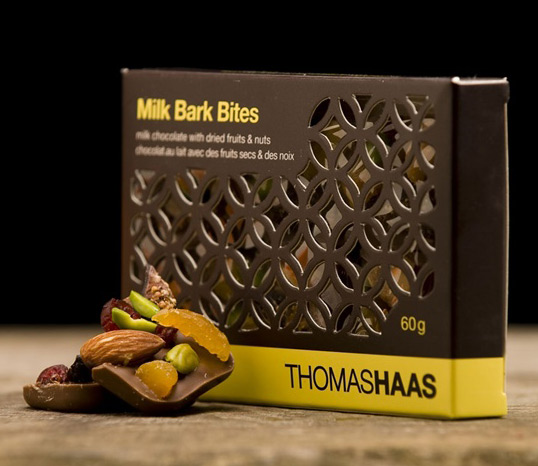 Country: Canada | Via Chocolatierra | Font: Helvetica
"At Thomas Haas Chocolates, we carefully choose our raw ingredients and select only the best. Our chocolates are perfumed with fine BC wine, oak barrel aged maple syrup from Quebec, vanilla beans from Tahiti, fresh citrus zest, loose leaf teas and organic herbs and spices.  Our cakes and pastries are adorned with Fraser Valley hazelnuts and berries, Okanagan fruits and infused with fresh roasted coffee and liqueurs from Alsace and the Black Forest.  Whenever possible we source our products directly from the farmer.  There are no preservatives or artificial flavours in our kitchens!"
March 22, 2009 | No Comments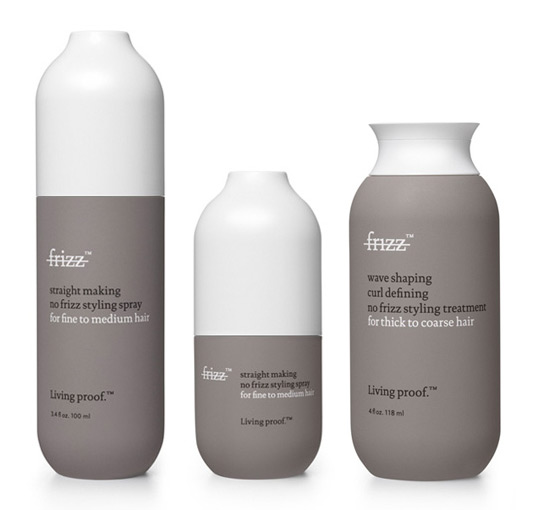 Designed by Wolff Olins | Country: United States
"Throughout the evolution and conception of No Frizz, Wolff Olins worked closely to shape the brand's development, working on everything from the brand strategy and name, product naming, service approach, identity, packaging, point-of-sale and communications. The branding firm touched nearly every part of the experience.
"Our involvement with Living Proof is a perfect example of the depth of activity and influence we can have with our clients", said Todd Simmons, Executive Creative Director at Wolff Olins. "Throughout the entire process, we looked at every possible touch point and worked hand in hand with everyone in the business, even engaging the MIT scientists in our process. We're absolutely thrilled with the result as it reflects a seamless collaboration."
"We are just as proud of Living Proof's commitment to efficacy and the way they treat consumers as we are of the way the packaging turned out or anything else. This is true branding", continued Simmons."
March 21, 2009 | 1 Comment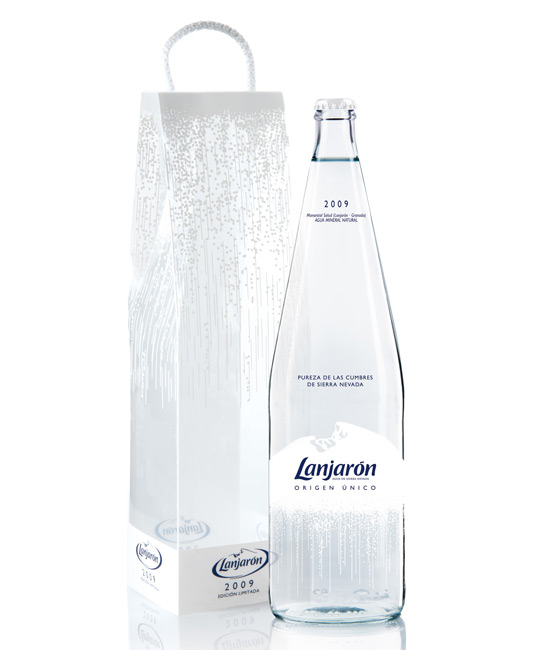 Designed by VIDAL LARSSON • DUPREZ | Country: Spain
"Lanjaron has released a new limited edition 1 litre glass bottle, with minimalist serigraphy design that evokes the purity and the origin of its source.
Lanjaron mineral water comes from Sierra Nevada, declared Reserve of the Biosphere by the Unesco."
March 20, 2009 | 4 Comments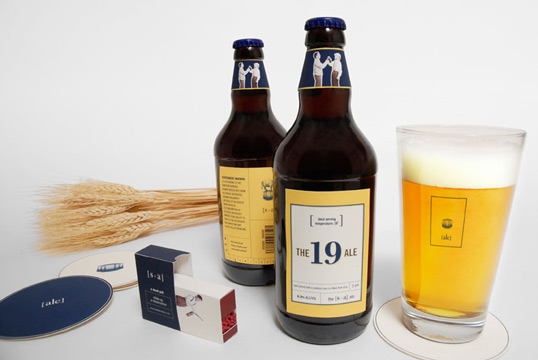 Designers: Lisa Llanes, Andy Carlyle, Elena Schroeder | Writer: Kimberly Healy | Art Director: Dave Ortega | Country: United States
"Steak and Ale: Rebranded Steak and Ale (s+a) with it's own beer and grilling items (utensils, rubs, wood chips) with a style combination of seriousness and wit and a fictional family history. Other items include matchboxes, Brewmaster's Society packaging, coasters, to-go containers, retail bag and a menu. Each item has a little surprise when you open it or flip it over."
March 20, 2009 | 2 Comments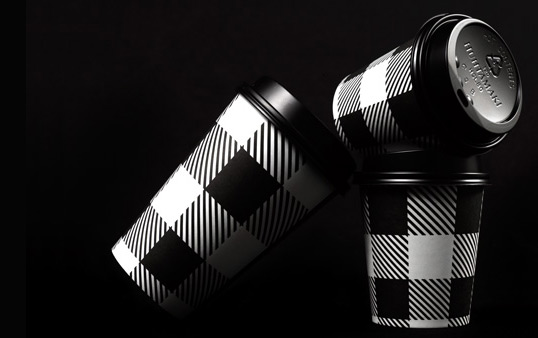 Designed by Rasmus Snabb | Country: Finland
"Coffee cups for SIS. Deli + Café a chain of delicatessens specializing in high quality ecological and organic products."
March 20, 2009 | 2 Comments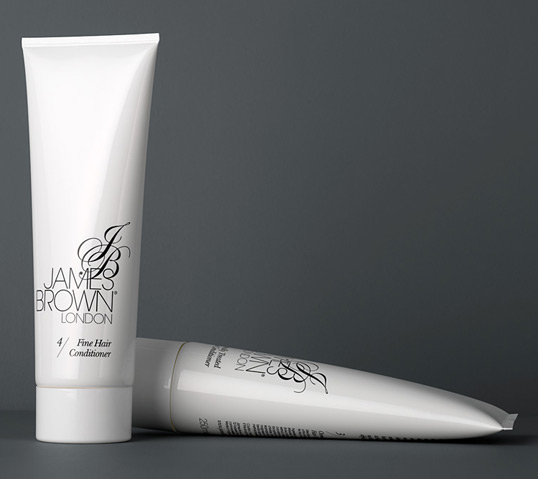 Designed by MadeThought | Country: United Kingdom | Fonts used: ITC Avant Garde Gothic
"Inspired by Kate Moss, Brown created an entire line of hair products as effortless and cool as his own hairstyling techniques. With more British Vogue cover credits under his belt than any other hairdresser, Brown clearly knows what it takes to make hair perform."
March 19, 2009 | 4 Comments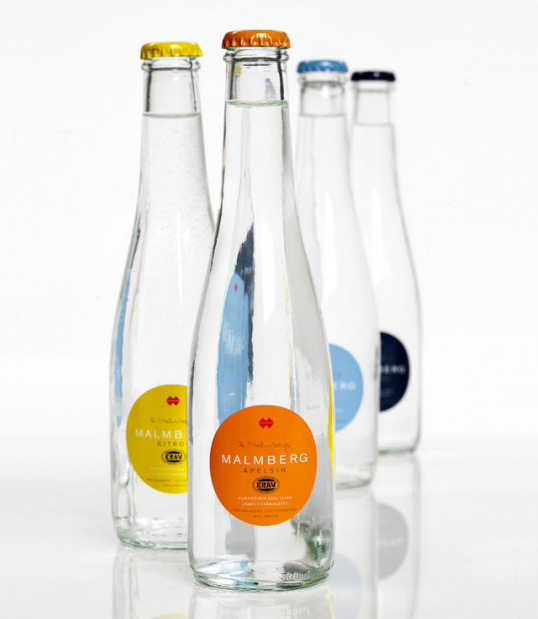 Designed by Grey | Country: Sweden
"Malmberg Original mineral water comes from an artesian spring of prehistoric water in Yngsjö, a small village on the coast of southeast Sweden. The age of our Malmberg Original mineral water has been determined to be 5245 +-75 years old, thereby making Malmberg Original the oldest Swedish mineral water in a bottle."
If anyone knows who designed this please let us know.